This post is brought to you by Carbonell. All opinions are my own.
Recently Carbonell asked me to create a BOLD and VIBRANT recipe using their Spanish olive oil and the timing couldn't have been more perfect— with the holidays here, I've been making meals that are a lot more heartier (family favorites) and I've been craving something light and flavorful.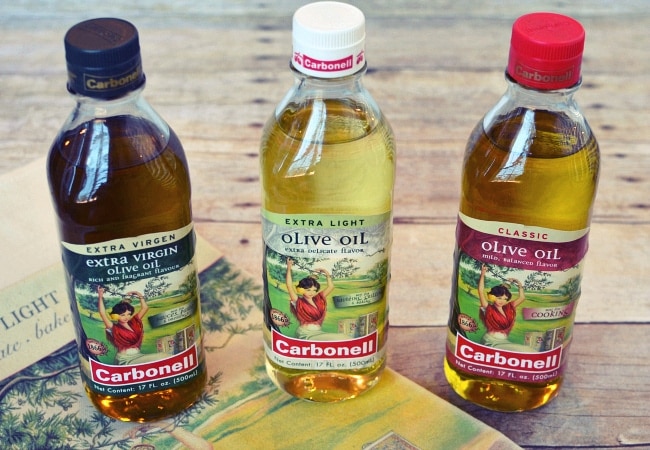 When I was in Italy this past summer one of my most memorable meals was a simple plate of spaghetti tossed with olive oil and Parmesan cheese in Taormina, Sicily. It blew me away that a dish so basic could taste that incredible.
It was that dish that inspired my new recipe with Carbonell Olive Oil. Yes, Carbonell is Spanish and the recipe I created is Italian— but the BOLD flavor of Carbonell pairs well just about any dish, especially ones where you actually want to TASTE the olive oil.
While this recipe for Spaghetti with Tomatoes and Artichokes is simple, it's a little daring because you're relying on the flavor of the olive oil to carry the pasta, rather than a robust sauce. The addition of red pepper flakes gives the dish the perfect KICK of flavor.
Spaghetti with Tomatoes & Artichokes Recipe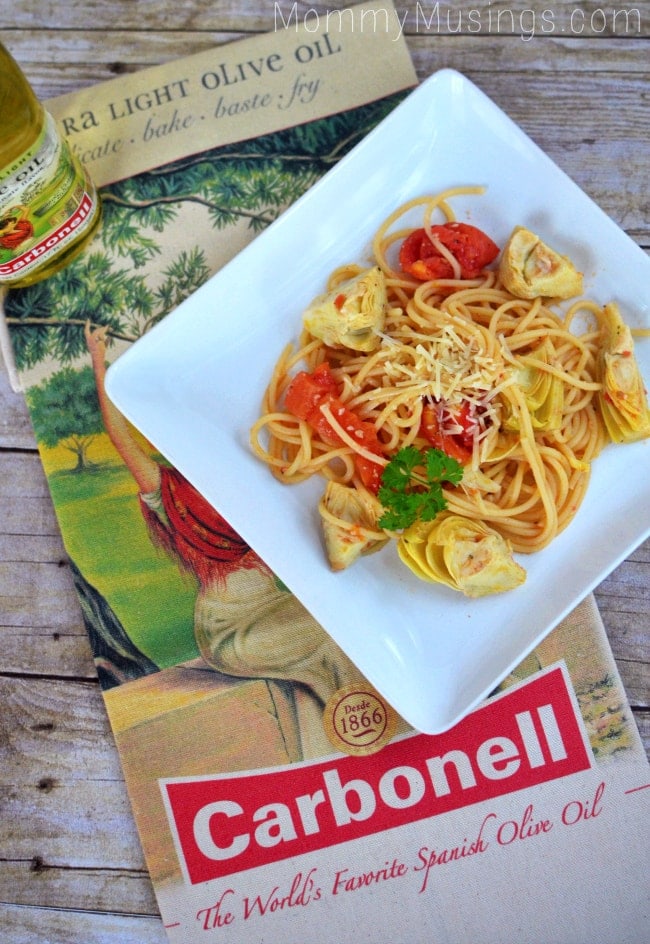 Ingredients
1 (16 oz) package spaghetti
½ cup Carbonell Extra Virgin Olive Oil 
8oz can peeled plum tomatoes; chopped & sprinkled with salt
14 oz can artichoke hearts
2 tablespoons chopped garlic
¼ cup Parmesan cheese; shredded
1 tablespoon red pepper flakes, or cayenne pepper to taste
salt to taste
Directions
In a large pot, bring 6 quarts of water to a boil. Add a pinch or two of salt and then add pasta and cook until al dente— approx 8-11 minutes. Drain pasta in a colander without rinsing.
Return pasta to pot, setting stove to medium-low heat. Add ½ cup Carbonell Extra Virgin Olive Oil, garlic, plum tomatoes and artichoke hearts. Gently stir until combined and heated.
When ready to serve, toss in shredded Parmesan cheese, salt and red pepper flakes (or a few sprinkles of Cayenne pepper).
About Carbonell Olive Oil
Carbonell has been Spain's number one olive oil since 1866. The "Dare to Carbonell" campaign celebrates the immense flavor, unique culture and unbridled passion of all-natural, healthy, pure flavor of Spain. Carbonell has three distinct varieties of olive oil, each suited to a different cooking need.
Daringly Expressive Extra Virgin Olive Oil has a rich taste and smooth flavor that will make any dish pop with Spanish personality. Use Carbonell Extra Virgin Olive Oil for salads, dips, marinades and drizzling over finished dishes. When you use the Daringly Expressive Extra Virgin Olive Oil, you give yourself permission to be a more daring and expressive version of yourself.
Fantastically Light Extra Light Olive Oil has a light taste that will take your meal to new heights.  Use Carbonell Extra Light Olive Oil for high-heat cooking such as frying, sautéing, and even baking.
Distinctly Classic Olive Oil has a traditional flavor that harkens back to the heritage of Cordoba. Carbonell Classic Olive Oil is an all-purpose cooking oil, adding a mild flavor to soups, sauces and grilled meats and vegetables.
For more unique recipes featuring Carbonell olive oil, visit www.carbonellusa.com.
This blog post is part of a paid SocialMoms and Carbonell blogging program. The opinions and ideas expressed here are my own. To read more posts on this topic, click here.