I can't even tell you how long I've wanted to visit the Galapagos Islands. It was a childhood dream for sure, where I was lured in by giant tortoises, blue-footed boobies, and penguins that somehow lived north of the equator.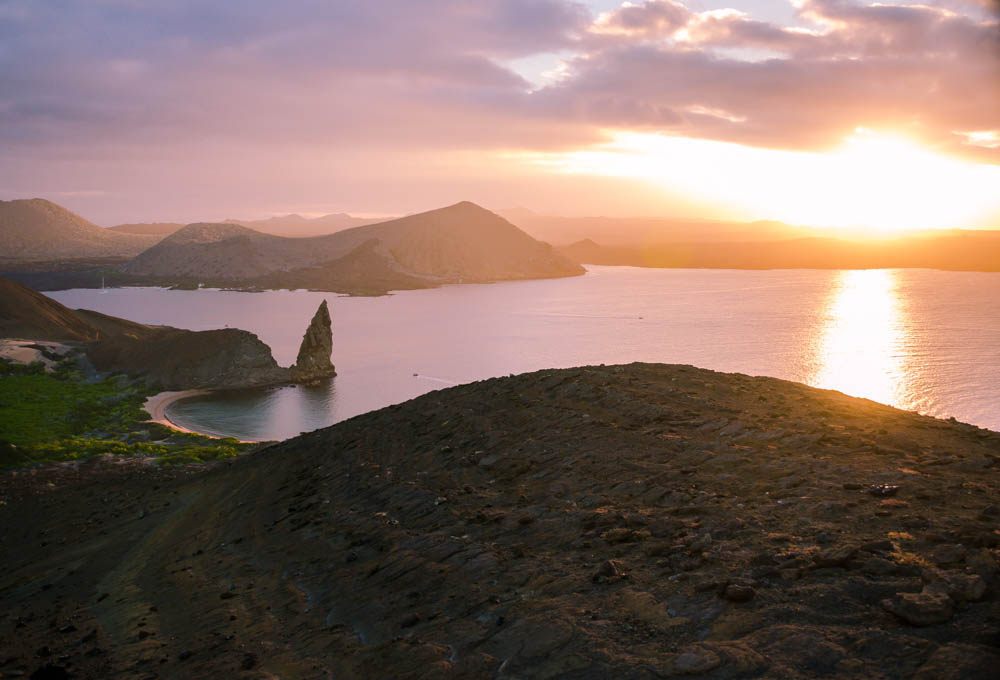 Unlike many destinations that you dream about for so long and then finally visit, the Galapagos Islands did not underwhelm. Not even for a second. Each day I discovered new and amazing creatures, some of which I might never see again. The landscape, the animals, the flora...every aspect of my 5-day/4-night Northern Galapagos cruise tour exceeded my expectations.
Words and pictures can't accurately describe how incredible, and unforgettable, this journey was….and I believe that was largely in part due to the Santa Cruz II and Metropolitan Touring.
Where are the Galapagos Islands Located
Before I dive into this comprehensive guide to cruising the Galapagos Islands on the Santa Cruz II, I want to start with the basics.
I know most people have heard of the Galapagos Islands and learned about Darwin, but before I left for my first trip to South America, I was surprised at how many people asked me where the Galapagos Islands were actually located.
The Galapagos are located 600 miles off the coast of Ecuador. The Galapagos archipelago consists of 13 main islands, 7 smaller ones, 42 islets and over 250 rocks.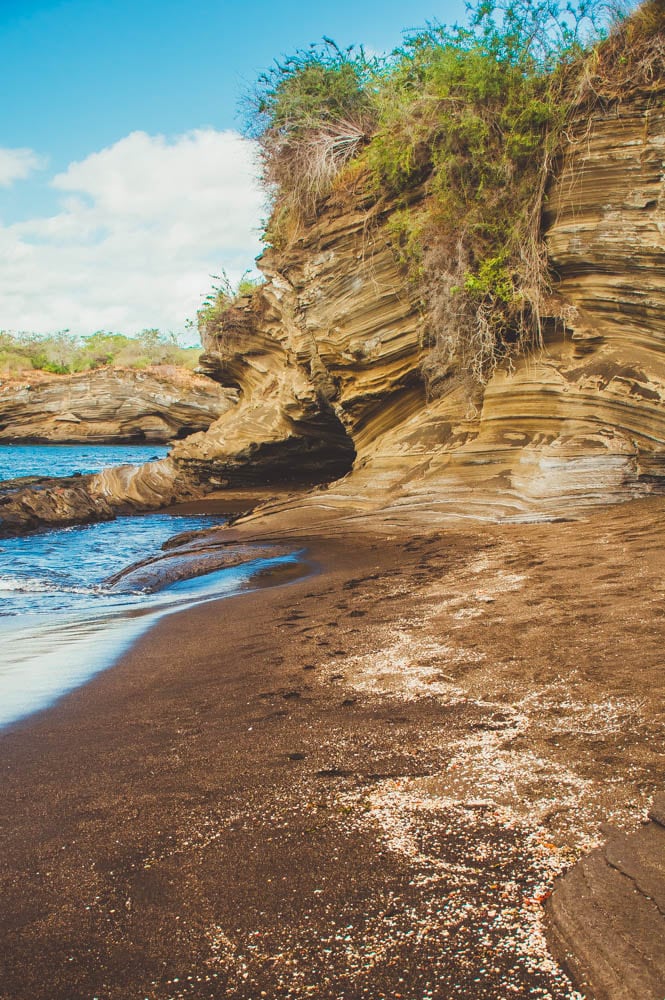 Santa Cruz II Northern Galapagos Itinerary
Currently, three itineraries are available on the Santa Cruz II: Northern, Eastern and Western.
Most people sail just one itinerary and combine it with a land vacation with Metropolitan Touring in Ecuador or Peru, but one passenger on our ship chose to sail on all three back-to-back, visiting all of the Galapagos Islands (talk about a trip of a lifetime!).
For my first visit, I was delighted with the Northern Galapagos itinerary as I saw all of the animals I dreamed about when I was a kid. Here's a look at the island itinerary day by day.
Day 1 - Santa Cruz Island
Day 2 - Santiago Island
Day 3 - Rabida Island & Bartolome Island
Day 4 - Genovesa
Day 5 - Santa Cruz Island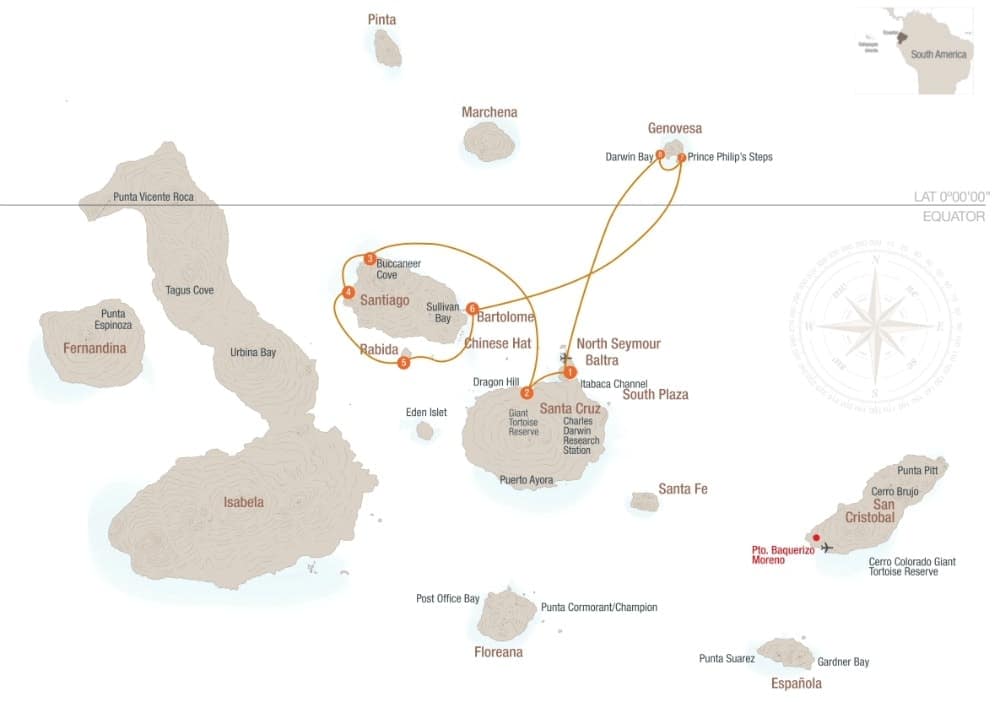 About the Santa Cruz II
The Santa Cruz II is the largest of Metropolitan Touring's three expedition ships in the Galapagos with capacity for up to 90 passengers in 50 cabins. Because of its size, the ship has luxury amenities you won't find on smaller vessels, including spacious and cozy accommodations, abundant dining options, a doctor on board 24/7, and activities that include glass-bottom boat tours, kayaking, and stand-up paddleboarding.
I'll go into the benefits of choosing a larger ship for sailing the Galapagos at a later time, but I thought the Santa Cruz II was the perfect size, especially since I was able to meet so many incredible people on board.
Getting to the Galapagos Islands from Quito
As I started my journey in Quito, I flew from Mariscal Sucre International Airport (UIO) to the island of Baltra (GPS) with LATAM Airlines. This flight had a 45-minute stopover in Guayaquil where we stayed on the plane while other passengers deplaned/boarded. As far as I can tell, this stopover is on every flight from Quito to Baltra Island. Total travel time was around 3 hours.
Tip: Be sure to ask for a Galapagos Islands stamp in your passport if you want one. As the Galapagos Islands are part of Ecuador, you won't get an official stamp on entering—but novelty stamps are given if asked (or at least this was my case).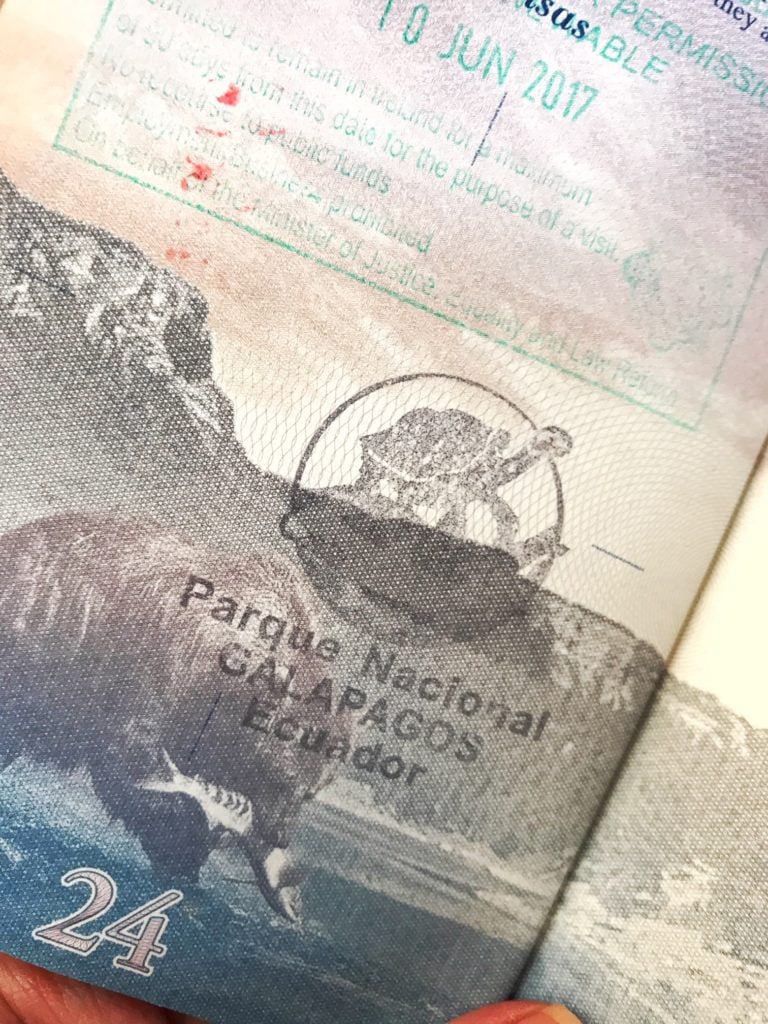 From Baltra Island to the Santa Cruz II
The process of getting from Seymour airport on Baltra Island to the Santa Cruz II may seem complicated, but I promise it's not. After paying your $100 Galapagos National Park entrance fee, clearing immigration and picking up any checked luggage, Santa Cruz II passengers take a short bus ride to a dock, where you're then transported by panga (a small boat) directly to the ship. The staff on the Santa Cruz II have this procedure on lockdown, so it's practically seamless— I would say it's under an hour from the time you leave the airport to when you get on the ship.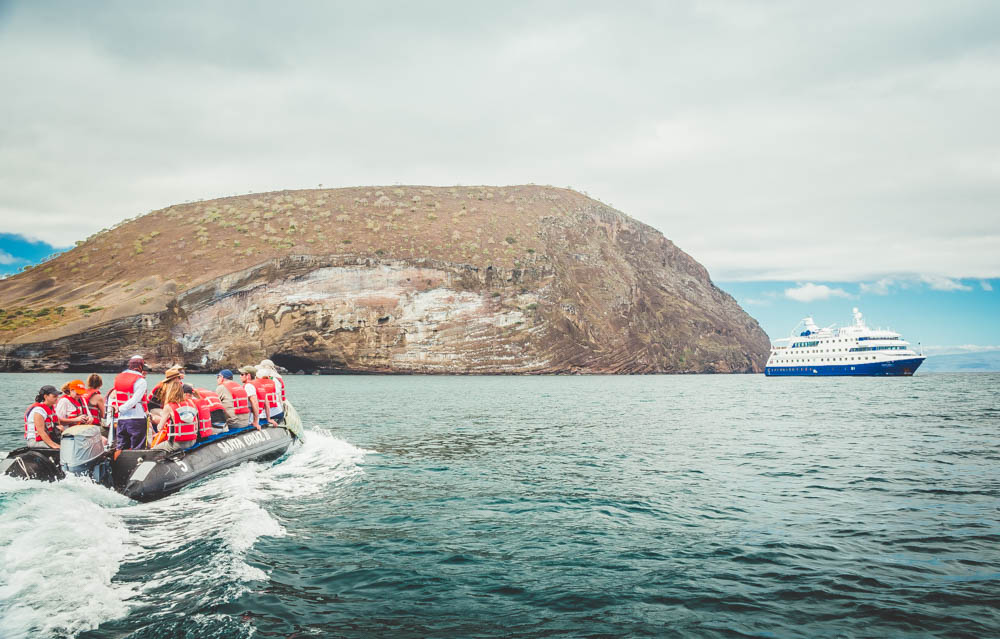 Tip: While you're waiting for the panga at the dock, look around for land iguanas! This was the first Galapagos animal I spotted, and if taking the Northern Galapagos tour, this will be your only chance to see them!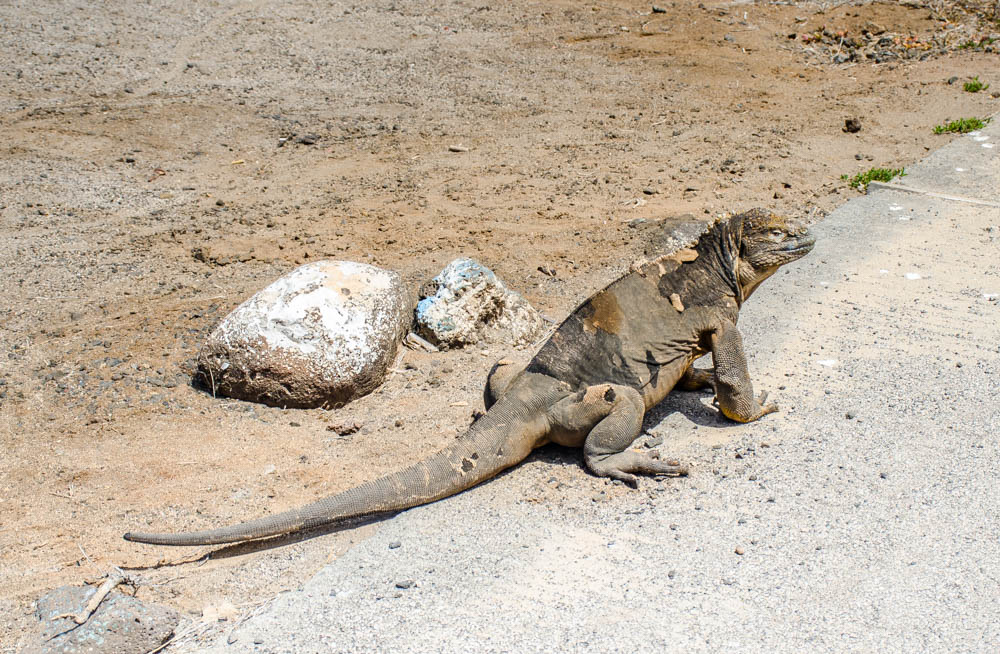 Even if you had an early travel day, you'll still want to explore the Galapagos Islands as soon as you get on the ship. Thankfully, the Santa Cruz II has a tour of Santa Cruz Island available after lunch. Before you make it back on land though, an introductory briefing and muster drill are held, and each passenger is assigned a group which you'll stay in for the duration of the cruise.
I was in the "Gulls" group, which had 14 other people. Per regulations of the Galapagos National Park Service, you cannot have more than 16 people per naturalist guide, no matter which tour company you go with.
The staff on the Santa Cruz II take great care in how they arrange each group. They keep families and other groups traveling together (provided there are 16 or less in a party), and also consider age, physical ability and preferred spoken language.
I wrongly assumed there were going to be a lot of retirees on this trip, and that was definitely not the case. Cruise passengers on board the Santa Cruz II ranged from families and young couples to solo travelers and groups of friends of all ages.
Las Bachas, Santa Cruz Island - Day 1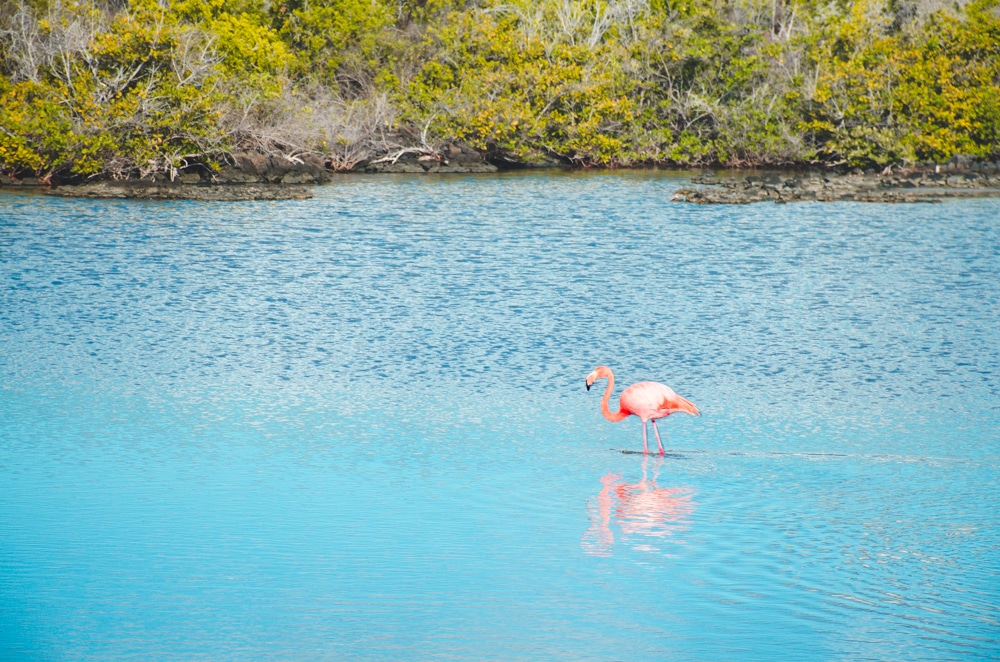 Wildlife spotted: Flamingos, frigatebirds, marine iguanas, Sally Lightfoot crabs
Our very first landing was from the Santa Cruz II was on Las Bachas, Santa Cruz. This was a wet landing, which simply means the panga goes as close as it can to the shoreline and you hop off into the water. This is where water shoes or Tevas and lightweight clothing come in handy. The other type of landing is a dry landing, which means you'll get off right on the shore. The expedition leader will tell you exactly what you need to take with your before every outing.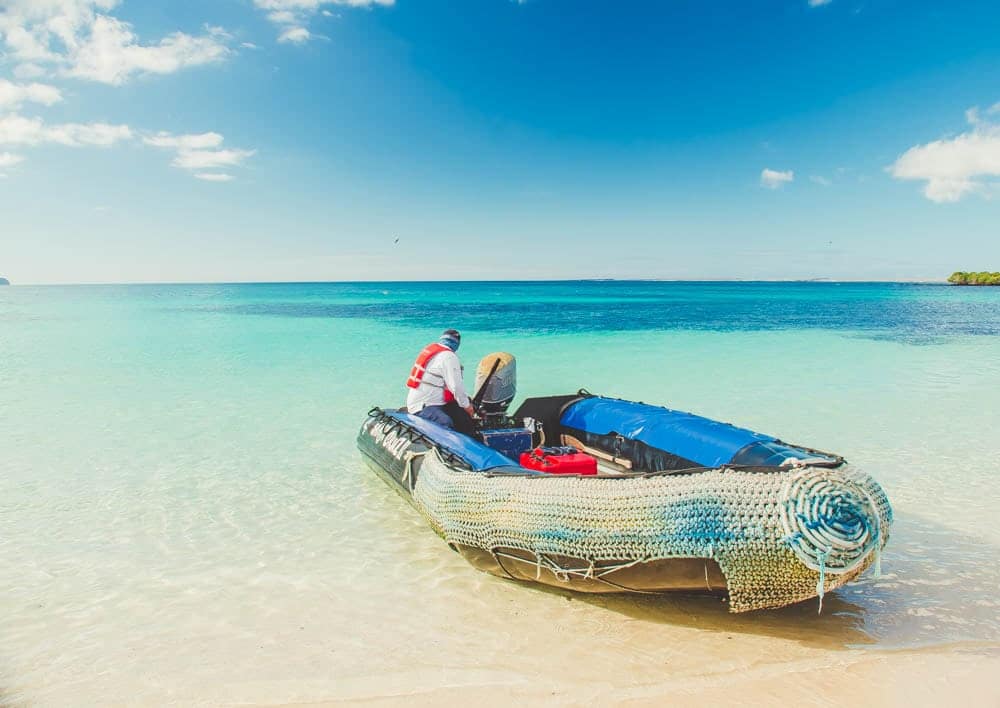 Las Bachas is located on the north shore of Santa Cruz Island. Here you'll find a beautiful beach and a couple of brackish lagoons steps away from the sea. If you're lucky, as we were on the day we arrived, you'll see pink flamingos wading. As far as introductions go, the landscape of Las Bachas was perfect.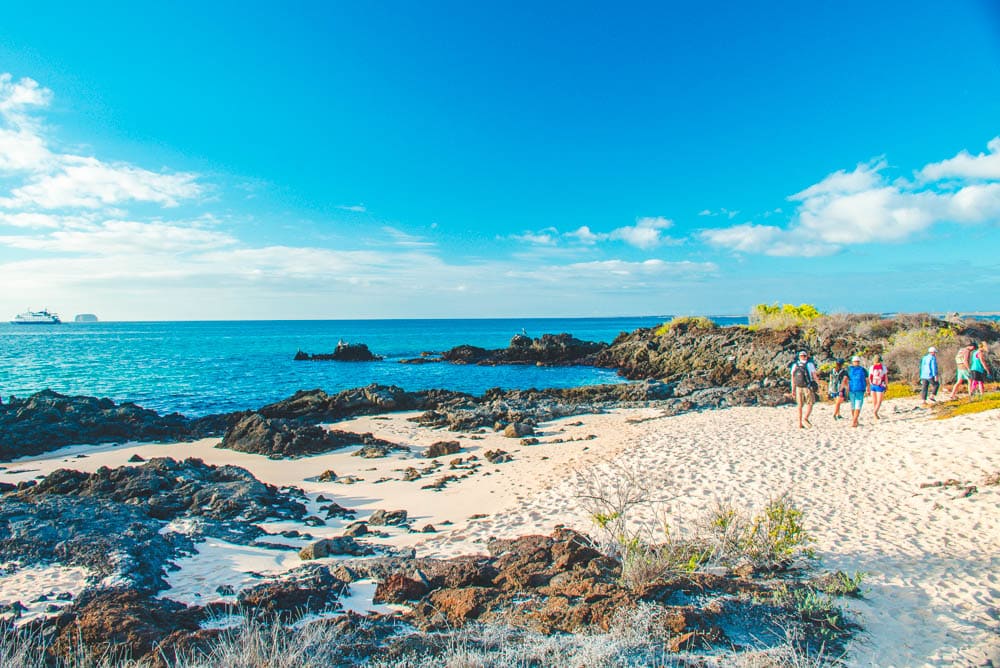 Buccaneer Cove, Santiago Island - Day 2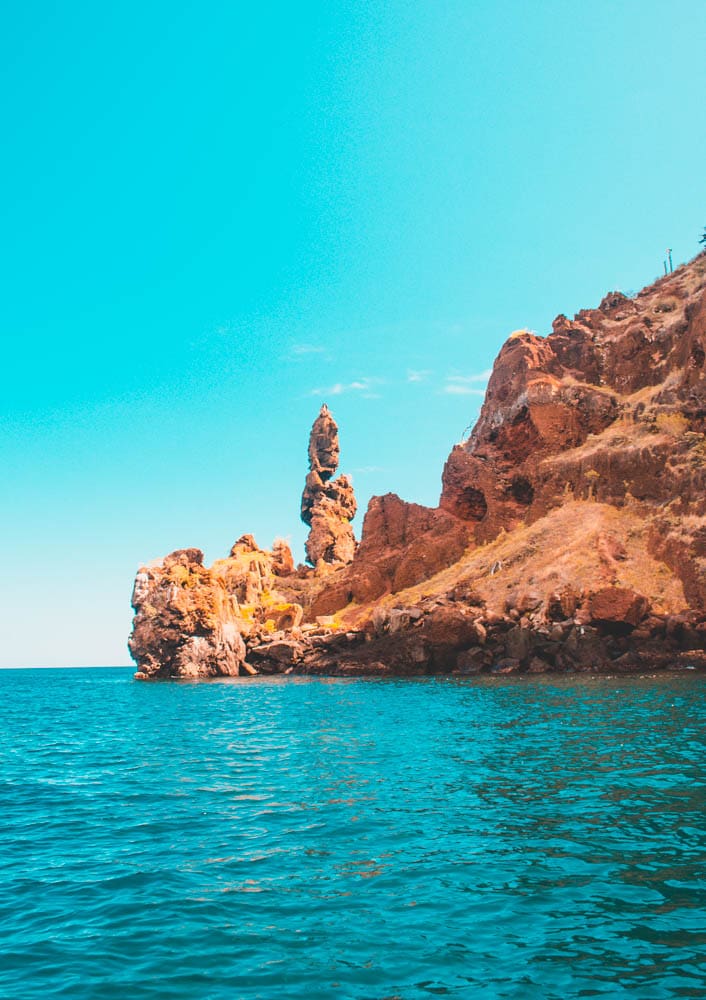 Wildlife spotted: Blue-footed boobies, marine iguanas, sea lions, Nazca boobies 
My first full day on the Santa Cruz II started with Buccaneer Cove on Santiago Island. After breakfast, which is served buffet style along with lunch, groups were called to board the pangas for a tour of the coastline. This was the morning I spotted my first blue-footed booby and took about 1000 photos because I was so in awe of my surroundings.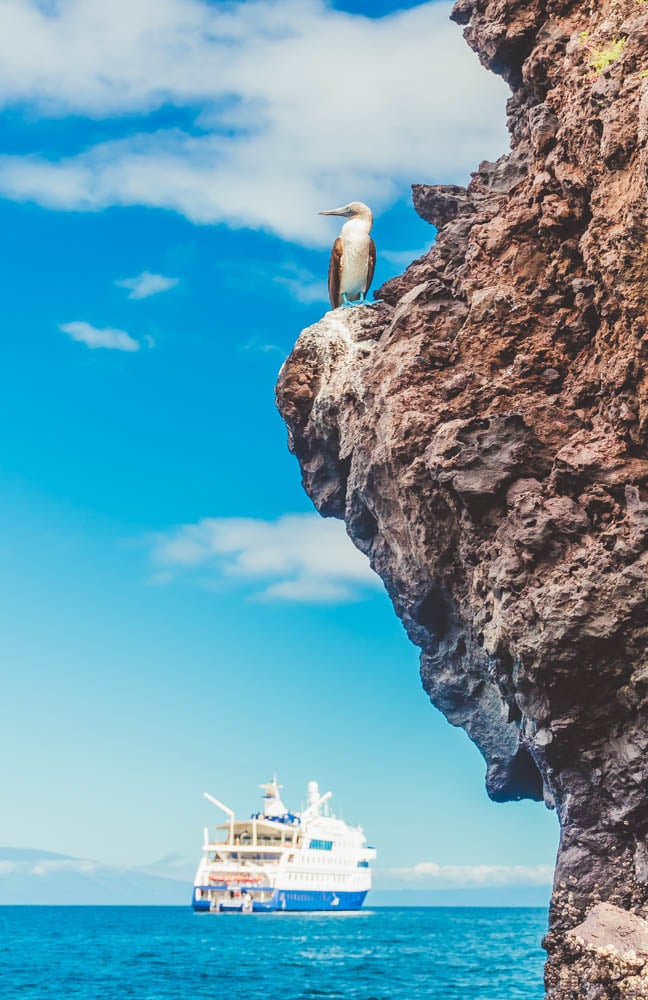 Puerto Egas, Santiago Island - Day 2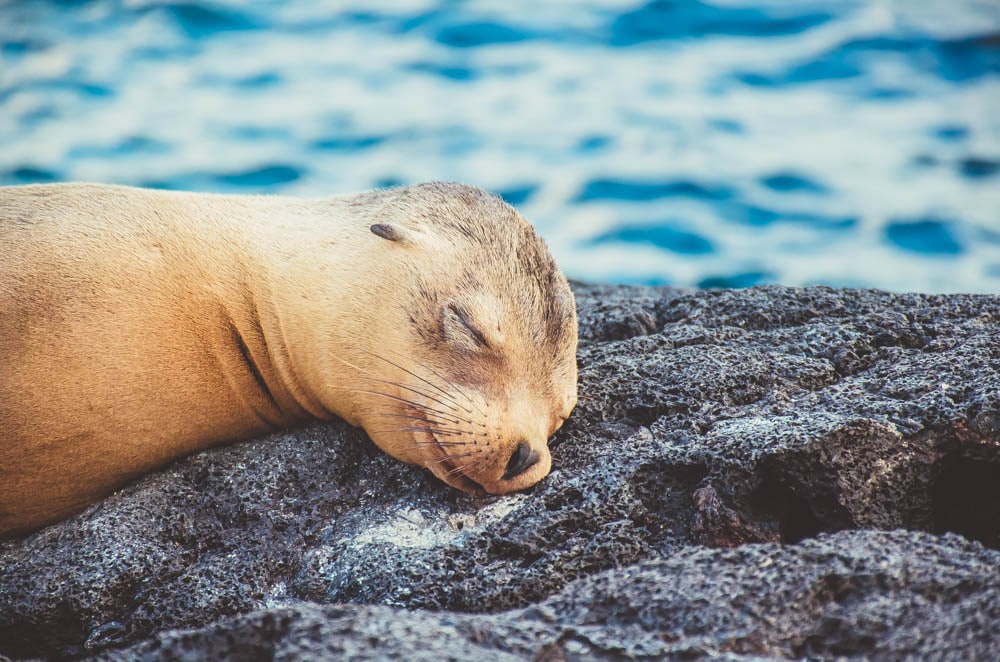 Wildlife spotted: Sea lions, marine iguanas, fur seals, frigatebirds, Sally Lightfoot crabs
Later in the afternoon, we landed at Puerto Egas, Santiago Island, which is known for its stunning black sand beach. Looking back, this was probably my favorite hike of the entire trip as the landscape was incredibly raw, with jagged rocks, lava pools and caves that looked like they haven't been touched since creation.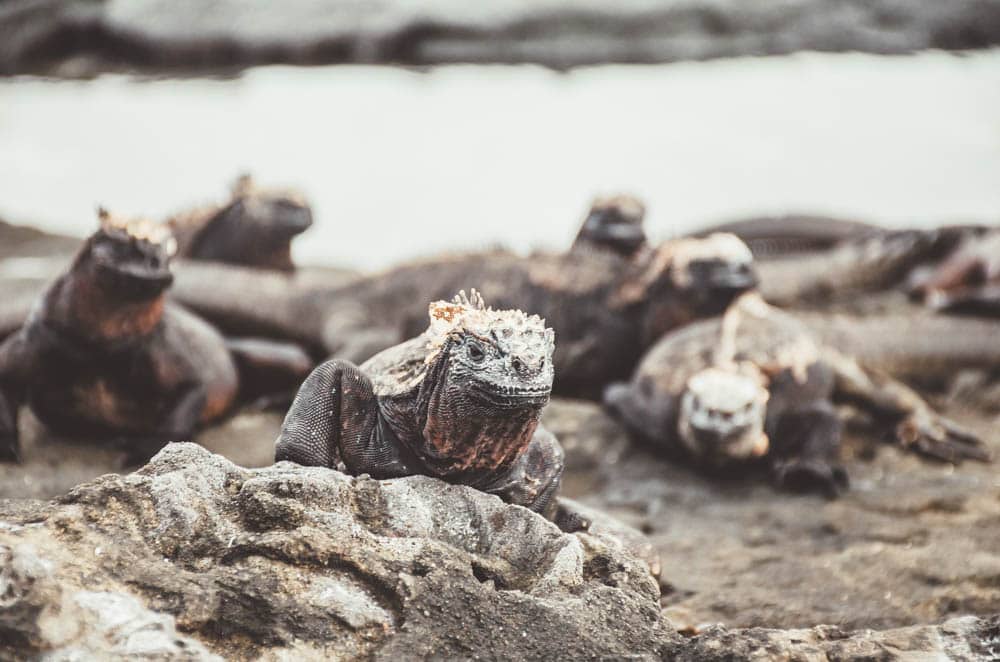 Wildlife was abundant on Santiago Island, and just as you'd expect in the Galapagos, animals could care less about the presence of humans. On many occasions, I had to back off because a sea lion or marine iguana would get to close to me. The Galapagos National Park rules state that visitors must maintain a distance of at least six feet from wildlife.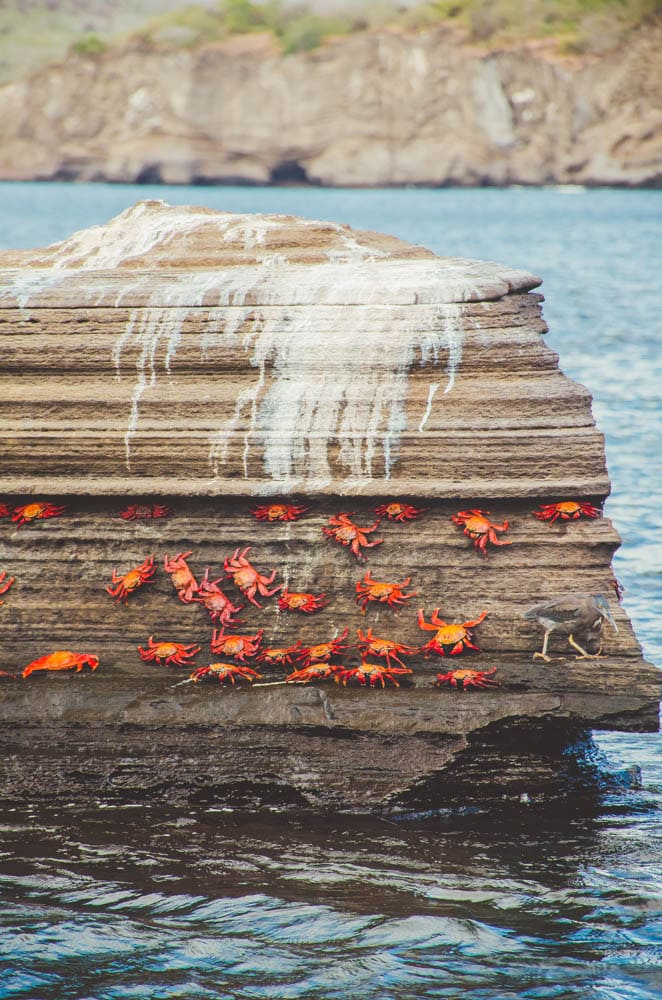 Rabida Island - Day 3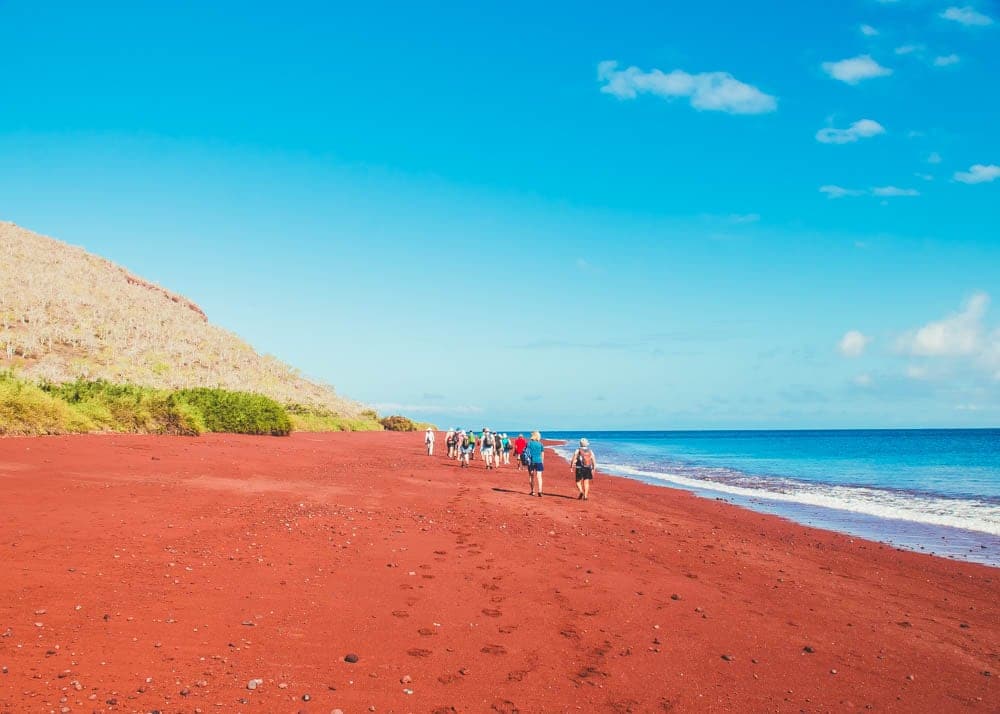 Wildlife spotted: Sea lions, fur seals, frigatebirds
Rabida Island's red sand beach was a perfect contrast to Santiago Island's black sand beach before the afternoon before. The different hues of sand show you just how different each island is, even though many are within sight of each other. The same goes for plants and animals.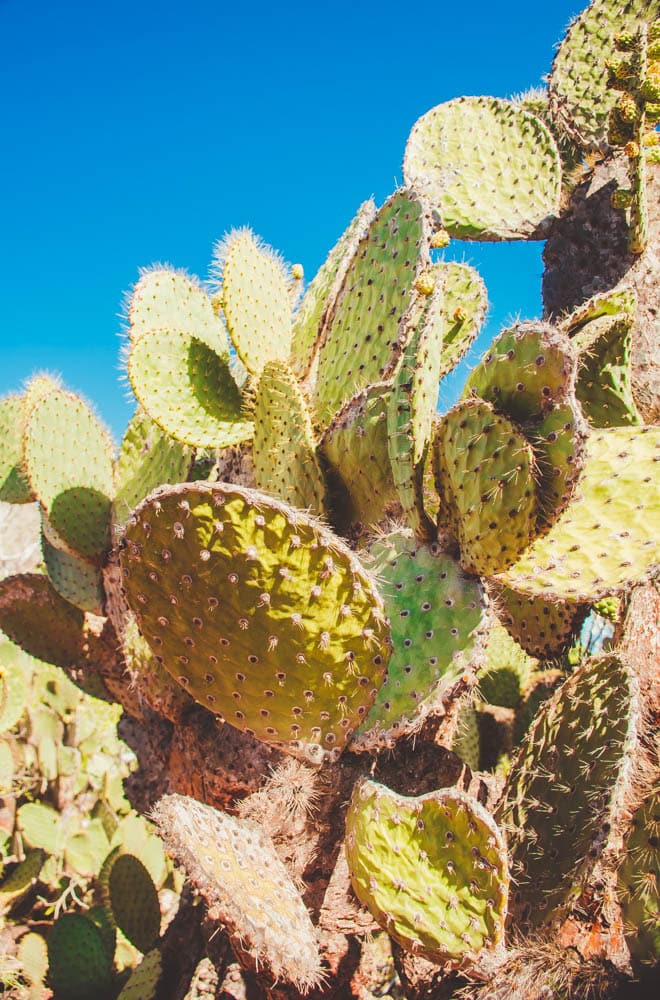 Bartolome Island - Day 3
Wildlife spotted: Galapagos penguins, sea turtles, sea lions, marine iguanas, frigatebirds
Penguins and Pinnacle rock— that about sums up my afternoon on Bartolome Island...and it was glorious! Not only did I see Galapagos penguins, but I also got to snorkel with them. And I have to tell you; those little guys are fast!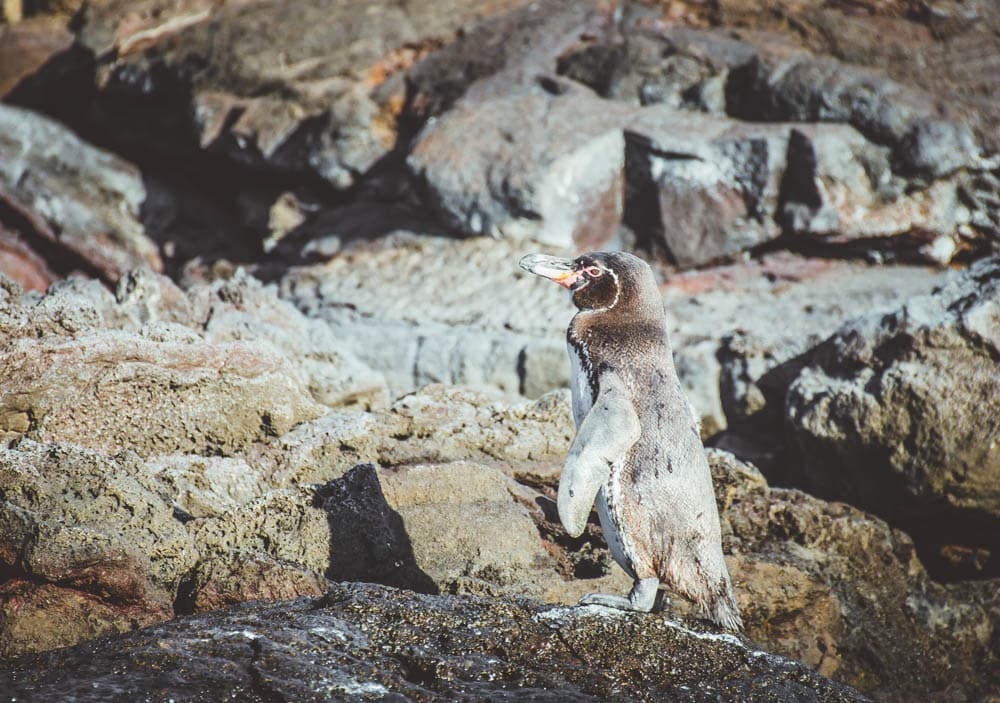 Snorkeling in the Galapagos was an experience I will never forget, and the Santa Cruz II made it possible to go out multiple times a day (if desired). Half wetsuits were available for use during the entire cruise for $20. At first, I wasn't sure if I wanted one, but I went in and out of the water so much that I'd say a wetsuit is invaluable for the Galapagos. In addition to penguins, I also swam with sea turtles, stingrays and sea lions!
After snorkeling I made the trek up the staircase to the viewpoint of Pinnacle Rock, making it just in time for sunset. That view was almost otherworldly. It was one of those moments where I had to pinch myself because it didn't feel like reality.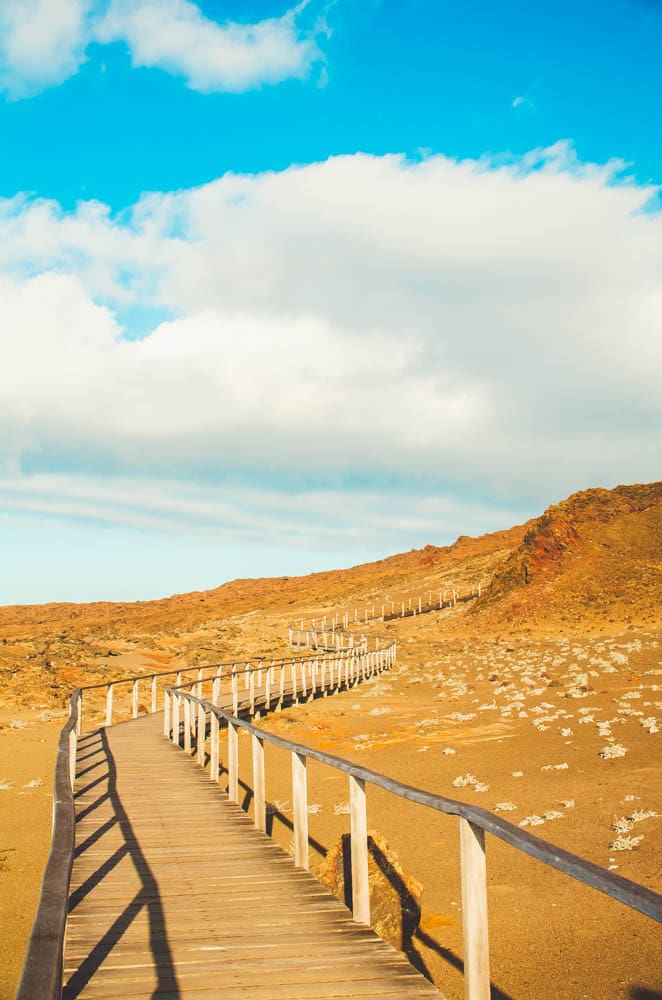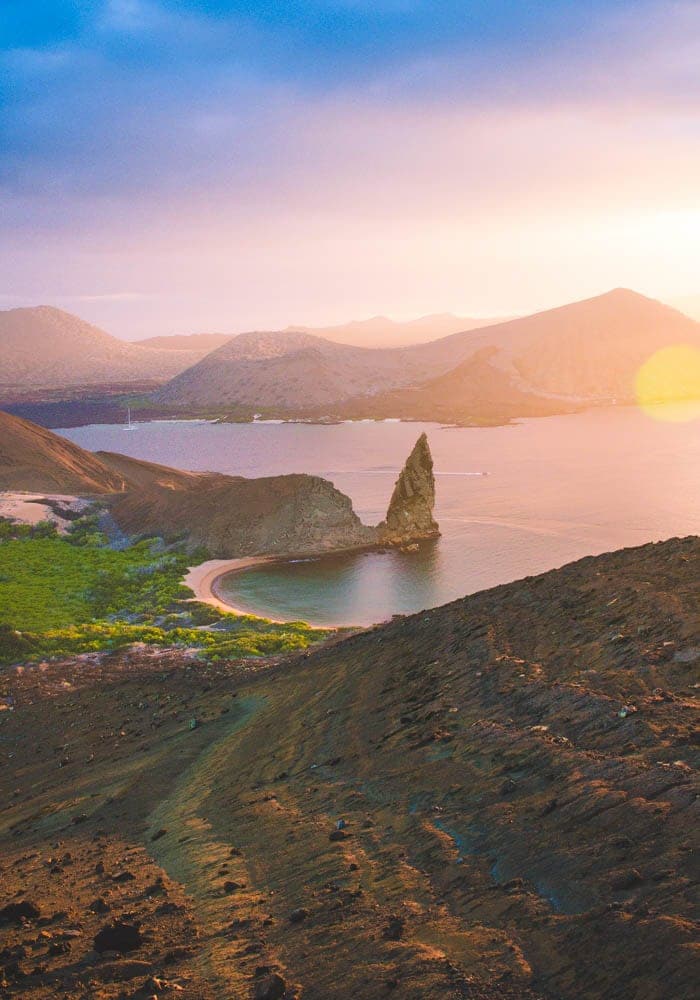 Prince Philip Steps, Genovesa Island - Day 4
Wildlife spotted: red-footed boobies, Nazca boobies, frigatebirds, storm petrels, Galapagos short-eared owl
When you hear about "boobies" and the Galapagos, it's usually the blue-footed variety that comes to mind. But did you know there are three types of boobies in the Galapagos? In addition to blue-footed, there are also red-footed and Nazca boobies, both of which are found on Genovesa Island.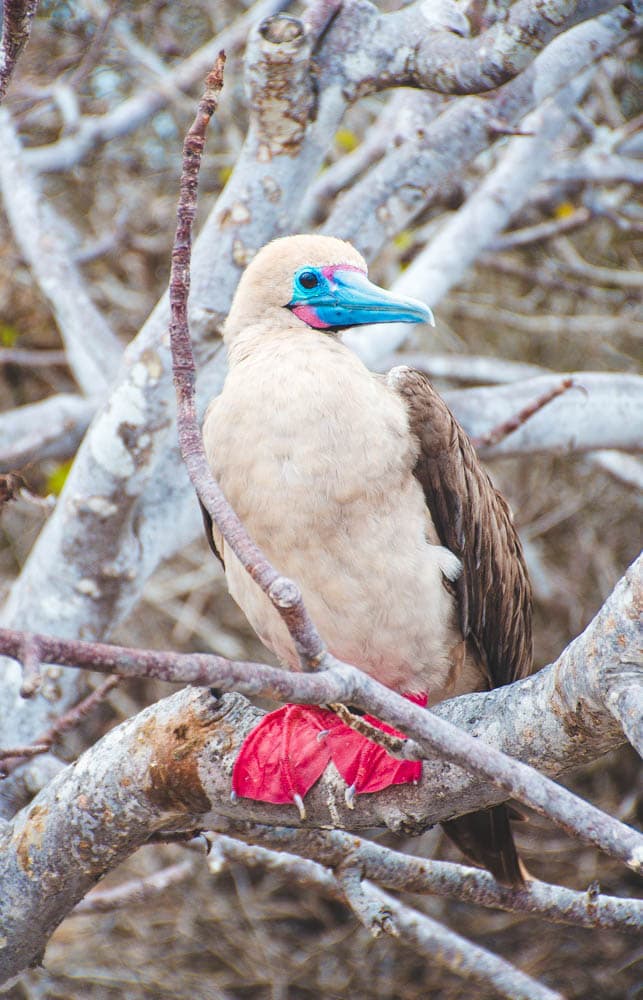 After climbing Prince Philip Steps, the terrain is relatively flat with large colonies of boobies, frigatebirds and storm petrels. Galapagos short-eared owls are also on the island, but you'll need binoculars and good eyes to spot them.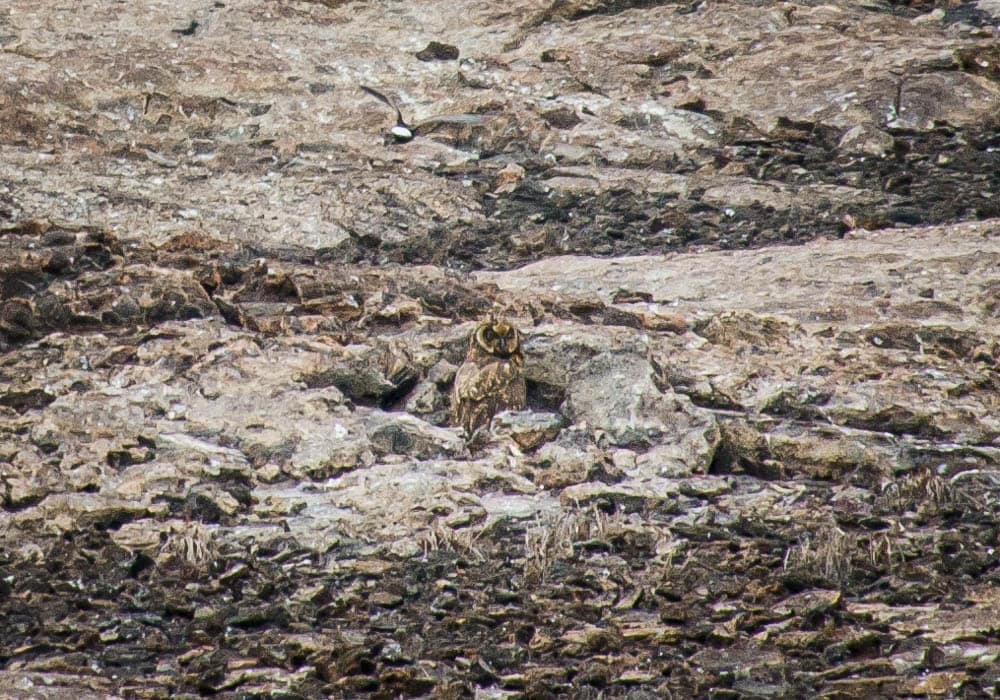 Darwin Bay, Genovesa Island - Day 4
Wildlife spotted: Frigatebirds, sea lions
I wish I could share more about my afternoon at Darwin Bay, but this is where all the hiking and snorkeling finally hit me and I took a nap. I know. A decision I regret to this day because I missed out the frigatebird mating display!
I did make it for snorkeling later in the afternoon. I only stayed in the water for a few minutes because the bigger show was on the shore with an adorable sea lion. I caught a little bit of it on video.
Tortoise Reserve - Day 5
Wildlife spotted: Giant Tortoise
I honestly couldn't pick a favorite animal from the Galapagos because they were all so spectacular, but some might say that they saved the best for last with a visit to the Rancho Primicias Tortoise Reserve on the final day of the cruise.
The Giant Tortoises of the Galapagos are the world's largest tortoises, weighing up to 550 lbs. Until you see these giants in person, it's hard to comprehend their size.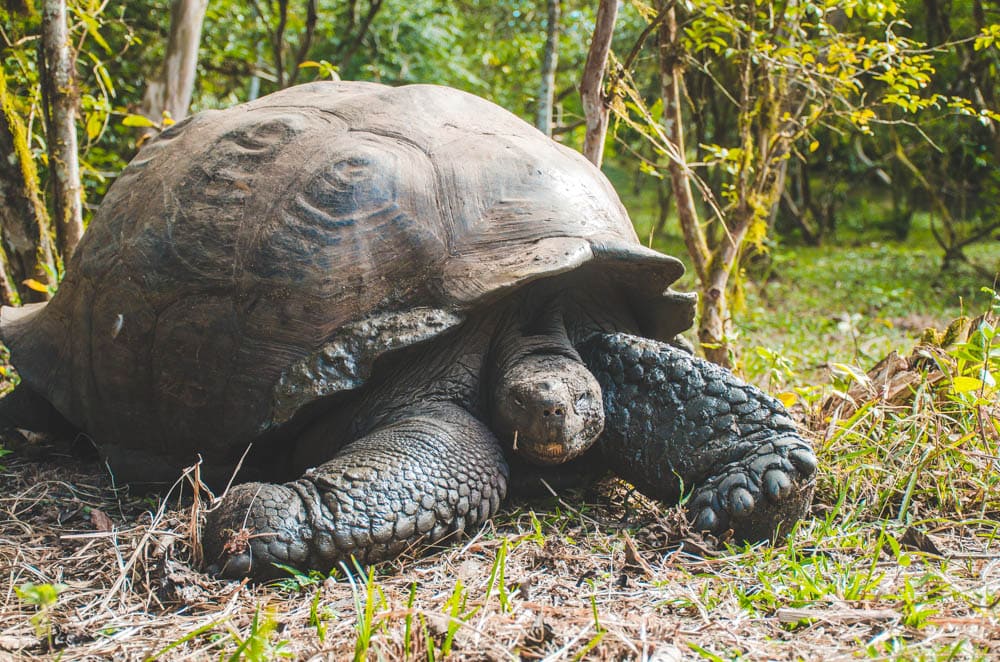 From the Santa Cruz II to Seymour Airport on Baltra Island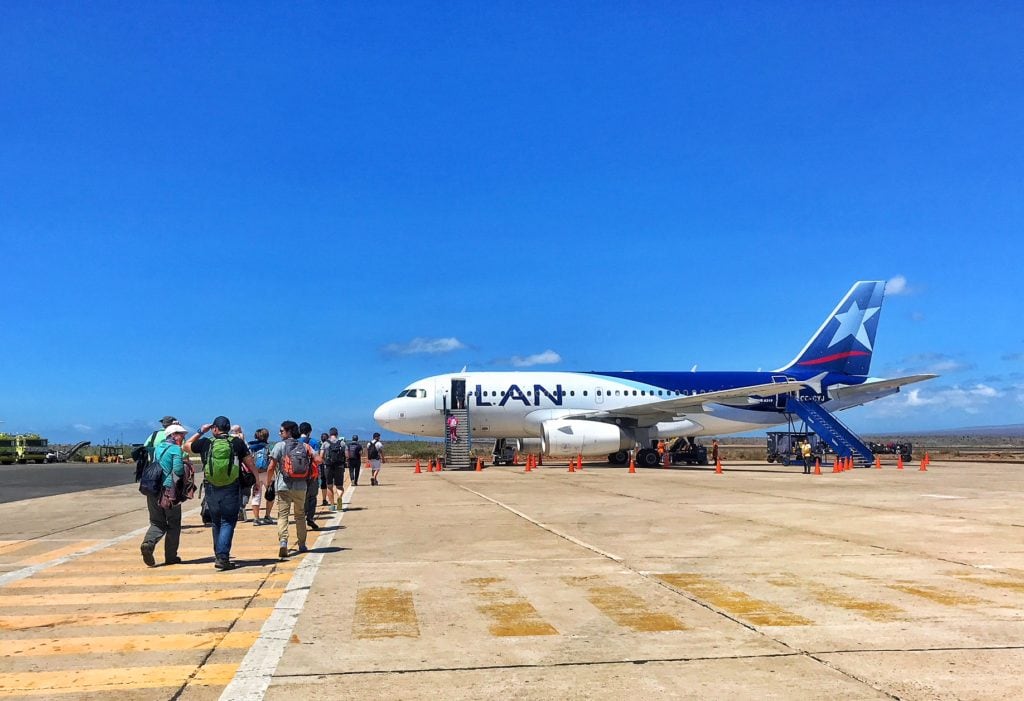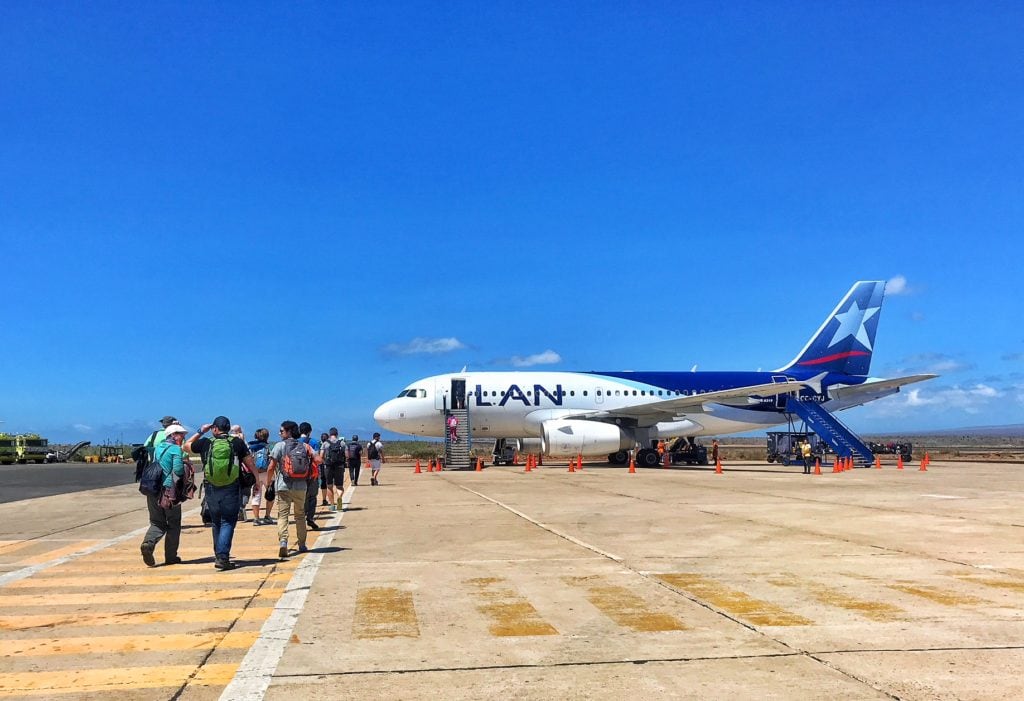 When you disembark the Santa Cruz II to visit the tortoise reserve, you will take all your personal items with you for the airport. Large pieces of luggage are taken care of by Metropolitan Touring and will be available for pickup once you arrive at Seymour Airport on Baltra Island. The same goes for your boarding passes— everything is hand-delivered to you once arrive.
This level of service is outstanding because it allows you to focus on the morning at the tortoise reserve without worrying about anything. As guests of the Santa Cruz II, you're offered complimentary access to the airport lounge for light snacks and non-alcoholic beverages.
Of course, you can choose to stay longer on the Galapagos by combining your trip with a land stay. If I had the opportunity, I would have stayed a few extra nights at the Finch Bay Hotel on Santa Cruz Island. Finch Bay and Mashpi Lodge are both designated National Geographic Unique Lodges of the World.
Galapagos Big 15
Similar to Africa's Big 5 safari animals, Metropolitan Touring put together a list of 15 must-see wildlife in the Galapagos. I was astonished that I was able to check off 12 of the 15 animals on the list in just five days.
The three animals that I didn't spot—Galapagos Albatross, Flightless Cormorant & Santa Fe Iguana— are located on islands that aren't visited on the Santa Cruz II Northern Galapagos itinerary.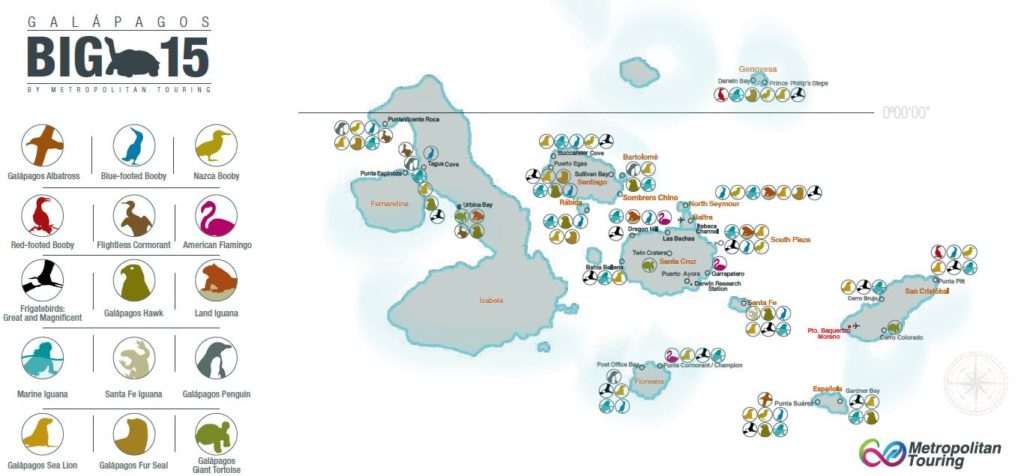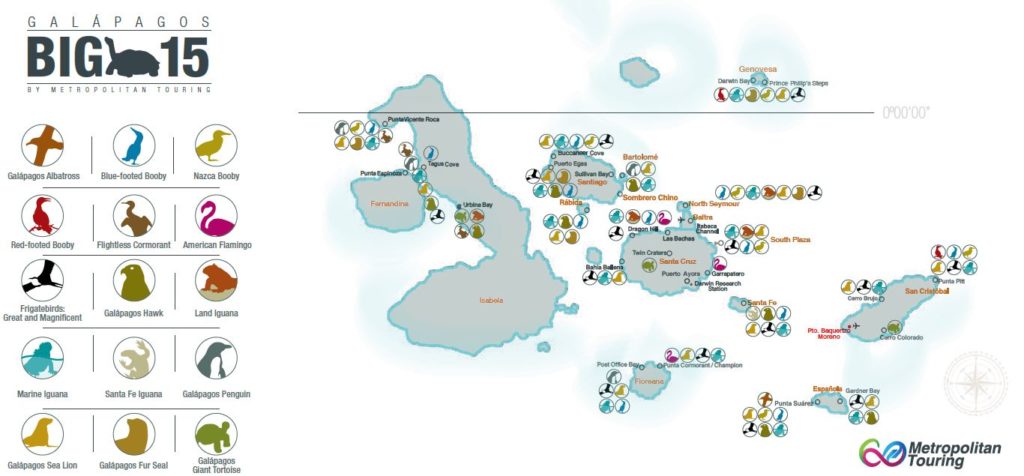 If you're thinking about booking a Galapagos cruise, don't hesitate for a second about choosing Metropolitan Touring and the Santa Cruz II for your adventure vacation— they are truly a leader for luxury travel in the Galapagos and South America with 60+ years of experience operating tours.
→ Also read: Galapagos Tours: Why a Galapagos Cruise is the Way to Go
→ Also read: Mashpi Lodge – Nature Meets Luxury in Ecuador's Cloud Forest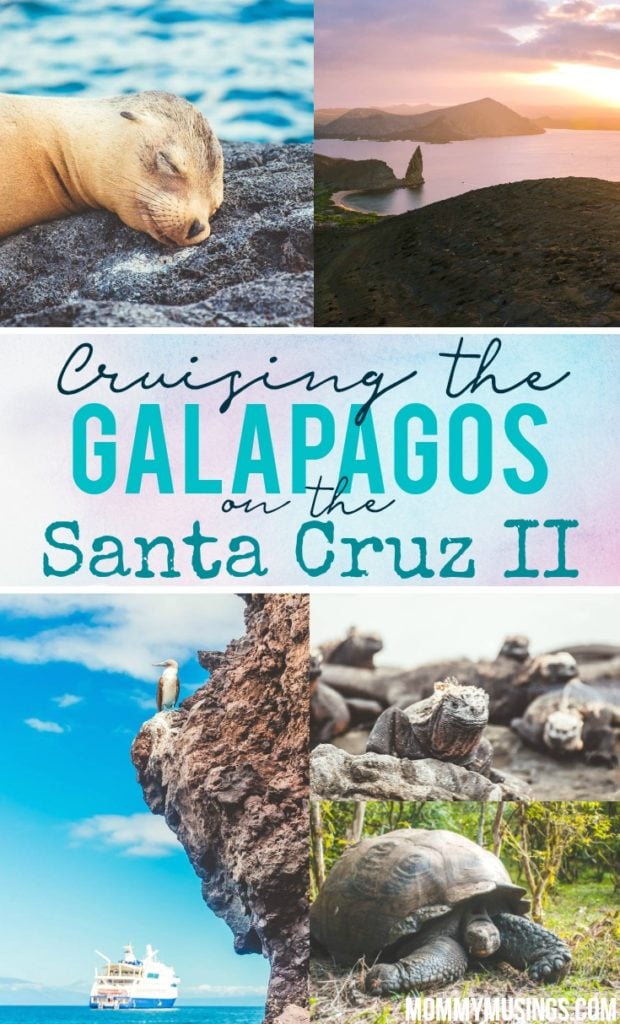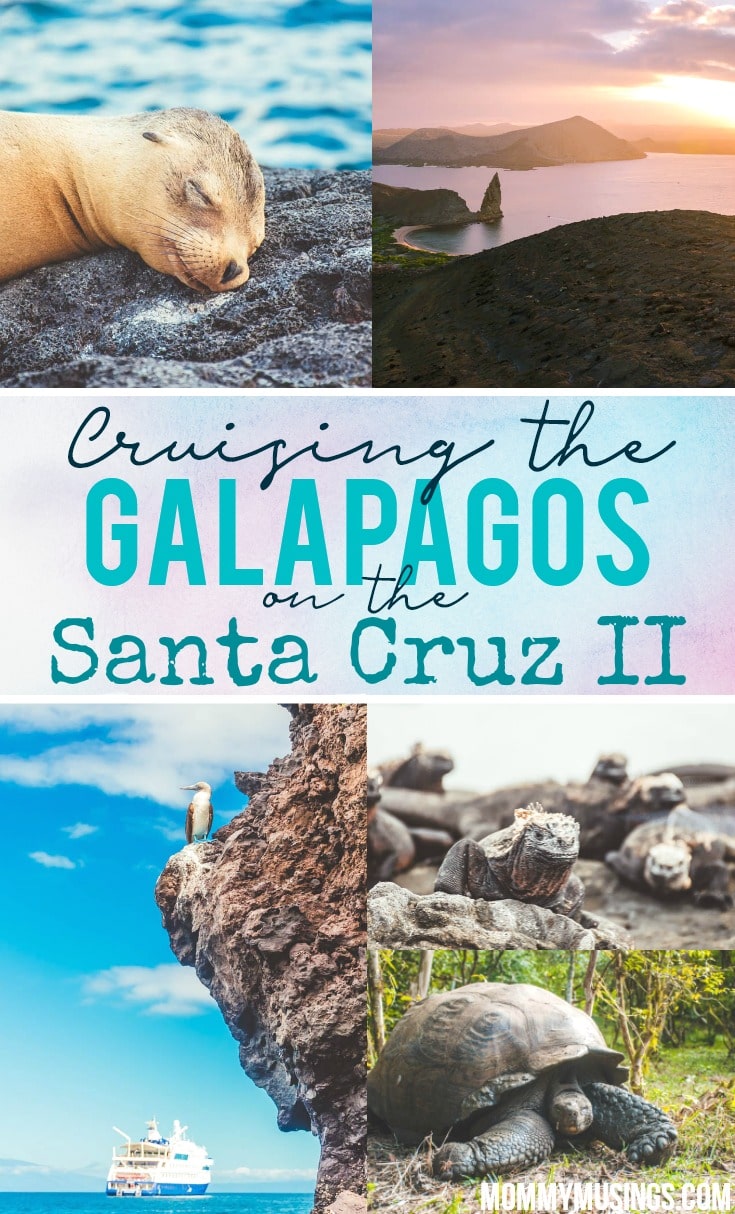 Special thanks to Metropolitan Touring for hosting me on this adventure. All opinions are my own.