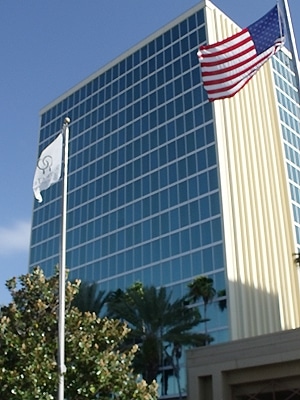 Now that my daughter is getting older, we are discovering the different parts of Central Florida. One of our newest adventures has been Universal Orlando. We are still major Disney fans, but the allure of The Wizarding World of Harry Potter at Universal's Islands of Adventure really drew us in this year.
With a new theme park, comes new accommodations. Recently, we stayed at DoubleTree Hotel at the Entrance to Universal Orlando to check out the hotel, it's amenities and bed and breakfast package.
This was our first stay at a Universal area hotel, and at a DoubleTree.
When they say Universal Doubletree is at the entrance of Universal Orlando, they really mean it.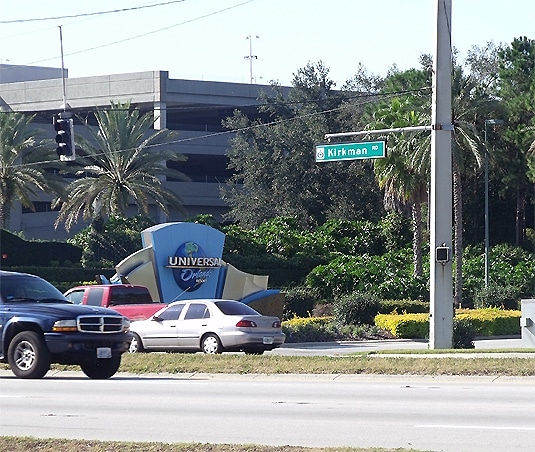 It's so close, you could walk- but I recommend taking one of DoubleTree's free shuttles, or a $5 cab (our choice).
Upon arrival, we were greeted with friendly faces and warm chocolate chip cookies. This is a signature of DoubleTree hotels, and the cookies live up to their hype- totally delicious!  Definitely a perk that I look forward to experiencing at other DoubleTree properties.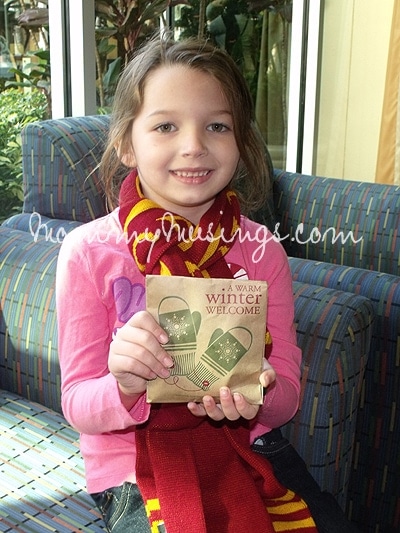 We were excited to find out we got a super-awesome upgrade to a suite at check-in.
Sweet!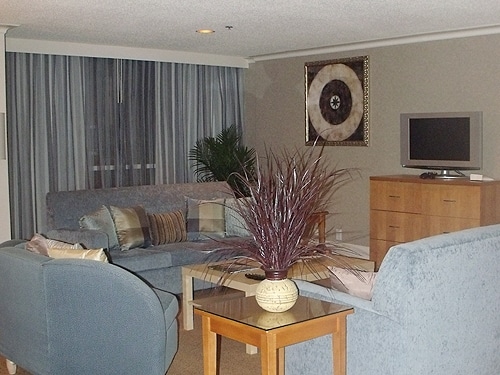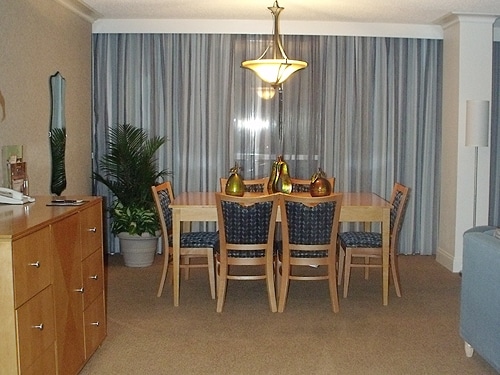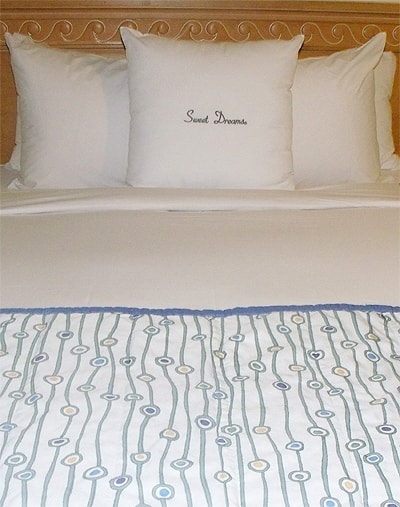 The suites at DoubleTree Universal are great for families. The rooms are HUGE, so there's plenty of space for everyone. I found the beds to be extremely comfortable and the room was very clean.
Some of the in-room amenities (in all rooms, not just suites):
-AM/FM Alarm Clock Radio with MP3 connection
-32" Flat Screen Televisions w/preimuum cable channels
-Coffee/Tea Maker (Wolfgang Pucks Coffee & Numi Tea)
-Neutrogena Bath Products
-Mini Refrigerators
-Newspaper M-F (USA Today)
-Sweet Dreams Plush Top King or Queen Bedding
-Wireless High-Speed Internet ($9.95 per 24 hour period, free in lobby)
There is a bed and breakfast package available when you book your room at DoubleTree, and I would highly recommend it if you are traveling with family. For a small charge per night (around $15), you receive a breakfast for 2 adults and 2 children per day. We chose the buffet and the food was outstanding!
The buffet included hot and cold items, including fruit, oatmeal, bacon, eggs, sausage, biscuits & gravy, made to order omelets, waffles, cereal, yogurt, juice, muffins and pastries.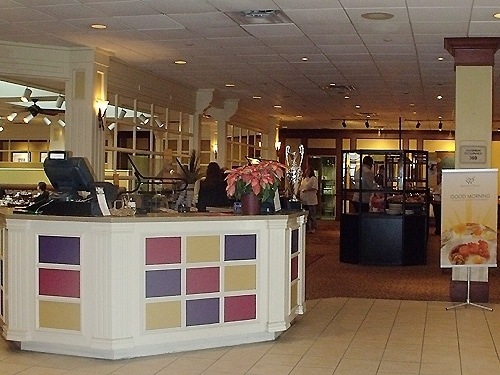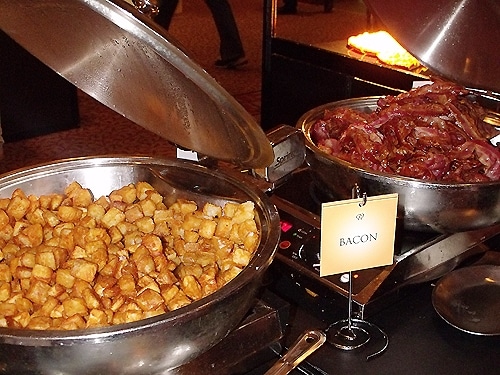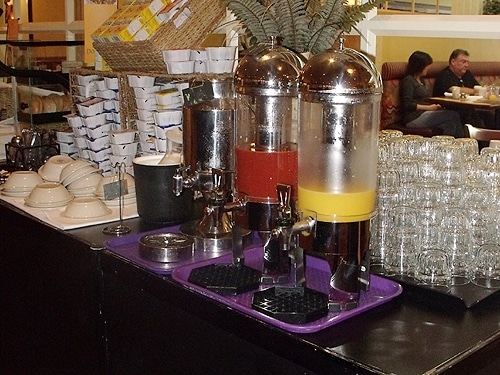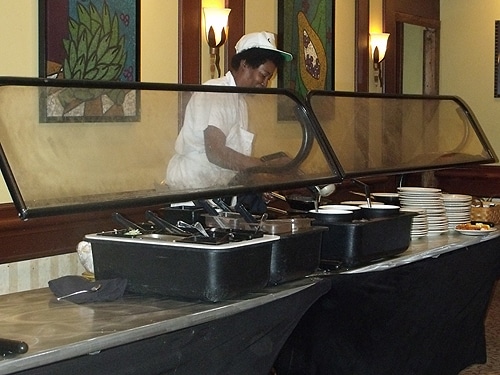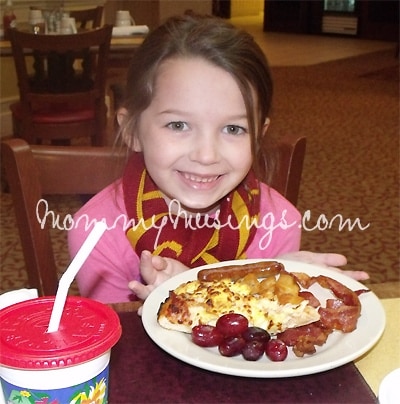 Other on-site amenities
For all you coffee lovers, there's even a Starbucks on-site!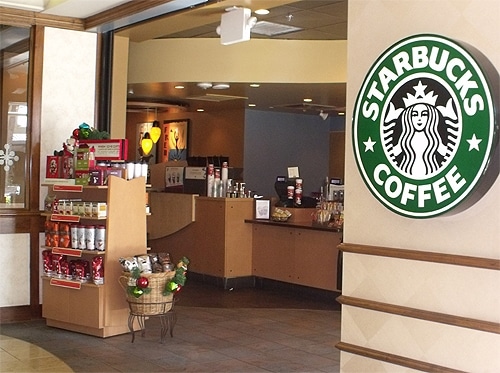 While it was a little too cold to swim, there was a nice pool and over-sized hot tub.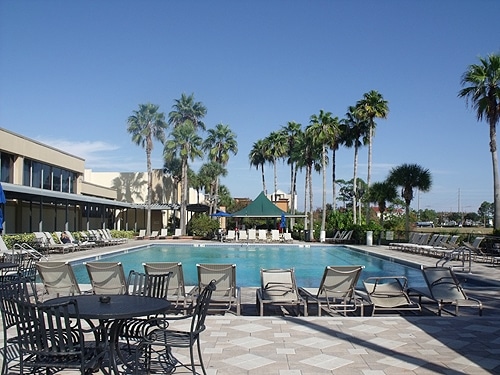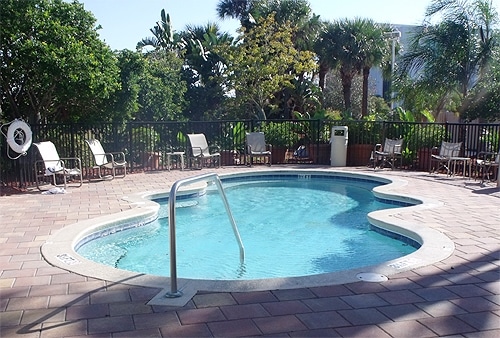 Overall, we had a great stay and would return to DoubleTree Universal Orlando. The hotel is about as close as you can get to Universal Orlando without staying at one of the resort properties. It's a great value for families looking to stay close to the action.
Special thanks to DoubleTree Hotel at the Entrance to Universal Orlando for hosting our visit as part of DoubleTree Destinations.