I've lived on the west coast Florida all my life and it wasn't until earlier this month that I visited Marco Island for the first time. With so many beaches in Florida, it's hard to not have favorites — unfortunately this means that we usually stick to what we know, instead of venturing out to explore new destinations along the Gulf Coast.
Thankfully, the Naples, Marco Island, Everglades CVB invited my family out for two days to discover what we were missing -- and let me tell you, the Paradise Coast has more than white sand beaches! Marco Island proved to be an excellent family getaway, with unique activities, great food and comfy accommodations.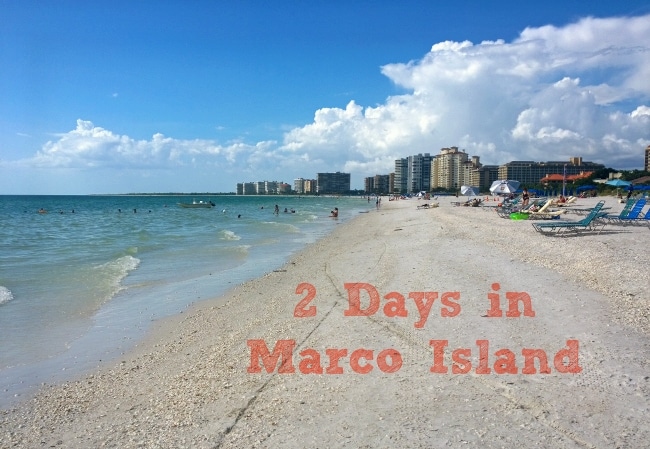 How to Get to Marco Island
Marco Island is located off Southwest Florida, near Naples and the Everglades. The closest airport with commercial flights is RSW - Southwest Florida International Airport in Fort Myers. From there, it's about 45 minutes by car. Driving to Marco Island from around Florida is quite easy: From the west coast of Florida take I-75 south to exit 101. From Miami/Fort Lauderdale, head west on I-75 (Alligator Alley) to exit 101. From either direction follow Collier Boulevard (SR 951) west to Marco Island.

Where to Stay in Marco Island
Hilton Marco Island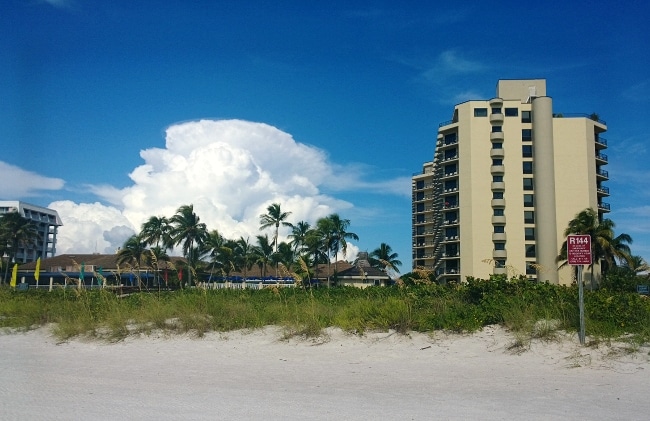 Whether you're spending two days or a week in Marco Island, one thing is for sure: You'll want to stay in a resort on the Gulf of Mexico! The Hilton Marco Island has a great location with private beach access within steps of the hotel. Accommodations range from junior to penthouse suites, with amenities that include a furnished balcony, sofa bed and mini fridge.
Our 2 Queen Bed Junior Suite with a Gulf View provided a ton of space for my family. Though there's only 3 of us, the Junior Suite could have easily slept a family of 5 comfortably. And the view, well that just speaks for itself—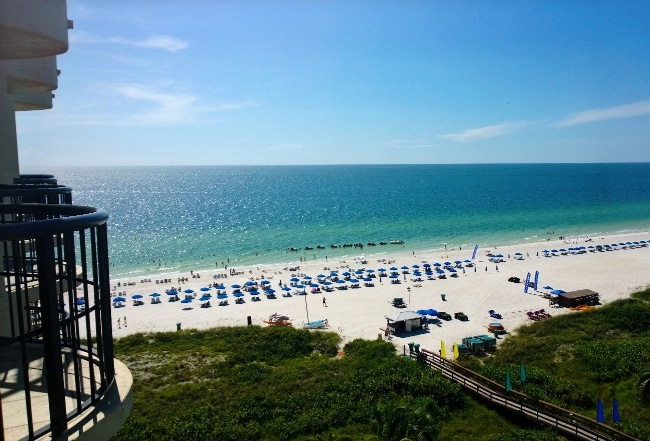 Resort activities include a spacious outdoor area with pool, whirlpool spas, lounge chairs and tiki hut with complimentary towels, beach and pool toys.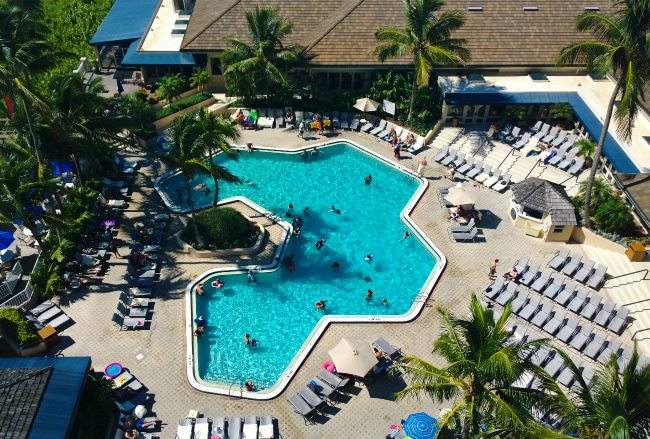 There's also an on-site spa (that sadly, I didn't have the chance to use) and 24-hour fitness center. Rounding out the resort are three on-site restaurants and room service with options for breakfast lunch and dinner.
We completely enjoyed our stay at Hilton Marco Island and would absolutely return. The best part was being so close to the beach, which we took advantage each day and evening -- there's nothing like wading in the Gulf at sunset! The water is super mild (re: not freezing cold!) and there are a ton of shells. My daughter and I spent a good part of our day at the beach shelling. Between the two of us, we found some real gems — I, of course, adored our mother/daughter time together!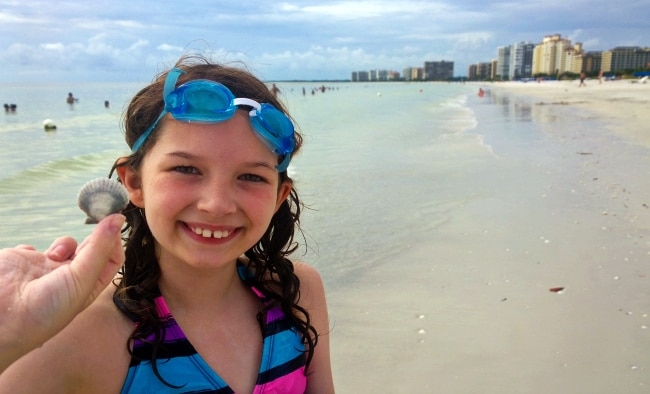 What to Do in Marco Island
Naples Zoo
The Naples Zoo at Caribbean Gardens is approximately 25 minutes from Marco Island, and it's well worth the drive into Naples! The zoo is on the smaller side, but it's packed with exhibits and shows, featuring 70 different species of animals in a very lush setting. The entire zoo is within a historic tropical garden that was founded in 1919. Some of the more unique animals at the zoo are African Honey badgers, Malayan tigers, striped hyenas, and the fossas of Madagascar.
Two exhibits really stood out for us— The first was the Giraffe Feeding Experience. For $5 you receive 3 leaves of lettuce to hand feed one of the giraffe. You can share the leaves among your party as long as you don't break the lettuce apart. My husband went first, then myself, and finally our daughter -- each time one of us snapped a picture to document the occasion. Feeding the giraffe was very cool; it's definitely an experience you won't want to miss at the Naples Zoo!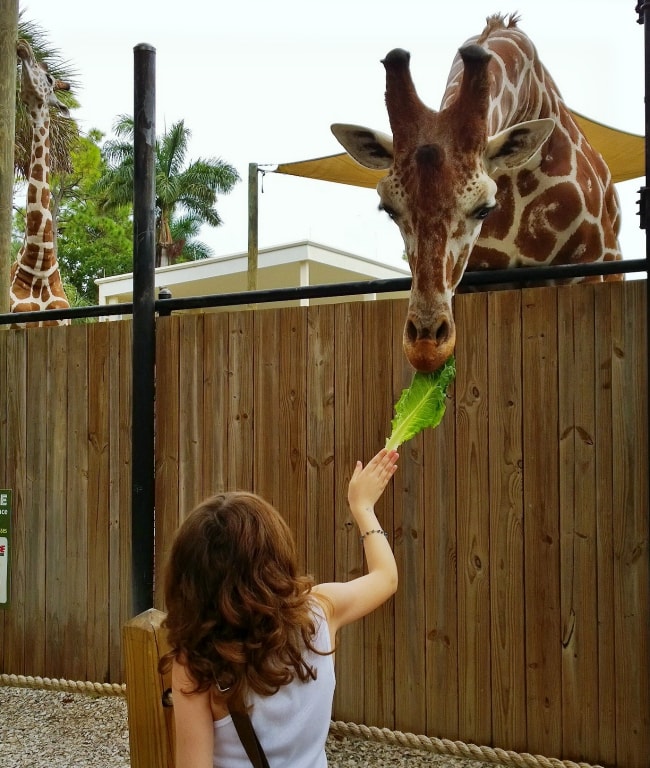 The Primate Expedition Cruise was the other favorite. Instead of just looking at monkeys, apes and lemurs through a cage or plexi-glass window, the primates at the Naples Zoo live on small islands. Guided catamaran tours are led throughout the day, giving guests a unique look at the animals in their natural habitat. The 20-minute cruise is included with zoo admission.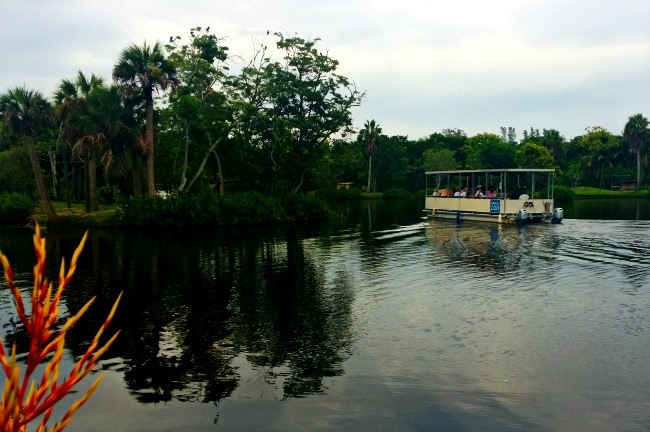 I loved how manageable the Naples Zoo is — we spent about three hours there, seeing most of the animals and a couple of the shows. The zoo definitely surprised us, especially since we've been to a few notable zoos in the US. The Naples Zoo is a great family-friendly activity that won't break the bank. Admission is $19.95/adults and $12.95/children 3-12. Discount tickets can be purchased in advance online.
The Dolphin Study Eco-Tour and Cruise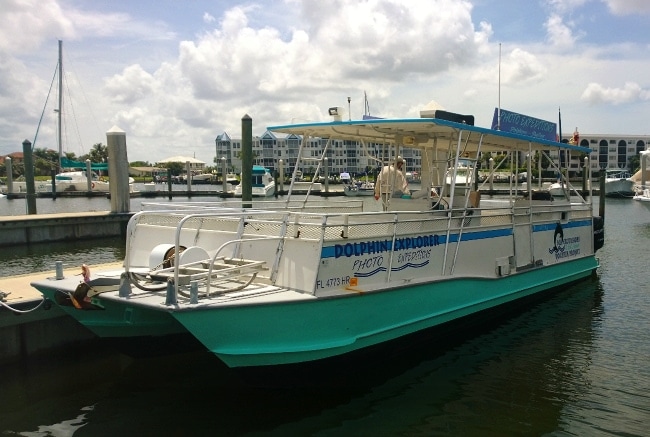 The one activity in Marco Island that you can't miss is The Dolphin Study Eco-Tour and Cruise. More than anything else, the three-hour Dolphin Explorer cruise is an education (for both kids and adults) in the study of the bottlenose dolphins of Southwest Florida. Not only will you see dolphins, but you'll assist the team, which includes a biologist and a naturalist, by identifying them for the 10,000 Islands Dolphin Project. The Dolphin Study Eco-Tour is listed in National Geographic's 100 Places That Can Change Your Child's Life.
The Dolphin Eco-Tour was by far one the best activities that we have participated in as a family. I have a full post coming on what you do on the cruise, but it's so much more than a sightseeing. I can't recommend the tour enough. Tickets are $59/adults and $37/children 3-12. Two cruises leave Marco Island daily.
Where to Eat in Marco Island
CJ's on the Bay
You can't visit Marco Island and not have a little seafood. Luckily for my family, there's plenty to be had ... and we LOVE fresh shrimp and fish. One of the two restaurants that was recommended to us was CJ's on the Bay at the Esplanade Plaza. CJ's is a waterfront restaurant with an outside gazebo bar with outdoor live entertainment Thursday evenings and inside live entertainment Thursday, Friday and Saturday evenings. It's got a great atmosphere (very causal) and even better food. The menu features a variety of appetizers, salads, sandwiches, pizza, pasta and seafood. Honestly, everything looked good on the menu.
We started with an appetizer of crispy calamari, which was excellent — the spicy marinara sauce was super yummy, too. I went light with my entree having a Blackened Tilapia Sandwich (delish!) and my husband enjoyed CJ's Blackened Prime Rib Sandwich. Our daughter was very predictable, ordering her usual, classic fish and chips. Even though we were stuffed, we still devoured dessert; the Pineapple Upside Down Cake was out of this world!!! Everything was fresh and flavorful, and the views at sunset made dinner that much more enjoyable. If you can, grab a table outside! CJ's on the Bay is a great option for families as there's a kids menu and a lot of variety for picky eaters.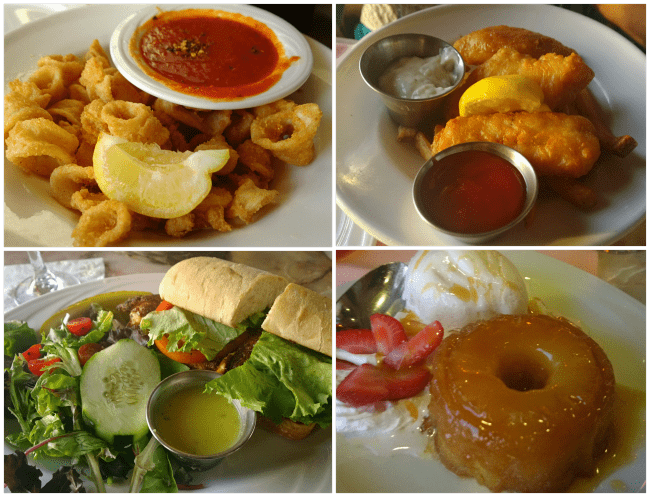 Captain Brien's Seafood and Raw Bar
Directly across from the street from the Hilton Marco Island is Captain Brien's Seafood and Raw Bar. The location is great because you can walk from the Hilton or any of the other area hotels. With fresh seafood, fun decor and friendly servers, Captain Brien's is a great spot for families looking for a good meal at a great price. Though seafood is primarily on the menu, the Prime Rib was recommended to me and I couldn't resist — it was incredible; one of the best pieces of prime rib I've ever had. My husband loved his fried seafood platter with shrimp, clam strips and grouper. Once again, my daughter order fish and chips off the kids' menu. For dessert we shared an amazing slice of Key Lime Pie. Captain Brien's is a keeper!