Who doesn't love Build-A-Bear? We are huge Build-A-Bear Workshop fans in this house. We have two bears, a unicorn and my personal favorite, Hello Kitty! We dress them each up for different occasions and holidays. It's also fun to visit different Build-A-Bear Workshops when you are out of town as they usually have special clothes just for that city.
*Money Saving Tip:  Buy the bear and then go back just for the outfits 😉
Recently we added a new stuffed friend to our collection, Frosty the Snowman!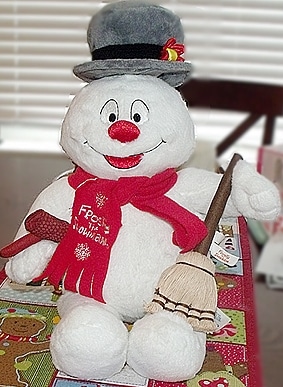 Frosty is quite the adorable little thing. His face lights up when you tip his hat and he makes some sound.
"There must have been some magic in that old silk hat they found. For when they placed it on his head, He began to dance around!"
You can even add Frosty's famous corncob pipe, scarf and broom to make him complete. He's an adorable new friend to add to your child's Build-A-Bear Collection.
Frosty can even wear other Build-A-Bear clothes if you want to keep him out all year long! Limited Edition.