Wall murals for interior design have been having a moment lately and for good reason. They're easy to DIY and a fairly inexpensive way to change the look of a room without redoing the entire space. Here are seven ideas to use them in your home for unique design, personal expression, and visual interest.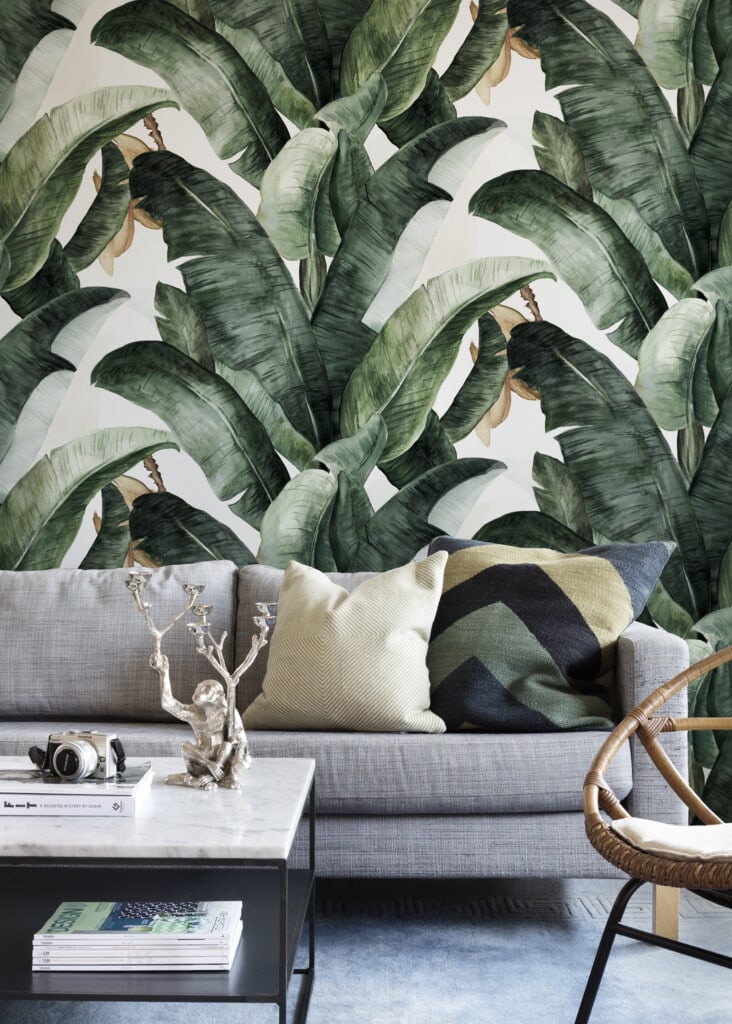 Advantages of using wall murals
The great thing about this trend is that wall murals are a DIY option. You won't have to hire a professional to install them. There are no complicated choices about what design colors or patterns go together since the pictures are already on the mural. And you can use them to achieve any of the trendy looks we'll talk about here.
What looks can you get with wall murals?
You may be surprised at all the fine-looking wall murals that are available to consumers today. They can enhance the look of a room in a way that fits into almost any décor style.
Go green. Many people like the color and natural vibe that green plants provide to a room. But if you or a family member has allergies, you have pets, or you're just not good at taking care of plants, having actual plants in the house just might not be practical. Why not use a wall mural that features some greenery instead? Large tropical leaves, forest designs, or greenfield scenes are good choices.
Add some bold color. Wall murals come in a huge variety of colors and designs, so it takes the guesswork out of using bold colors on your wall. You don't have to try to come up with something yourself and it's faster and less risky than trying to paint it on yourself.
Children's rooms. This is probably the most frequently seen use for wall murals. It provides a unique and personal look to a nursery and whimsical designs are available for children that are a little older.
Mimic architectural features. Interior brick walls or archways can look amazing, but not every space is lucky enough to have them. A wall mural is a much easier and cheaper way to get the look.
Add the look of less traditional wall coverings. Two of the up and coming design trends for walls are updated wood panels and statement tiles. Wall murals are faster and less difficult to install than either of these options. Murals are also easier to take down in the future if you change your mind or style.
Add serenity and calm to a space. Rooms like bathrooms and bedrooms can often benefit from wall treatments that add a feeling of calm and relaxation to the space. This is often the vibe you want in these spaces and filling a wall with a nature mural or one with a floral motif can help provide exactly that.
Highlight your personal interests. Although it isn't exactly a trend, it can be fun to take things that mean a lot to you personally and use that to really express your personality in a room. A mural that depicts science, art, a hobby or sport, a historical scene, or the city where you met your spouse can give your space that personal touch.
Give a more modern feel to the space. One or more walls with a mural of a cityscape or geometric design can be a great accent to ultra-modern décor. Geometric patterns are a hallmark of the still highly desirable look of mid-century modern design. Adding texture to walls can work with minimalist or monochromatic décor since it is more subtle than something like a boldly patterned rug. You can still add visual interest without going overboard and stay within the overall style of the room.
How to install wall murals
Wall murals are definitely within most people's DIY skills. Although it is generally a two-person job to ensure things go up quickly and evenly. Murals can be made out of a variety of materials, so specifics will vary. But these basic tips will get you started.
Start with a smooth, clean, drywall
Grab a friend to help
If your mural includes more than one panel, lay it out ahead of time to ensure it gets on the wall in the right order.
Mark the wall
Install the mural. You may have to add wallpaper paste or the mural may be pre-pasted or stick-on vinyl. Follow the installation instructions that came with your mural.
Trim to fit
Changing up the walls of a room can make a big difference in the overall look of the space. Adding a wall mural can help complete the look of a room, add visual interest, and make a statement about personal style, all as an easy DIY project.