I had a friend in college who had the smoothest, healthiest looking skin- it was the kind that glistened. I always wondered what her secret was, as I applied lotions and cremes and my skin always looked drab...especially my legs. I finally asked her one day and she told me she used Johnson's Baby Oil in the shower- after she washed herself, but before towel drying. Maybe this wasn't a big secret, but it was totally new to me.
Now, nine years later,  my skin is once again ready for an overhaul. When Mom Central sent me bottles of the Johnson's Shea & Cocoa Butter line of baby oil products for review, I had a total flashback. I remembered the baby oil trick and I was once again excited to try it.
Johnson's Baby Oil, Johnson's Baby Creamy Oil and Johnson's Baby Oil Gel are all included in the Shea & Cocoa Butter line.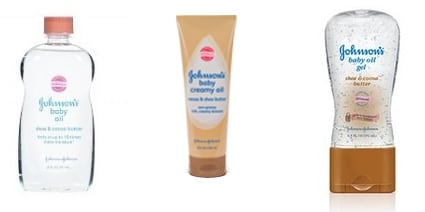 I've been using the products for the past 2 weeks and my skin hasn't been so soft in ages. I especially love Johnson's Baby Oil Gel for use after a shower, when my skin is still wet. It's amazing what your skin can look like after using this product.
It is not greasy and you notice a difference after the first use. Another favorite is Johnson's Baby Creamy Oil. This is my new go-to lotion for application throughout the day. The creme is thick and it has a great scent. With the colder weather and the heat running all day in the house, all three of these products have re-hydrated my skin in a way no other product has.
I have used the products solely on myself, but because they are Johnson's, they could be used on my daughter as well.
Moving forward, Johnson's Baby Creamy Oil and Baby Oil Gel will be year-round staples for my skin.
"I wrote this review while participating in a blog tour campaign by Mom Central on behalf of Johnson's and received the products necessary to facilitate my review. In addition, I received a gift certificate to thank me for taking the time to participate."