Like lobster in Maine and deep-dish pizza in Chicago, you can't visit Memphis, Tennessee and not have barbecue —more precisely, dry rubbed ribs at Charles Vergos' Rendezvous.
Charles Vergos' Rendezvous has been serving up their world-famous dry rubbed pork ribs since 1948. The location is right off Union Avenue, in an alley of all places, directly across from The Peabody Memphis.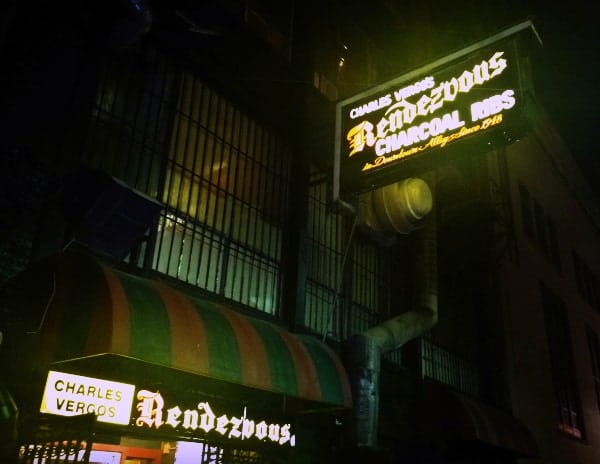 As soon as you step foot onto Charlie Vergos' Rendezvous Alley —really that's the name— the scent of barbecue smacks you in the face and you know you're in for some good eats. Or at least that was my experience when I dined there for the first time, just last month.
The restaurant has the atmosphere of a "hole in the wall", with random memorabilia in every nook and cranny. I thought the eclecticness just added to the appeal and made me feel like I had found a hidden gem, even though I'm pretty sure that Rendezvous is known (and recommended) by just about everyone in Memphis!
Before I even looked at the menu, I knew what I was going to order— how could I not try the charcoal-broiled pork ribs that make this place so famous? There was only one decision ... large or small?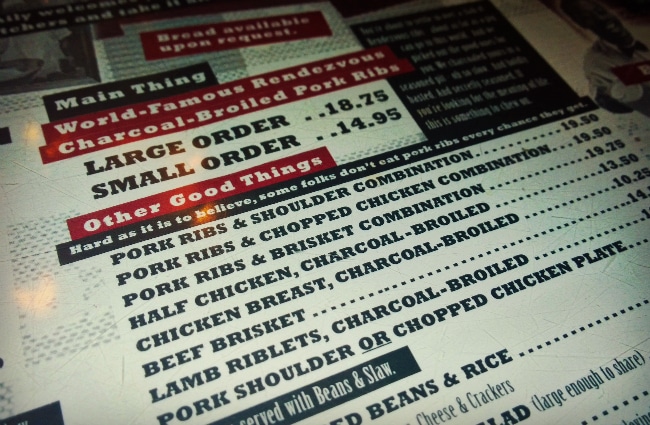 I went with a small order (half rack) with baked beans and mustard/vinegar coleslaw, but after one bite I knew I could have handled the large portion (full rack). As a rib lover, I had high expectations given all the hype that surrounds Rendezvous; but, believe me— these dry rubbed ribs were some of the best I've ever had. What makes them unique is the combo of the dry rub (a secret blend of seasonings and spices) and vinegar, which is basted on the ribs to keep them moist without BBQ sauce. I found Rendezvous' rub so tasty that I bought my own bottle of seasoning to take home.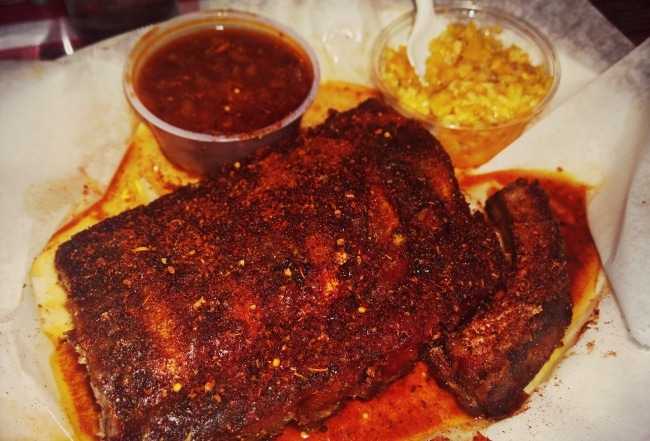 After dining at the Rendezvous, it was easy to see why their ribs are world-famous. If I ever find my way back to Memphis I will definitely stop by for another round -- I encourage you to do the same!
Charles Vergos' Rendezvous
52 S Second St (in the back on Charlie Vergos' Rendezvous Alley)
Memphis, Tennessee 38103
http://www.hogsfly.com