Leigh Caldwell of MidwestTravelMom.com attended the Embassy Suites #300 More Press Trip to Chicago on behalf of Mommy Musings. This is the second of several posts she will be sharing about the hotel and the attractions she visited.

One of my daughter's must-dos when we visit Chicago is to eat something the Windy City is famous for: Deep-dish pizza. And while we had had plenty of it, we had never visited one of the most famous spots for it - Gino's East - until our most recent visit to the city.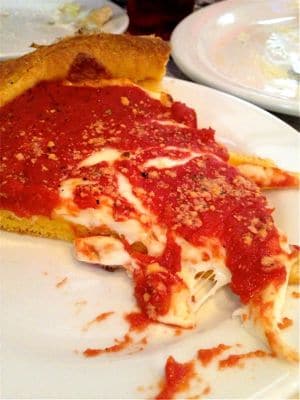 The famous deep-dish pizza was invented in Chicago in the 1930s. If you've never had it, you may think that the crust is very thick on the pizza, but true Chicago-style pizza actually has a crust of thin-to-medium thickness. It is baked in a round pan - the ones at Gino's East are cast iron - that is around three inches deep like a cake pan. The crust lines the bottom and the sides, creating a bowl of sorts for the toppings.
And this leaves plenty of room for the toppings. What distinguishes a Chicago-style pizza in my mind is the extreme amount of cheese on it. The pizzas are assembled upside down from a traditional pizza, with cheese over the crust on the bottom, then toppings, then the sauce, which is usually a quite chunk tomato sauce. Why upside down? Because the pizza is so thick, it requires a long cooking time, which would burn the cheese if it were on top.
There are a handful of famous names in the Chicago deep-dish pizza business: Pizzeria Uno (popularly believed to be the place it started), Giordano's, Lou Malnati's, Rosati's and Gino's East. The Gino's East location we visited was the first restaurant, at 160 E. Superior Street, just off Michigan Avenue. The restaurant was opened in the 60s by two Chicago taxi drivers.
The first thing you will notice when stepping inside Gino's East is all the writing on the walls. Patrons are invited to write their names on the walls, so it's fun to come prepared with a Sharpie, especially if you're traveling with kids.
The walls are actually completely covered with names. In some places, you will be scratching your head asking how someone even got to a certain nook or cranny to write their name, but trust me, it'll be covered.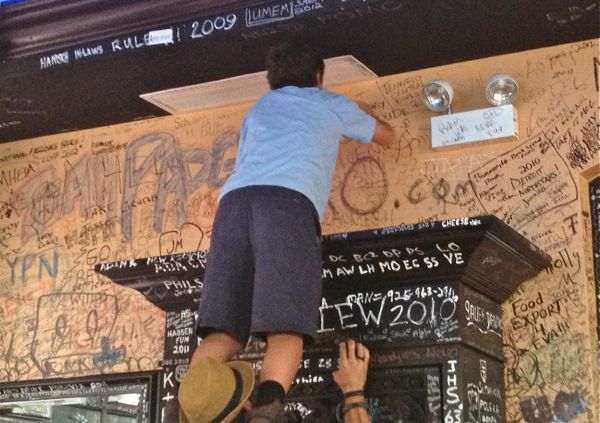 The pizza at Gino's East was assembled in the classic upside-down Chicago way, and it was fantastic. My daughter and I are going to have a hard time deciding between Gino's East, our new favorite, and Giordano's, our old favorite, on our next trip to the city.
Most deep-dish pizzas at Gino's East will run you $20 to $30. They take awhile to bake, and there's often a wait at Gino's in the evenings, so be prepared to delay eating a bit. There is a nice selection of appetizers and salads to tide you over.
Gino's East also offers mail-order pizzas if you need a Chicago fix and can't get there. You can check out the mail order and Chicagoland locations at the Gino's East Web site.
Embassy Suites paid for transportation, accommodations and some meals and attractions we visited on our Chicago trip.