Have you seen Monsters University in theaters yet? We have! … And we LOVED it! On opening day, my family made some adorably delicious Monsters University Cupcakes (made with Juicy Juice!) to get us in the "spirit" for college life with Mike, Sulley and the rest of Monsters Inc. crew.
We had high expectations (we're huge Disney-Pixar fans!), and Monsters University definitely delivered – it was light, funny, and appealing to both kids and adults.
As soon as the movie ended my daughter asked to see it again! While we may schedule another movie date before MU is out of the theaters, she was more than happy to accompany me to Walmart to Pre-order a copy of Monsters University… Yes, that's right – you can already pre-purchase Monsters University at Walmart, which scores you a Blu Ray/DVD copy right to your door when it's officially released this fall.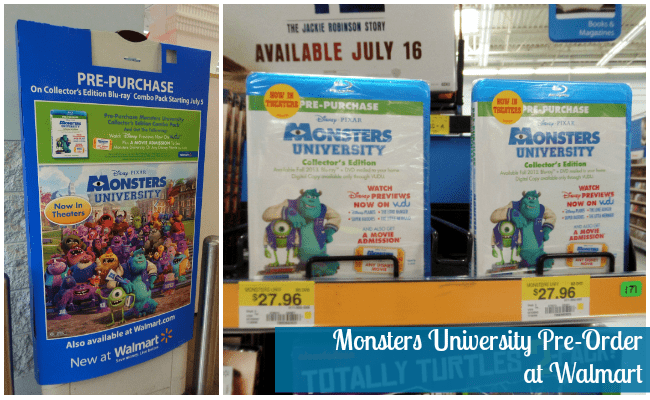 You can check out our full #MUPreOrder experience at Walmart on my Google+ Album, but here's the gist on how it works (it's SUPER EASY!):
Head to your local Walmart and pre-purchase the Monsters University Collector's Edition 2D Superset (Bluray/DVD + Digital Copy). You can find the MU pre-order with all of the other new releases—the box looks like any other DVD box, but there's no disk inside. There will be special signage in the front of Walmart until July 19 -- The box looks like this:
Once home, register your movie online at Vudu using the enclosed code inside the box. Your movie will be mailed to your at home as soon as it's released.
In addition to getting a copy of Monsters University when it's released, you'll also receive a coupon in the pre-order box for $1.50 off Juicy Juicy and $8 in Disney movie cash– good for ANY Disney film in theaters! Plus, pre-order perks also include being able to see Disney sneak peeks on vudu.com.
Now that we've pre-ordered Monsters University and signed up for our $8 in free Disney movie cash, we can either see Monster University again (as my daughter requester), or wait until Planes debuts on 8/9. Either way, it will be another fun day at the movies!
If your family loved Monsters University as much as mine did, pre-ordering a copy at Walmart is the way to go! You get the movie as soon as it's released, plus the coupon for Juicy Juice, $8 in Disney Movie Cash (which is basically a free movie ticket), and Disney sneak peeks on Vudu for the same price as the Blu Ray/DVD copy on release day.