Is it true— what happens in Vegas, stays in Vegas? Of course not! What fun would that be!? But you know, Las Vegas doesn't have to be about crazy, late nights out and gambling. In fact, when I go to Vegas I prefer a more luxurious experience, complete with plush hotel rooms, UPGRADES, spa treatments, incredible shows, and food that even the foodiest foodie would fall over for. That's my kind of Vegas.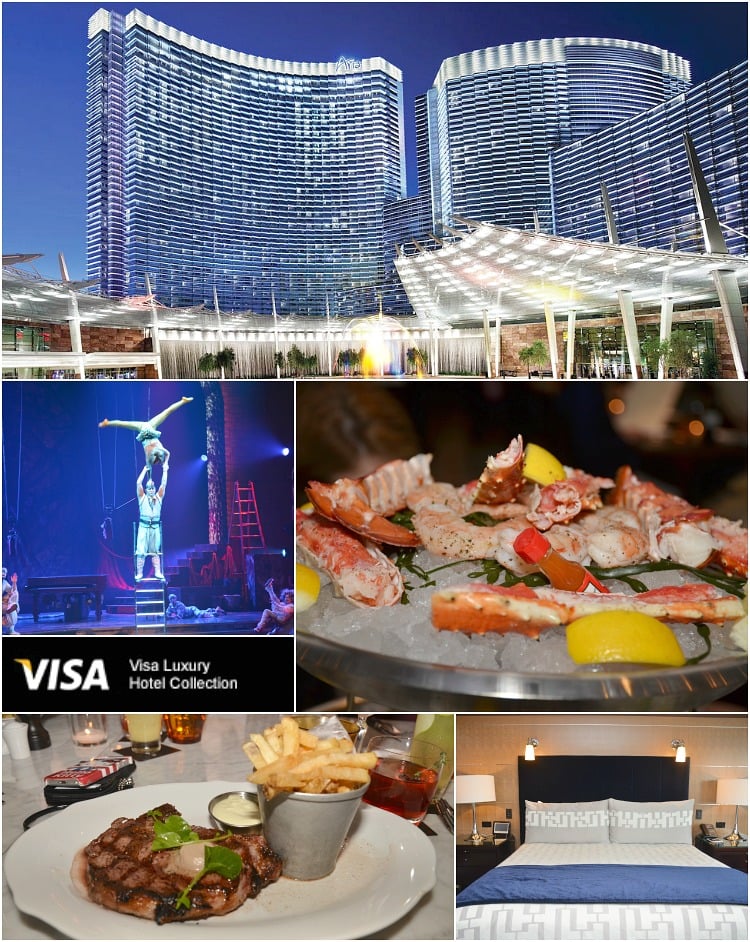 Recently I partnered with Visa to experience the benefits of the Visa Signature Luxury Hotel Collection, available exclusively to Visa Signature cardholders.
The Visa Signature Luxury Hotel Collection gives cardholders access to a variety of premium benefits from a selection of 900 of the world's top hotels, including the Aria Resort and Spa in Las Vegas, where I was invited to stay for 2-nights as a guest of Visa Signature for their kick-off event.
The great thing about the program is that you only need to be a Visa Signature cardholder to have access to the benefits, which are complimentary when you book your stay through the Visa Signature Luxury Hotel collection website. So what are these great benefits? I'm glad you asked!
7 Exclusive Benefits for Visa Signature Cardholders
Best available rate guarantee
Automatic room upgrade upon arrival, when available
Complimentary in-room Wi-Fi, when available
Complimentary continental breakfast daily
$25 USD food or beverage credit
VIP Guest status
3PM check-out upon request, when available
Seeing these benefits online is one thing, but experiencing them is another! I tried to capture the Visa Signature experience during my stay at Aria Resort and Spa and I'm happy to share it with you.
Best available rate guarantee
I did not book my stay, but I did visit VisaSignatureHotels.com and checked out the rates compared to booking directly through the hotel. To my surprise, the rates were at least 10% less for every room category, and that's before any of the other benefits.
Automatic room upgrade upon arrival, when available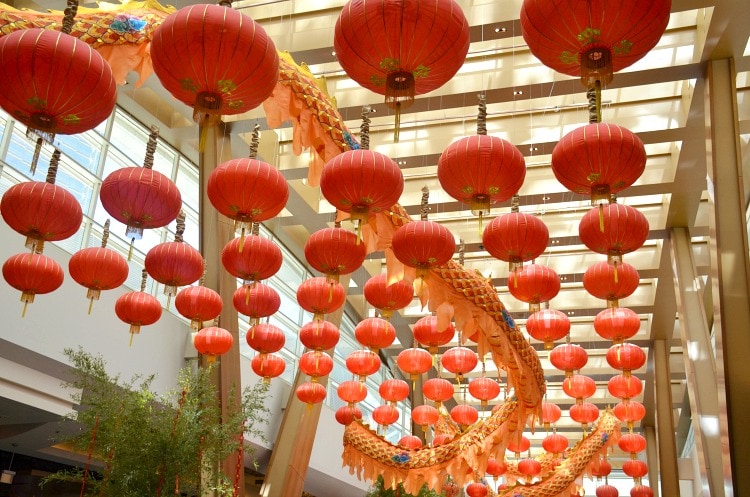 As soon as I arrived at Aria I was greeted with open arms. The lobby was stunning, elaborately decorated for the celebration of Chinese New Year. Check-in was quick and painless, and I was delighted to receive a Deluxe City View room upgrade.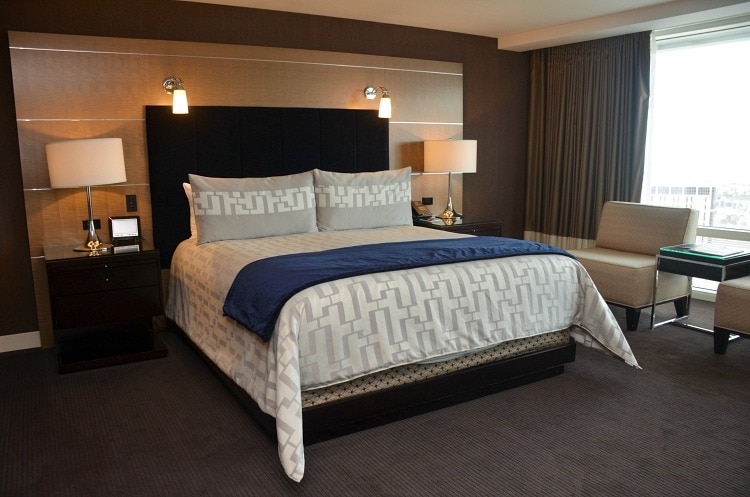 In Vegas, this is exactly where you want to be.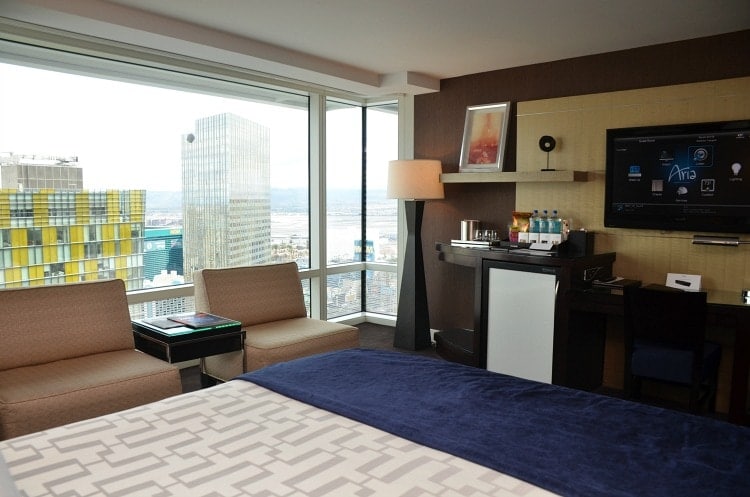 The rooms at Aria feature exclusive one-touch technology, where practically everything can be controlled from a little pad next to the bed. I got quite a kick out of opening and closing the curtains… can you beat that view!?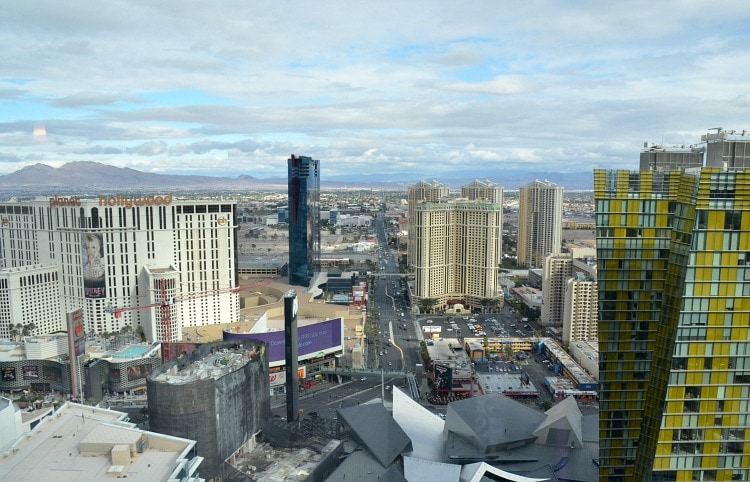 Complimentary in-room Wi-Fi, when available
One of my biggest pet peeves when traveling is paying an additional fee for in-room Wi-Fi. At this point, I think it should be an included amenity at every hotel across the board, but until that happens, in-room Wi-Fi is always complimentary (when available) when you book with Visa Signature.
Complimentary continental breakfast daily
Do you know how wonderful it feels to wake up and have breakfast ready and waiting for you? With Visa Signature you and one guest receive complimentary continental breakfast daily. At the Aria Resort and Spa, this benefit comes in the form of a $20 breakfast credit that can be used towards room service, or at any dining establishment on property.
I had a spa appointment booked the morning of my first day so I decided to use my credit on a light breakfast of a croissant, café au latte and fresh squeezed OJ at Jean Philippe Patisserie. It was really a wonderful way to start the day!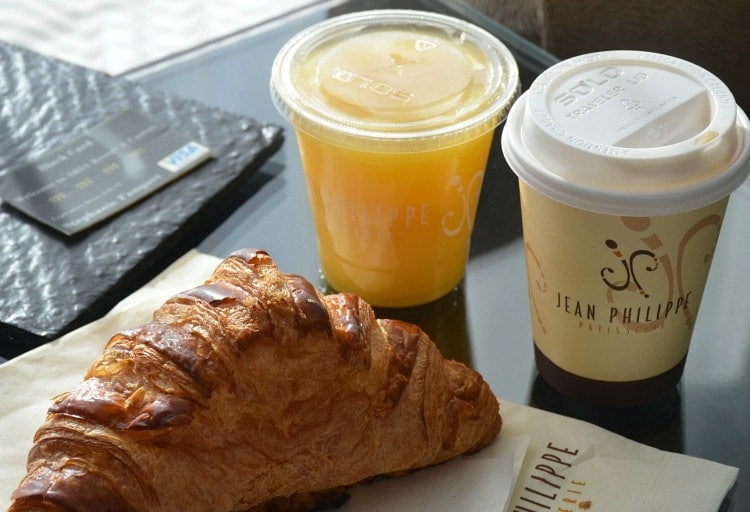 If I had more time I would have tried the buffet (I've never had a real Las Vegas buffet!).
$25 USD food or beverage credit
In addition to breakfast daily, Visa Signature guests receive a $25 credit that can be applied to anything charged to your room (this excludes gaming and charges from Crystals when staying at Aria Resort). Feel free to treat yourself to a custom-made cocktail at Bardot, or splurge on another decadent dessert from Jean Philippe— the choice it up to you! Can you guess what I used my credit on?
VIP Guest status
During my stay at Aria Resort I was treated like I was a VIP from the moment I arrived. I didn't know it at the time, but I could have had priority check-in (regular check-in was just fine— but now I'm glad the benefit is there if there's a line). I also received a mouthwatering assortment of chocolates delivered to my room, complimentary of the hotel. VIP Guest services and amenities differ by property.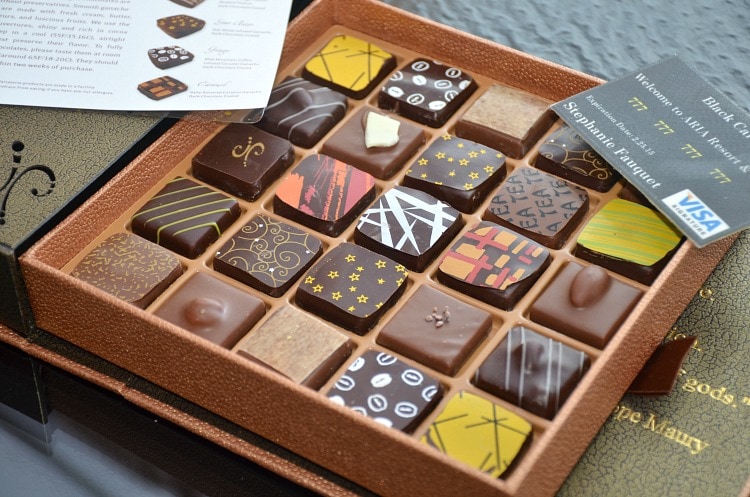 3PM check-out upon request, when available
It doesn't matter how tame of a night you had in Vegas, no one wants to be kicked out of their room before noon. And with beds so comfy, it's hard to say goodbye even with late check-out! Late check-out is a nice option for getting even more out of your stay. You can book a morning spa treatment, take a dip in the pool, enjoy lunch at Julian Serrano or enjoy a bit of shopping before it's back to the real world.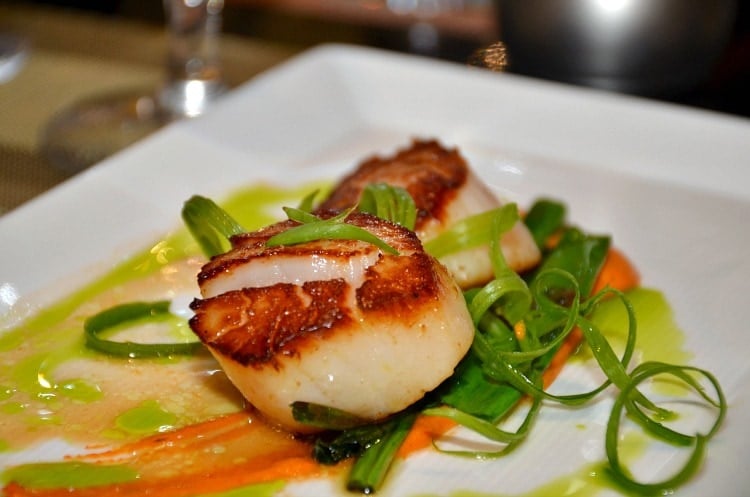 Taking advantage of the Visa Signature Luxury Hotel Collection benefits is so simple that users may already be eligible without even knowing it. Take a look at your current Visa card to check for the Signature designation on the bottom right-hand corner, and then visit VisaSignatureHotels.com for all the details on booking your next trip.
Are you a Visa Signature cardholder?