Planning a South Africa Safari? Here's everything you need to know about Thanda Safari, one of the best Big Five private game reserves in South Africa.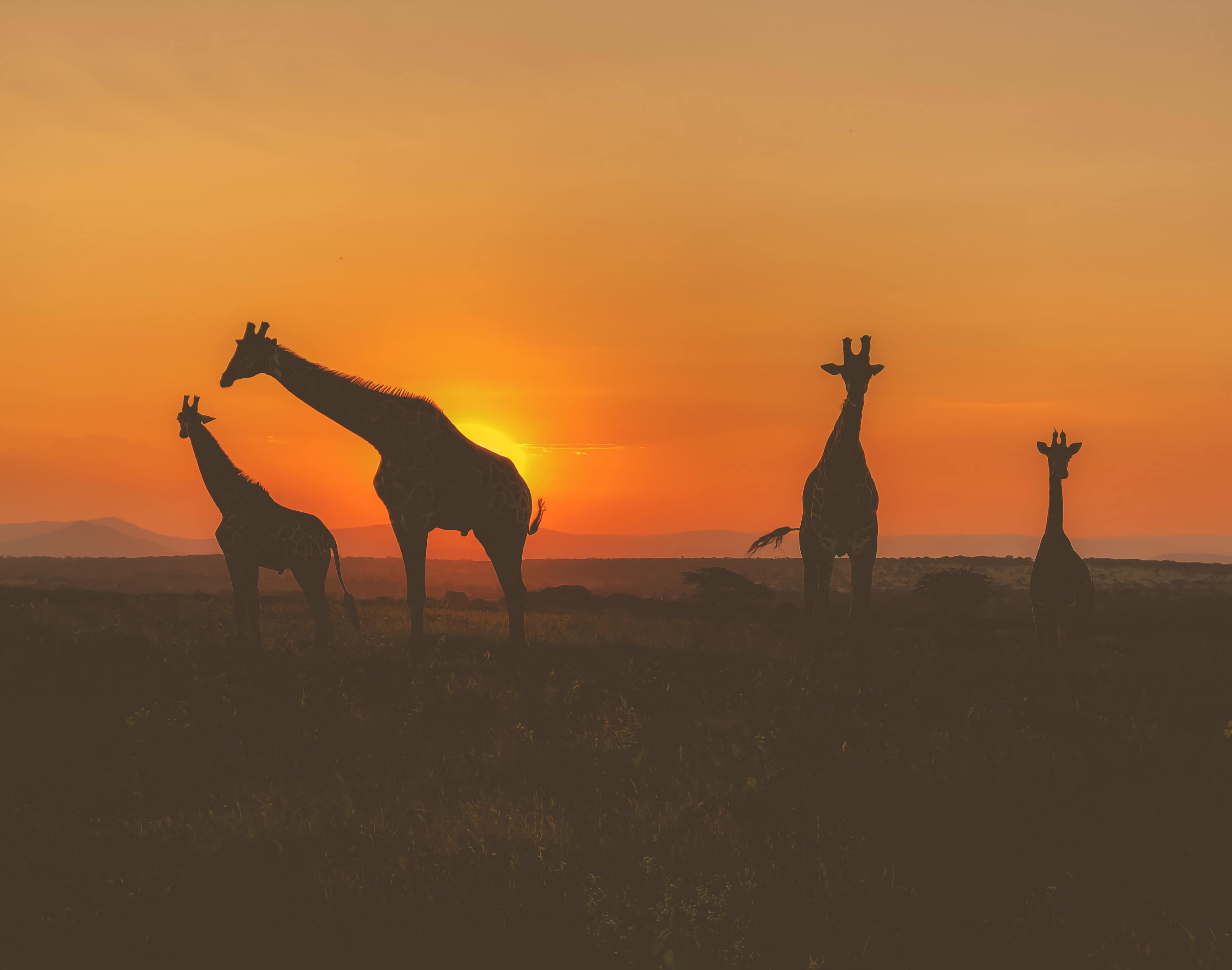 I've wanted to go on an African Safari since Disney's The Lion King came out in 1994. What kid wouldn't want to visit the African Savanna and see lions, zebras, giraffes, elephants and cheetahs in their natural habitat? Even for adults, an African safari is a thrilling adventure, which is why it's at the top of almost every bucket list.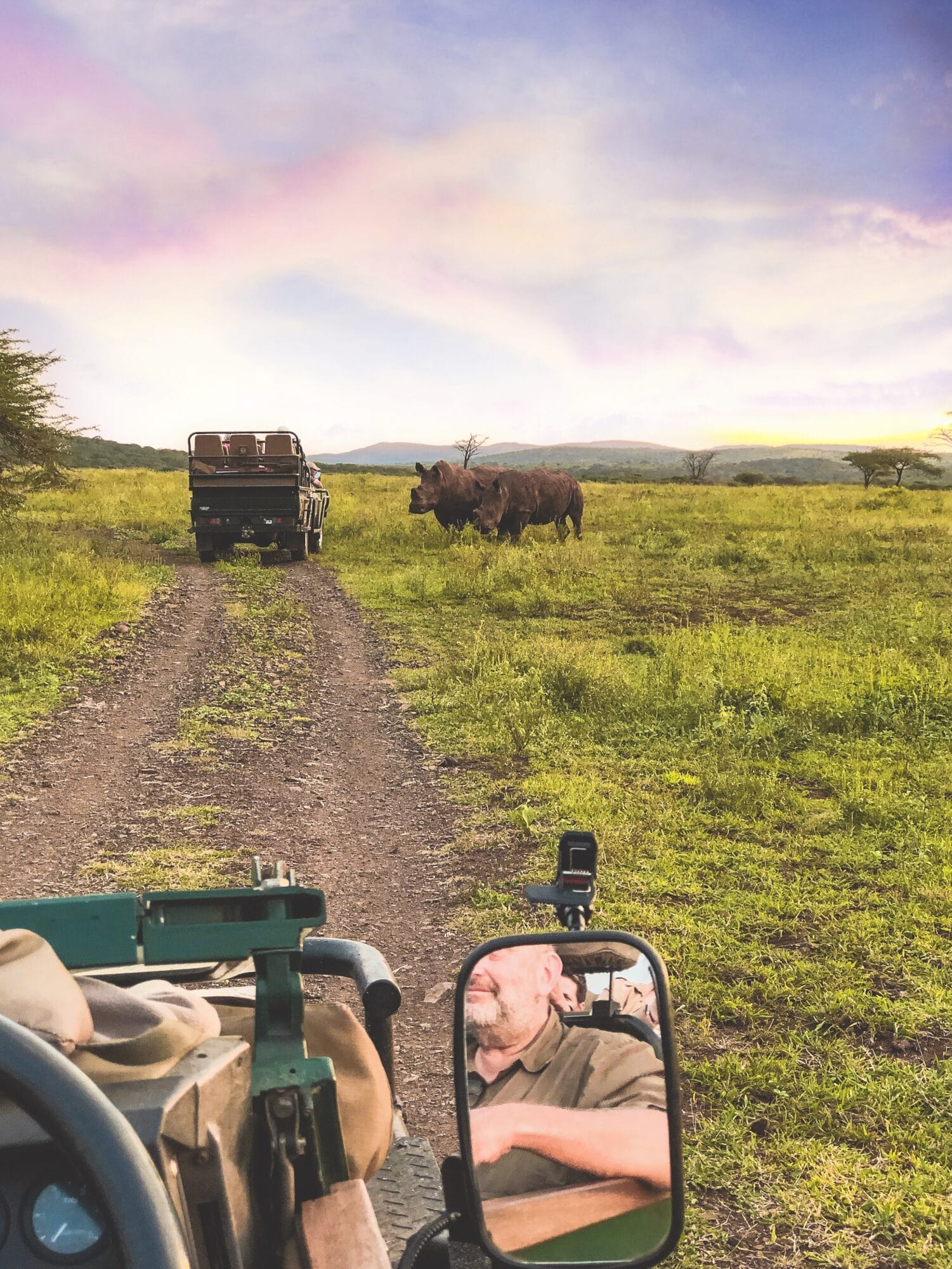 My first visit to Africa took me to Tanzania, and my one regret was that I didn't extend the trip to include a safari. It's like going to Paris and not seeing the Eiffel Tower or visiting Cambodia and not exploring Angkor Wat.
Thankfully, another opportunity came along to return to Africa, but this time the destination was Thanda Safari Luxury Game Reserve in South Africa — an award-winning private game reserve and member of The Leading Hotels of the World.
Getting to Thanda Safari
Thanda Safari is located in KwaZulu-Natal (KZN), three hours north of Durban by car. There are a few ways to get to Thanda, but perhaps the most popular route if coming from the U.S. is to take South African Airways non-stop flight from JFK to Johannesburg with a 1-hour connecting flight to Durban.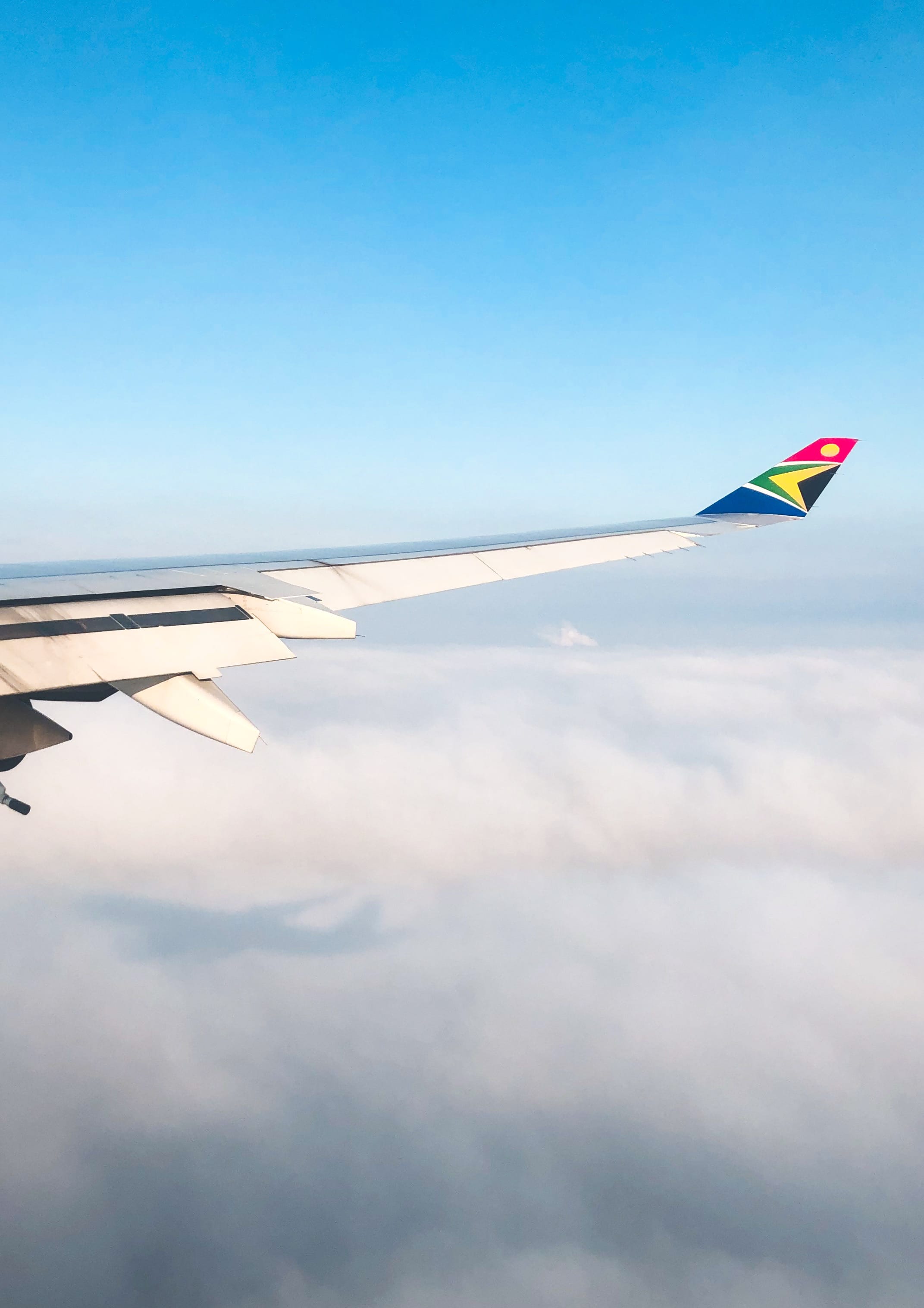 Because of jet lag, I would suggest an overnight stay at the 5-star Oyster Box Hotel in Durban to refresh before heading up to Thanda Safari the next day. Transportation can be arranged through Thanda to get you to and from the reserve and the airport or hotel.
The closest airport to Thanda Safari is Richards Bay. Airlink offers daily direct flights from Johannesburg, however, flights are limited compared to Durban.
If you want to spend some time in South Africa after visiting Thanda Safari, you may want to rent a vehicle and do some exploring on your own. KZN is a gateway to the Drakensberg mountains, and even closer is iSimangaliso Wetland Park where the largest Hippo Population in South Africa can be observed.
Thanda Safari Accommodations
Before you ever get to Thanda and start your South Africa safari, you'll decide on accommodations. I was surprised that there were three different options, ranging from a safari-style tented camp to an exclusive private homestead.
The most popular, and my pick of the three types of lodging is Thanda Safari Lodge and its nine luxury bush suites.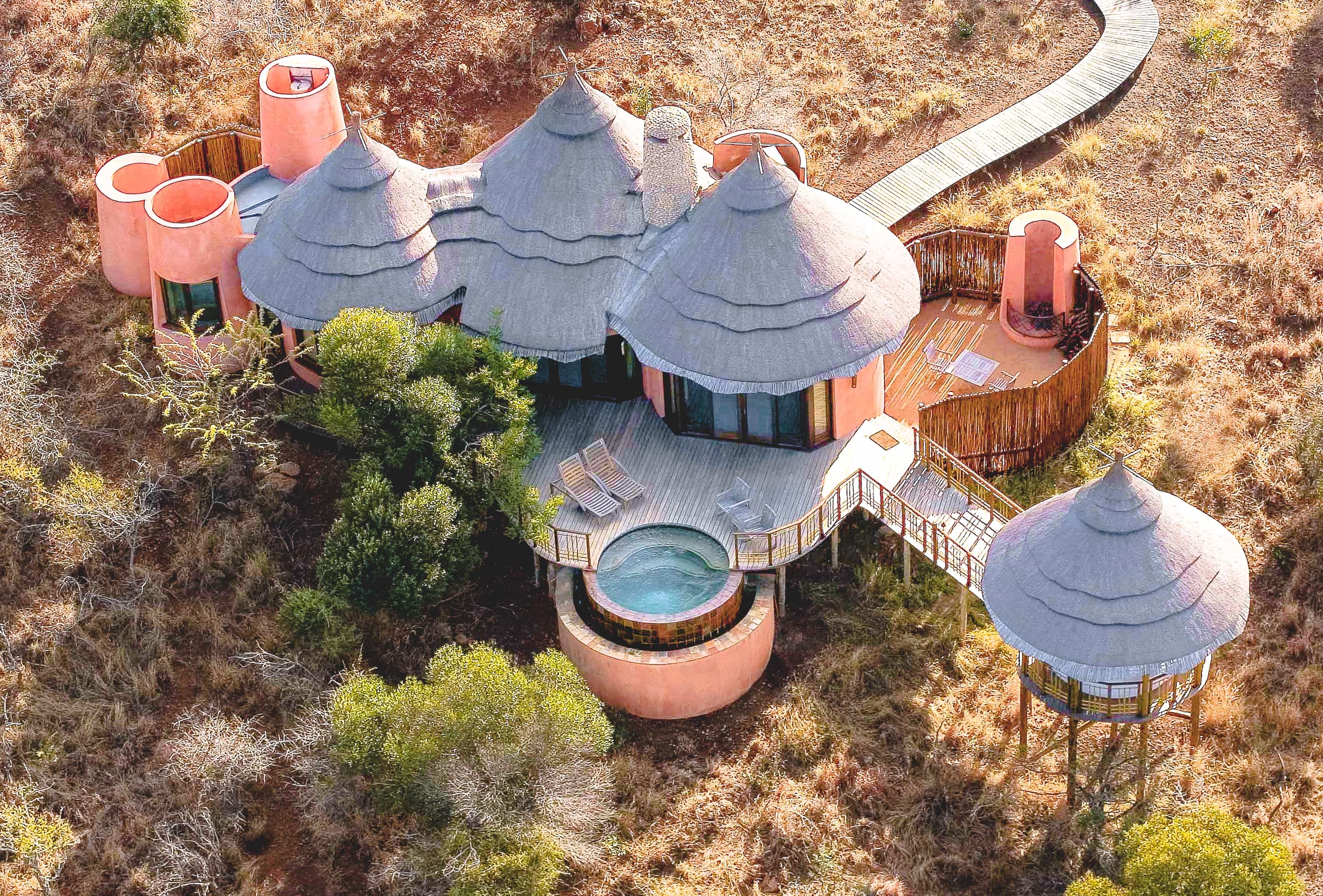 Photo credit: Thanda Safari
Thanda Safari Lodge
When I envisioned a luxury South Africa safari, Thanda Safari Lodge is exactly what I had in mind.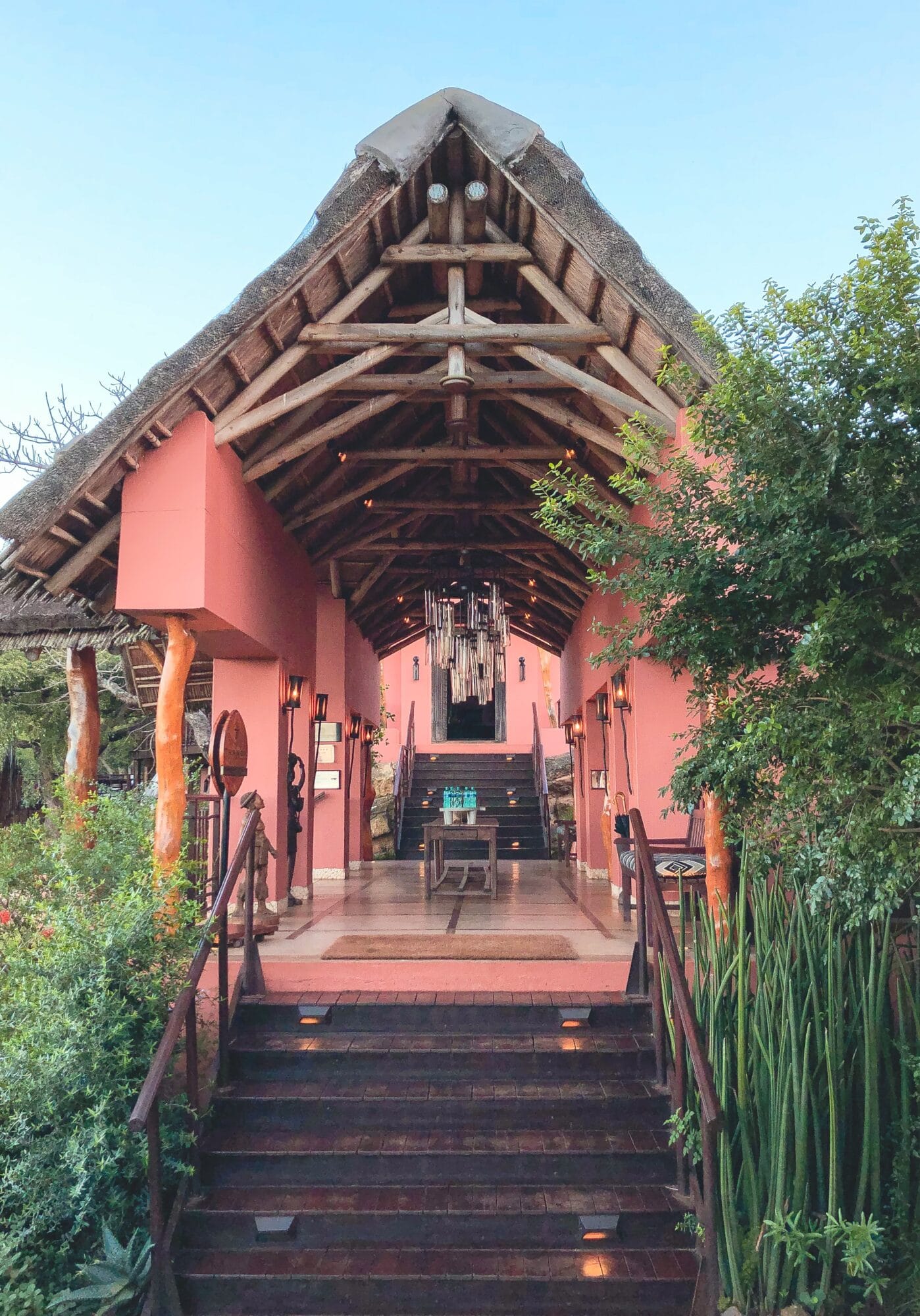 With only nine suites, each with its own private plunge pool, and sweeping views of the reserve, it's the obvious choice for couples and families with up to two children.
Photo credit: Thanda Safari
The most exciting aspect of Thanda Safari Lodge is that it's not fenced to the reserve. It's possible for elephants and other wildlife to come up to your bungalow.
For safety, once the sun sets, a Thanda staff member escorts guests to/from their suites to the main lodge, where the bar, lounge, and dining area are located.
With only 9 suites, there is never a wait for an escort. Truth be told, I liked the security of a personal escort because even though there are dedicated paths to each suite, lighting is dim...and you can never be too careful in the bush!
The only animal I saw near my suite during my three-night stay at Thanda Lodge was a monkey up in a tree. Secretly I was hoping the elephants would come up for a splash in my plunge pool where I'd watch from the safety of my closed glass patio doors— but no such luck. 😂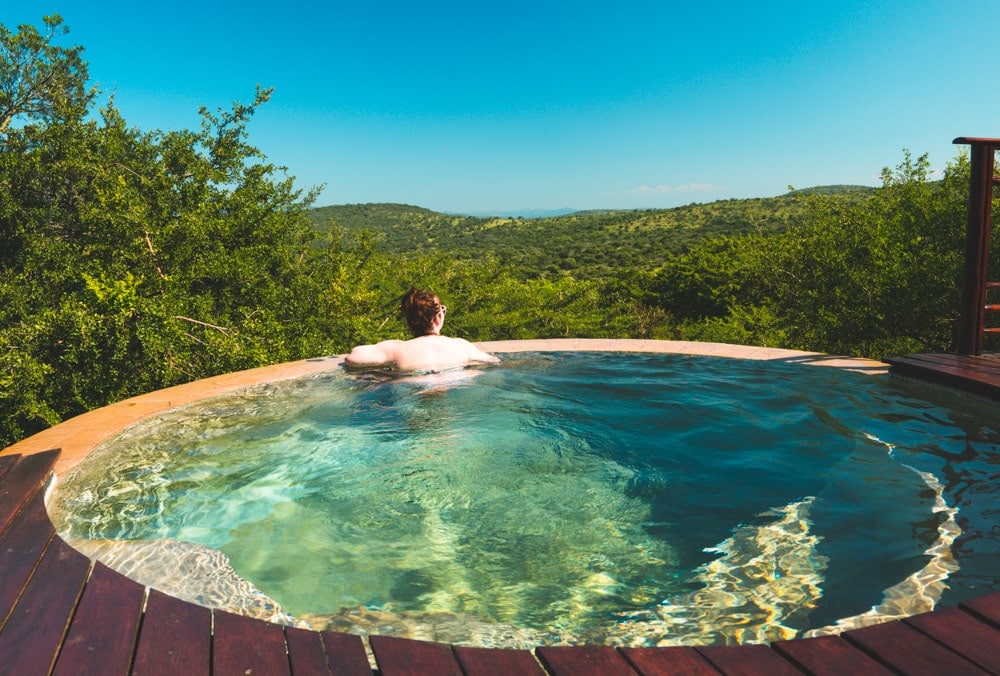 Stays at Thanda Lodge include luxury accommodation, two game drives per day with professional guide and tracker, all meals and selected local beverages (soft drinks, house wines, local spirits, and beers), bush walks with specialist walking guides, in-room minibar, wifi, and laundry. Plus, one private Boma dinner with stays of 4 nights or more.
Villa iZulu
The first two nights at Thanda Safari I was fortunate enough to stay at Villa iZulu which was voted Africa's Leading Luxury Villa at the World Travel Awards.
This accommodation option is very special as it's an entire home, built by the owner of Thanda Safari for his family, and can be booked in entirety by larger families, groups of friends, wedding parties, corporations for meetings or simply anyone that wants ultimate privacy.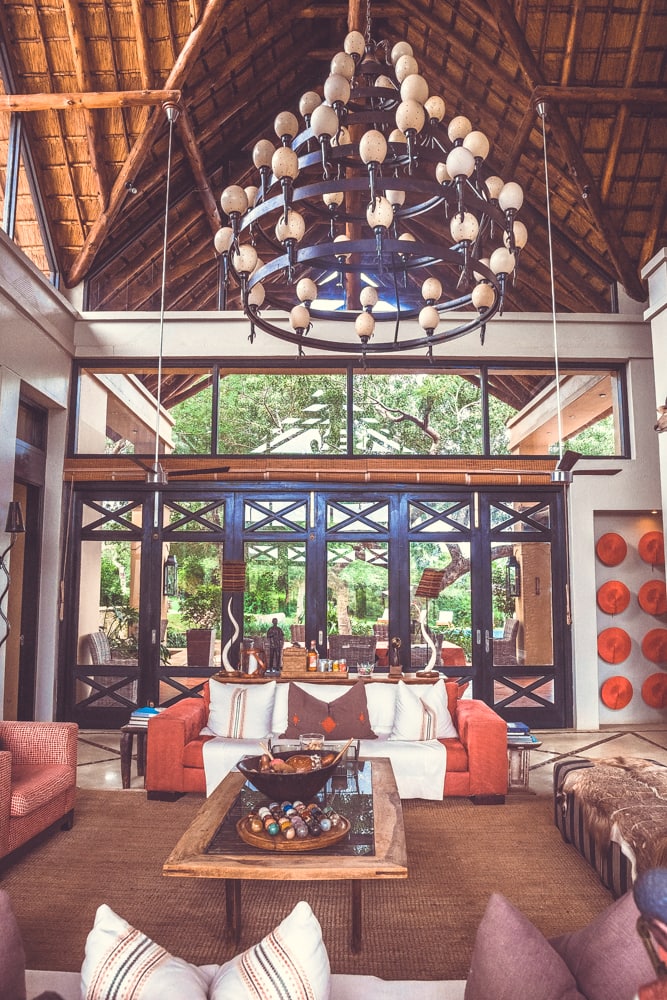 I was told that the guests before me were a family from Texas who booked the villa for a family reunion/graduation trip. I thought that was a wonderful idea as the homestead is ideal for multigenerational family travel -- the villa features five luxury suites, a heated swimming pool, library, game room and more.
Guests come together for private dining and game drives and dedicated staff is on-site 24/7 to handle all requests.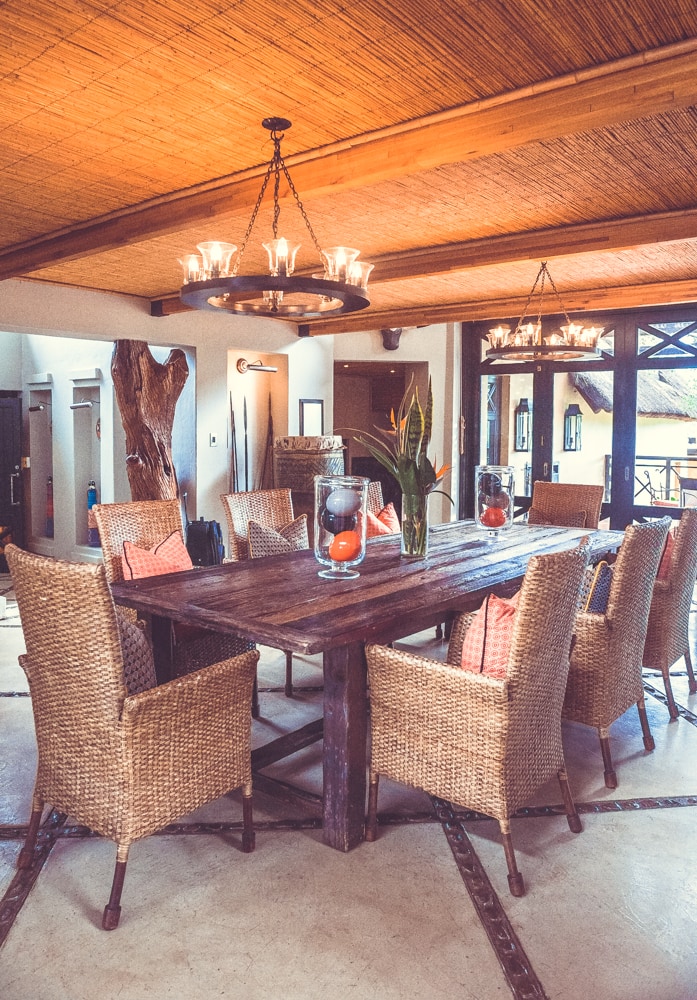 Unlike Thanda Safari Lodge, Villa iZulu is gated, so large wildlife (AKA predators) can't access the property. This was built by design so that children can roam the grounds freely. Villa iZulu also has its own helicopter pad.

Stays at Villa iZulu include the private bush residence including Villa iZulu host, service team, chef, guide, tracker, all meals and selected local beverages, bush walks with specialist walking guides, wifi, and laundry.
Thanda Tented Camp
The final choice for accommodations at Thanda Safari is the tented camp. I did not stay at the camp during my time at Thanda, but I did have the opportunity to tour the site.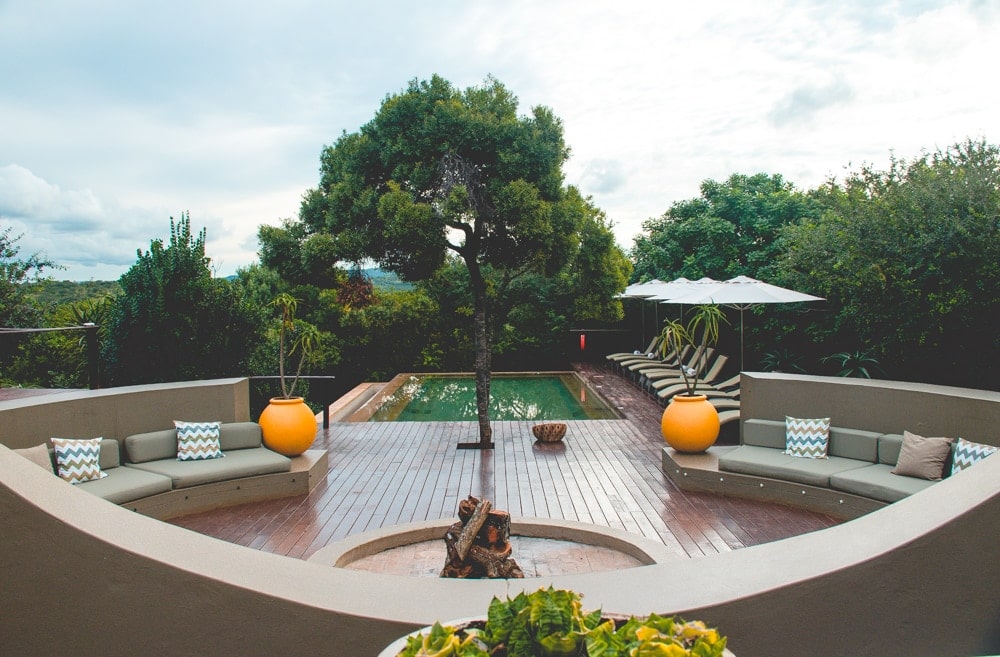 Thanda Tented Camp should really be called glamping. As with everything at Thanda Safari, luxury is at the forefront.
There are 15 safari tents in the bush at Thanda, meaning wildlife can access the site, and each tent has a private sun deck and en-suite canvas bathroom. Tents can accommodate up to two adults and 1 child age 6 years and older.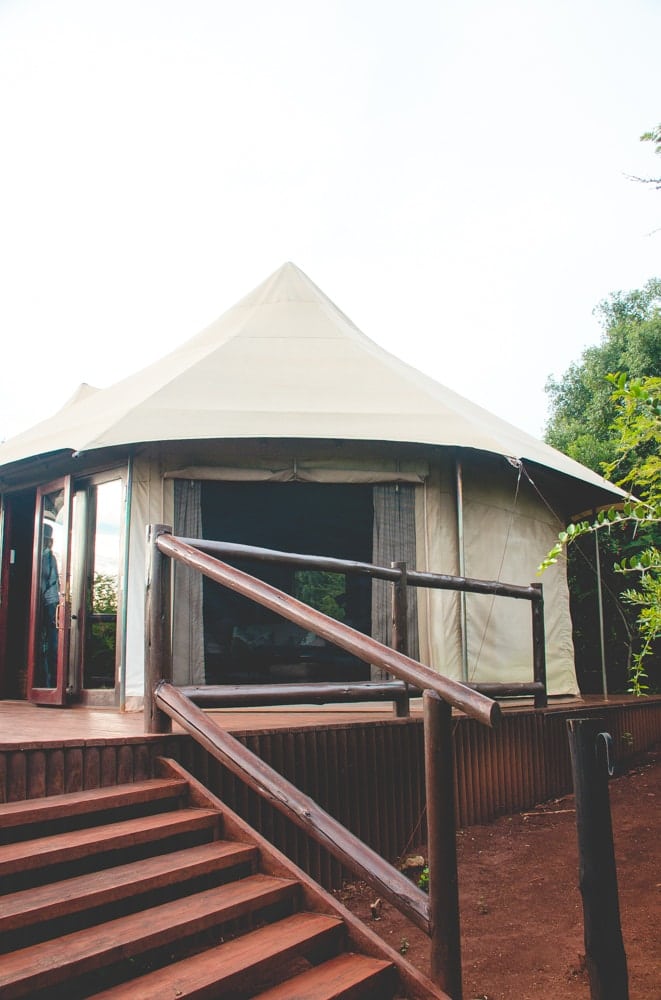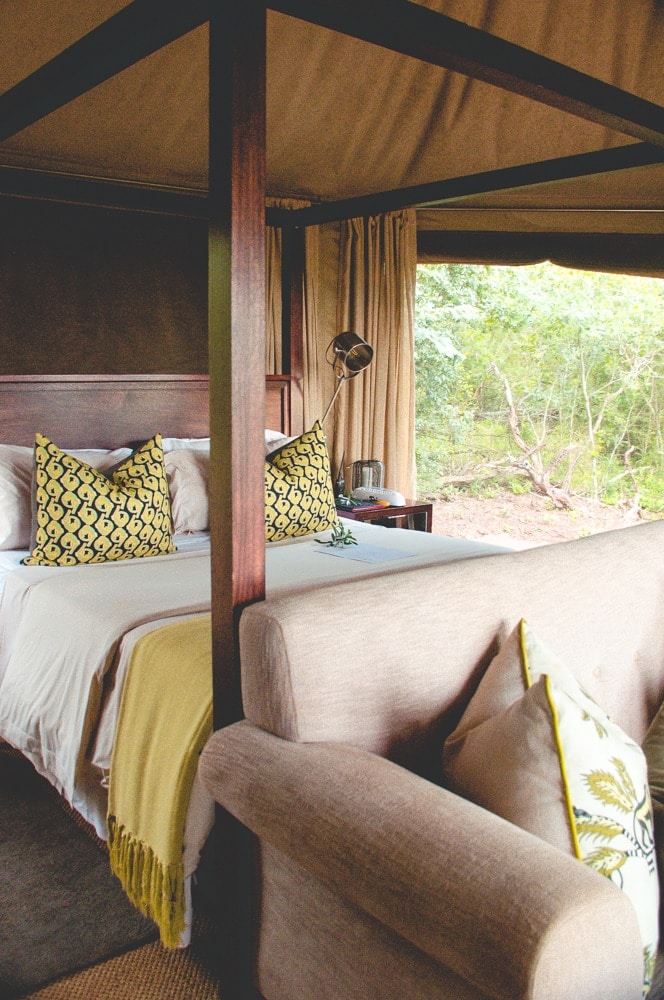 The camp does not have electricity, with the exception of limited solar and battery power that is turned on for a few hours a day.
I thought the Thanda Tented Camp was lovely and would stay there myself with my family, but only for a night or two for the adventure and experience of being immersed in nature.
Ideally, a stay at Thanda Tented Camp would be combined with a few nights at Thanda Safari Lodge — I imagine air conditioning will be priceless after a day or two in the bush!
Stays at Thanda Tented Camp include tented accommodation, two game drives per day with professional guide and tracker, all meals and selected local beverages and wifi in public areas.
Thanda Safari Game Drives - The Big Five
When you book a stay at Thanda Safari two game drives are included per day, one in the morning and one in the afternoon.
Thanda Safari is a Big Five Game Reserve on 14,000 hectares. This is important because not all South Africa safaris are Big Five reserves with African lions, African leopards, white and black rhinos, African elephants, and Cape buffalos living in their natural habitat.
At Thanda, there is a chance to get up close to the Big Five on every game drive. But remember, this is the wild, so there is no guarantee to what animals you'll see...but that's part of the adventure!
African Lion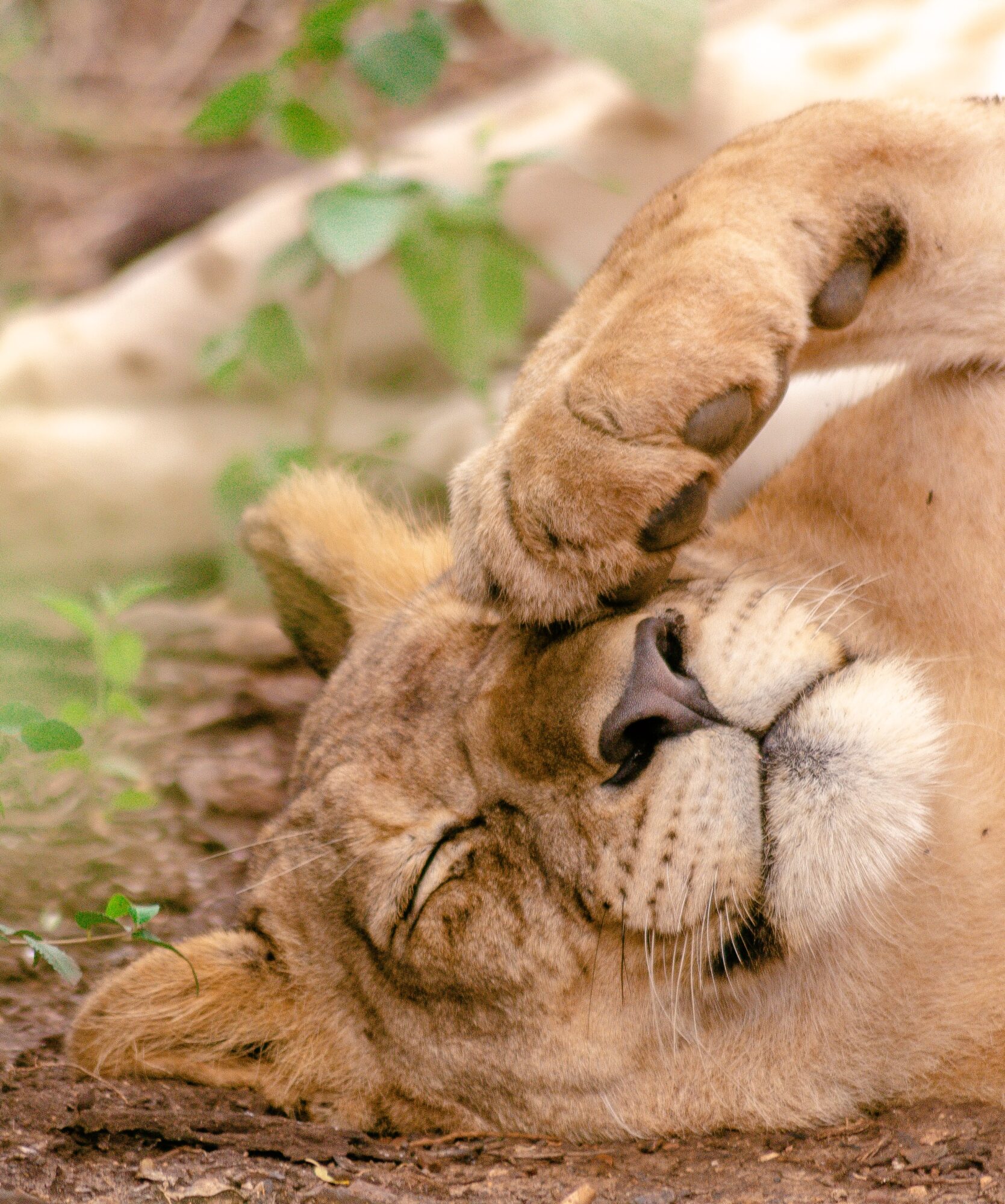 White Rhino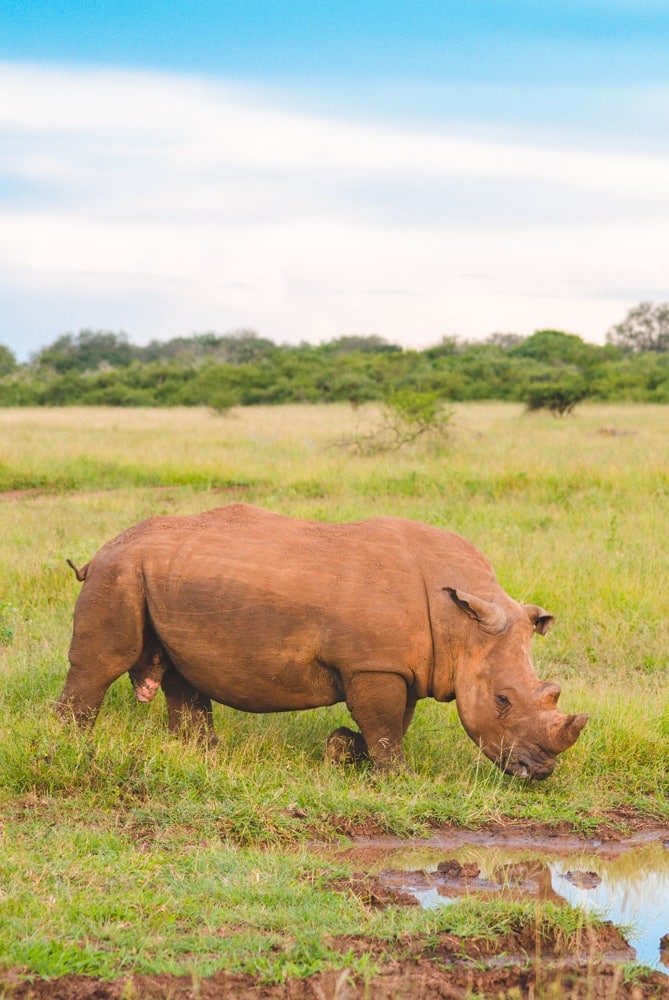 African Elephant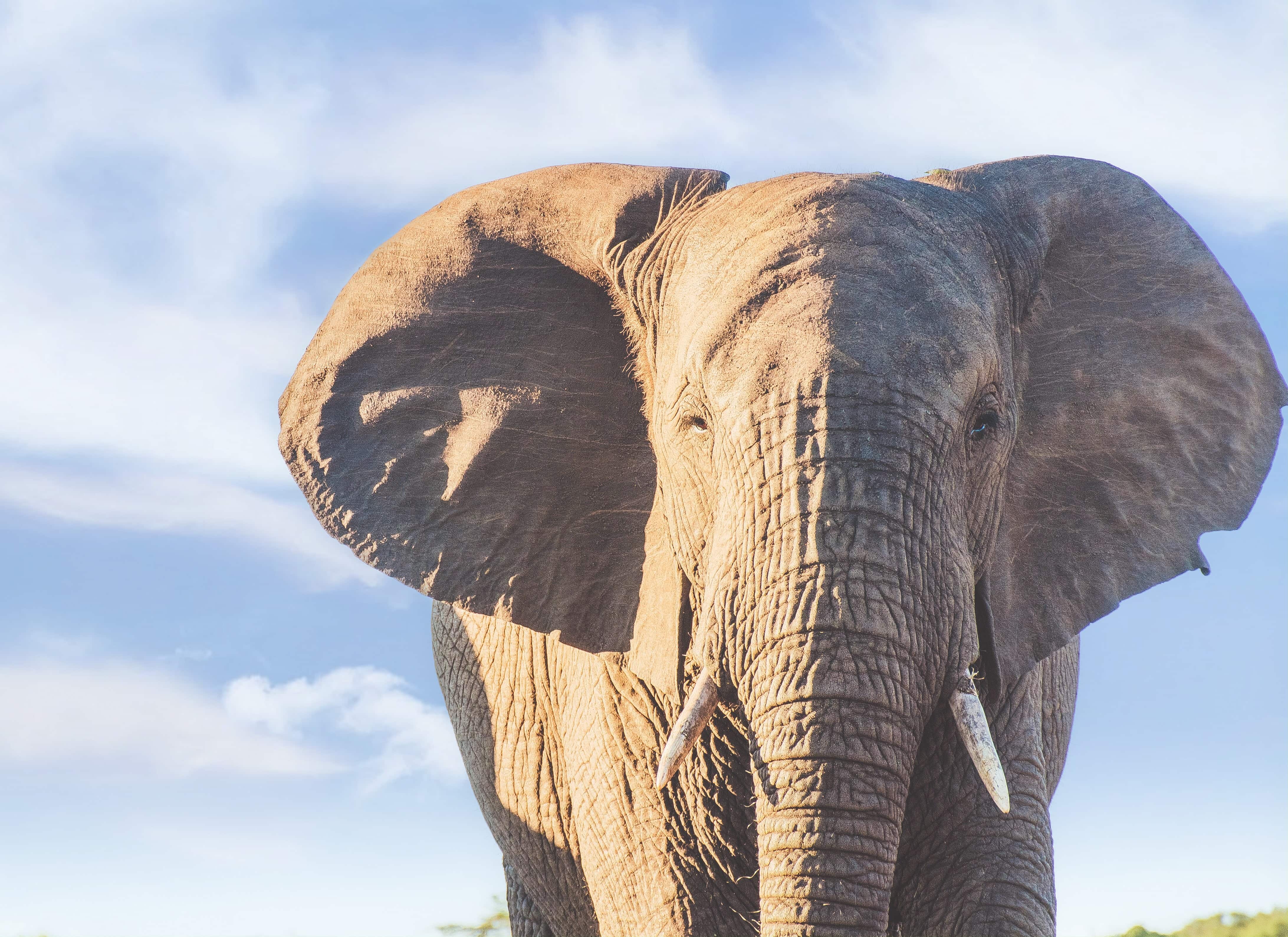 Cape Buffalo
Of the Big Five, the African leopard is the most elusive. I did not spot a leopard during my stay, but I did see several cheetahs, which completely made up for it.
In fact, I saw more wildlife than I ever imagined, and many of my favorites were not "Big Five". I was almost giddy every time I spotted giraffes, zebras, and warthogs (which I lovingly called Pumbaa).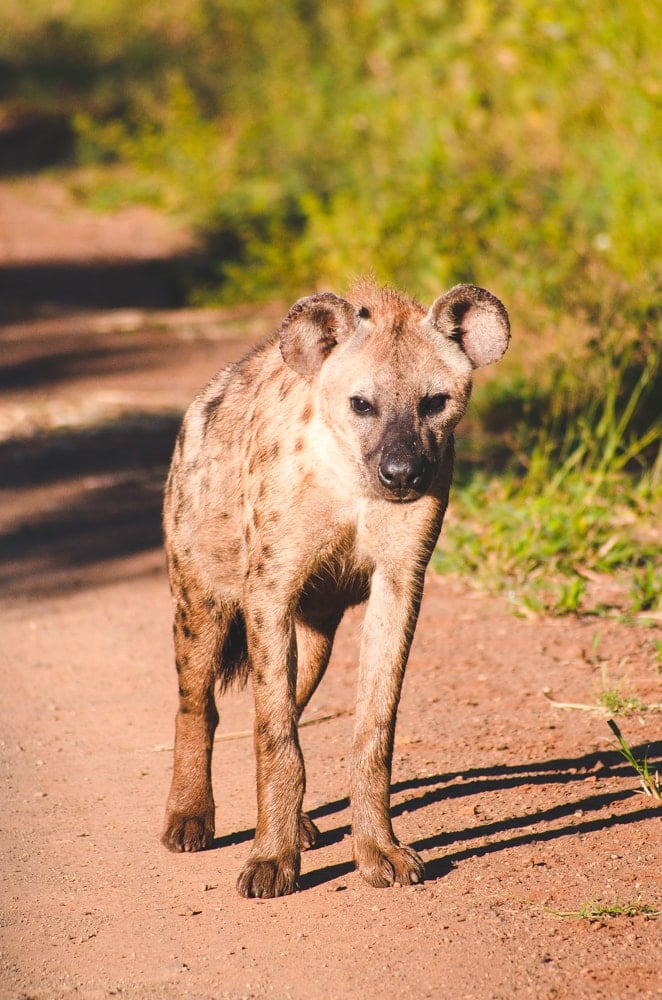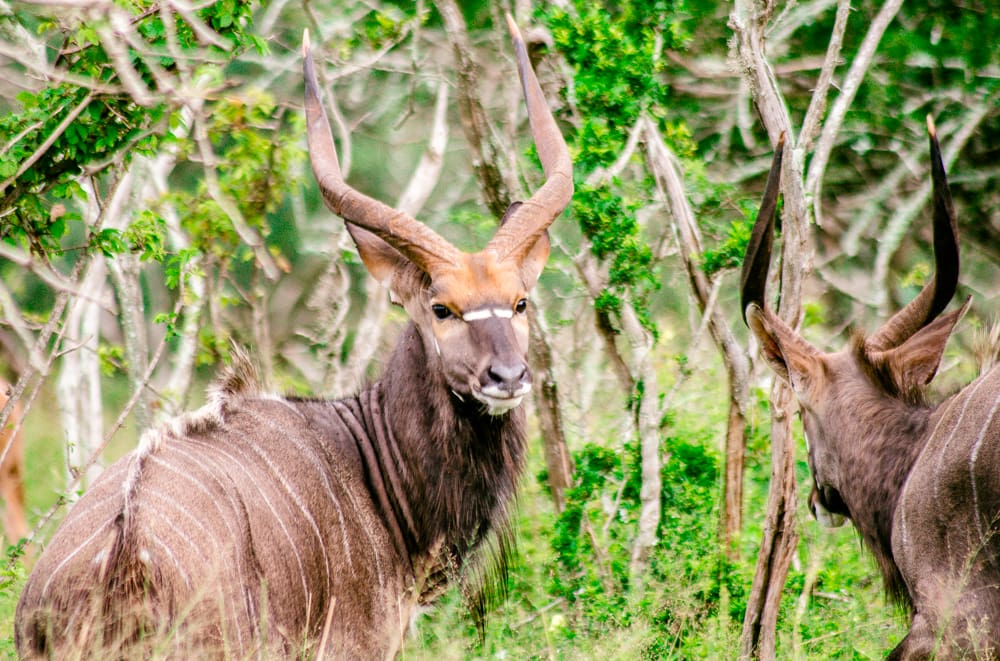 Each of Thanda's safari vehicles comfortably seats up to nine guests along with a driver and tracker. Your driver and tracker will work together to get you as close as possible to the animals— every drive is different and you never know what you'll see.
→ If you prefer a private safari vehicle, consider booking Christian Sperka's Green Mamba. The spacious Land Rover Defender seats up to five guests and features special photography enhancements, onboard Wi-Fi and even a Nespresso machine and martini bar.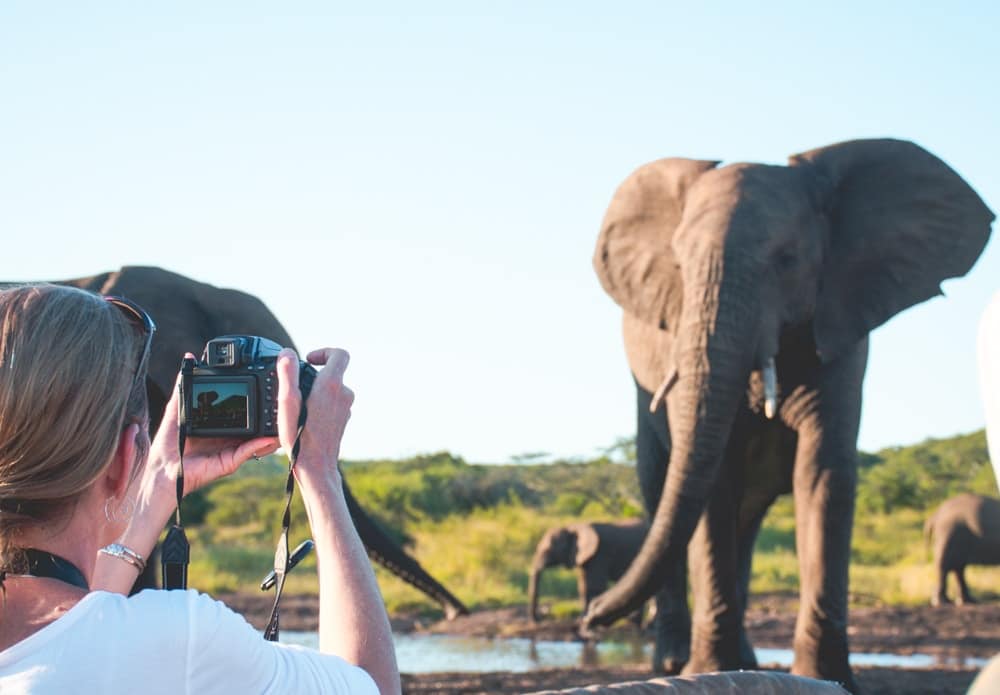 One morning I watched a female cheetah feast on an impala for an hour, and on another drive we followed a herd of elephants to a watering hole. No two safari drives are alike.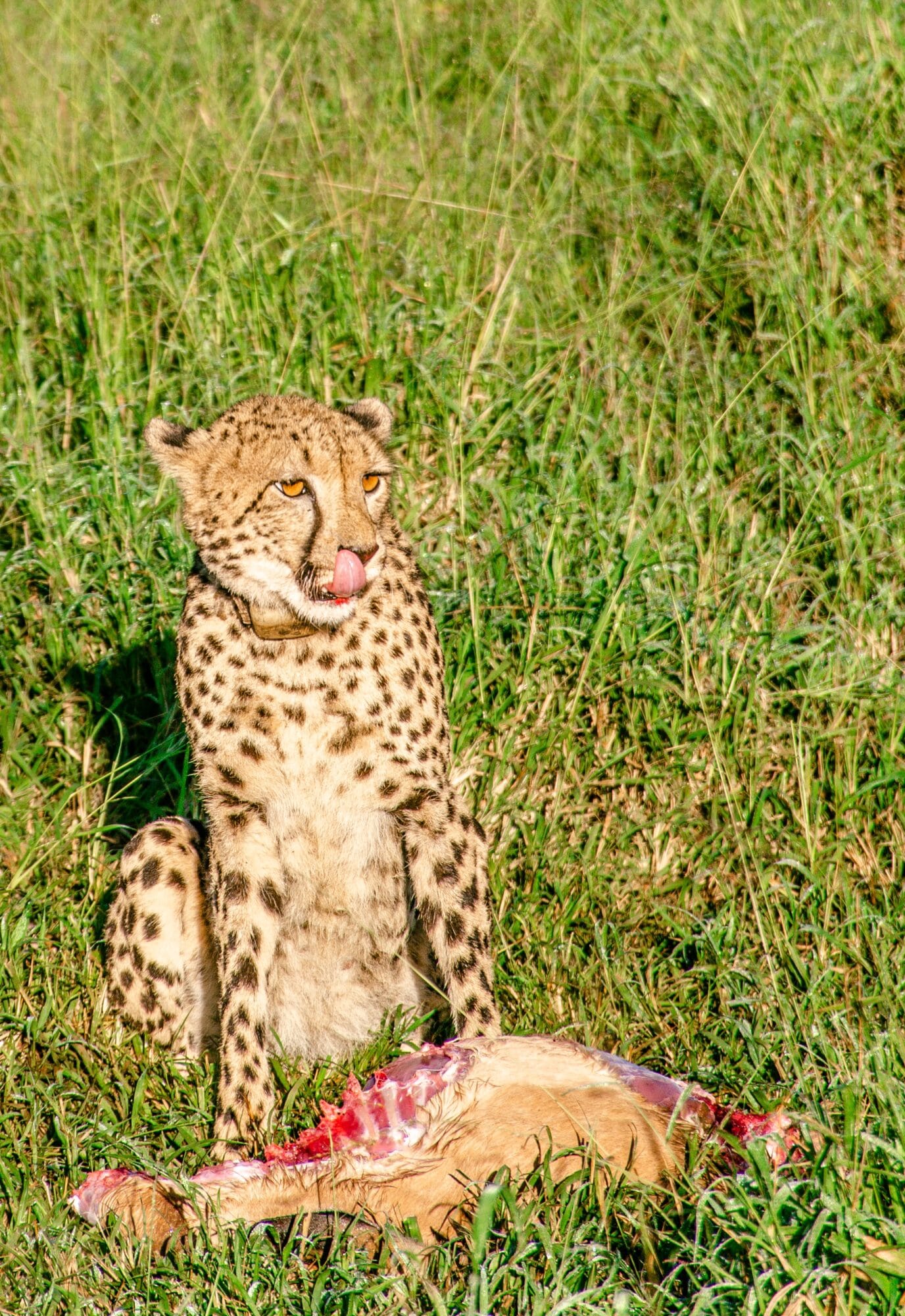 I can't give enough praise to our Zulu tracker Bheki. He really knows the reserve inside and out and is an asset to Thanda.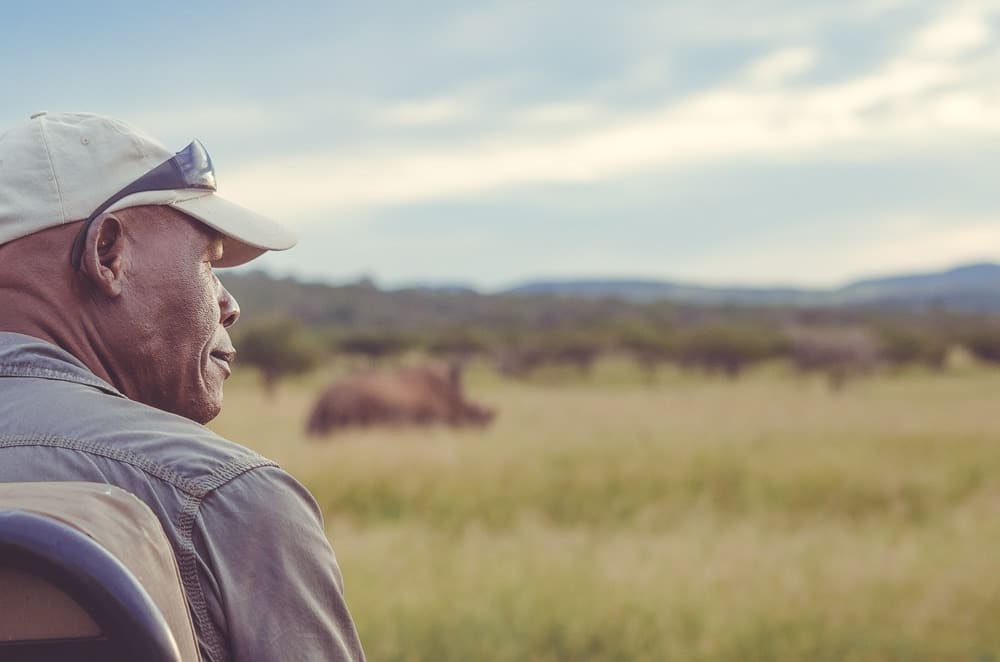 South African Sundowner
If just being out in the wild and seeing animals in their natural habitat wasn't enough, each afternoon game drive ends with a sundowner. What's a sundowner? Only the most incredible way to end a thrilling day in South Africa— It's the safari version of happy hour!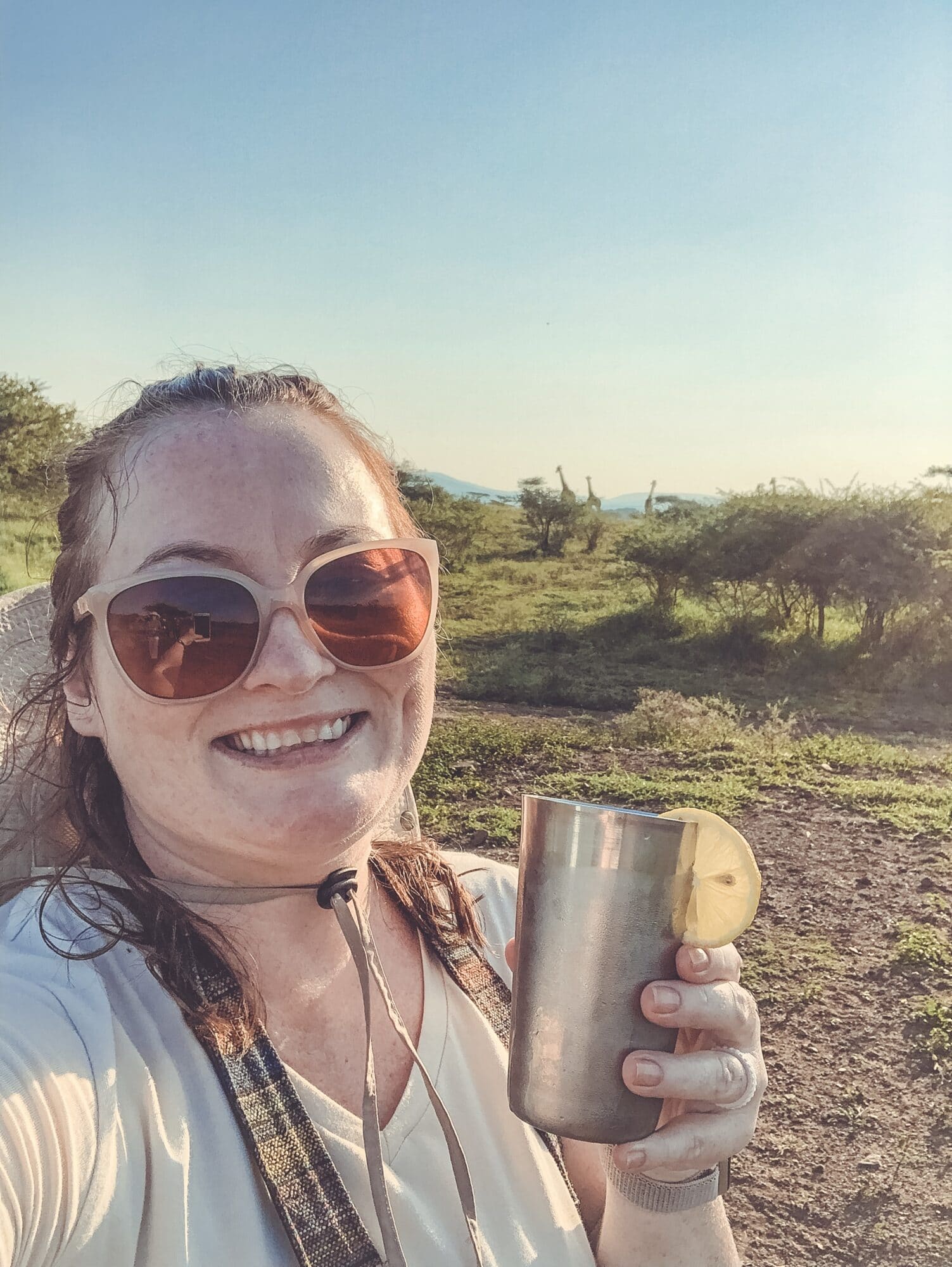 Just before sunset, your safari driver will pull over in a safe location and everyone gets out of the vehicle to enjoy a refreshing beverage and some nibblies.
My personal choice was the classic gin & tonic, but there's a variety of wine, spirits, and cold non-alcoholic drinks to sip while the sun begins to set on the savanna. It's truly a magical time of day!
Dining at Thanda Safari
Before arriving at Thanda, I didn't know what to expect when it came to dining. All meals and local beverages are included with your stay — that's breakfast, lunch, dinner, and snacks. I promise you will never go hungry at Thanda Safari!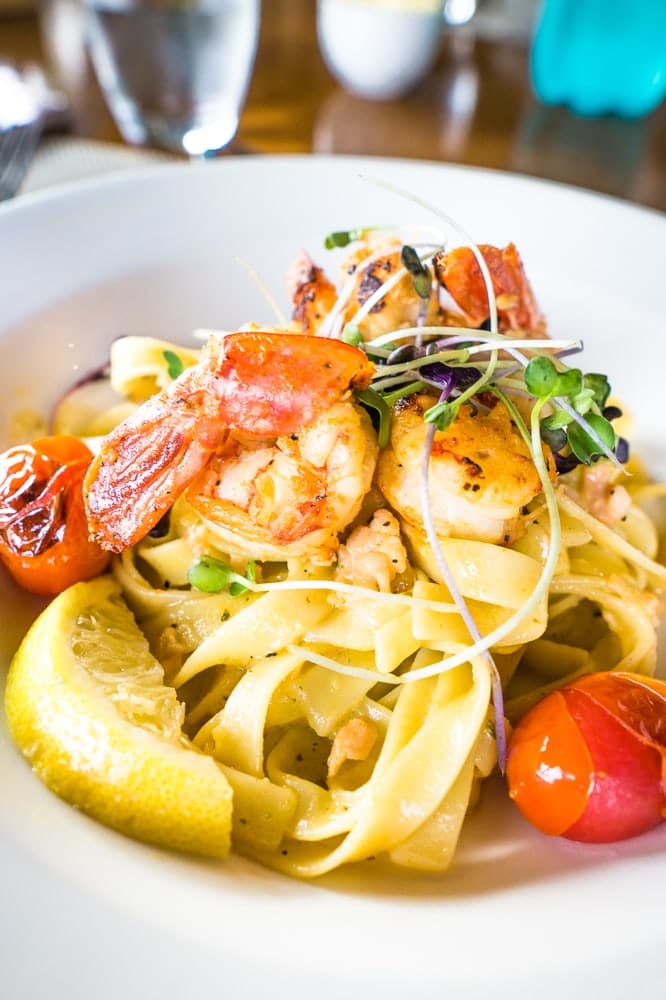 What was most impressive to me was how good the food was at every meal. I have to laugh because at my first breakfast there was a spread of fresh fruit, yogurt, cereals, bread, cheese, and charcuterie. I happily loaded up my plate and assumed that this was breakfast.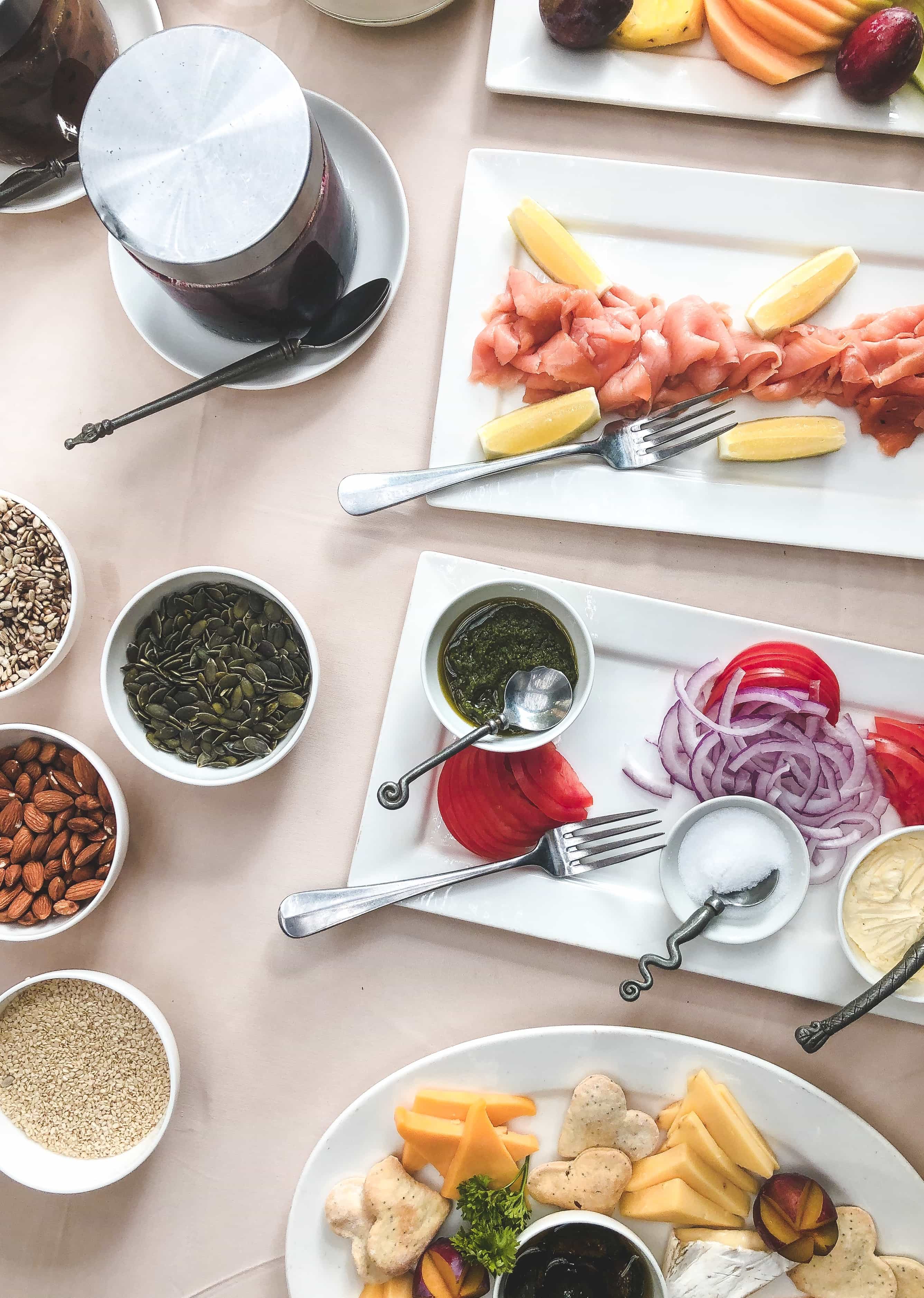 Once I sat down, a server handed me a menu with made-to-order hot breakfast items. I almost passed on the menu but knew we had a long day ahead and ordered the eggs benedict. It turned out it was one of the best eggs benedicts I've ever had!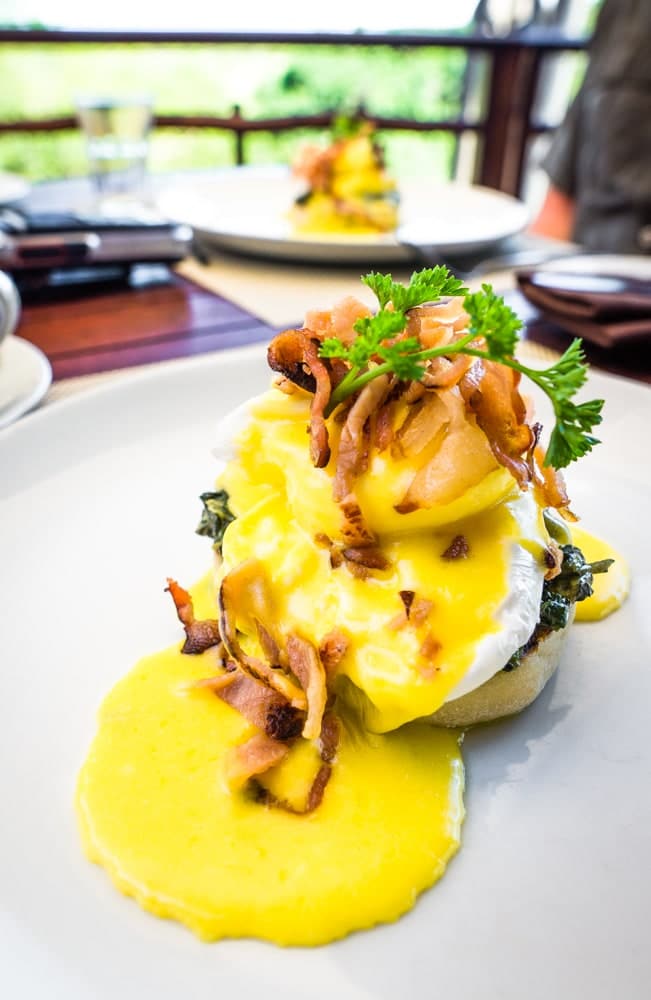 While meals in the dining area are included, there is an option to add on a private Boma dinner under the stars that I highly recommend.
Thanda Safari Activities
Believe it or not, there are more activities at Thanda Safari than game drives. Optional activities, some come with an additional cost, include:
Bush Walk (complimentary for Safari Lodge and Villa iZulu guests)
Cheetah Tracking
Rhino Darting
Zulu Cultural and Community experience
In the Path of Wildlife conservation experience
Hippo and Croc Cruise excursion at iSimangaliso Wetland Park
Complimentary photography lesson from Christian Sperka, Thanda's resident wildlife photographer
Spa Treatments at Thanda Safari Lodge and Thanda Tented Camp
South Africa Safari for Families
I am by no means an expert on South African safaris, but I can tell you this: I wouldn't hesitate for a second to bring my family to Thanda Safari.
Safety of the guests is Thanda's number one priority and no shortcuts are taken. The safari drivers and trackers follow the guidelines for driving-- there's no crazy off-roading that would potentially hurt the animals or put guests in danger. And each drive can be customized based on a family's wants or needs. For example, parents with small children may wish to focus on seeing wildlife other than the "Big Five".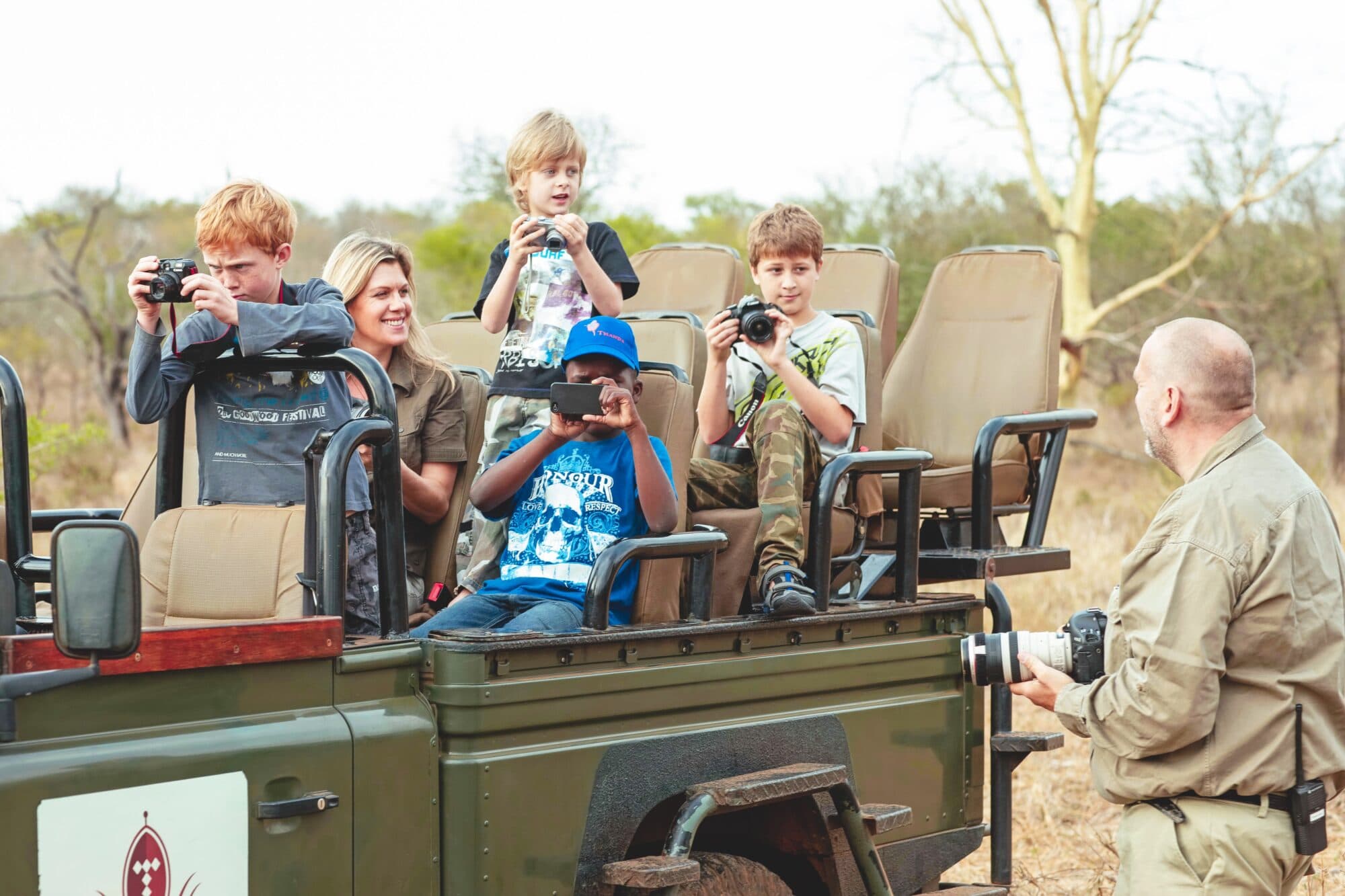 Photo credit: Thanda Safari
Thanda Safari welcomes children of all ages and even offers a Junior Rangers Course where kids learn about game tracking, game spotting, spoor identification as well as bird and plant life from a Thanda Safari guide. Younger children can participate in the Bucks & Bugs Club which includes an activity book to complete while going out on a Bush Bumble (a shorter open game drive with a focus on animal tracks and insects).
For parents who wish to have a spa day or evening out, Thanda has a nanny service.
Thanda Safari Conservation
Thanda Safari is a private game reserve— This simply means it's not owned by the government and the land is privately owned and managed. I think it's a common misconception in the United States to hear "game reserve" and assume that hunting is allowed. That is not the case at Thanda Safari.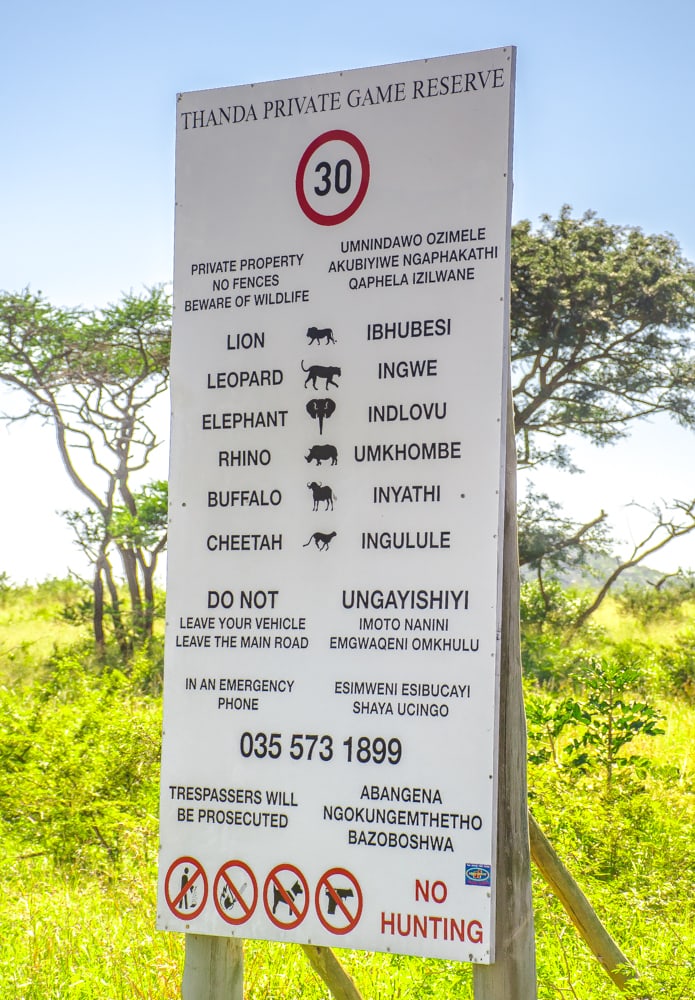 Thanda Safari takes conservation very seriously and has programs in place in conjunction with Ulwazi Research to ensure species protection and genetic diversity.
Because poaching is a serious problem in South Africa, Thanda trims their rhinos' horns (a completely painless process that's no different than trimming a cat's nails). Guests can even help support rhino conservation at Thanda by participating in Rhino Darting.
Zulu Culture at Thanda Safari
Thanda Safari is located in KwaZulu-Natal which is the heart of Zululand and home to the largest ethnic group in South Africa. Thanda in Zulu means Love, which is perfectly fitting because Thanda Safari wholeheartedly embraces the Zulu culture and employs the majority of its staff from the local Zulu community.
As guests of Thanda Safari, you can learn more about Zulu culture through the Zulu Cultural and Community experience. This optional excursion takes you to a local community with a visit to a traditional homestead and school. It's a fantastic way to connect with the region outside of the safari experience.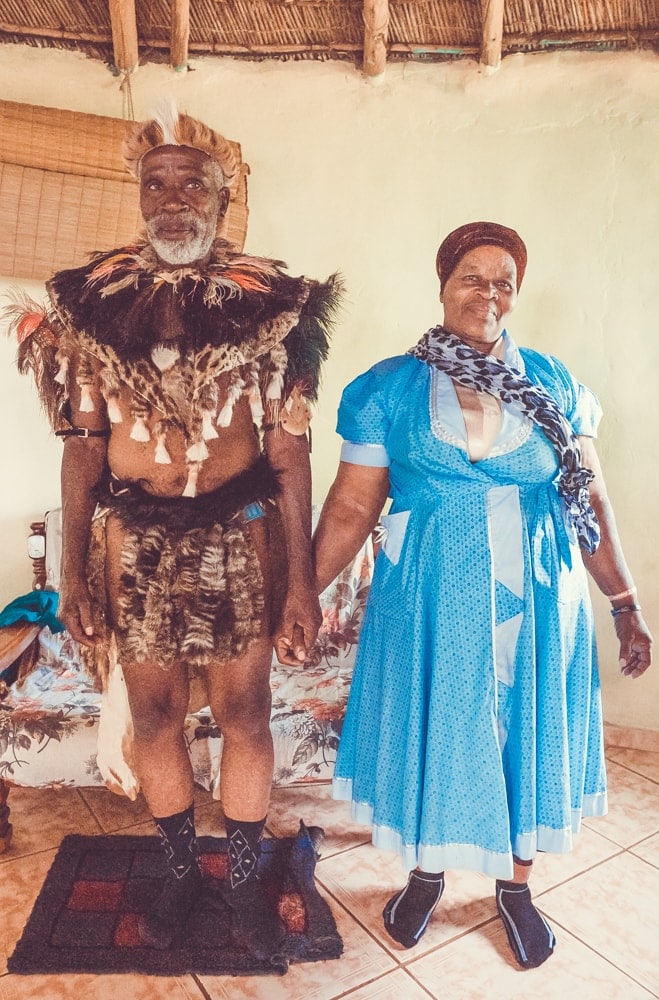 How Long to Stay at Thanda Safari
I stayed for a total of 5 nights at Thanda Safari-- Two nights at Villa iZulu and 3 nights at Thanda Lodge. This was the perfect amount of time, and honestly, I could have stayed longer as I didn't have downtime for the spa or relaxing on my personal deck at the lodge. I recommend a minimum of 3-nights at Thanda Lodge with extra nights if you want to experience the tented camp. Check out the Thanda website for rates and specials offers.
What is the Best Time of Year to Go on a South Africa Safari?
The dry season in KwaZulu-Natal is from April to September. The best months for wildlife viewing at Thanda Safari are June, July, and August, which is considered winter.
Summer in South Africa is the rainy season, which spans November through March.
I traveled in early April and had perfect weather the entire time. The daytime temperatures were warm and dry, and it was cool in the early morning and evening.