Hawaiian Shaved Ice - No trip to Maui, Hawaii would be complete without a stop at Ululani's Hawaiian Shave Ice. It's the Best Shaved Ice in Maui!

Hawaiian Shaved Ice
When I visited Maui for the first time there was a buzz about a newish shaved ice stand called Ululani's on Front Steet at the Lahaina Market Place. Practically everyone on Maui recommended Ululani's Hawaiian Shave Ice any time I asked for suggestions. I mean, you can't go to Hawaii and not have Hawaiian Shaved Ice!
As a frequent traveler, it's one thing when a single person mentions an establishment as being the best; I'll take it into consideration. But when five or six locals say a spot is not to be missed, I make it my mission to see what all the fuss is about. That's exactly how I discovered Ululani's Hawaiian Shave Ice, and now I'm sharing what is possibly the best shaved ice in the world with you!
What is Hawaiian Shaved Ice?
Before I tried shaved ice in Hawaii, I assumed it was like any other shaved ice in the United States.
In Florida, we call shaved ice a snow cone— but I can tell you for sure that Hawaiian shave ice is NOTHING like a snow cone, Italian ice or any other icy concoction with syrup that we have on the mainland.
There's an art to shave ice in Hawaii and to be honest, I'm not sure how they do it, especially at Ululani's. Hawaiian shaved ice is super soft and ultra fine— there are no chunky pieces of ice and there's absolutely no crunch.
Hawaiian shaved ice melts instantly when it touches your mouth, leaving behind a refreshing burst of flavor from syrup toppings. There's nothing else like it.
Ululani's Hawaiian Shave Ice
The first time I had Ululani's I had it at their Front Street location in historic Lahaina. At the time, they only had two locations and this was the most popular with the biggest selection of flavors.
I kept my first Hawaiian shaved ice simple and sweet: Lilikoi (passionfruit), Lychee, and Orange Passion with a Snow Cap (condensed milk mixture).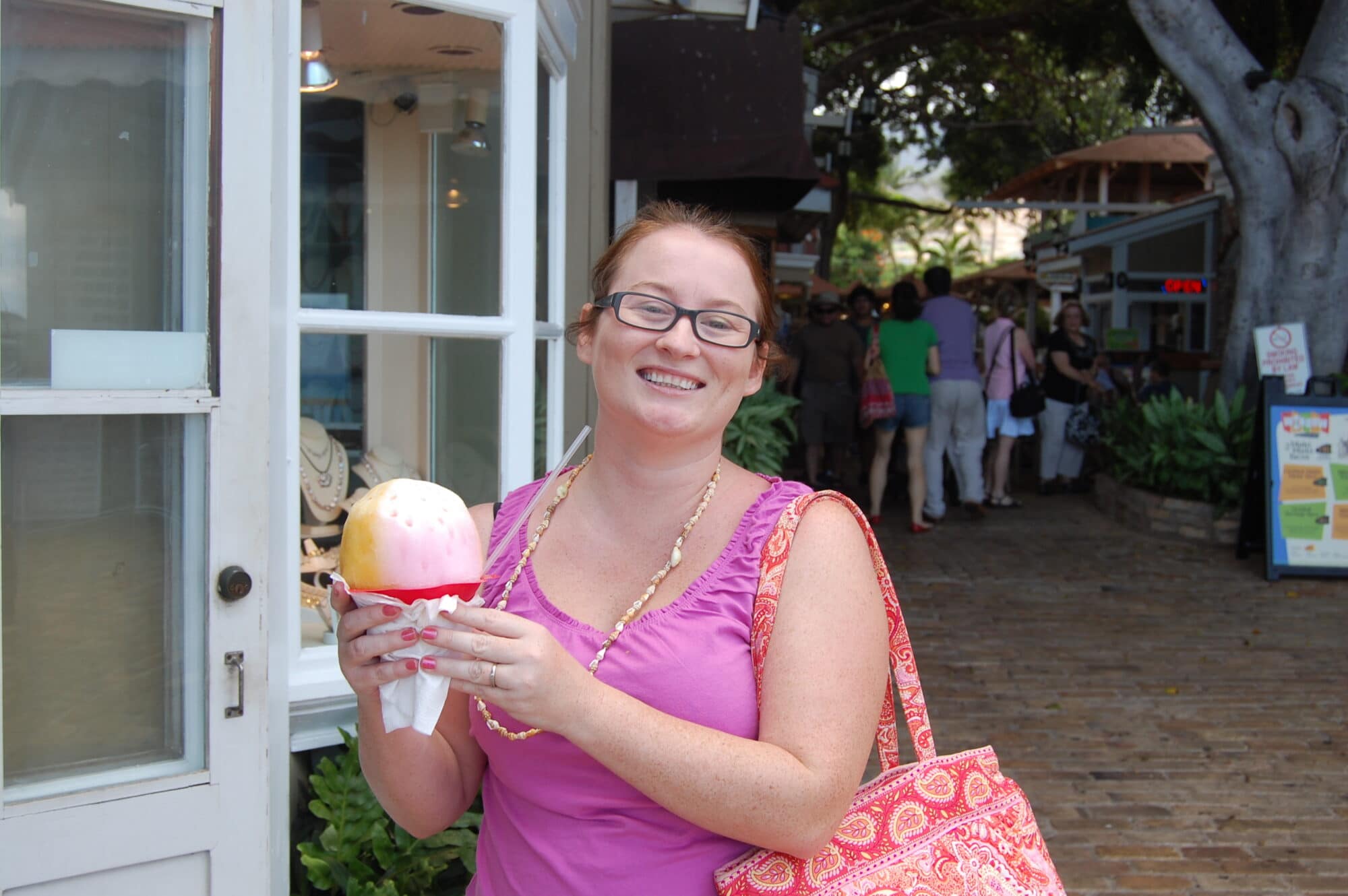 The combination of tropical flavors was perfect, and even though I ate them together, I could still identify each one. Ululani's homemade syrups are made from local ingredients, which really gives them the edge over other shaved ice on the island.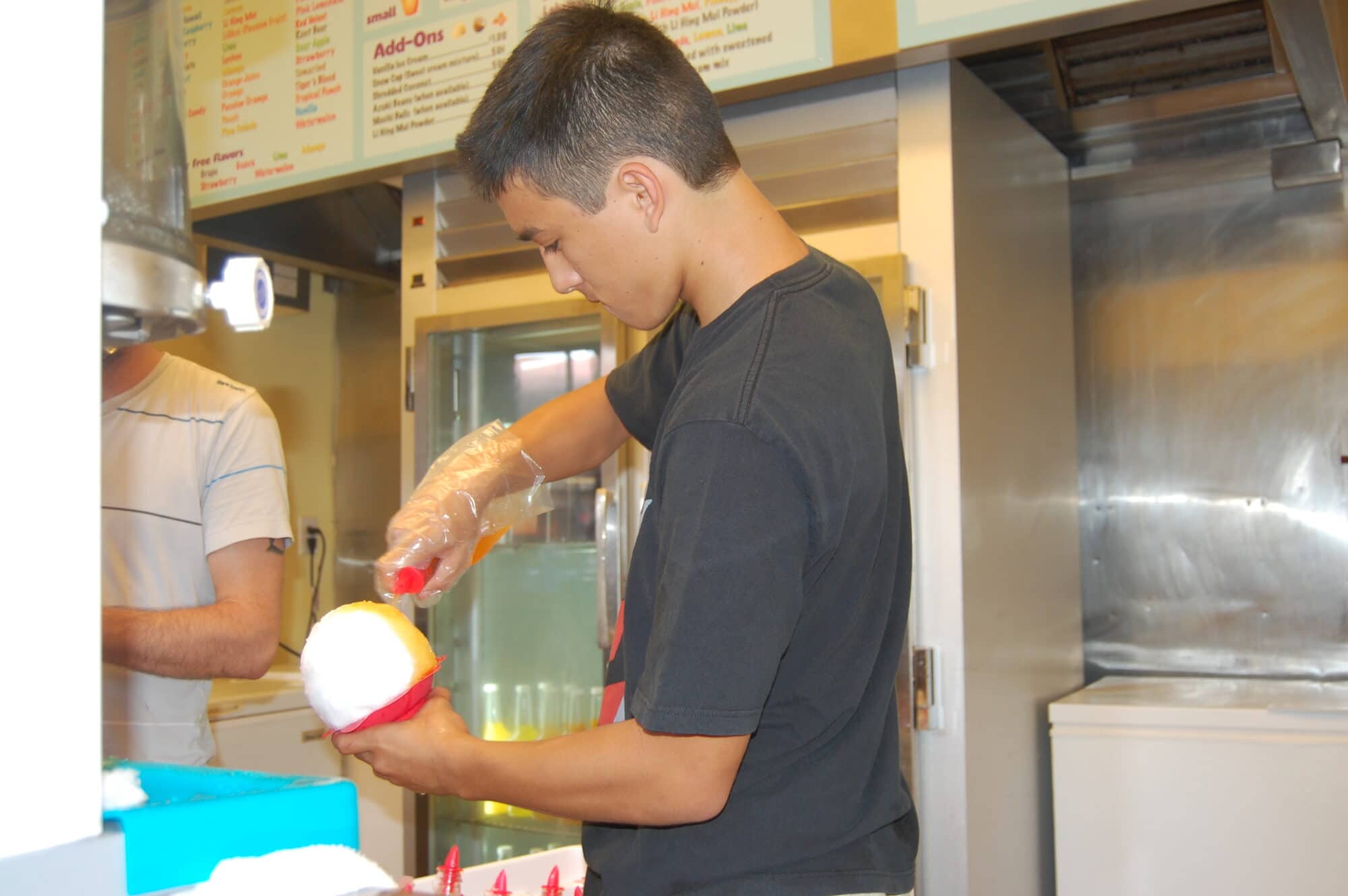 Now Ululani's has six locations on Maui and one in Kailua-Kona on the Big Island.
The Best Hawaiian Shaved Ice on Maui
I recently returned to Maui with my family and our very first stop was Ululani's on Front Street -- the same location where I had my first Hawaiian Shaved Ice!
We got there right before opening at 10:30 am, so a long line hadn't formed yet. I had been dreaming about Ululani's Shave Ice for years and I was ecstatic that I was finally getting to share it with my family (my previous trip I traveled solo).
My daughter and I split a medium No Ka Oi combination (Coconut, Mango and Lilikoi) with a Snow Cap. We also added Li Hing Mui powder (salty dried plum) to half at the recommendation of the girl working the counter (a fantastic suggestion as we're now obsessed with the flavoring!)
Ululani's shave ice was just as amazing as the first time!!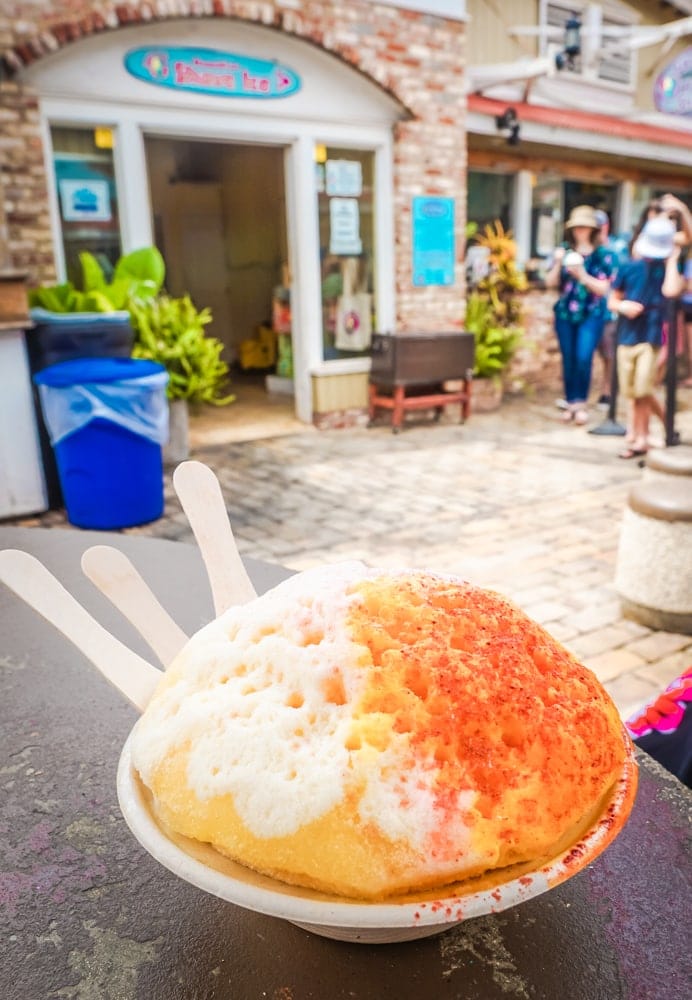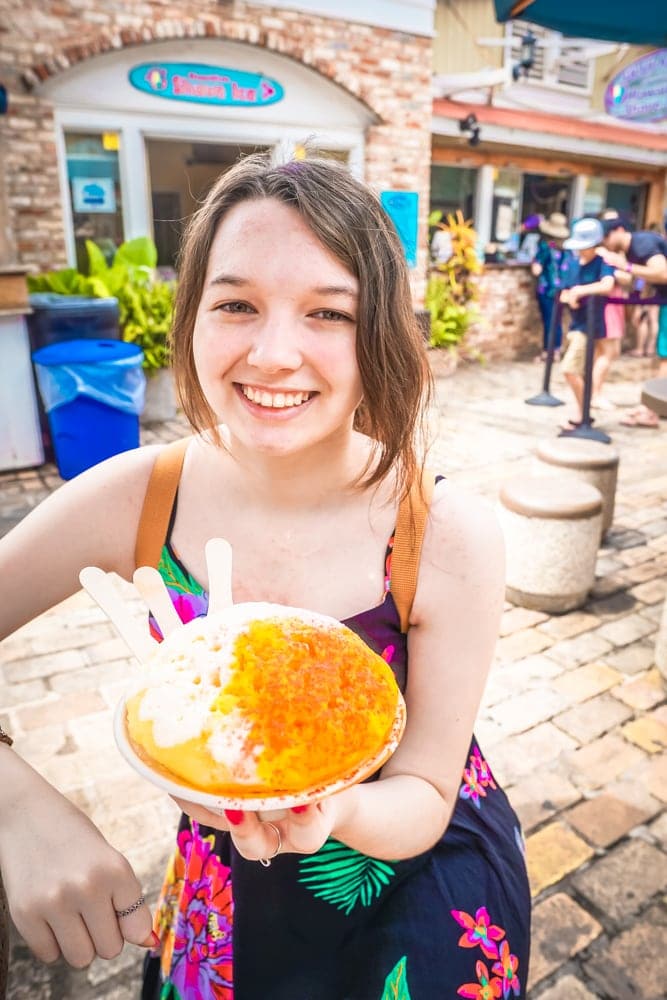 One visit to Ululani's wasn't enough for us and we visited their Kihei location two times during our week-long stay because it was closer to our condo.
Believe it or not, the line at Ululani's Kihei was longer than the Lahaina location, but it's always worth the wait.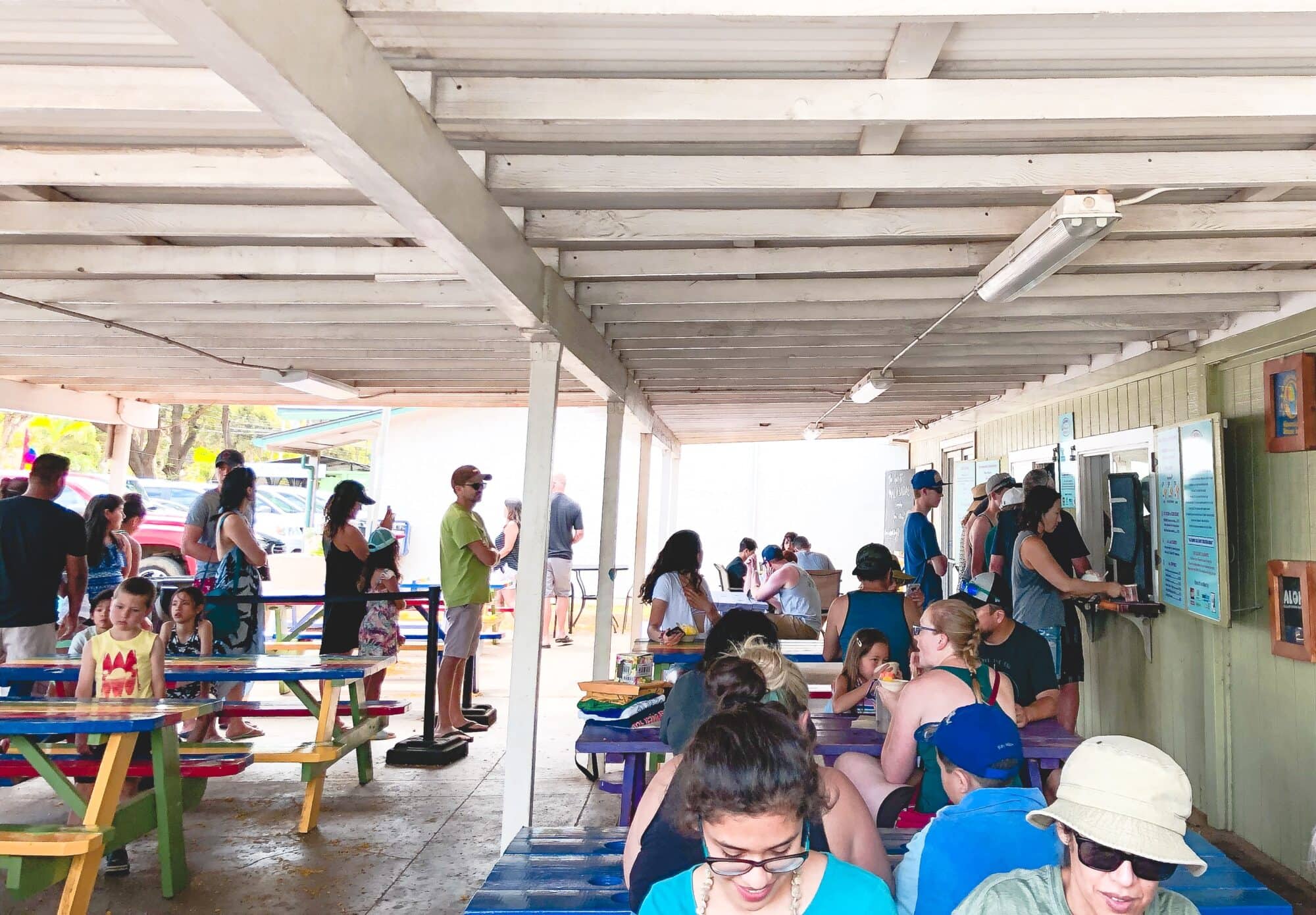 The other flavor combinations we tried were Lilikoi, Lychee and Li Hing Mui with extra Li Hing Mui powder and Matcha Green Tea and Tiger's Blood (cherry coconut flavor) with a Snow Cap.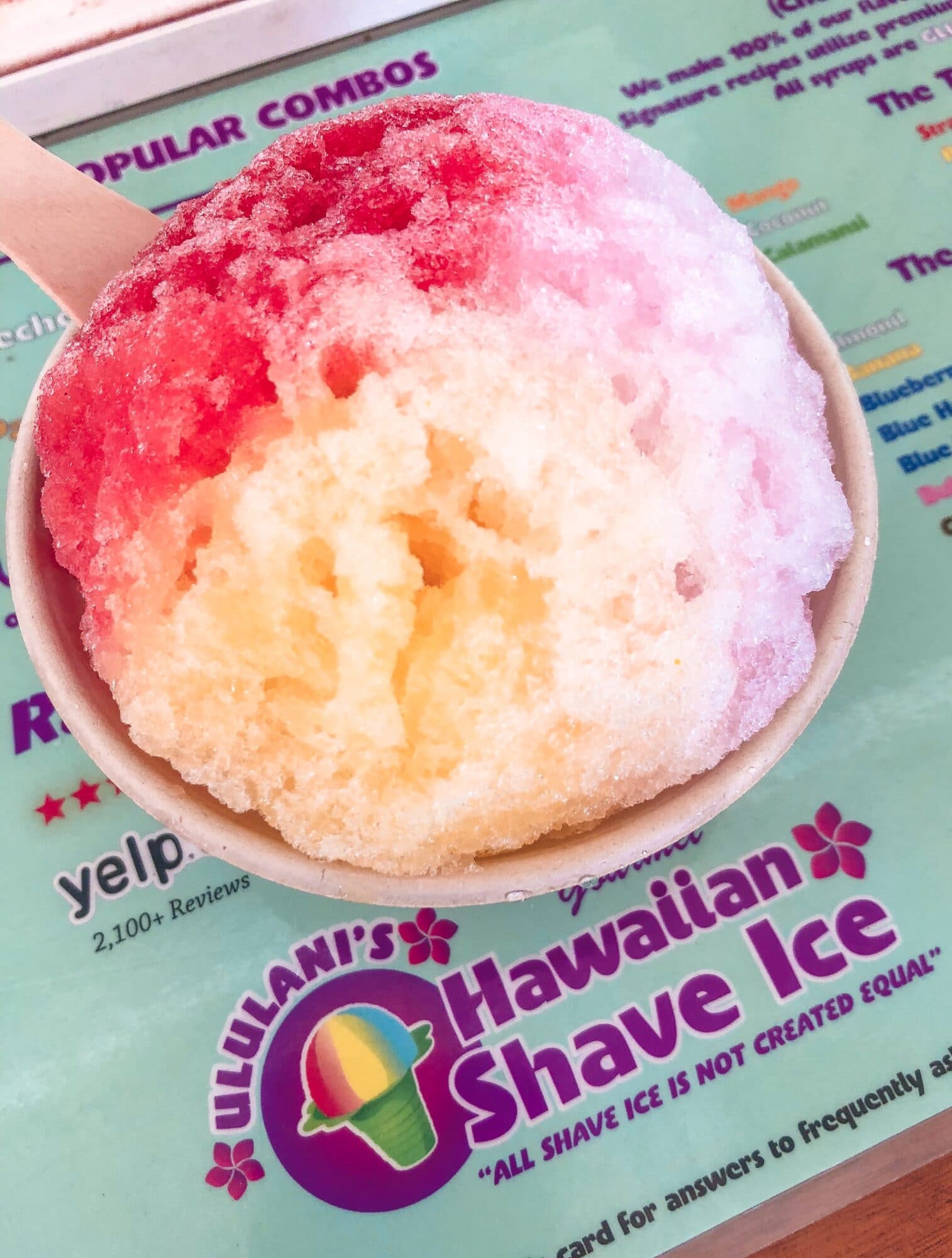 I don't think you can go wrong with any flavor combination because they are all delicious! You can choose up to three flavors with any size shaved ice — I counted 46 flavor choices in case you're wondering.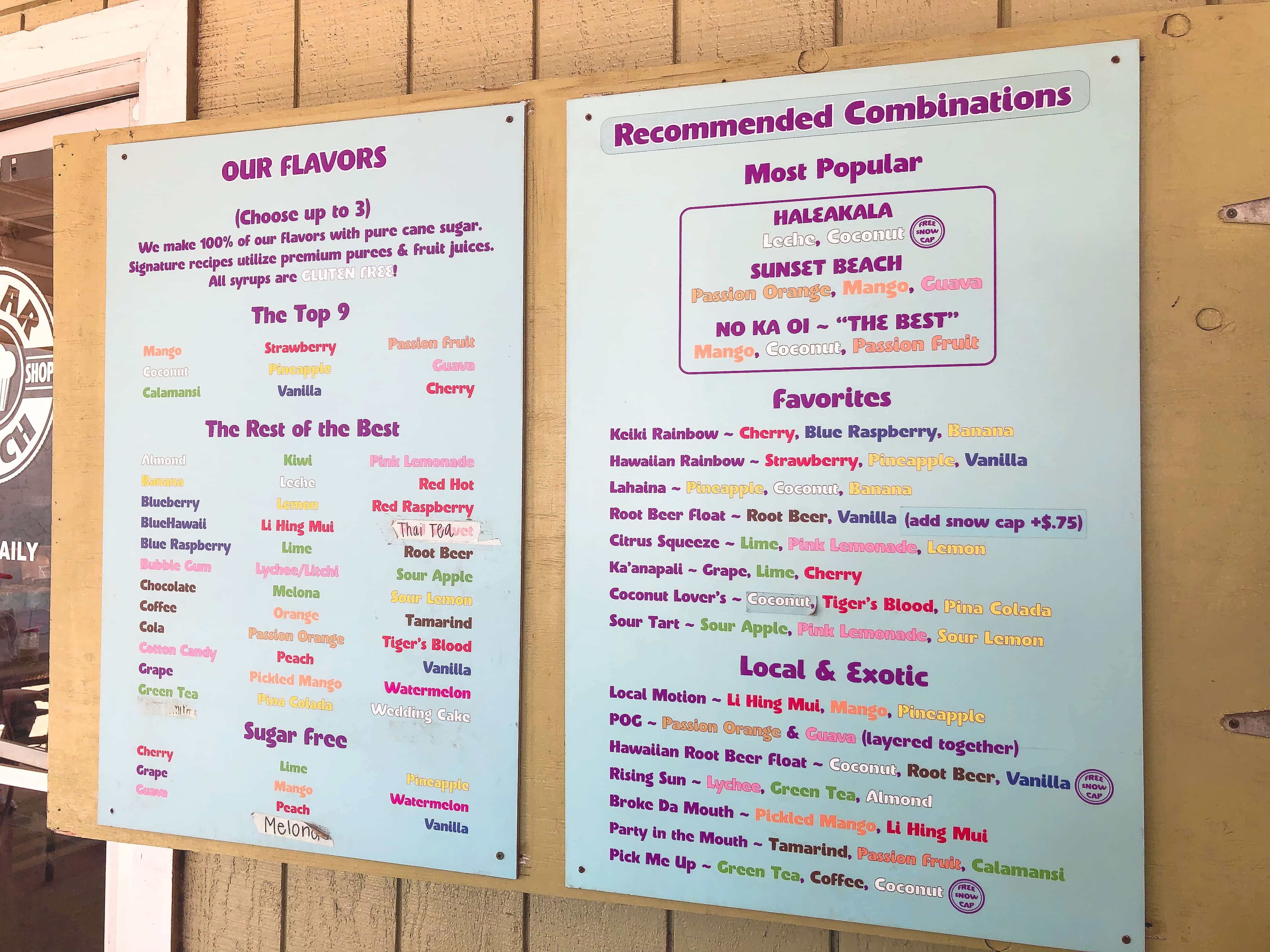 I have yet to try Roselani's vanilla ice cream as a base for the shaved ice, but I know it's super popular. I bought a half-gallon of Roselani's Macadamia Nut Ice Cream at Foodland to try during our vacation and can honestly say it's one of the best ice creams I've ever had — Next time I'm definitely adding it to my shaved ice!
The other shaved ice add-on at Ululani's are Shredded Toasted Coconut from Sugar Beach Bake Shop, Azuki Beans and
Hand-cut Mochi Pieces.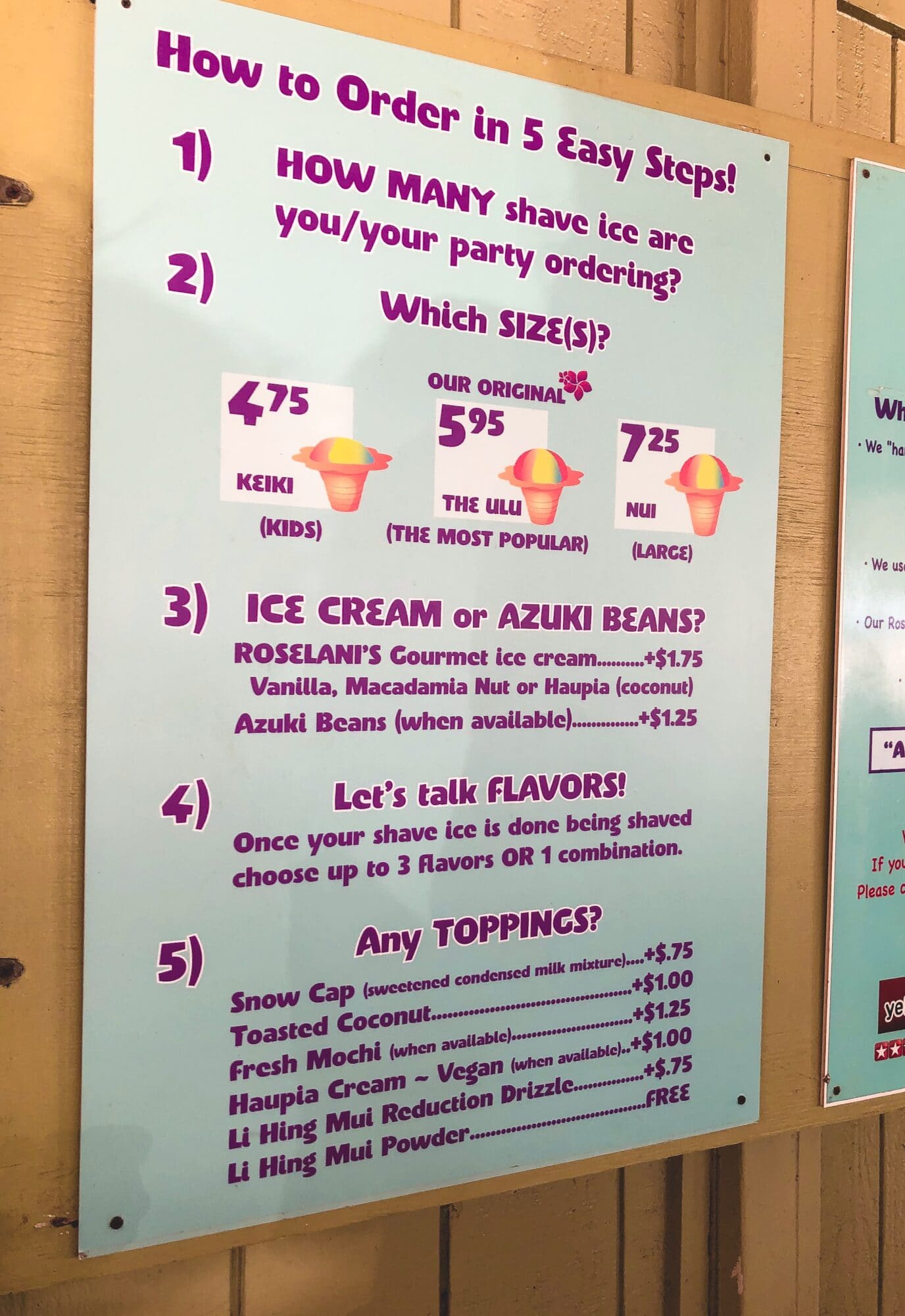 If you're headed to Maui, I cannot recommend Ululani's Shave Ice enough. It doesn't matter which location you visit-- just go! Then come back here and tell me that their Hawaiian Shaved Ice is worth moving to Maui for. 😋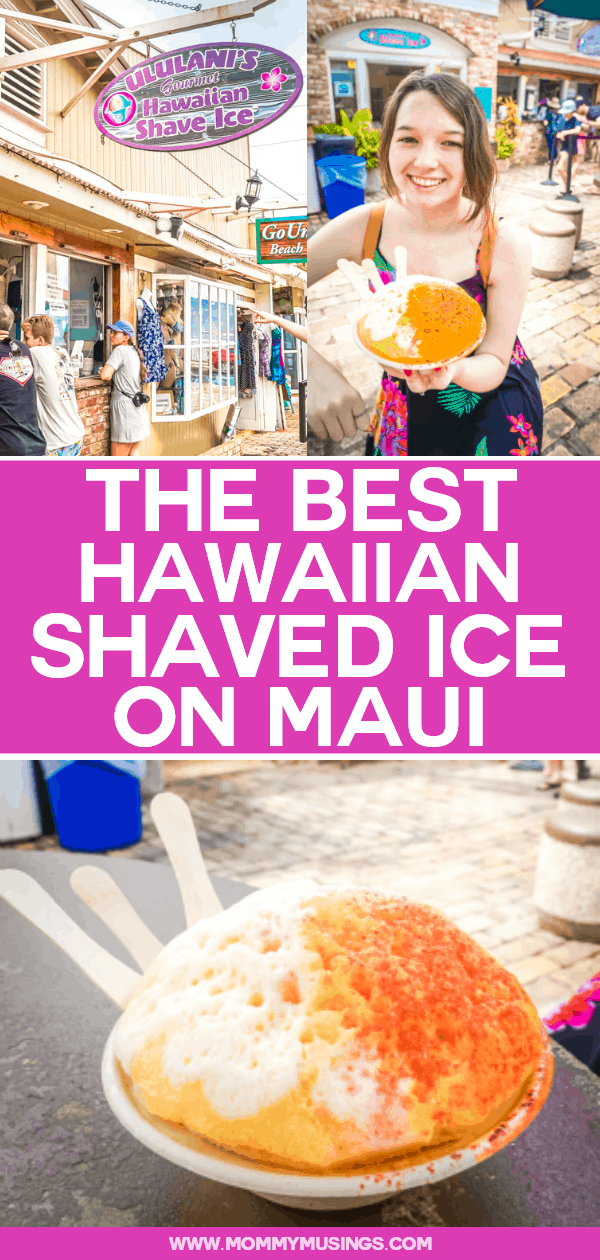 Other Posts You Might Like: