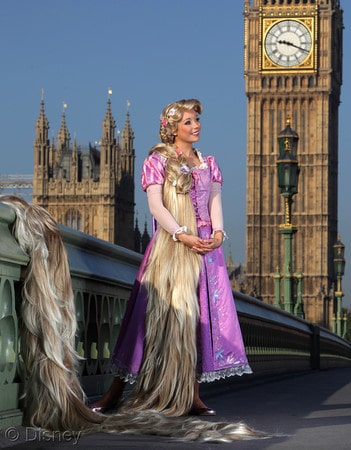 The day is almost here! Tomorrow, October 2, Rapunzel will be welcomed as the 10th Disney Princess character at her official coronation ceremony in London, England.
In a world first, Kensington Palace, London, UK, was chosen by Disney as the perfect location for this magical welcoming of a Disney Princess, as it has been the home of many real life princesses over the centuries.
For her celebration, little princesses from across the globe will watch Rapunzel be welcomed into the Disney Princess royal court by Ariel, Aurora, Belle, Cinderella, Jasmine, Mulan, Pocahontas, Snow White and Tiana. As an official member of the Disney Princess court, she will be celebrated and recognized as such across Disney, and will be included in all Disney Princess products featuring multiple characters, in addition to her own merchandise line. Plus, across all Disney Parks, Rapunzel will for the first time wear her royal tiara, stolen from the kingdom by Flynn Rider in the Tangled film.
I can only imagine how exciting it would be to attend Rapunzel's welcoming ceremony in London! Until tomorrow, when I can post official pictures from the event, here's a few royally fun facts you may not have known:
• Princess (and later Queen) Victoria was actually born at Kensington Palace in 1819. One of its best-known residents in recent years was Diana, Princess of Wales.
• Mother Gothel is the German term for "godmother."
• Rapunzel's Tower can be seen in a railroad scene at the German Pavilion in Epcot.
• There's a life-sized statue of Rapunzel in her tower at the Old Dresden Market in Saxon, Germany.
• The Brothers Grimm first published the original "Rapunzel" in 1812.
• "Tangled" directors Nathan Greno and Byron Howard first became interested in animation after visiting Disney's Animation Studio at Walt Disney World Resort.
• Special software was created to simulate hair movement because no one had ever animated that much hair before.
• During the film's dazzling, lantern-filled skyline scene, each lantern featured its own animated fire that contained 10,000 micro points of light. The highest lantern count in a shot is 46,000 lanterns, which equals 460 million points of light!
• "Tangled" animation supervisor Glen Keane's real-life daughter, artist Claire Keane, was responsible for designing and painting the storytelling mural that adorns the walls of Rapunzel's tower home.
• Tangled is now one of the top ten grossing Disney movies of all time ahead of Toy Story, Beauty and the Beast, Cars and Toy Story 2