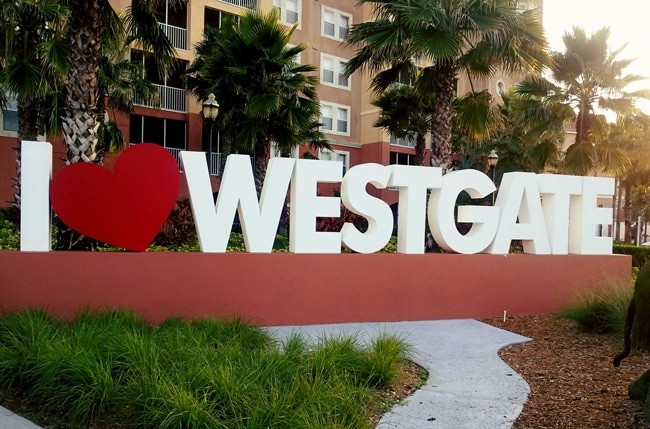 During my trip to Kissimmee, Florida for the Decade Of Memories event I had the pleasure of staying at the Westgate Vacation Villas. Let's just be honest here: the resort is beautiful. That might sound a bit cliche but there is just no other way to put it. This family totally agrees with me: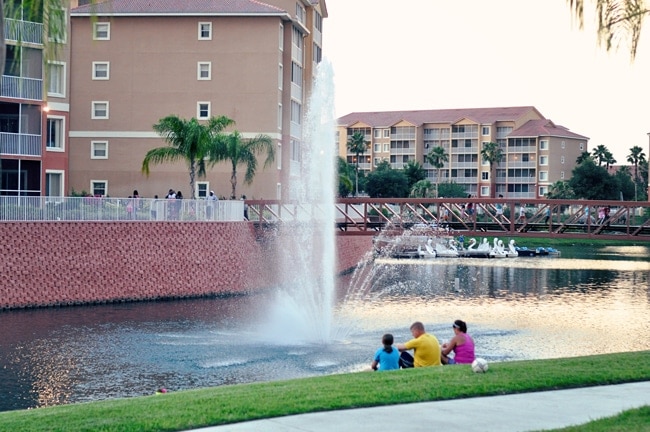 (Also, it was so thoughtful of them to color coordinate like that just in case potential strangers like me wanted to take their picture.)
And there was so much to do there! I mean, you could ride on a boat shaped like a swan with your sweetheart. THAT IS LIKE SOMETHING STRAIGHT OUT OF A MOVIE, Y'ALL! Or, if you are like me you can just ride on one all by yourself because who doesn't want to ride on a swan shaped boat? I don't even like boats and I thought it sounded like a great idea.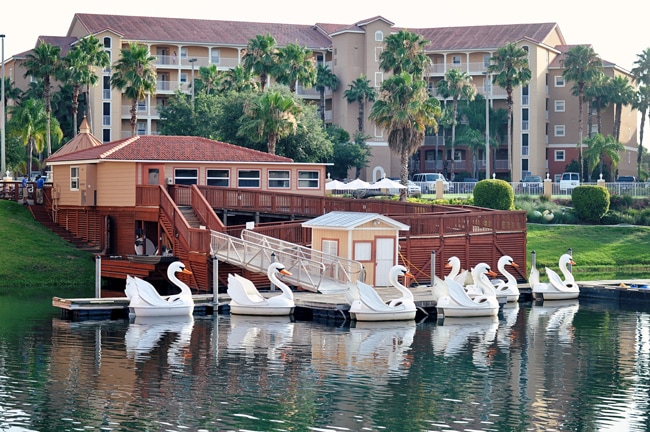 If you are vacationing with children then the Westgate Vacation Villas are ideal because they are so kid-friendly. There is a blow up waterslide. And playgrounds. And a mini-golf course. I know! You don't even have to fight traffic to go play putt-putt, you can just walk across the lawn. At first I was a bit put off by what I thought were random dinosaur structures strategically placed on one side of the resort because I was like "Why all the random dinosaurs, Westgate?" And that's when my friend Missy was all "Um, that's the mini-golf course." Then the dinosaurs made a little more sense. Seriously, coolest thing ever. They even have a train that goes around the resort for the kids to ride. My two year old would have loved that! They also have a trolley. I loved that. I was a kid who grew up on Mister Roger's Neighborhood so I have a fondness for trolleys.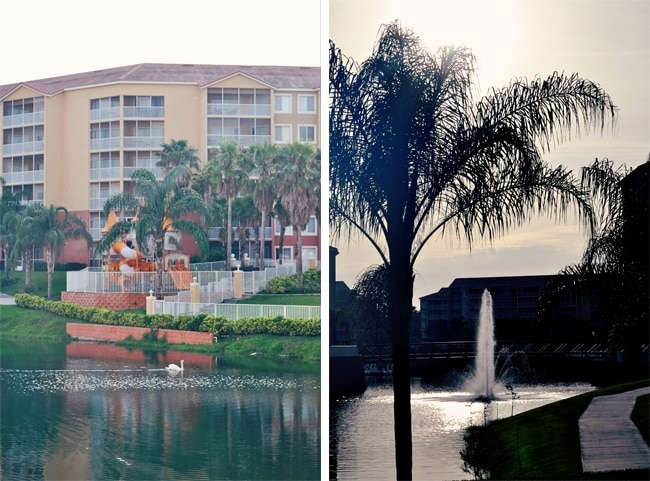 You don't have to worry about trying to find a spot at the pool because there are fourteen of them. That's a lot of pools to choose from. And every time I went to one, I didn't find them overcrowded at all (I really hate being crowded at the pool!)
There is a great store and some little shops on site where you can pick up essentials (they even gave me coupons for freebies when I checked in!) and there is also a restaurant called Drafts where we had cocktails and dinner one night, as well as the buffet breakfast in the mornings. As far as the food goes I thought it was standard hotel fare: it tasted decent but was a bit pricey for what was offered. Since there is a full kitchenette in the rooms, you'd be better off bringing your own meals to prepare. If you want to eat a meal or two out I would recommend visiting some of the other attractions like Charley's Steakhouse (which was delicious and I'll talk more about soon) to get the best meal for your money.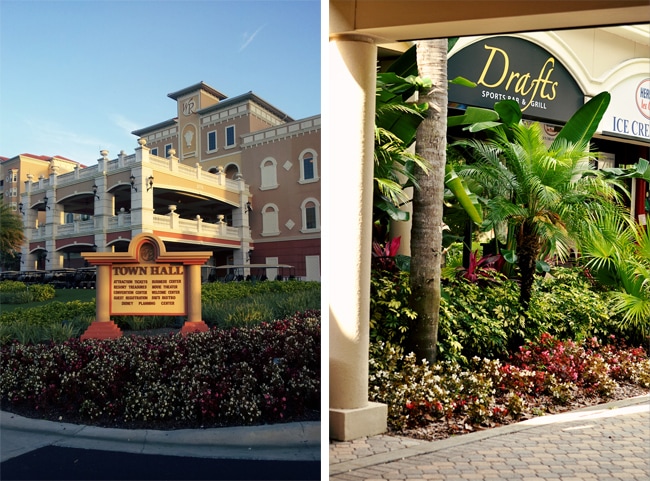 Speaking of the room, it was fantastic. It included a full kitchenette and a washer/dryer. Do you know what I love about having access to a washer/dryer when I travel? Less packing. And less packing means less luggage. And less luggage means no paying extra bag fees! The kitchenette was fully stocked too, with all of the cooking utensils and dishes and cleaning supplies that you might need. It also had a great bathroom with a huge waterfall shower. I have a two year old. Do you know how often I get to shower alone? Basically never. I spent a LOT of time in that shower.
And sleeping. Do you know when the last time I slept through the night was? ME EITHER. I mean, before the trip. Now I can tell you that I slept through the night the whole time I was in Kissimmee because my bed looked like this: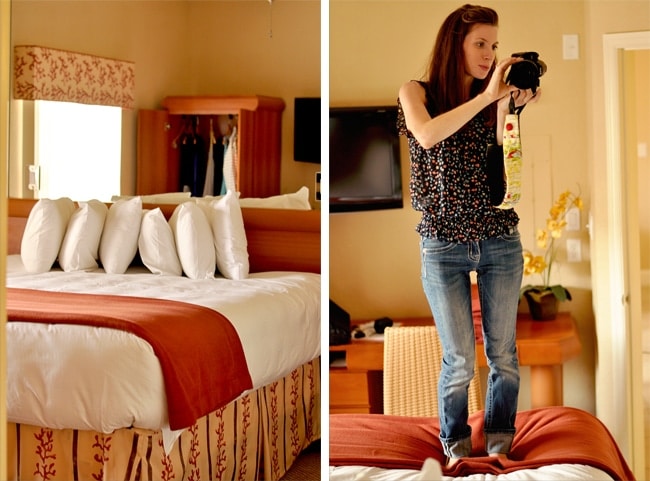 It was so comfortable! It had a ton of pillows! That's an awkward picture of me standing on the bed trying to get a picture of the room. But see how I'm sinking down into the mattress? Because it was so cozy! Also, it was huge. The den housed a pull-out sofabed so the one bedroom villa could have easily slept four people. That's an amazing deal.
The rest of my room looked like this: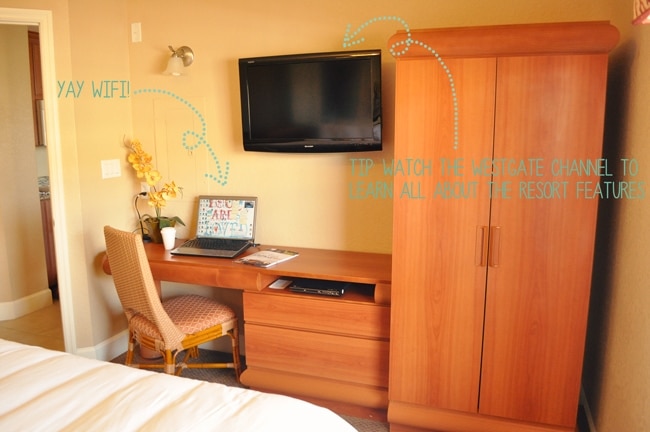 I was pretty stoked about the wifi and also about the television although to be honest, I didn't watch it at all because I was so busy visiting all of the attractions around Kissimmee! I did watch the Westgate channel for a little bit, which is where I learned pertinent information such as where the blowup waterslide was located.
It was definitely one of the nicest places that I have ever stayed on a vacation and I really enjoyed it. They have a shuttle that runs to the big parks (aka DisneyWorld) since they are so close by and their rates are surprisingly affordable. I thought they would be one of the pricier resorts given how nice the accommodations were but they start at $99 a night! It's definitely worth checking out if you're planning a Florida vacation.
(Accomodations provided by Experience Kissimmee, thoughts, opinions and words all my own. Including the $5 I paid for my swan boat ride ;))