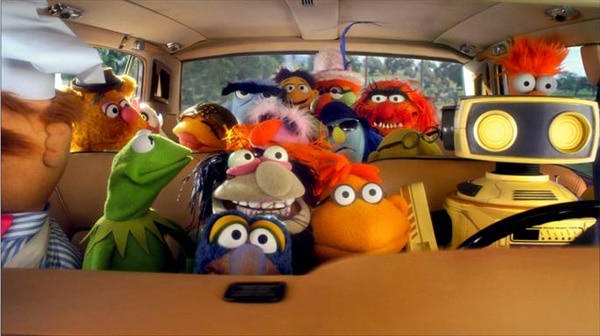 Alright guys. If you're like my family, you'll probably be going on a few road trips this holiday season. Instead of the same old "eye spy", have a little fun with The Muppets and keep the kids busy with a new MUPPETS ROAD TRIP GAME!!
Mahna, Mahna.
See if you can spot:

-5 Kermit green cars

-1 Person who looks like a relative of Gonzo's

-3 People who look like they just stepped off the Electric Mayhem Band bus

-2 Bumper stickers that are so funny, Fozzie Bear would add them to his act

-4 People wearing suits they stole from Statler and Waldorf

- 3 Cars that are so patriotic, Sam the Eagle just might be driving them

- 4 of Miss Piggy's biggest fans. How can you tell? Easy, they could be:

a)    Singing to themselves

b)    Fixing their hair in the mirror

c)    Blowing kisses to you through the window

d)    Blowing kisses to themselves in the mirror

Bonus!!

-Sing the chorus of "Mahna Mahna" or "Rainbow Connection" at a red light or while driving through a tunnel

-Find a license plate from Smalltown, USA (or at least one that is red, white and blue)

-Find the letters of Disney's "The Muppets" in license plates
THE MUPPETS opens in theaters everywhere on November 23rd!