Beginning Nov. 5, Busch Gardens Tampa Bay brings back its unique and wildly popular Serengeti Night Safari for seven select nights in November and December.
The Serengeti Night Safari is offered Nov. 5, 13, 20 and 27 and Dec. 4, 11 and 18.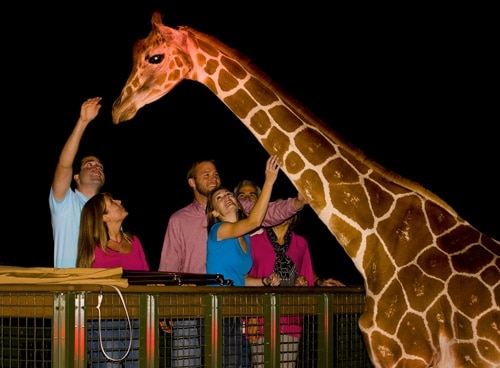 Fall is the perfect time for an adventure into the African night. Venture through Edge of Africa to witness the active nighttime behaviors of hippos, lions and hyenas lit only by moonlight and lanterns. On the Serengeti Plain, use night-vision monoculars and special filtered lighting to view free-roaming herds of giraffes, zebra, rhinos and other intriguing African animals. The red lighting allows up-close views of animals without startling them. Then gather around the campfire for stories and up-close animal encounters.
This nighttime experience begins and ends in the exclusive Safari Club, with savory appetizers and adult beverages before the excursion and a night cap complete with coffee and desserts after...a perfect date night!
The Serengeti Night Safari begins between 6:30 and 8:30 p.m., depending on the event date and time of sunset. The cost is $60 per person, plus tax. Admission is not included and is not required. Guests must be 21 years of age or older to participate. For reservations, call 1-888-800-5447 or visit BuschGardens.com.
The Serengeti Night Safari is subject to availability. Additional dates may be added. Prices are subject to change without notice. Animal interactions may vary.