Exciting news about Carnival Cruise Line's newest ship Carnival Horizon— the itineraries have been announced!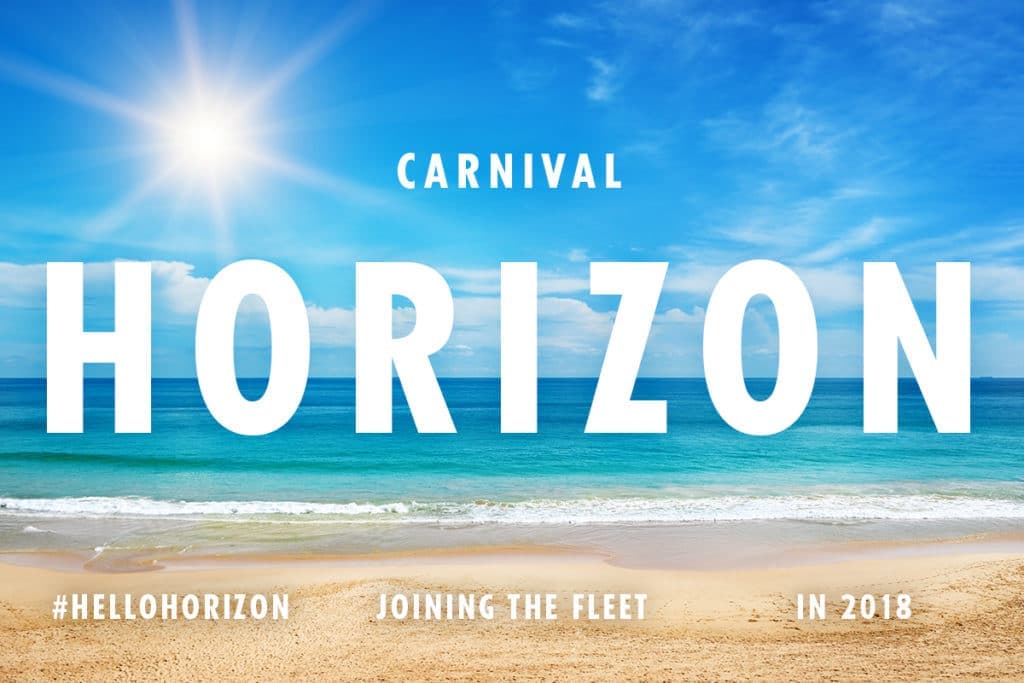 Carnival Horizon is currently under construction at the Fincantieri shipyard in Marghera, Italy and is set to debut in April 2018. We still don't have a lot of info about the 3,934-Passenger ship, other than it will feature all of the most popular dining, bar, entertainment and activity options that debuted on Carnival Vista, Horizon's sister ship, as well as a variety of unique dining and bar concepts and outdoor spaces (soon to be revealed!).
The good news for today is that we have the ship's initial itineraries, which include European voyages followed by Caribbean sailings from New York and Miami. Take a look:
2018 Carnival Horizon Itineraries
Port-Intensive European Cruises Round-Trip from Barcelona
Carnival Horizon is scheduled to make its maiden voyage April 2, 2018, with a 13-day Mediterranean voyage operating round-trip from Barcelona and calling at Livorno, Rome (Civitavecchia), and Naples (Capri and Pompeii), Italy; Dubrovnik, Croatia; Corfu, Greece; Messina (Sicily), Italy; Valletta, Malta; and Cagliari (Sardinia), Italy – the first of four round-trip departures from this Spanish port. Carnival Horizon will also operate two seven-day cruises departing April 15 and 22, 2018, and featuring Cagliari (Sardinia), Naples (Capri and Pompeii), Rome (Civitavecchia), Livorno, and Marseilles, and a 10-day voyage departing April 29, 2018, with stops at Livorno, Rome (Civitavecchia), Naples (Capri and Pompeii), Dubrovnik, Corfu and Messina (Sicily).
14-Day Transatlantic Crossing from Barcelona to New York
Carnival Horizon will reposition to the U.S. with a 14-day transatlantic crossing departing Barcelona May 9 and arriving in New York on May 23, 2018. Five stunning European and Canadian ports will be featured: Malaga, Spain; Gibraltar; Lisbon, Portugal; and Vigo, Spain – Carnival's first visit to the centuries-old seaside town – along with a stop at Halifax, Nova Scotia, Canada.
Four-Day "Long Weekend" Cruises from NYC
Departing on Thursdays, the 4-day cruises will feature a full-day visit to Bermuda where guests can relax on the island's legendary pink beaches, enjoy snorkeling, kayaking and other water sports, and visit historical landmarks such as Royal Naval Dockyard and Gibb's Hill Lighthouse, the oldest cast iron lighthouse in the Western Hemisphere. Five four-day Bermuda cruises will be offered, departing NYC May 24, June 21, July 19, Aug. 16 and Sept. 13, 2018.
Eight-Day Caribbean Cruises from the Big Apple
After arriving in New York, Carnival Horizon will offer an exciting summer schedule of eight-day Caribbean cruises operating round-trip from the Big Apple and featuring visits to Grand Turk; San Juan; and Amber Cove (Dominican Republic). Departure dates include May 28, June 5, 13 and 25, July 3, 11, 23 and 31, Aug. 8, 20 and 28, and Sept. 5, 2018.
Year-Round Six- and Eight-Day Caribbean Voyages from Miami
Carnival Horizon will then shift to Miami and kick off a year-round schedule of six- and eight-day Caribbean cruises beginning Sept. 22, 2018. Prior to the start-up of this program, Carnival Horizon will offer a special two-day cruise to Nassau from Miami Sept. 20-22, 2018. On its new Miami-based schedule, six-day cruises will depart Sundays, calling at Ocho Rios; Grand Cayman; and Cozumel. Two different eight-day itineraries will be offered with departures on Saturdays – one featuring Grand Turk; La Romana (Dominican Republic); Curacao; and Aruba; and the other visiting Grand Turk; San Juan; St. Kitts; and St. Maarten.
I'll be posting Carnival Horizon news and updates as soon as they're announced— stay tuned!