When Carnival announced this past February that Carnival Paradise was headed to Cuba in June, I got very excited. Tampa is my homeport, so ANYTHING new in the cruise world is thrilling for us. Because of the Sunshine Skyway Bridge, we are limited to cruise ships of a certain size. This definitely has an impact on the length of cruises and ports of call that you see coming and going from the Port of Tampa. Needless to say, Carnival Paradise visiting Havana, Cuba was big news for Tampa Bay.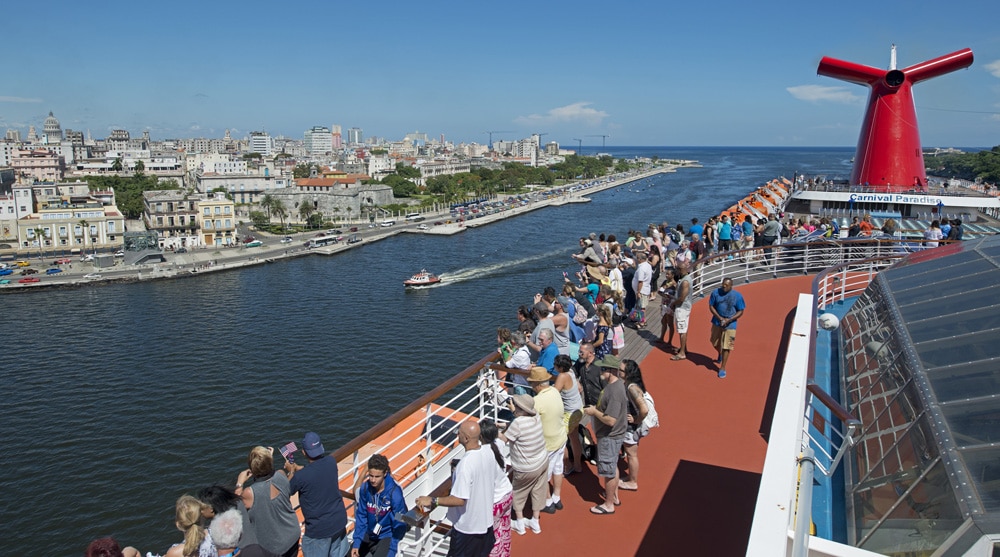 Fast forward to June 29, when Carnival Paradise departed Tampa on her first Cuban cruise. While I wasn't able to sail, I was invited onboard for a bon voyage reception to celebrate the monumental occasion.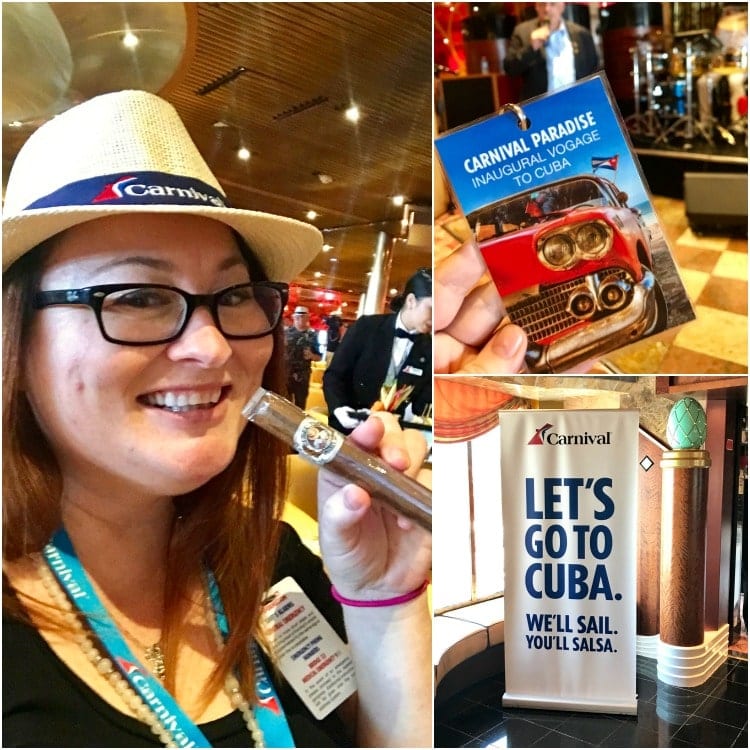 The event was a celebration of Cuban culture, music, cuisine, and libations, featuring the "World's Largest Cuban Sandwich at Sea" and a $25,000 charity donation to Tampa's Ybor City Museum Society.
---
Fun fact: Carnival Paradise is the largest ship to ever sail into Cuba!
---
The gargantuan 10-foot-long sandwich contained the traditional ingredients of all Cuban sandwiches: a light white bread, five pounds of sliced ham, 50 pounds of marinated and roasted pork, six pounds of Swiss cheese, one gallon of dill pickles and mustard and mayonnaise. But this sandwich had a twist.

Apparently, there is a long-standing rivalry between Tampa and Miami about which city can claim the most authentic Cuban sandwich recipe. Tampa's Cuban community predates Miami's and in Tampa, they include one additional ingredient — Genoa salami — as a salute to the city's large Italian population. In a spirit of solidarity and cooperation, the "World's Largest Cuban Sandwich at Sea" was created to be half Miami-style and half Tampa-style with the addition of eight pounds of Genoa salami!
The event also included a $25,000 donation to the Ybor City Museum Society (YCMS) which is celebrating its 35th Anniversary in 2017.

The Ybor City Museum Society is a nonprofit organization whose mission is preserving, promoting and celebrating the unique cultural heritage of Ybor City and supporting the Ybor City Museum State Park. YCMS has the distinction of being the first of 84 Citizen Support Organizations for the award-winning Florida State Parks.
Carnival Paradise Cuba Cruises from Tampa
In total, 17 cruises are scheduled on Carnival Paradise from Tampa with a stop in Havana, Cuba. Four-day cruises include an overnight in Cuba, and five-day cruises have an overnight with an extra stop in either Cozumel or Key West.
Four-day cruises: depart June 29, July 13, August 24, September 7 and 21, and October 5 and 19, 2017 as well as May 3, 2018.
Five-day cruises:  depart August 14 and 28, September 25 and October 9, 2017 and Feb. 17, July 2 and Sept. 5, 2018.
Six-day cruise: depart Aug. 26, 2018 (Havana and Grand Cayman)
Eight-day voyage: depart Aug. 18, 2018 (Havana, Grand Cayman and Cozumel)
Carnival Paradise Cuba Cruise Excursions
A variety of shore excursions are available from Carnival for passengers to enjoy while docked in Havana. Here are just a few of the selections.
In Hemingway's Footsteps
Discover the people and places that made Hemingway fall in love with Cuba, following in Papa's footsteps from Old Havana to the shores of Cojimar. Travel by bus to Papa Hemingway's former home, Finca Vigia, before exploring the fishing town that served as inspiration for the novel "The Old Man and the Sea." Enjoy a cocktail named in honor of The Pilar's first mate while the stories of Papa's fishing expeditions take life through the windows of Las Terrazas de Cojimar. Back in Old Havana, meet with a vendor from the famous bookseller's market to learn about the art of buying and selling oddities in Cuba, before having free-time to explore the marketplace on your own. From the cobblestone streets of Old Havana to the shores of Cojimar, the Spirit of Papa Hemingway still lingers in Cuban Air.
Local Flavors and Traditions of Havana
Vibrant and exuberant, the flavors of Cuba can be found in the culture, food, art, and music of Havana. Delight your taste buds with a traditional Cuban food tasting at a local Paladar (privately owned restaurant), while enjoying the rhythms of Cuban music with a live performance. After learning about the efforts being made by private restaurateurs to train and employ young Cubans, be introduced to the 'Cuban marriage'. The perfect combination of coffee, cigars, and rum, the Cuban Marriage highlights Cuba's finest exports, and a local expert will teach you the proper methods for enjoying each product like a Cuban. Peruse the items for sale that include a collection of rums, coffees, and cigars before setting off to explore Havana via panoramic bus tour on your way to Plaza de la Revolucion.
After visiting Plaza de La Revolucion to learn about Jose Marti's influence on the island, travel to Muraleando. Located in Central Havana, local artists have turned an aging water tank into the Muraleando art space and community center, revitalizing their community through large murals that stretch up and down the street walls. Artistans volunteer to teach classes at Muraleando in exchange for the privilege of selling their works of art in the Muraleando gallery. Dance alongside local adults and children inside the water tank, as a local live band provides the soundtrack to your afternoon.
Havana Family Experience
Take the entire family to visit the Muraleando collective, a thriving community art project located in central Havana. Thanks to the work of resident artists this neighborhood is adorned with beautiful works of art and provides workshops to the community focusing on art forms such as ceramics, theater, dancing, and music. Meet the local artists while taking a tour of the facility, centralized around a repurposed water tank.
Dance alongside local residents and children to the sounds of a live band before a local artist provides children with a screen printing workshop. Using the equipment available at Muraleando, children will work with the resident artist to create a take-home screenprint which will always remind your child of their incredible journey to Havana. After visiting the Muraleando community project, enjoy a panoramic bus tour past Central Havana, the Capitolio and Gran Teatro, before stopping in Plaza de Armas to negotiate prices like a local at the famous bookseller's market.

Other Cruise Posts You Might Like: