Start your day with one of these 20+ Delicious & Colorful Smoothie Bowl Recipes! A Smoothie Bowl is a yummy twist on your typical frozen smoothie, served in a bowl with whole fruit, grains, nuts and seeds.
I know you don't need to tell you how delicious smoothies are. They are a great way to get loads of fruit, veggies, and other yummy and nourishing things into your system. As great as that is, sometimes drinking your food can trick your mind into thinking you haven't eaten as much as you actually have. That doesn't mean you have to stop enjoying smoothies though— try a Smoothie Bowl instead! You can add sliced fruit, nuts, and all kinds of extra goodies that you wouldn't be able to leave whole if it were in a blended drink.
...And once you see all the beautiful Smooth Bowl Recipe color combinations, you won't want to go back to a drab breakfast of cereal or eggs and toast!

Breakfast Smoothie Bowl Recipes
Lemon Cream Pie Smoothie Bowl - Blissful Basil
Grapefruit Smoothie Bowl - Frugal Mom Eh
Tart Cherry and Spinach Smoothie Bowl with Soft Baked Chocolate Granola - Wholefully
PB&J Smoothie Bowl - Eclectic Momsense
Rainbow Coconut Smoothie Bowl - How Sweet Eats
Apple Pie Smoothie Bowl - Fit Foodie Finds
Carrot Cake Smoothie Bowl - Pinch of Yum
Tropical Smoothie Bowl - Mommy Musings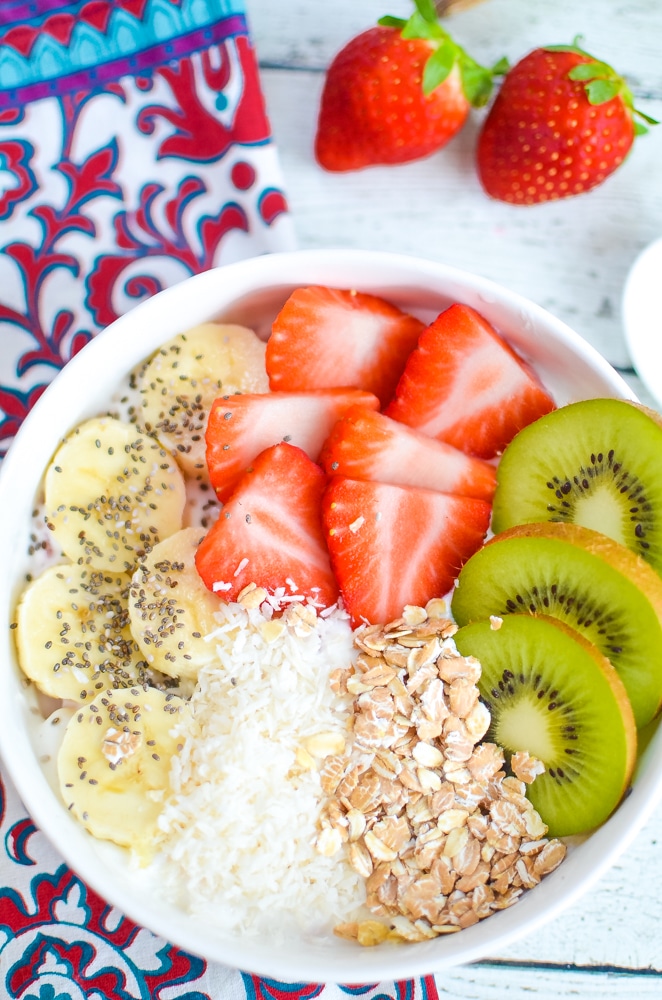 Dragonfruit Berry Smoothie Bowl - Homeless is Homemade
Banana Berry Beet Smoothie Bowl - Jessica in the Kitchen
Chunky Monkey Smoothie Bowl - Like Mother Like Daughter
Pear Smoothie Bowl - Fearless Dining
Green Smoothie Bowl - Sally's Baking Addiction
Peanut Butter Mocha Smoothie Bowl - The Baking Fairy
Stone Fruit Smoothie Bowl - Amanda's Cookin'
Melon Mango Smoothie Bowl - Frugal Mom Eh
Blue Mermaid Smoothie Bowl - Greens of the Stoneage
Strawberry Ginger Peach Bliss Bowl - Blissful Basil
Pumpkin Pie Smoothie Bowl - Hummusapien
Coconut Kiwi Green Smoothie Bowl - Jessica in the Kitchen
Strawberry Banana Smoothie Bowl - Bakerita