This post is brought to you by HIBICLENS Soap. All opinions are my own.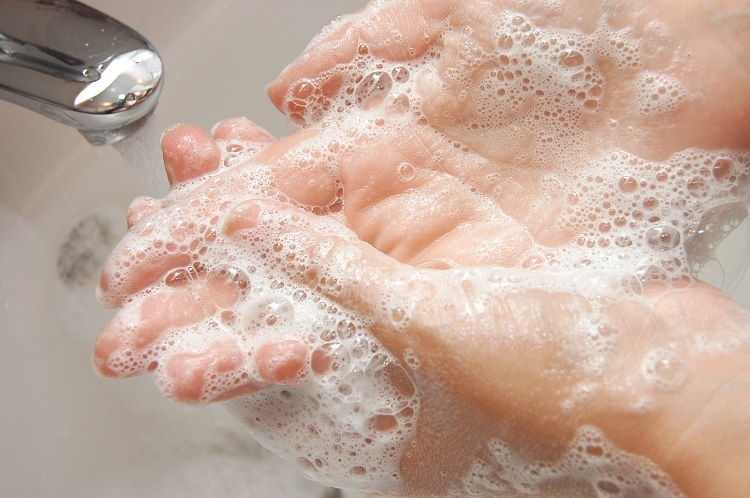 Hand washing shouldn't be a hassle. Most antibacterial soap products require you to wash your hands repeatedly throughout the day. HIBICLENS antimicrobial hand soap is your one-and-done solution to hand washing.
Trusted by hospitals and healthcare professionals as a skin cleanser and antiseptic, HIBICLENS provides up to 24 hours of protection against the germs that can cause a variety of illnesses and diseases. Now it's time to achieve these benefits at home.
Here are some at-home health benefits you can receive from daily handwashing with HIBICLENS antimicrobial soap:
HIBICLENS Soap offers up to 24 hours of protection
Washing your hands with regular antibacterial soaps offers no more protection against germs than an average bar soap (according to the Minnesota Department of Health).
HIBICLENS antimicrobial soap contains Chlorhexidine Gluconate [CHG], a germ-killing agent that kills germs instantly upon contact. Don't subject your family to inadequate protection against germs at home and abroad. Trust HIBICLENS soap to offer your family a long-lasting and effective prevention of illness and disease.
Germs are everywhere
According to the 2011 Tork® Report, it's estimated that you come in contact with 300 surfaces every 30 minutes, exposing you to 840,000 germs during that timeframe.
These surfaces include the ones in your home! This exposes you to everything from the common cold to Staph infections (which include MRSA). You need an ally that will help you in your fight against germs, and that ally is HIBICLENS antimicrobial soap.
Washing with HIBICLENS is an easy process: first, wet your hands or the desired area to be cleaned with warm water. Then, using 5mL (about 1 teaspoon) of HIBICLENS, gently scrub the desired area for 15 seconds. Rinse and dry area(s) thoroughly, and you're done!
HIBICLENS Soap helps prevent Influenza
According to the CDC, annually a reported 200,000 people are hospitalized with the flu - with 10 percent of those being children under the age of five.
HIBICLENS soap helps protect you and your family from the flu at home and beyond. Make a wise decision and incorporate the daily use of HIBICLENS into your family's hygiene routine. Washing your hands with HIBICLENS in the morning before leaving the house is all you need for up to 24 hours of protection against illnesses like Influenza.
Start your fight against infection and disease at home. The daily use of HIBICLENS antimicrobial hand soap helps you achieve the benefits we've discussed in this post. HIBICLENS is convenient, gentle, fast-acting, and effective. Take the first step to protecting your family today with a money-saving coupon and more information at hibiclens.com.
Hibiclens Antiseptic Antimicrobial Skin Cleanser 4oz Foam Pump
Hibiclens Antimicrobial/Antiseptic Skin Cleanser, 16 Fluid Ounce Bottle with Foaming Pump
Hibiclens Antimicrobial/Antiseptic Skin Cleanser, 32 Fluid Ounce Bottle
Other Posts You Might Like: