Wow! Where do I even begin with The Bubble Room!?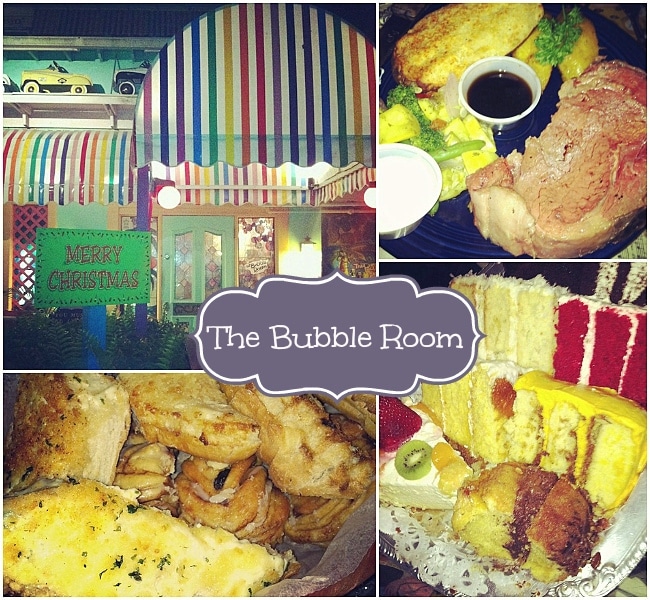 For years my husband has been telling me about this awesome restaurant on Captiva Island where it's always Christmas. He would go on and on about the amazing "Bubble Bread" and cake slices that are as big as your face. I brushed off the idea for a long time because the restaurant is a little out of the way-- but secretly I really wanted to experience it ... at least once.
This past weekend, my mother-in-law and her husband surprised my family to dinner at The Bubble Room. We hadn't seen them in almost a year, so it was a very special reunion. It also just happened to be Mother's Day weekend-- so there were a lot of reasons to celebrate.
After driving for what seemed like forever -- The Bubble Room is at the very end of Captiva Island -- we arrived at a cute little place with a rainbow colored awning, decked out with vintage signs and toy cars.
The Merry Christmas sign was just a hint of what was to come inside.
Immediately upon entering, the smell of the bakery hit me. I then saw, for the first time, the ginormous selection of award-winning cakes ... and then I started to drool. As a lover of sweets, this was my kind of place and I knew I had to save room for dessert.
Within no time we were seated at a table in a room adorned with old-style Christmas bubble lights, pictures of classic movie stars, and a giant stuffed Mickey Mouse. The decor can only be described as eclectic and kitschy. The servers wear scout-style uniforms and are less than friendly. I'm not sure if that's the norm, or if our waitress was having a bad day. Her attitude didn't spoil our fun though-- we ordered what we wanted from the menu and were soon brought a basket of the famous Bubble Bread and Sticky Buns.
OMG .... The Bubble Bread. It's as good as everyone says. It's not just cheese bread; it's cheese bread baked with mayonnaise. I know that sounds kind of disgusting, but it totally works at The Bubble Room. The Bubble Bread was gone in no time and then we were left with Sticky Buns. I'm not sure about the origin of these buns or why they're served before dinner, but they were good. I was so hungry that I ate a piece of Bubble bread and a Sticky Bun, which I regretted later. It was just too much food ... remember the cake?
Salad followed (I had Greek, which was unremarkable) and then our entrees came. I ordered the Jane cut of Prime Rib, which could have totally passed for the Tarzan cut -- it was huge, and cooked perfectly! While the dinner prices are on the high side, you do get a lot of food to make up for it. It's also a tourist spot. My Prime Rib was around $30, but it was totally worth it for the cut of meat I received. I could have done without the twice-baked potato though -- it was dry and bland.
About halfway through my meal I started to feel full stuffed. I was not leaving The Bubble Room without a slice of cake, so I had my dinner boxed up. Looking back, the portion sizes are a bit crazy and I should have shared with either my husband or daughter. None of us finished our food.
Dessert came around on a giant tray and the toughest part of our evening was deciding which slice to try. They all looked delicious! My husband decided to split the Orange Crunch Cake with me -- yellow cake layered with an almond brown sugar crunch covered with orange cream cheese icing -- and my Mother-in-law went with the White Christmas Cake -- white cake layered with toasted almonds, whipped cream and coconut with white chocolate shavings. We also ordered an additional Orange Crunch and a Candy Bar ice-cream cake slice for my daughter to try.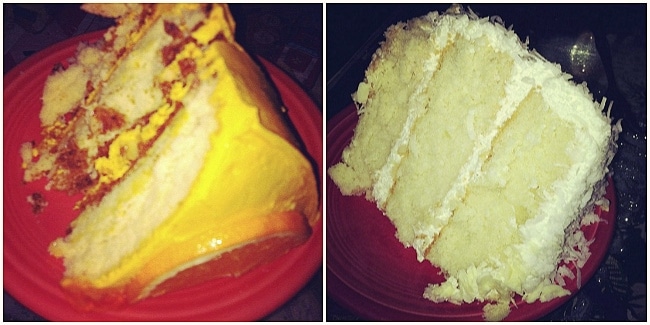 The Orange Crunch Cake was the biggest surprise of the night and I now know why it's so popular (and award-winning!) -- it's out of this world delicious, possibly being the single best piece of cake that I've ever had. Seriously, it's beyond words good! The slices are big, so there should be leftovers. I noshed on my slice for two days after ... and it was still yummy 😉
We had to practically roll ourselves out of The Bubble Room, which I suppose is a good thing. Overall, the meal was fantastic and I get all the hype that surrounds this place. The Bubble Room is best for special occasions and it really is a must-do, at least once, if you're in the area. I'm glad I finally had the chance to dine there with my family -- it was definitely a memorable evening!
Things to Know About The Bubble Room
There is a sitting fee if you go in and just order desserts (you can order dessert to-go though)

No free refills on soft drinks -- refills only for iced tea, coffee or water
The first round of Bubble Bread is included with your meal, additional orders are extra
There are 3 levels to explore before, during or after your meal. You're encouraged to walk around
A Kids menu is available -- the restaurant is very family-friendly
Bring your camera -- there are a ton of fun photo opps, including the Tunnel of Love ❤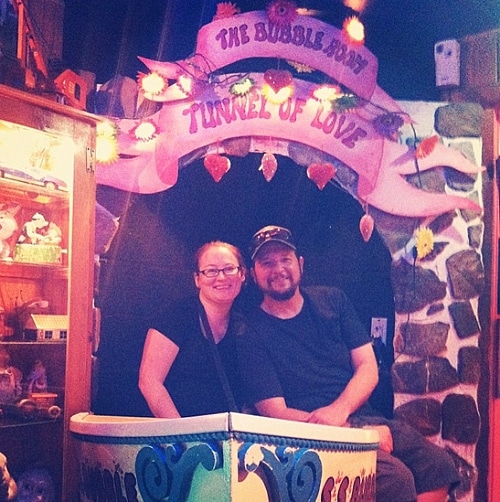 The Bubble Room Restaurant
15001 Captiva Dr.
Captiva, FL 33924