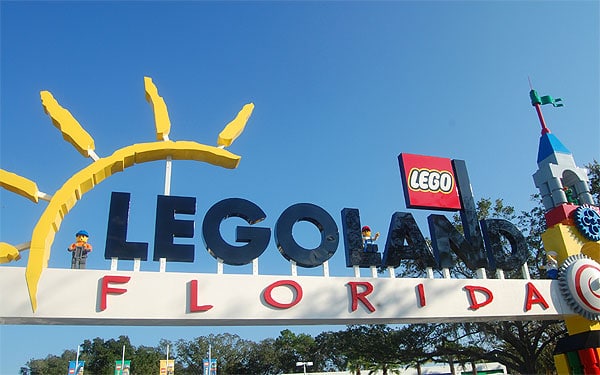 My daughter and I had a blast during opening weekend at Legoland Florida. The new theme park totally lived up to our expectations and we already can't wait to return! We spent two full days exploring every nook and cranny, and now I want to share some tips so you can get the most out of your visit to Legoland Florida.
The number one question I've been asked is, "Is Legoland Florida worth the visit?" and my answer is a resounding YES!
Tips for Visiting Legoland Florida
1. To make the most out of your visit to Legoland Florida, buy the 2-day ticket-- it's only $15 extra to add on the second day. While I've seen some reports that Legoland Florida is only a one day park, I disagree. Legoland is unlike any other theme park if you have children ages 2-12. Families in this demographic can ride nearly every ride together and enjoy all entertainment. To really see it all, you'll need that second day. If you're local, annual passes start at just $129/adult and $99/child.
2. Consider booking a Bed & Brick package. Legoland Florida is located in Winter Haven, FL-- that's about a 45 minute drive from Tampa or Orlando. My daughter and I stayed at Nickelodeon Suites --one of Legoland Florida's Bed & Brick partner hotels-- and had a fabulous weekend. Nick Hotel happens to be the farthest of the 13 Bed & Brick hotels from Legoland FL, but the drive was easier than I expected. One of the closest Bed & Brick's is the Hampton Inn in Winter Haven; it's only a 5-minute drive from Legoland Florida and offers a free hot breakfast. Staying nearby will allow you to get the most out of your Legoland visit, plus Bed & Brick rates start at just $47.99/night!
3. If you're staying in Orlando, you can reserve round-trip shuttle transportation to Legoland Florida from Orlando Premium Outlets-- 8200 Vineland Ave, Orlando FL 32821. The shuttle departs daily at 9:00am, and tickets must be reserved at least 24 hours in advance at Legoland.com or by calling 1-877-350-LEGO. The shuttle price is $10 p/p.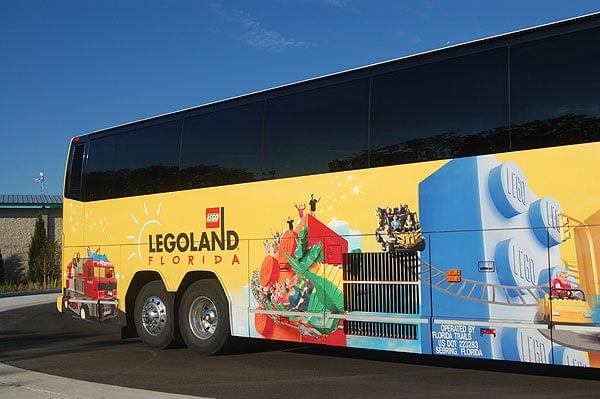 4. Look at Legoland Florida's Opening Days and Hours before planning your visit. Unlike other area theme parks, Legoland Florida is not open every day and typical closing time is 5pm. At least until mid-February, Legoland Florida is closed on Tuesdays and Wednesdays.
3.  Given the limited hours of operation, you'll want to make the most out of your day by arriving early. Legoland Florida opens at 10am, so you'll want to be there when the gates open. Take in account parking ($12/day) and purchasing your tickets so you don't waste valuable park time.
4. Purchase Legoland Florida tickets in advance to save time and money. Currently, you can buy tickets online directly from Legoland, and as gift cards (redeemable for tickets) at Publix Super Markets in Florida. For a limited time, you can save $10 off regular park admission when you buy one-day cards at Publix ($64.20/adult & $53.50/child with discount). Conveniently, I noticed a Publix right across the street from Legoland Florida! There's also a Pepsi deal going on now where you get a FREE child ticket when you purchase an adult ticket at Legoland.com/Pepsi. You'll need a code from a can of Pepsi (11090601) -- this offer ends 12/24/11 with tickets expiring 5/31/12.
5. Legoland Florida is broken up into 10 zones, plus a preserved area of Cypress Gardens. Take a look at the Legoland Florida Park Map prior to your visit to get a feel for the park and where the attractions are, and make a note of which you don't want to miss. The most popular rides are the four coasters: The Dragon (Lego Kingdoms), Coastersaurus (Land of Adventure), Flying School (Lego City) and Project X (Lego Technic); as well as the Ford Driving School.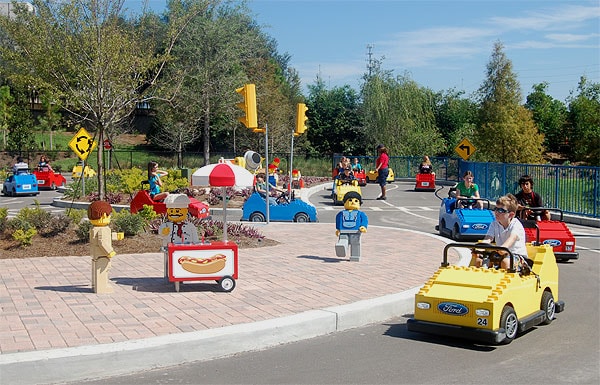 6. Eat breakfast before arriving at Legoland Florida. Going back to the limited park hours, it's senseless to waste valuable time eating. There's a Perkins and Denny's right across from Legoland if you're looking for a sit down meal before entering the park.
7. Bring a Lego Minigifure with you--or buy one at the park for $2.99-- to trade. Part of the fun of Legoland is getting to trade Lego Minifigs with Model Citizens (Legoland employees). You can trade your Minifigure at Legoland Florida with any Model Citizen who is wearing one on their name badge. It's a fun and cheap activity for children of all ages...and adults, too!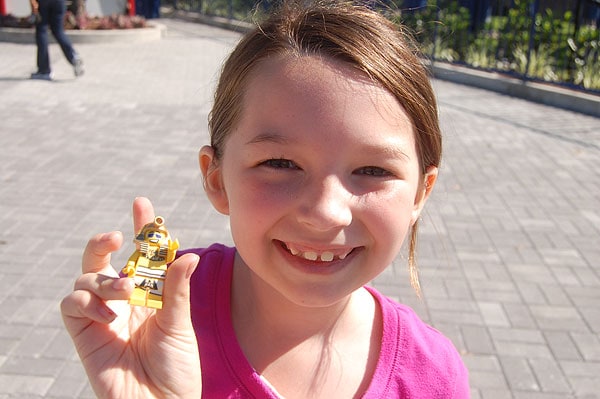 8. Try Granny's Apple Fries. Trust me on this one.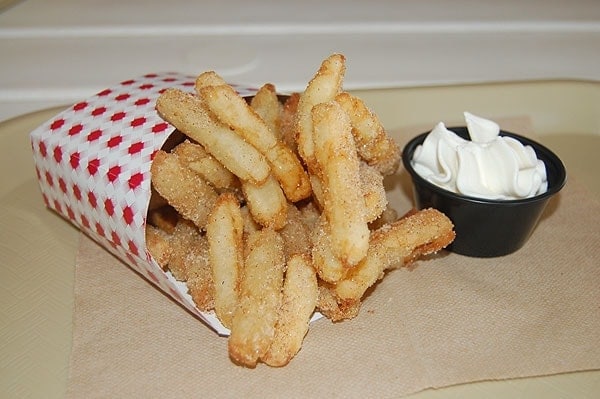 9. The most affordable dining option for lunch is at Market Restaurant. Here you can get a ¼ roasted chicken with 2 sides for $6.99! Upgrade to ½ chicken for $8.99 and there is plenty to share. Over the coarse of two days, I had an all-you-can-eat lunch at Fun Town Pizza Pasta Buffet, a cheeseburger at Cap'n Brickbeard's Burger, and the roasted chicken at the Market Restaurant-- the chicken was by far the healthiest and best tasting of my meals. The burger was a close second, but it was more expensive at $9.29 (included drink).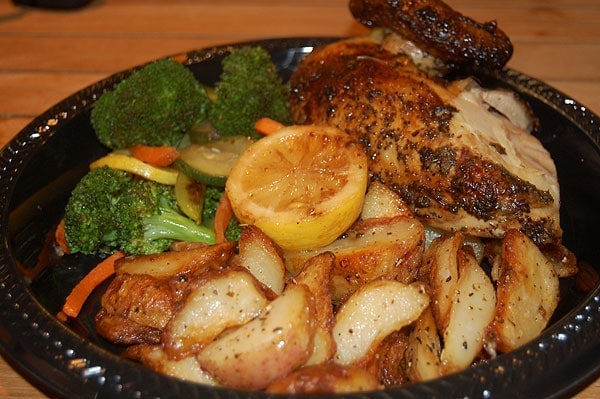 10. Don't miss out on Legoland Florida freebies! Who says you can't get anything for free anymore? Children receive a free Legoland Florida brick when they tour the Lego Factory in Fun Town, and get a free paper drivers license when they complete the Ford Driving School. Combine these freebies with a $2.99 Lego Minifigure that can be traded throughout the day, and you've gotten out of a theme park without spending five bucks! If you do want to shop for Lego-themed souvenirs, here's a list of Legoland Florida souvenirs for under $10!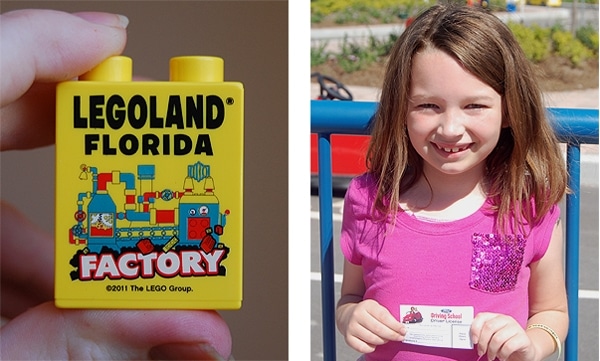 Special thanks to Legoland Florida for inviting my family to the Legoland Florida opening celebration. All opinions are my own.