Summer is almost here and that means VACATION TIME! Traveling with kids can be expensive, but it doesn't have to be. Here are ten simple tips to help you save money on your next family vacation.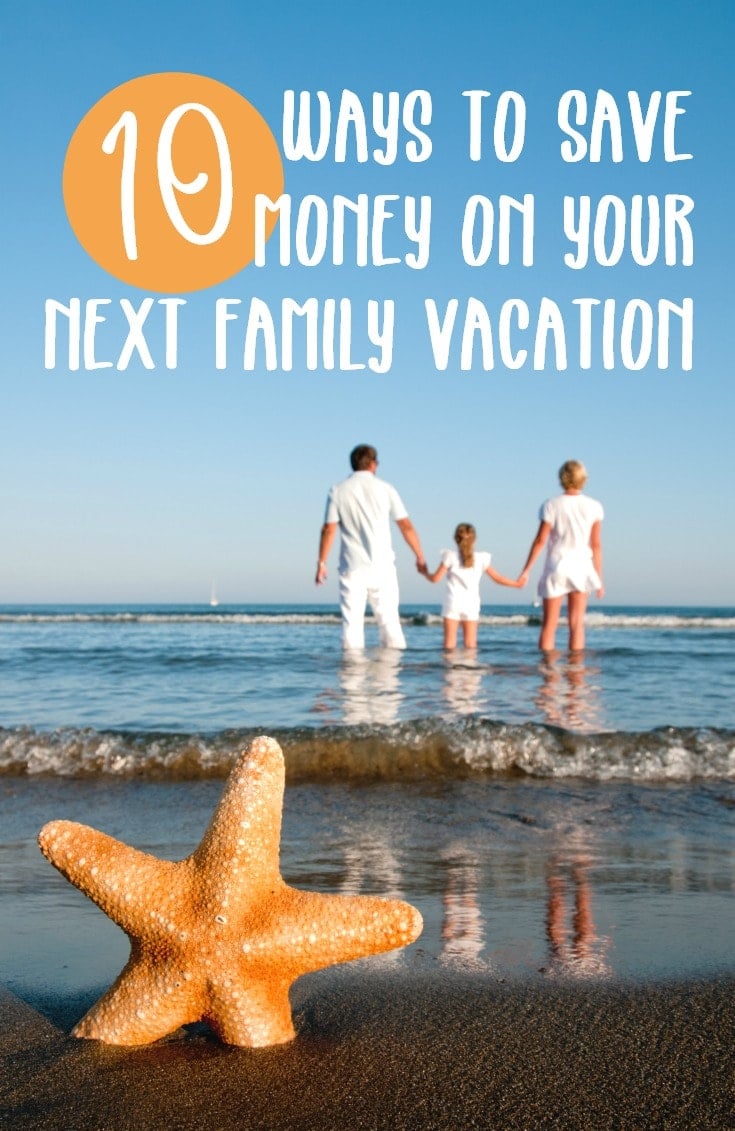 10 Ways to Save Money on Your Next Family Vacation
1. Road Trip — There isn't a better way to save money on transportation for a family than to drive. Take out a map and look at local attractions within a half days drive or less.
2. Go Camping — A great way to save money on accommodations is to go camping. While not everyone is the "outdoorsy" type, it's one of those experiences you should do with your kids at least once when they're young.
3. Take a Cruise — If you live within driving distance of cruise port, look into last minute cruises. Since accommodations and food are included, it can be an inexpensive vacation... Sometimes as low as $199 a person with 3rd and 4th passengers at an even lower rate. Carnival typically has the best deals for families.
4. Travel Off  Season — Value season, also known as shoulder season, is when you can get the most bang for your travel buck. This is the time of year is when children are typically in school, not on or around a holiday or break.
I have found the best deals are in September and October, right after school starts. I have taken my daughter out of school for the past few years because the deals were too good to pass up on. Family memories are worth more than the week of school lost.
5. Watch for Airfare Deals — JetBlue and Southwest Airlines routinely run low airfare specials. Sign up for their mailing lists to track the best deals. Other low-cost carriers include Spirit, Frontier, Allegiant and WOW for international routes. You do need to go over and read the fine print for the cheapest fare, most often they don't include bags or seats, so it's good to compare with non-budget commercial airlines to see if you're really getting a good deal.
6. Bring your own Food — When possible, bring your own snacks and beverages when traveling with kids. I have found that I spend the most money on unplanned snacks and drinks. This is much easier on road trips because you won't be able to bring beverages through security when flying.
You can bring empty water bottles to refill at the airport— you can then mix with Crystal Light or other beverage packets. Don't forget your child's favorite pre-packaged snacks— and don't be afraid to bring some goodies, like sweets, to use for bribes. Don't judge. We've all been there!
7. Staycation — Book a room at a local family-friendly hotel and explore your own backyard! You'll be amazed at the local attractions you haven't seen.
8. Rent a Condo — When traveling to popular tourist destinations, such as Orlando or Maui, look into renting a house or condo for the week through Booking.com, Airbnb or a similar service. It's almost always cheaper than a hotel with the added bonus of a kitchen, extra bathrooms and sometimes a washer and dryer. Plus, you can fit more people, making it cheaper when split with extended family.
Wherever you go, you can bring portable cribs for babies to keep your little ones cozy and comfortable.
9. Travel off-the-beaten-path — Avoid tourist traps and save yourself some serious cash! Look at destinations that surround areas you want to visit or research lesser-known locales with attractions that interest your family. It's always amazing to discover a hidden gem!
10. Scour the Internet — Surfing the web for deals can be a real money saver. Follow hotel chains on social media and look out for updates that include coupon codes or savings.  I personally love Travel Zoo for last minute vacation deals, Secret Flying for airfare steals and Groupon for savings on food and attractions.
Another useful tool for booking your dream destination at the right cost, right time and with the right features: tripcentral.ca's vacation matchmaking tool. Play around and pick a trip based on your preferences - you never know when you'll find the perfect deal at the perfect price!
How do you save money on family vacations?