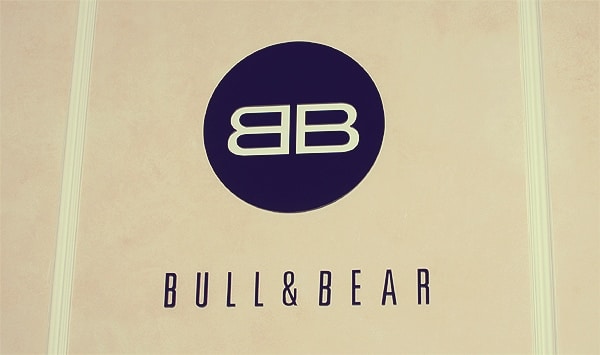 I'm back from my fun-filled foodie weekend in Orlando, which included a stay at the beautiful Waldorf Astoria Orlando. I cannot begin to recommend this hotel enough, and I dare say that I have found my new "home" hotel when visiting the area...but more on that later.
Today, we're talking food-- more specifically, Food & Wine Weekends at the Waldorf Astoria Orlando and the Prix-Fixe Chef's Tasting Menu at Bull & Bear.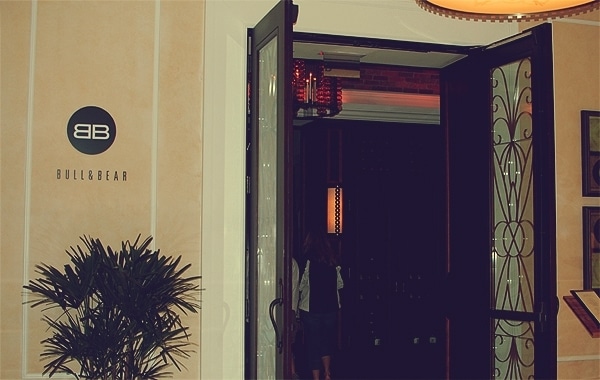 Each weekend in October, Bull & Bear is hosting two signature food and wine dinners presented by a guest chef. My husband and I were treated to a fabulous Prix-fixe tasting with guest chef Tim Hmay, executive chef at Casa Marina. Chef Hmay prepared a Key West inspired meal, which included wine pairings from Robert Mondavi Winery.
Waldorf Astoria Orlando's Bull & Bear is modeled after the original in NYC-- it's warm, leathery and sophisticated, making it the perfect setting for a grand wine pairing, but not the best for photography. I didn't want to disturb any of the other guests so I avoided using flash on my camera. Unfortunately, the photos don't do justice to how amazing the food actually looked and tasted!
An amuse bouche of tuna started our meal, and then it was a whirlwind of food and wine pairings, each better than the last.
First Course: Hogfish & Wahoo Ceviche with Robert Mondavi Fume Blanc "Reserve"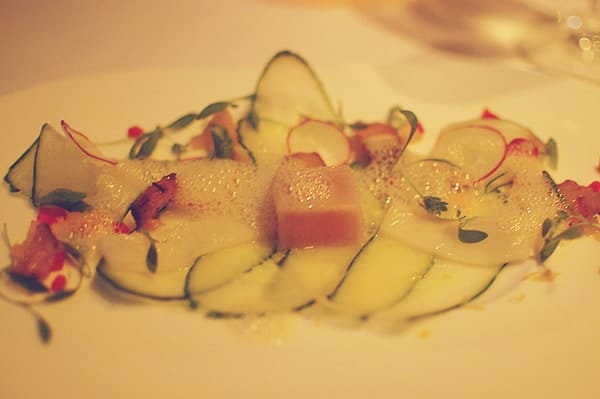 A light bed of cucumber ribbons and sweet plantains is layered with thinly sliced hogfish and a small cube of wahoo. This airy ceviche was topped with a coconut mango froth. I can't recall having hogfish before, but I found the white fish to be extremely sweet and a perfect compliment to the plantains. This first course was extremely light and fresh-- setting the tone for the entire meal.
Second Course: Key West Shell On Lobster with Robert Mondavi Chardonnay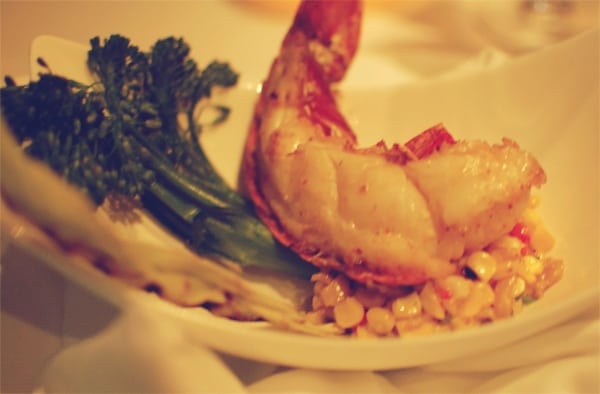 I'm a lobster fanatic (who isn't?) and I was just giddy when it came out as the second course. Key West lobster is very different than your Maine varieties taking on more of the texture and taste of crab. Like the first course, the lobster was sweet and it perfectly complimented the bed of fire roasted sweet corn and shaved conch.
Third Course: Island Time Braised Pork Belly with Robert Mondavi Pinot Noir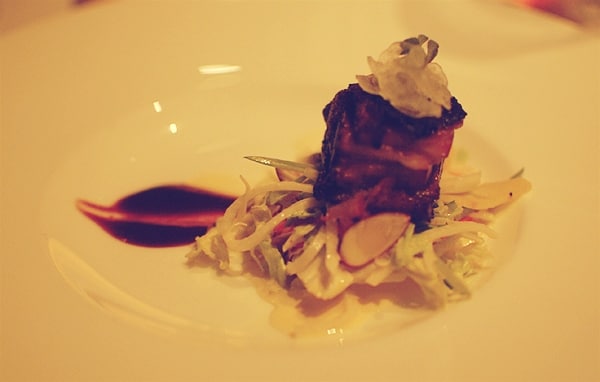 Pork belly is one of my favorite culinary indulgences. This third course was a first for my husband who just fell in love with the multiple layers of flavor that developed as a result of braising the pork belly for 15 hours.  A diakon slaw with tropical charred pineapple and Maui onions made us both wanting more.
Fourth Course: Certified Angus Beef Aged New York Strip with Robert Mondavi Cabernet Sauvignon "Reserve"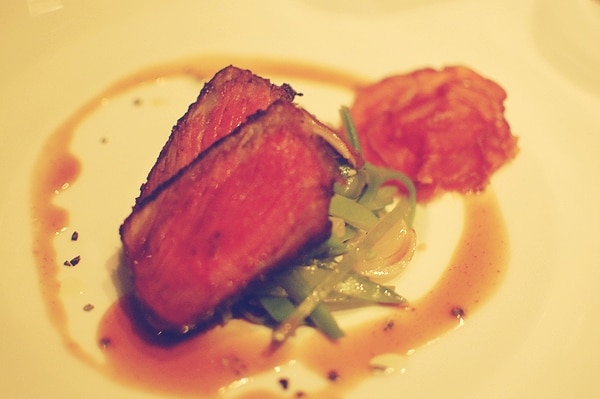 Speaking of wanting more, our fifth course was so amazing that I could have stopped the meal right there and ordered another 8 ounces of possibly the most delicious New York strip I have ever tasted. It was just melt in your mouth delicious! Fava beans, shitake mushrooms, grana padano and a pink peppercorn glace rounded out the dish.
Fifth Course: Bulgarian Sheep Milk Fromage Blanc with Robert Mondavi Cabernet Sauvignon "Reserve"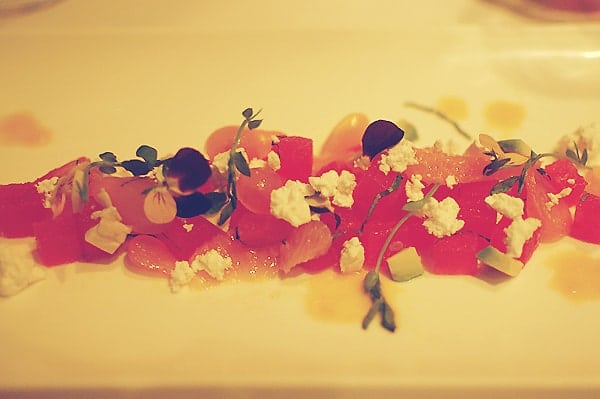 Just when I thought nothing could compare to previous steak course, a palate cleanser of the freshest watermelon, Valencia oranges and fromage blanc was set in front of me. I am a sucker for the cheese course and this one was just divine. A sprinkling of Maui sea salt might of taken this dish over the top...
Sixth Course: Casa Marina Key Lime with Selaks Ice Wine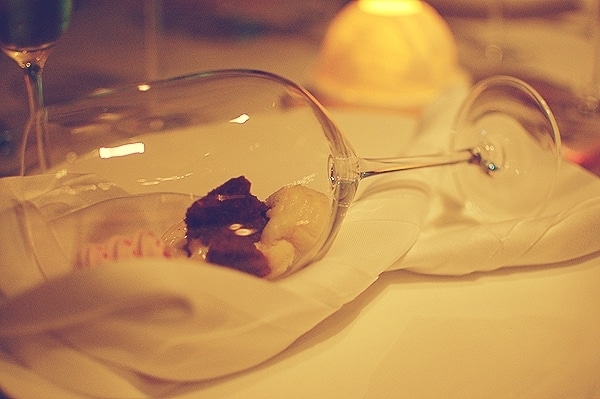 Finally, we made it to dessert! As a lover of key lime pie, I knew I was going to fall for chef Hmay's version, which was a deconstructed rendition of the classic. Orange zest mascarpone, almond graham crust and a pink coconut merengue (for breast cancer awareness month) was placed in a wine glass so the whole concoction could be scooped together in one bite. As full as I was, I wanted to take a big bowl of this back to the room!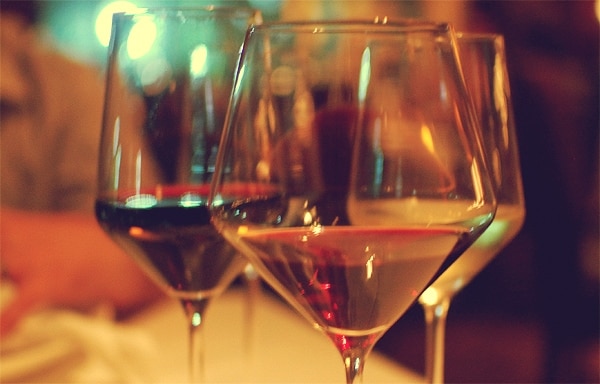 There was no shortage of wine throughout our dinner, as each course was paired and poured by an expert sommelier. I really had to pace myself with the wine so I could thoroughly enjoy each bite of food...really, there was a ton of wine! My favorites were Robert Mondavi Fume Blanc "Reserve" and Selaks Ice Wine from the dessert course.
For a really well executed dinner with wine pairings (not to mention delicious!) I found $199 per person to be on point as it's inclusive of tax and gratuity. The chef came out at each course to explain the dish and the sommelier poured each glass of wine with tasting notes explaining why they were compatible. The servers at the Bull & Bear are super attentive and we felt like we were the only ones in the room, even though the restaurant was full. It was truly an amazing meal!
It should be noted that Friday's "Grand Pairing" Wine Dinners and Saturday's "Prix-Fixe Chef's Tasting Menu" are the same menu for the weekend. The only difference is a rep for the wine brand featured will be on hand to introduce and give more specifics of each of the wines at the Grand Pairing dinner.
"Grand Pairings" Wine Dinners
–Friday Oct. 14 – featuring Ferrari Carano Winery. Presenter will be Jim Boswell of Ferrari Carano Winery.
Bull & Bear Prix-Fixe Chef's Tasting Menu
–Saturday Oct. 15 – featuring Ferrari Carano Winery
–Saturday Oct. 22 – featuring Stag's Leap Wine Cellars
–Friday Oct. 28 – winery TBA
–Saturday Oct. 29 – winery TBA
For more information or reservations on this Waldorf Astoria Orlando weekend package, please visit www.waldorfastoriaorlando.com, or call 888-353-2009 and reference FDWNFS. For additional schedule updates, visit www.bonnetcreekblog.com.
Special thanks to Waldorf Astoria Orlando for hosting our stay and chef's tasting at Bull & Bear. All opinions are my own.