I'm positive the term "hidden gem" is overused in the travel blogging realm. I'm guilty of using it myself more than a few times. Though, when trying to describe The Westin Cape Coral Resort at Marina Village, it's the first phrase that came to my mind.
You see, I'm no stranger to Cape Coral, Florida; My mother-in-law lives there with her husband, and we visit the area multiple times a year. It's really a lovely place, but I never considered it as a travel destination. If you asked me a month ago where to stay there, I wouldn't of had a clue.
And yet, there's a resort tucked along the Caloosahatchee River that offer families a relaxing retreat away from the more touristy areas of Southwest Florida. The Westin Cape Coral is quite the sanctuary, as my daughter and I discovered on our recent stay in one of their two-bedroom suites (which was comparable in size to our house!).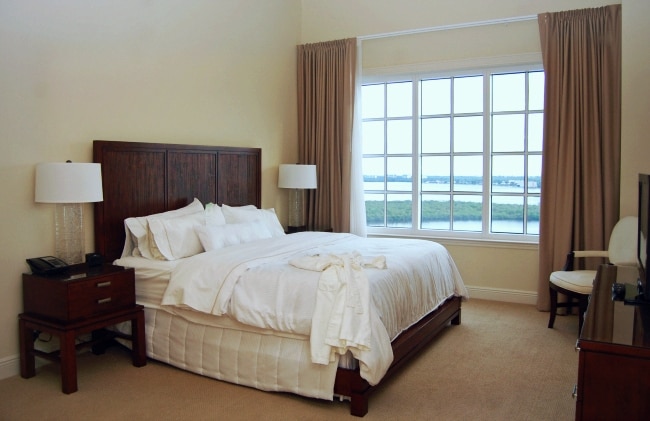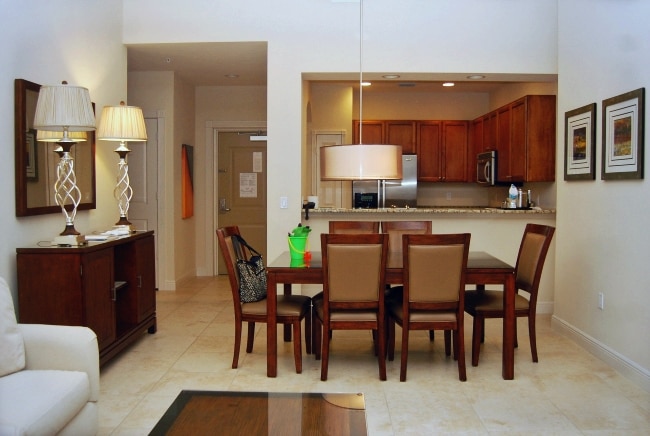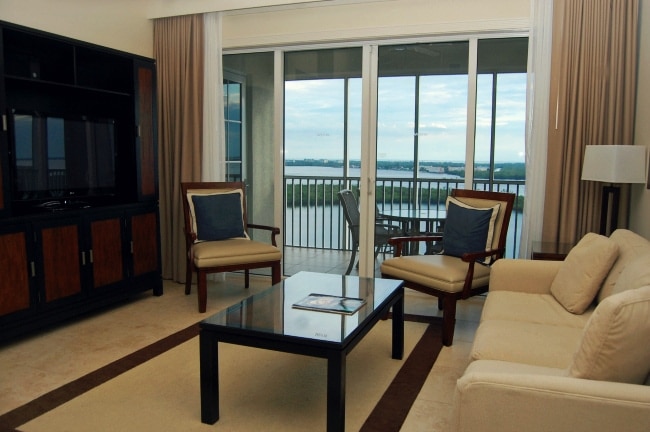 Impressive, right!? The Westin Cape Coral offers traditional, 1, 2 and 3-bedroom Suites that are perfect for families of any size. I could absolutely see my family sharing one of the 3-bedroom suites with my sister's family for a weekend getaway. Each suite features an open floorplan with a fully appointed kitchen, living room, dining room and a private screened-in balcony. There's even a washer and dryer!
Being that this is a Westin resort, there are a lot of great amenities on-site, including:  two restaurants, Marker 92 Waterfront Bar & Bistro and The Nauti Mermaid Dockside Bar & Grill, three heated pools, a full-service spa & salon, Tarpon Point Marina, The Promenade Shops, Westin Kids Club, 24-Hour Westin WORKOUT Fitness Studio (with the New Balance Gear Lending Program), and a water taxi to Fort Myers Beach.
Since we were only staying for the weekend, we decided to stay on property rather than to take the water taxi to Fort Myers Beach. While The Westin Cape Coral is located on the water, there's no beach access. The complimentary water taxi is a really nice feature offered by the resort and if we had more time, we would've taken advantage of it. Instead, my daughter and I spent the early part of our Saturday afternoon poolside.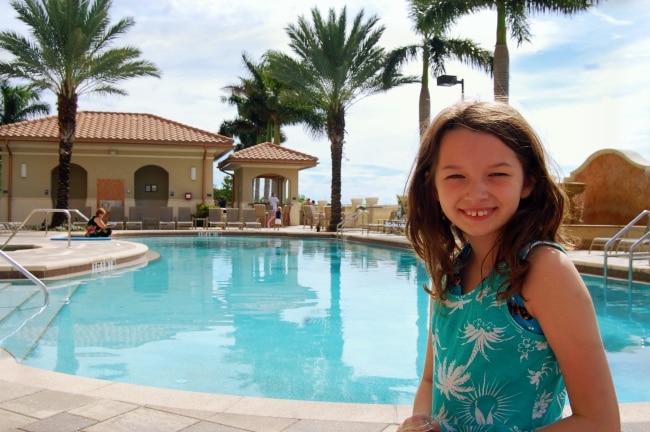 At 1:00pm, my daughter was invited to check out the newly added Westin Kids Club. The kids club is located on-site, set among the Promenade Shops— a tiny boutique shopping area next to the hotel. We were the only family there when we arrived at the club, so I wasn't sure if my daughter was going to stay. She's at the age where she still likes to join children in these types of clubs (I know she enjoys the break from me!), but she isn't so outgoing to stay by herself.
The counselor, whose name has escaped me, was so welcoming. She immediately handed Miss P a Discovery Pack with goodies and set up an art station for painting sand dollars— if there's one thing my daughter can't resist it's a craft! My girl insisted that she wanted to stay, and while I was heading out the door another family came in to drop off their son, who immediately joined her at the craft table.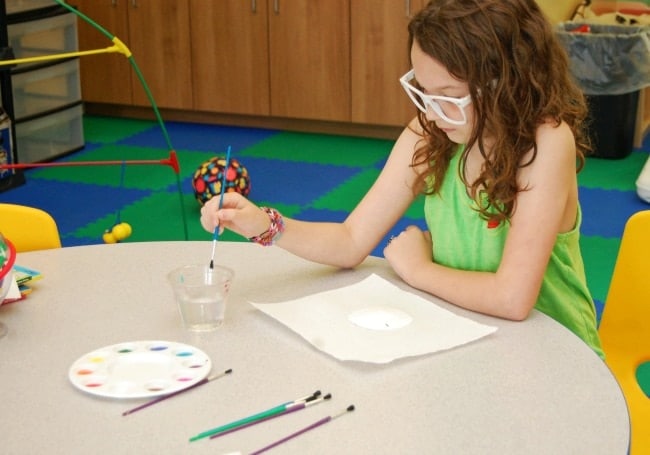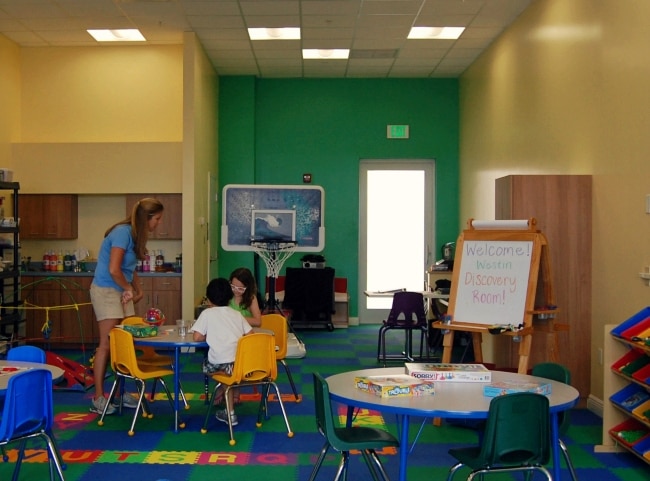 When I picked her up at 3:30pm, I noticed four other children had joined the club. Miss P was still at the craft table making art projects (seriously, her favorite thing to do), and she actually asked me to let her stay until the session was over at 4:00pm. I decided to walk around The Promenade for the last few minutes. It was a gorgeous day in Cape Coral!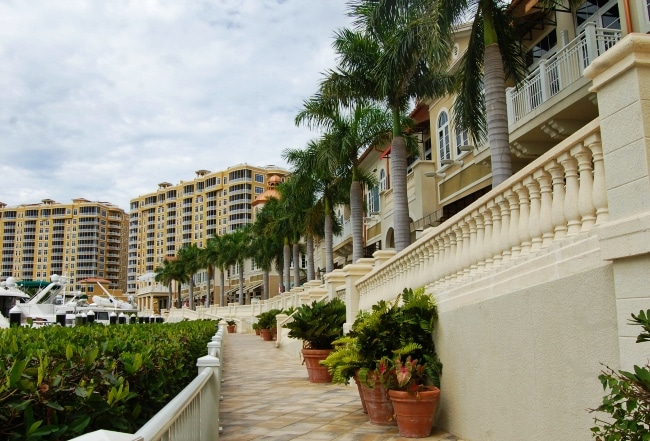 Needless to say, Miss P had a great time at the Westin Kids Club.  It was nice to have a few hours to myself to get some work done, but I should've booked a massage at the Esterra Spa as they were running a special ($72 for 50 min!).
Westin Kids Club sessions are available for full day (9:00 a.m. – 4:00 p.m.) for $70 per child, including lunch, and half day (9:00 a.m. – 12:00 p.m./1:00 p.m. – 4:00 p.m.) for $40 per child. Every Thursday, a Kids Night Out is hosted where parents can enjoy a quiet dinner at Marker 92 while the young ones are entertained with various activities ($22.50 per child with dinner receipt from Market 92).
Speaking of Marker 92, we dined there later that evening and had an exceptional meal. I enjoyed the Marker 92 Salad and the Macadamia and Almond Crusted Grouper, while Miss P had an appetizer of calamari and a side of mashed potatoes. We shared a delicious piece of Key Lime Pie for dessert. My only quibble was that the kids menu didn't have any seafood options.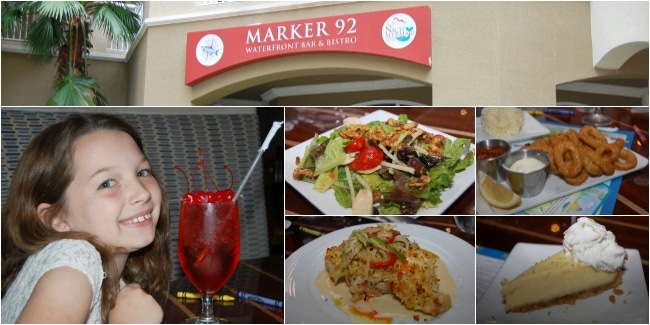 For a quick weekend trip, I really felt relaxed at The Westin Cape Coral. I think a lot had to do with the ambiance of the hotel and the spaciousness of the rooms. The resort is close, but not too close, to Sanibel Island, giving guests the option to enjoy some of the best gulf beaches in the area while visiting. I think the Westin Cape Coral is great option for families who want a little sun and fun in a more relaxed environment.
The Westin Cape Coral is absolutely a hidden gem that I hope to visit again and again.
Special thanks to the Westin Cape Coral for hosting my daughter and I. Most expenses were covered. All opinions are my own.