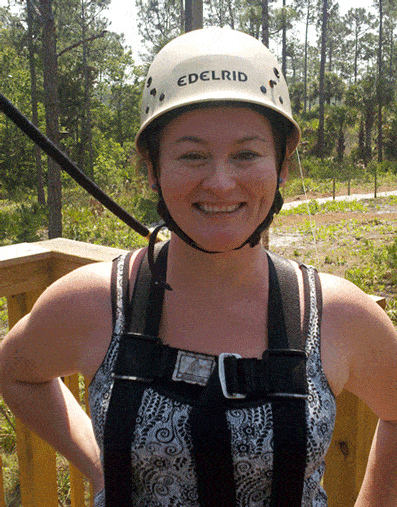 It doesn't matter how many times I've been on a zipline, I always get nervous. There's that feeling of  being too scared to let go -- having to trust that the harness is secure -- but the moment I give into my fears, I remember how fun and freeing it is to glide through the treetops. It's always a thrill!
Ziplining at Florida EcoSafaris definitely ranks up there with some of the best. The EcoPark is one of the largest I've ever seen, offering way more than just traditional ziplines.
I started my day with the standard Zipline Safari -- which consists of 7 "zips", 2 sky-bridges, and 10 Observation Platforms with views of the entire Forever Florida Wildlife Conservation Area. At the highest point, I was 68' in the air and reached speeds of 30 mph! It was really exciting going through the conservation area because there is a ton of wildlife and you never know what you're going to see.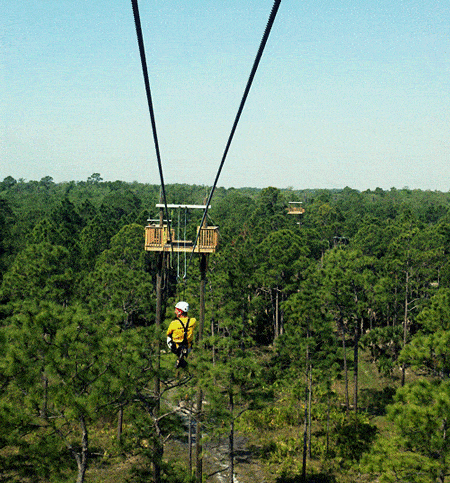 I've experienced quite a few different types of ziplines and I would consider Florida EcoSafaris to be one of the safest as you don't have to use your hands to stop yourself -- this is one of the things I didn't enjoy on other ziplines. The staff is extremely knowledgeable and patient -- even double-checking to make sure I was secure on every line!
After the Zipline Safari, I had the opportunity to try out The Rattlesnake, the new zipline rollercoaster. The Rattlesnake is the first zipline of its kind in the US -- twisting, turning and dipping more than 1000 ft! As much as I love the standard zipline run, The Rattlesnake was quite an adventure. There are some dips that almost take your breath away -- I would find it hard for anyone not to scream on this ride ... so much fun for thrill-seekers!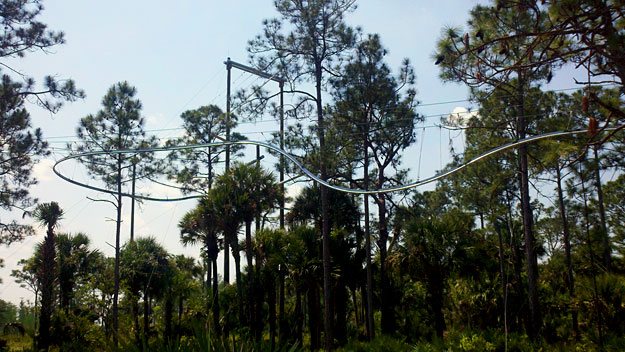 In addition to the Zipline Safari and The Rattlesnake, there are four other attractions at the EcoPark:
Peregrine Plunge - the longest single straightaway zipline in Florida. Measuring in at an astonishing 1300 feet in length, this adventure has breathtaking thrills and views. With two sets of lines side by side, you'll be competing against another rider as you race towardyour landing point. The adventure allows a clear line of sight looking out ten miles over pristinely kept Florida conservation lands.
Panther Pounce -Muster up the courage to step off a 68' platform into a thrilling but safely controlled freefall to the ground below.
Swooping Crane - an extreme swing where guests release from a height of 55 feet into a freefall before swooping back and forth between the trees and over the brush.
Cypress Canopy Cycle - Suspended from a network of high tension steel cables, you'll pedal your way through the Pine Flatwoods and over densely forested wetlands on this one of a kind 45 minute journey.
All of these adventures -- a full day's worth -- can be enjoyed for only $135 per person, ages 10 and up.
Special thanks to Florida EcoSafaris and the Kissimmee CVB for providing this experience. All opinions are my own.