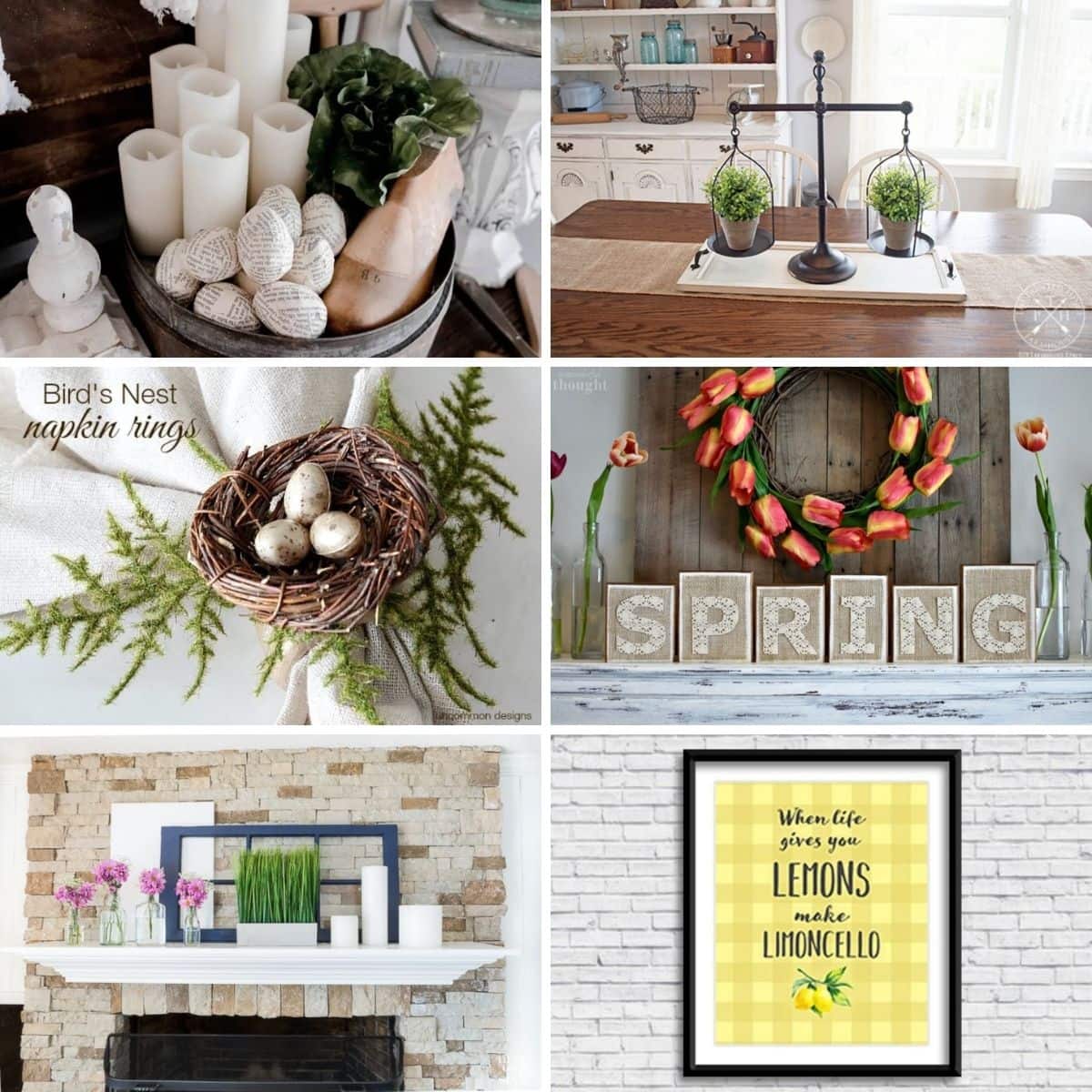 As we wade slowly out of the holiday season I don't know about you, but I'm starting to think about the colors and scents of Spring. I can't wait for the daffodils to start peeking their heads over the top of the raised beds in my garden, or for the weather to get slightly warmer (anyone else beginning to worry about frostbite on their morning walks?!). I love Spring, and I love taking the opportunity to give my house a bit of a refresh.
While you're considering your spring cleaning schedule, why not give some of these easy and fabulous decor ideas a try? We've collated 26 that will make sure everyone who spends time in your house feels like a Spring chicken!
Faux boxwood wreath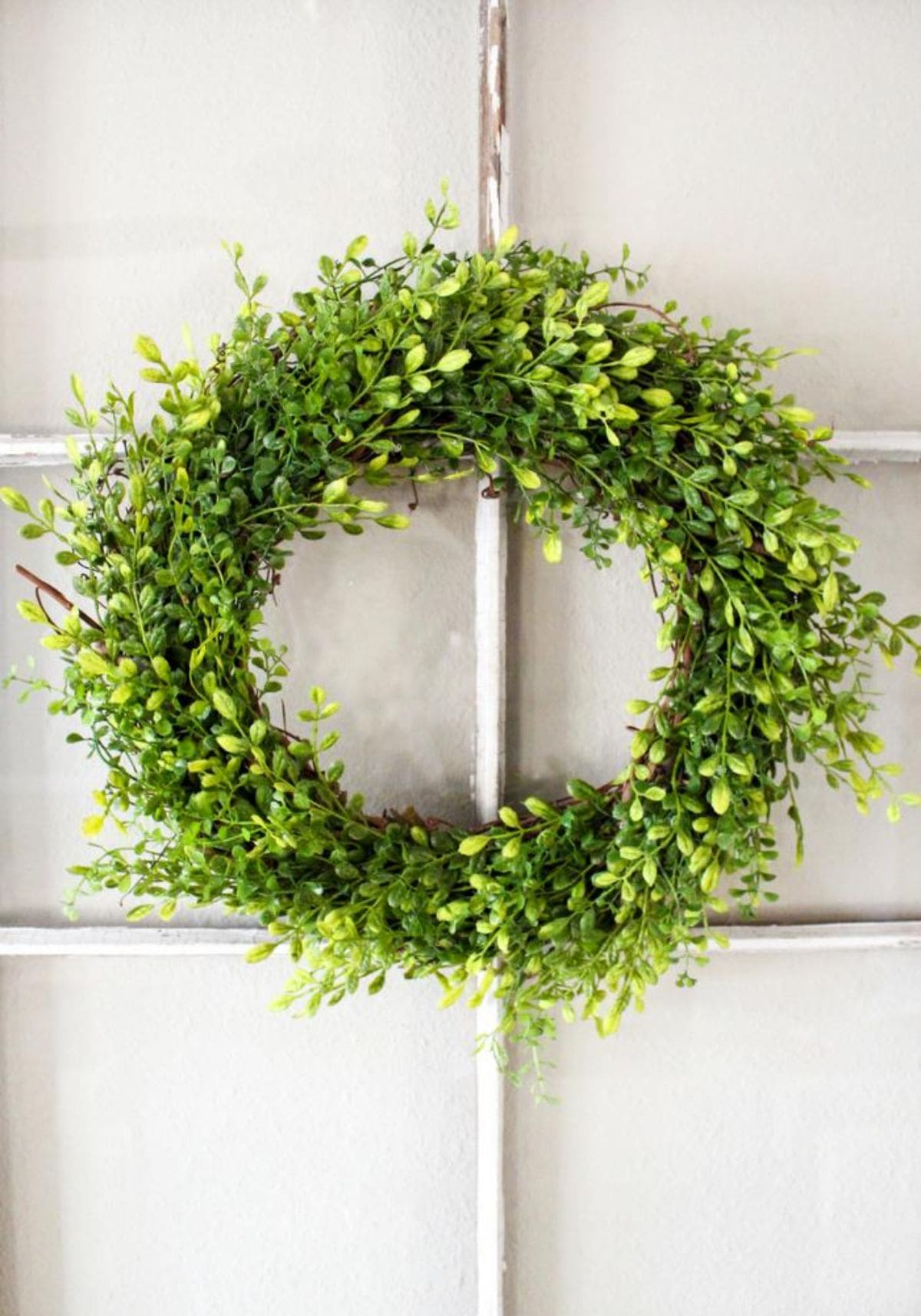 We'll start things off simply. Sometimes all it takes to banish Winter blues is a little bit of fresh green. The lovelies over at The Whole Cook have the steps to make a faux boxwood wreath so that your green will last as long as you need it to.
Air plant bell cups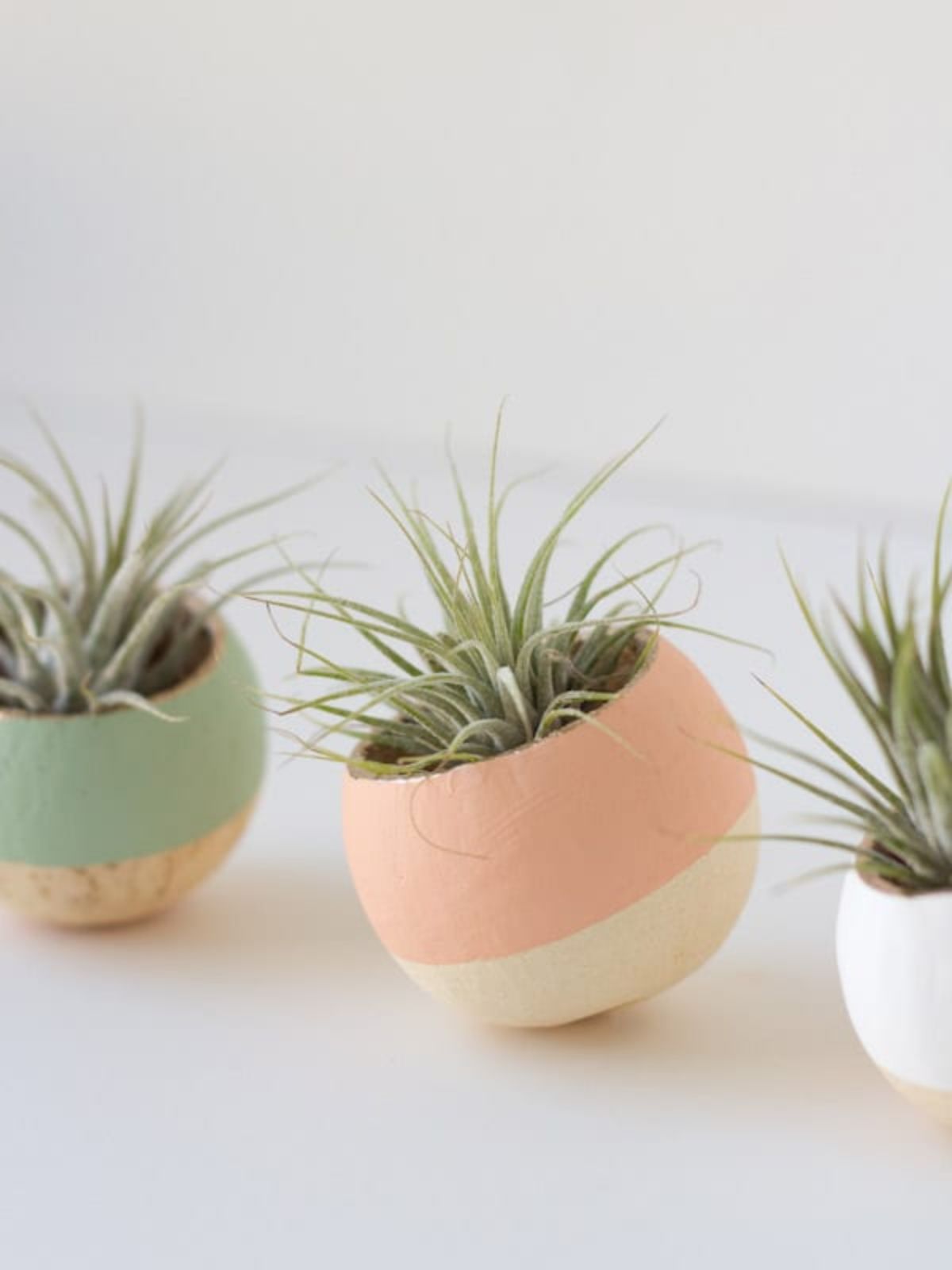 Air plants (that magically don't require soil) are all the rage at the moment, and Lovely Indeed has come up with a cute way of housing them that gives off major Spring vibes. All you need are the air plants, some bell cups, and painting materials in the colors of your choice.
Decoupage plant pots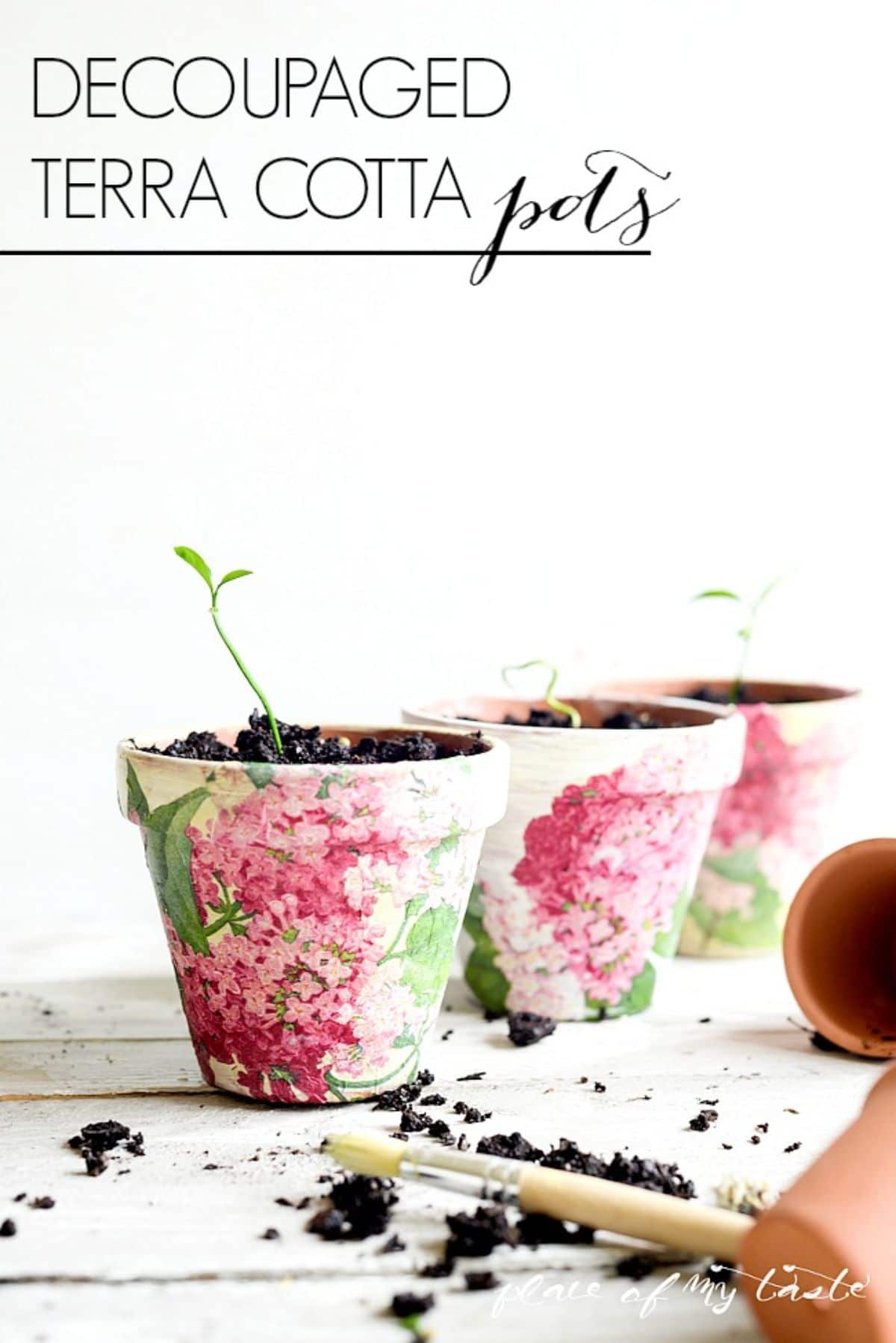 Place of My Taste was bored of her ugly old terracotta pots and so decided to spruce them up a little. You can do the same following the instructions on her site and stare out of your window at little works of art instead.
Floral monogram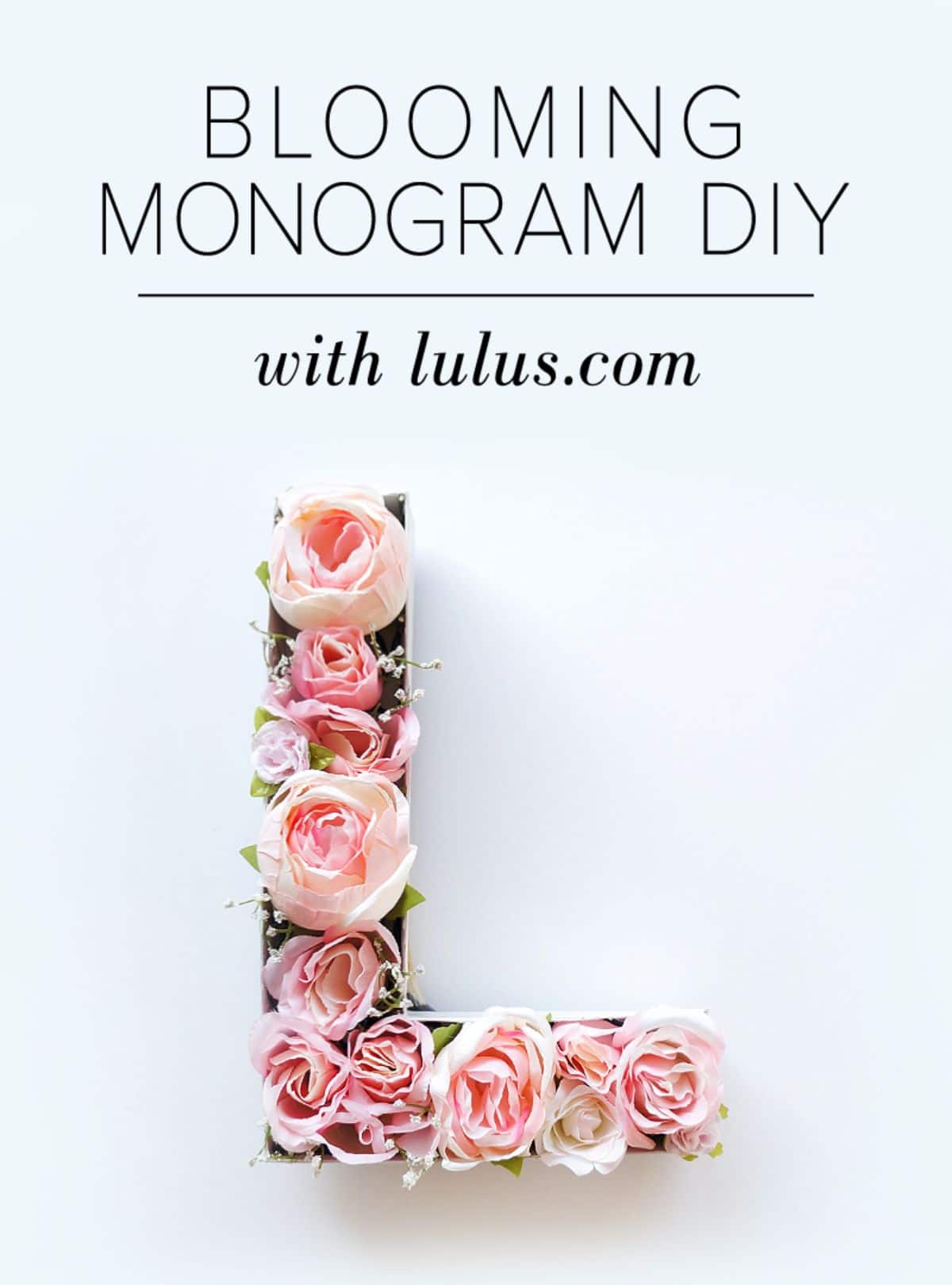 This is a great present for that special someone with a Spring birthday, or as a centerpiece for a birthday meal. Lulu's has a step-by-step guide to making this monogram with fake flowers so that it lasts longer.
Farmhouse crate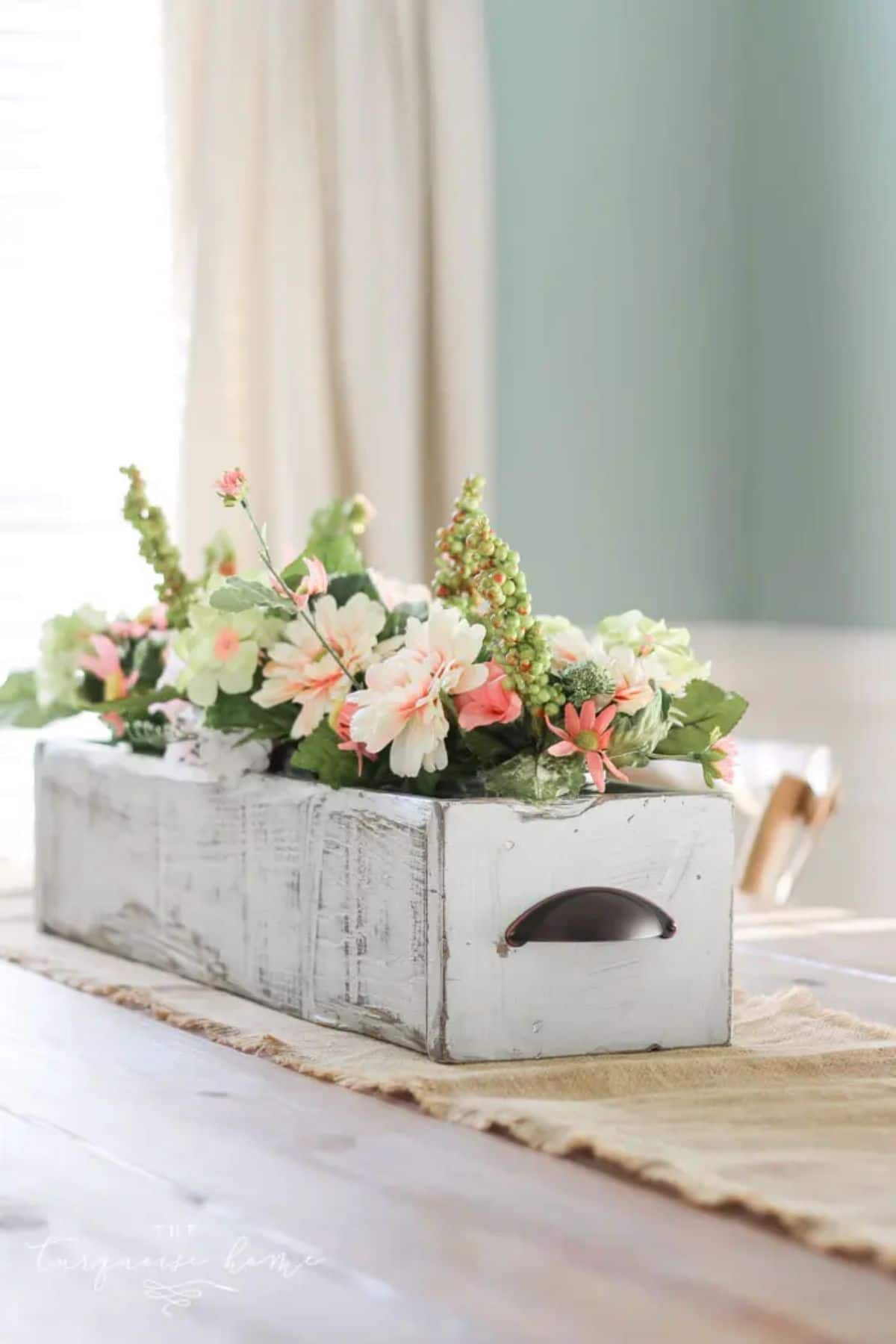 If you're on the lookout for the perfect table centerpiece, maybe this is more your style (or perhaps you can't decide who's initial to use!). Head to The Turquoise Home for a guide to making this shabby chic planter out of an old library record drawer. It seriously brings the Spring vibes!
Welcome planter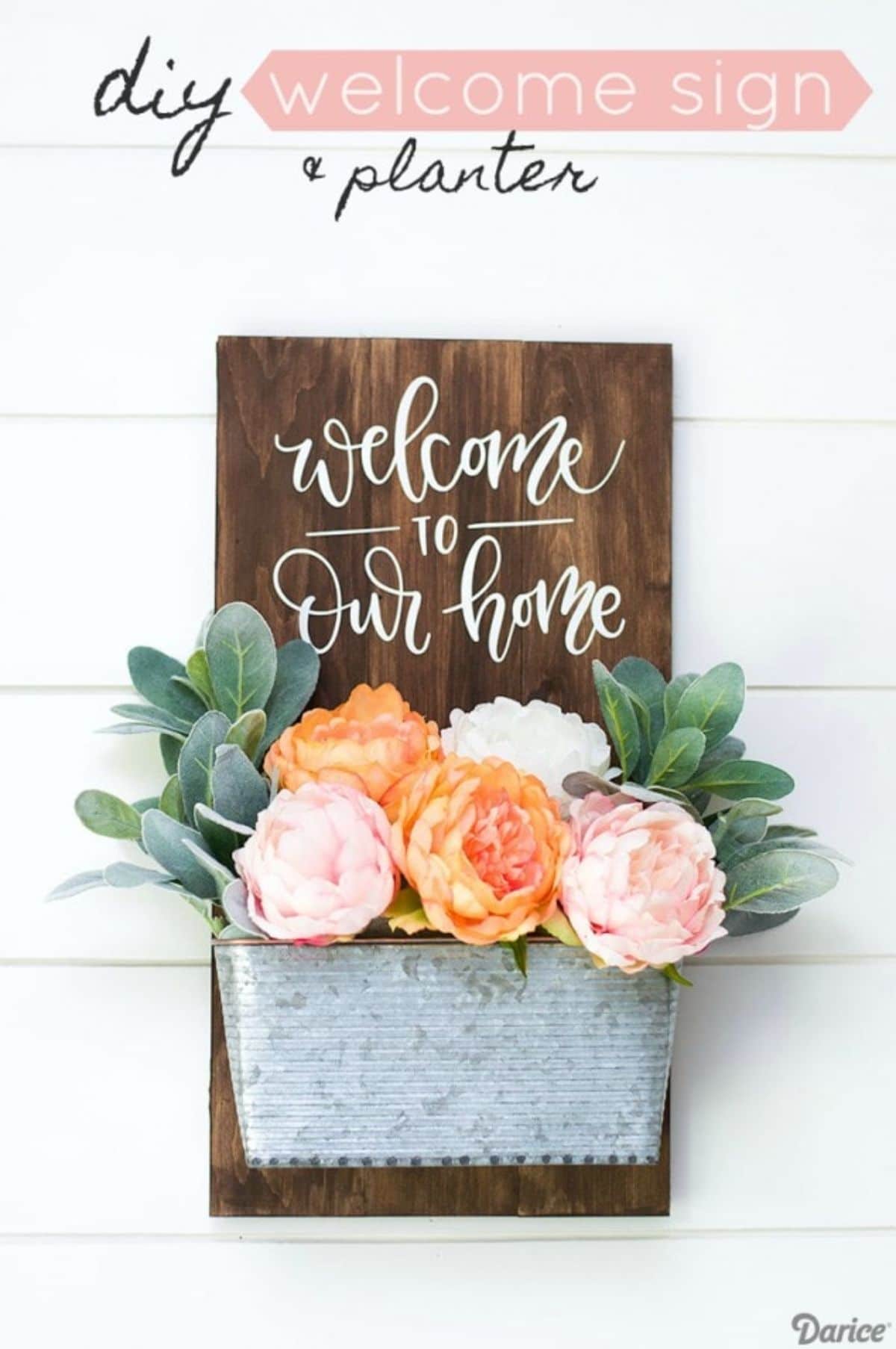 So this planter from Crafts by Courtney does need a slightly longer list of resources, but the gorgeous end result is totally worth it. Your neighbors will be staring at your door with envy! Her instructions are really easy to follow, why not give it a go?
Farmer's market crate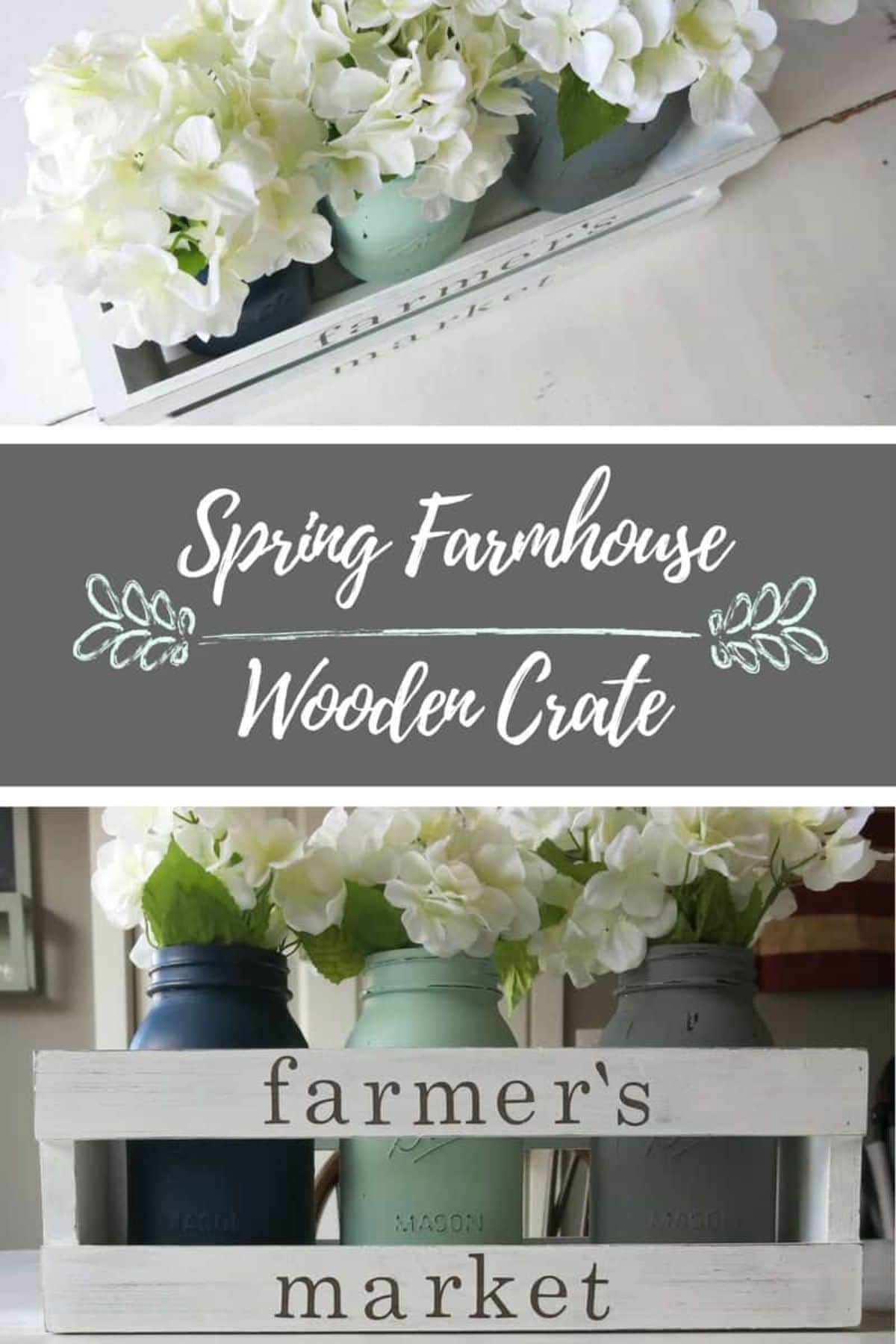 You can keep things simple with a natural crate finish, or chic it up with chalk paint of your choice for this crate centerpiece. Complete with painted mason jars to pop your floral arrangements in (Making Manzanita has the tutorial for this as well), this will keep you feeling Spring-y all day.
Mason jars for succulents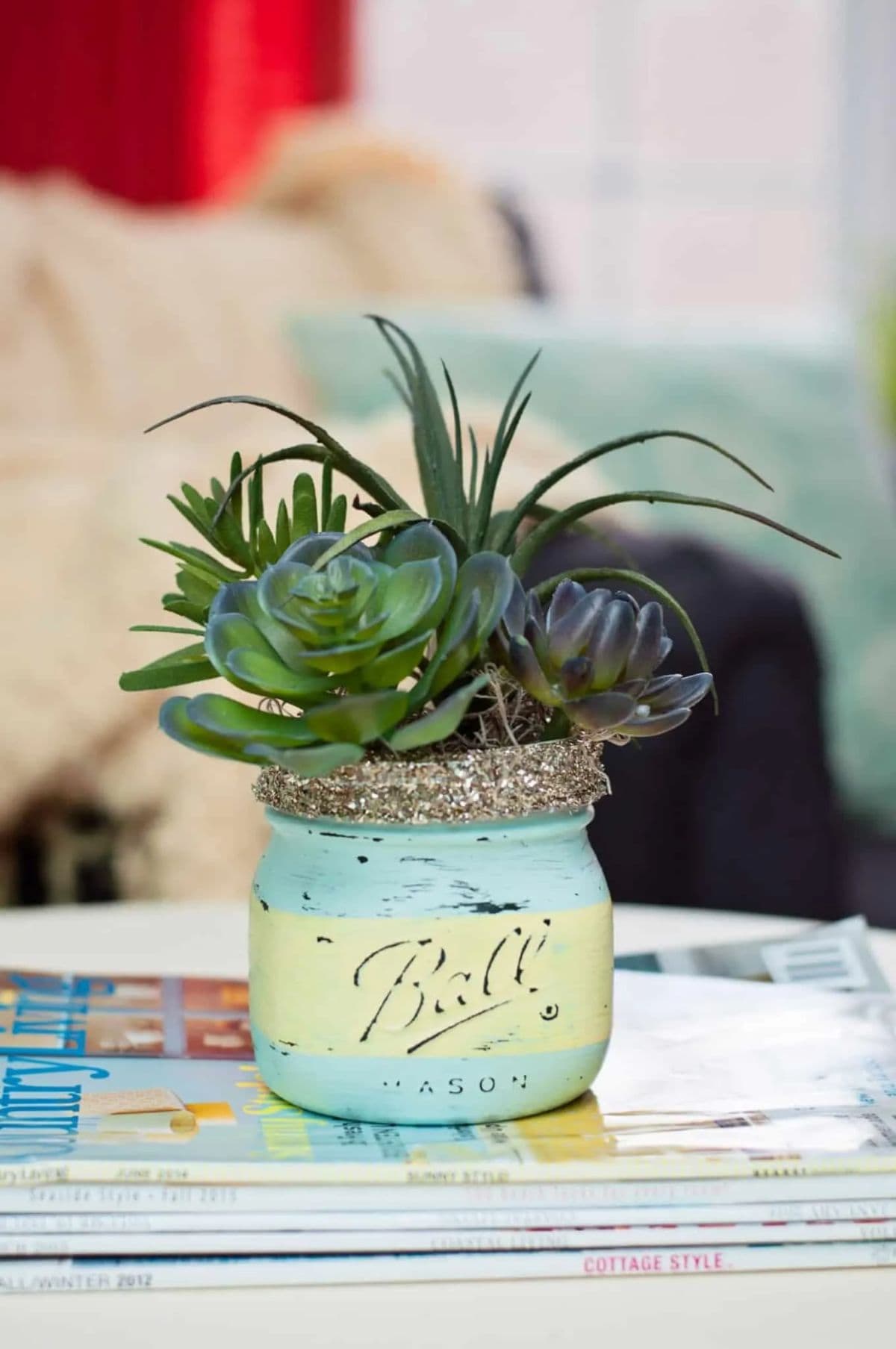 If you're looking for cute little accent decorations to brighten up your windowsill or your desk, then Modpodge Rocks has the DIY decor idea for you. These little painted mason jars filled with succulents bring just the right amount of Spring to your surfaces, and they're super easy to make.
Bird's nest napkin rings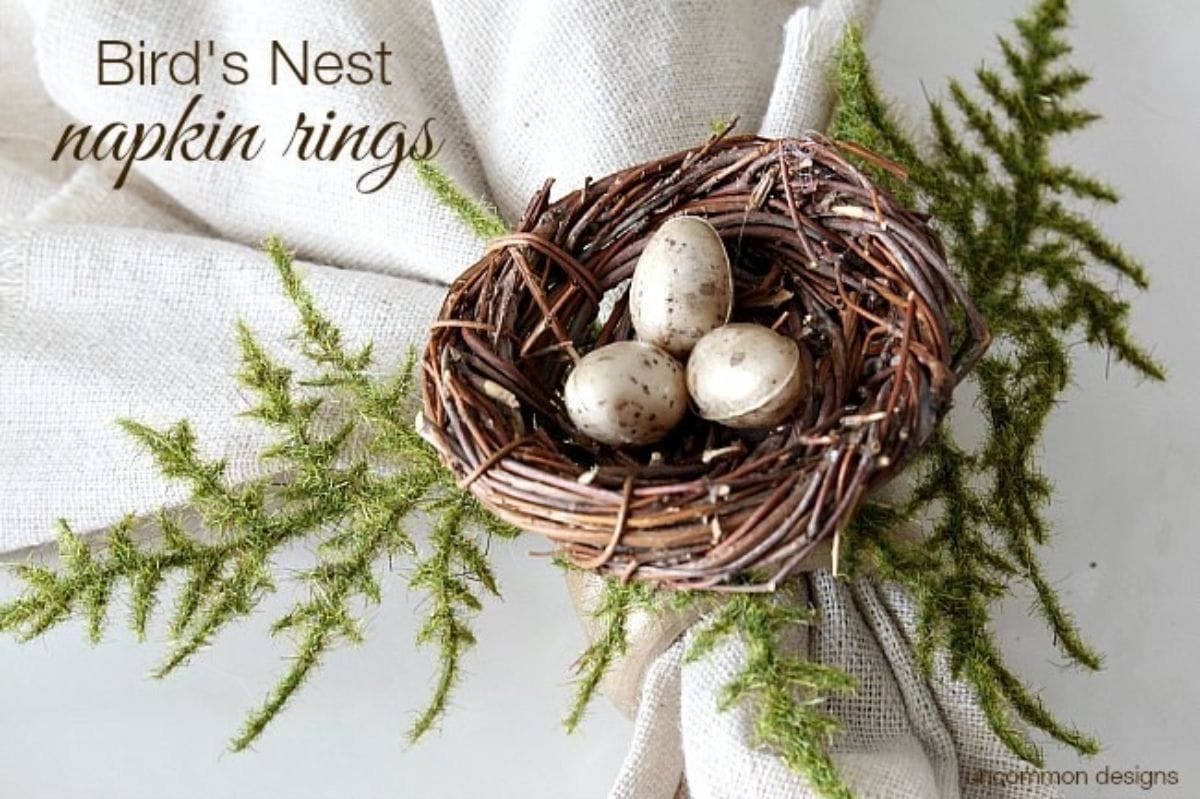 Begone boring bakelite napkin rings! If you are hosting a special meal this Spring, then you can bring out the big guns with these gorgeous bird's nest rings from Uncommon Designs. You can buy plastic bird's eggs and bird's nests online, and then all you need is some paint, glue, and faux fern stems. Your table has never looked so good.
Spring signage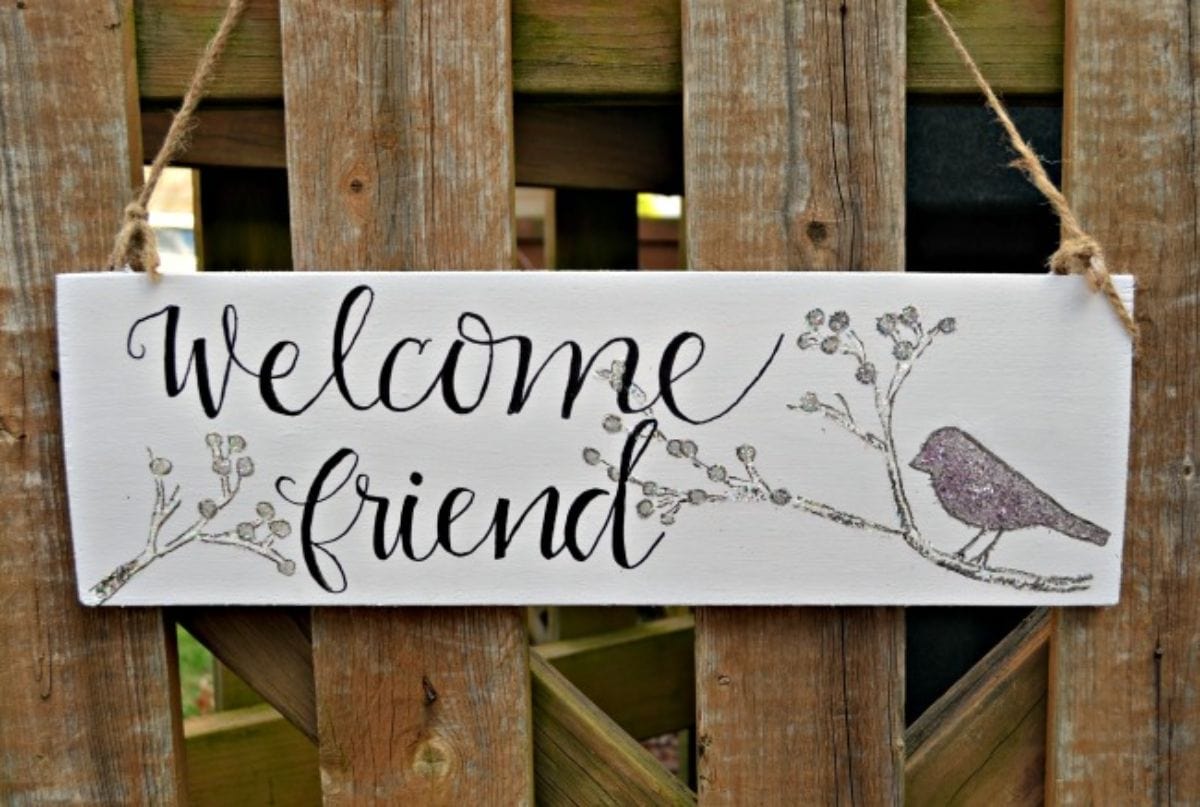 This is the perfect little touch if you have a gate in your little picket fence (or any kind of fence for that matter). Amy Latta Creations has the tutorial for this cute little wooden sign, with added Spring touches. All your guests will be sure to feel so very welcome.
DIY mantel decorations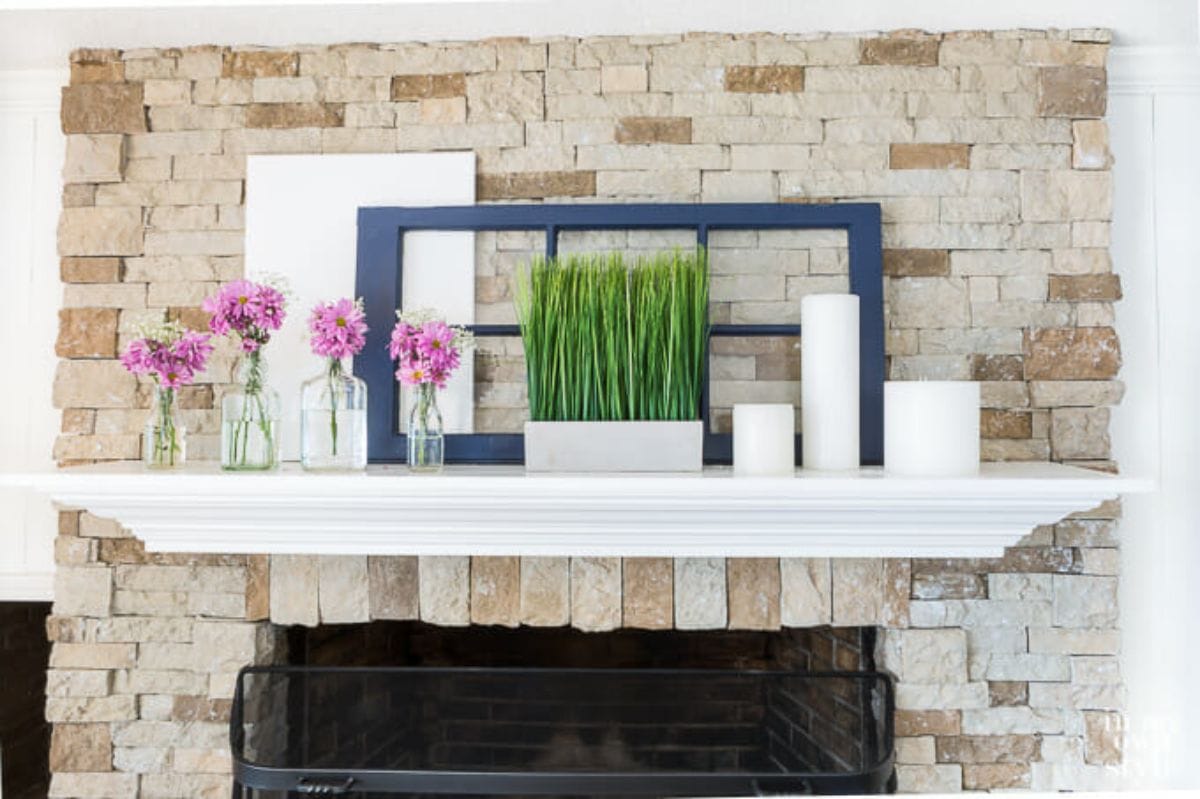 If you're looking for a slightly bigger project to sink your teeth into after a dark and boring Winter, then head to In My Own Style for a tutorial on how to create a stunning mantel using repurposed items. The finished product looks chic and Spring-like, and would grace any home.
Twine vase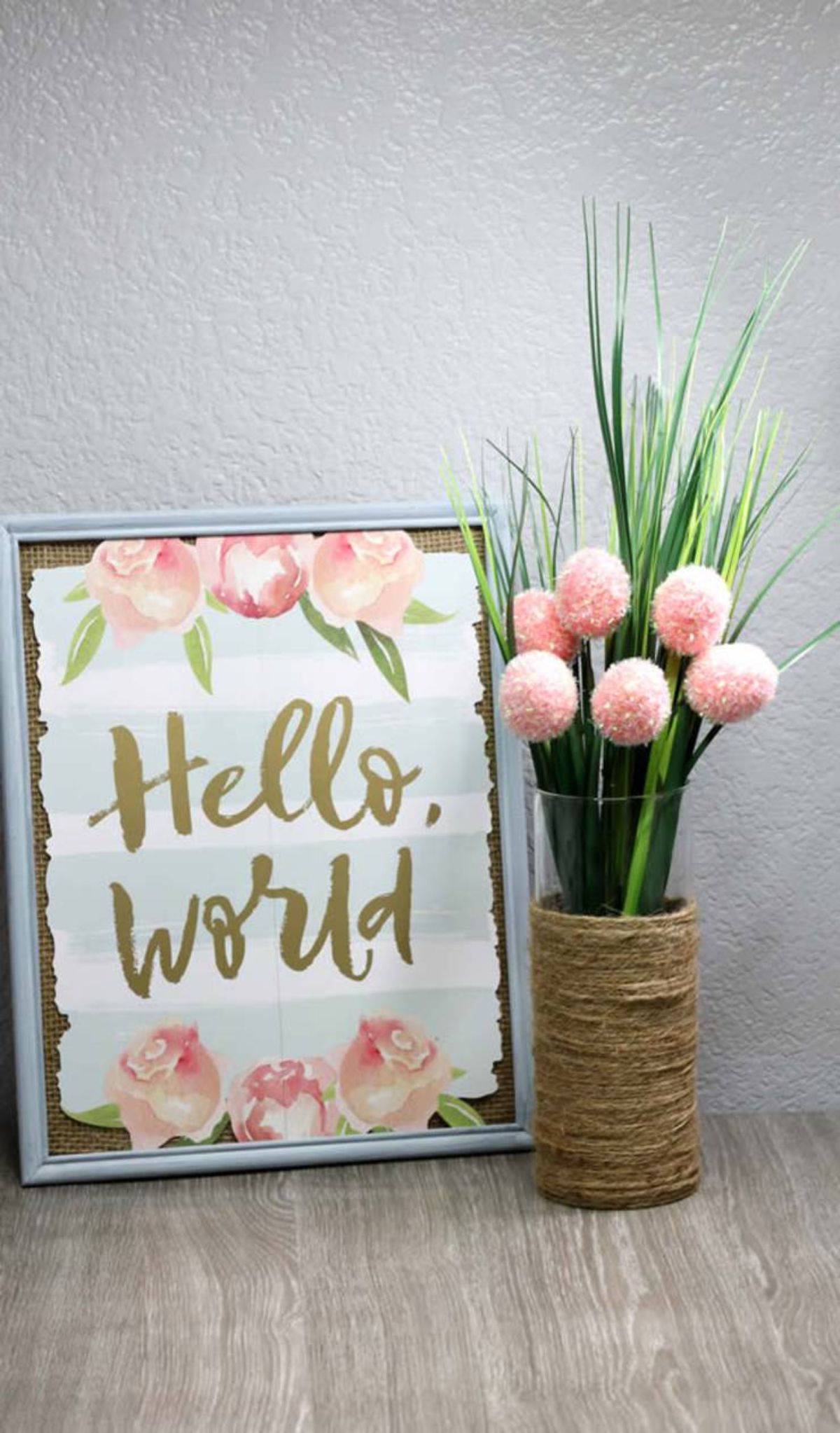 At the other end of the effort spectrum (and great for getting kids involved) is Kimspired DIY's twine vase. Perfect for the mantel or the side table, this cute little vase hack looks much more expensive than it is. Pop flowers of your choice inside and Spring has arrived!
Framed burlap picture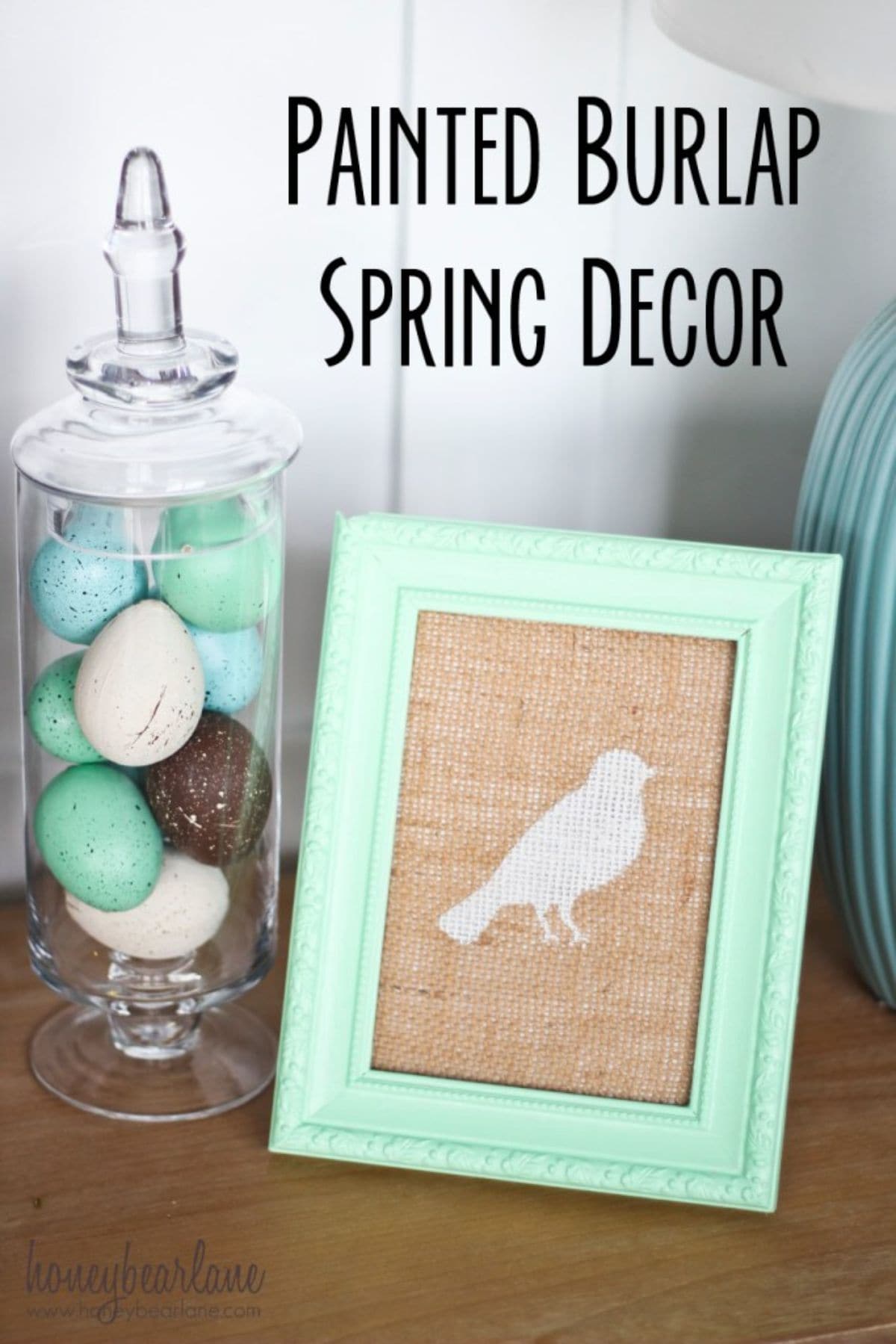 Another simple but super cute little Spring decoration that you can personalize to fit your existing decor. Honey Bear Lane has you covered with this easy tutorial for a burlap stencil in gorgeous sea green.
Welly wreath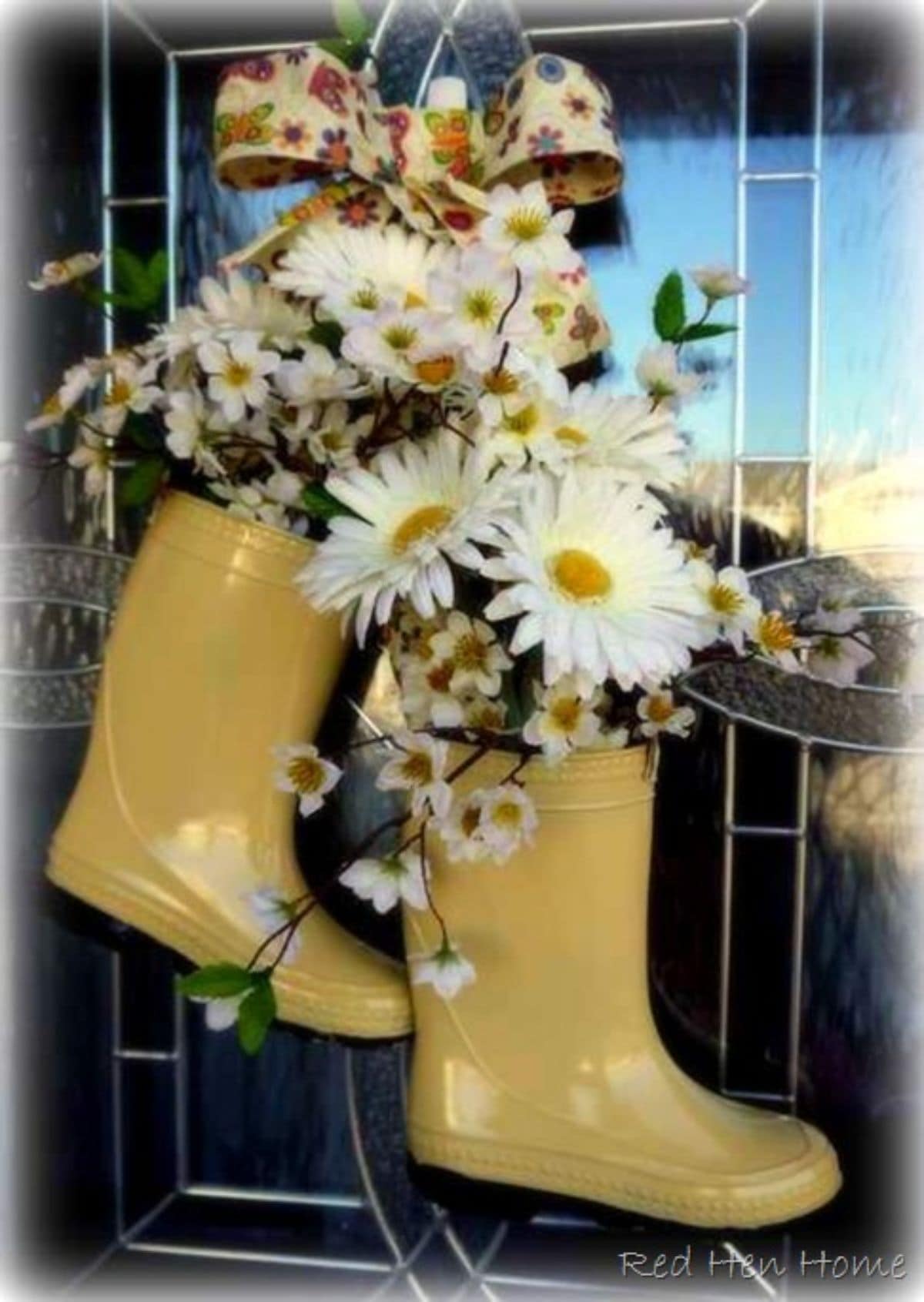 I think that this might be my favorite door wreath idea yet, and I've seen a few! Red Hen Home has created this cute and funny door decoration with a pair of old wellies and some beautiful flowers. You can find all the instructions on her site.
Sunflowers and lemons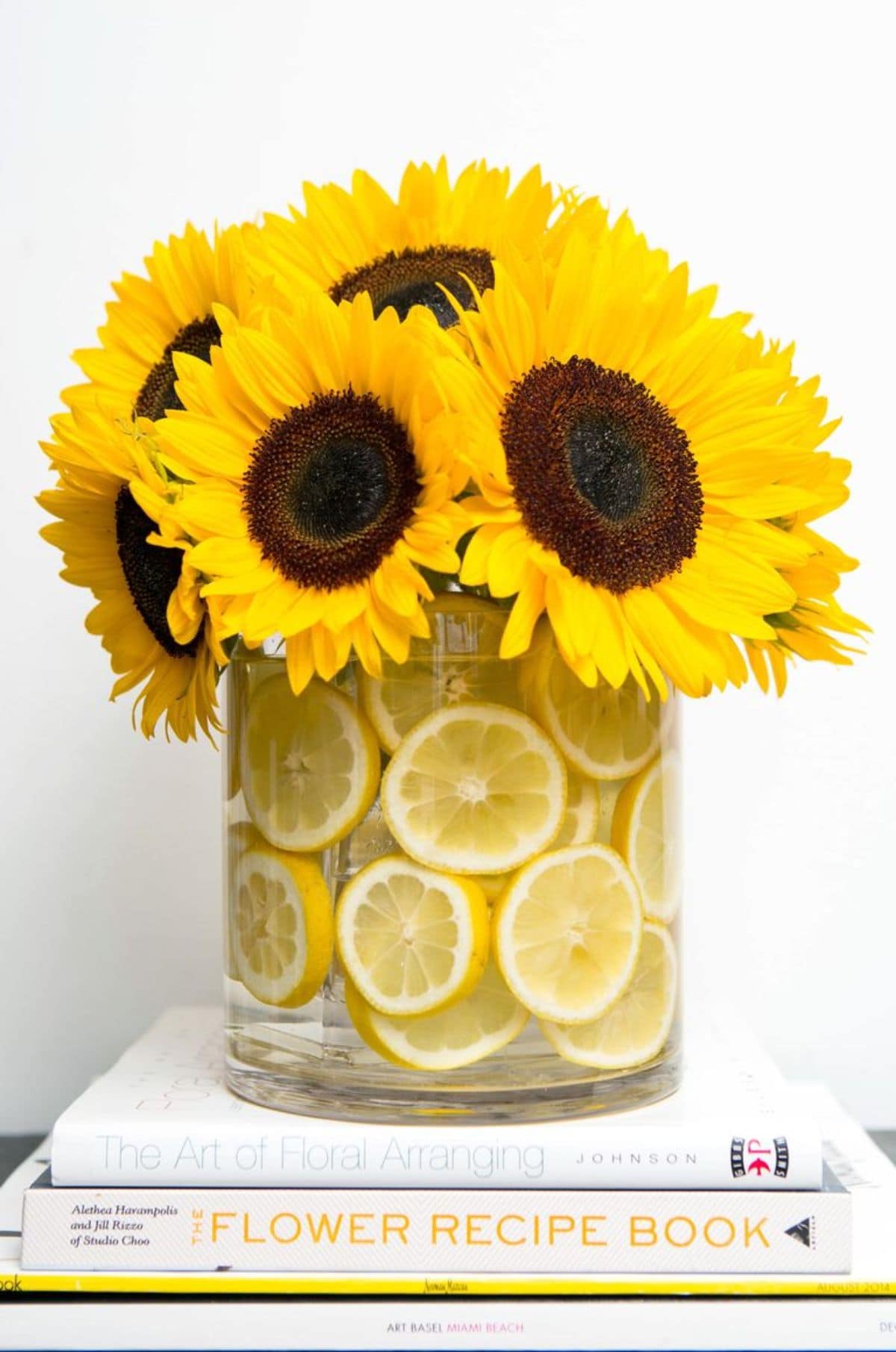 Sticking with the yellow theme (after all, it is Pantone's color of 2021!), this glorious use of sunflowers and lemons not only looks fabulous but will smell fantastic! The perfect centerpiece for your kitchen table to bring sunshine right into your home. Cosmopolitan has all the details.
Party pop centerpiece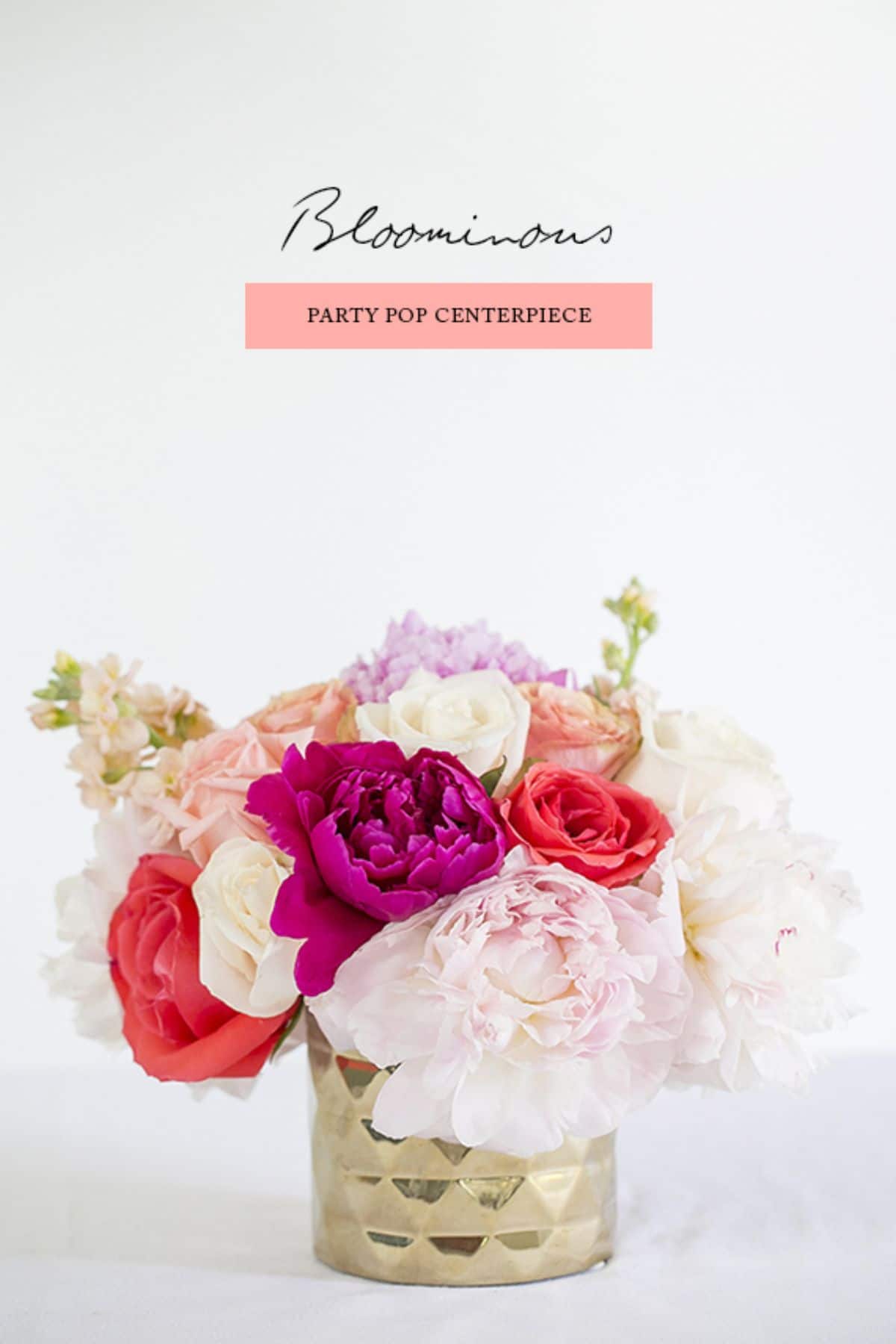 Bloominous has an easy-to-follow video tutorial to help you create this bling floral decoration. It's a great choice for a Spring bridal shower, or to decorate the table for a girly brunch. Head to 100 Layer Cake for the details.
Lemon sign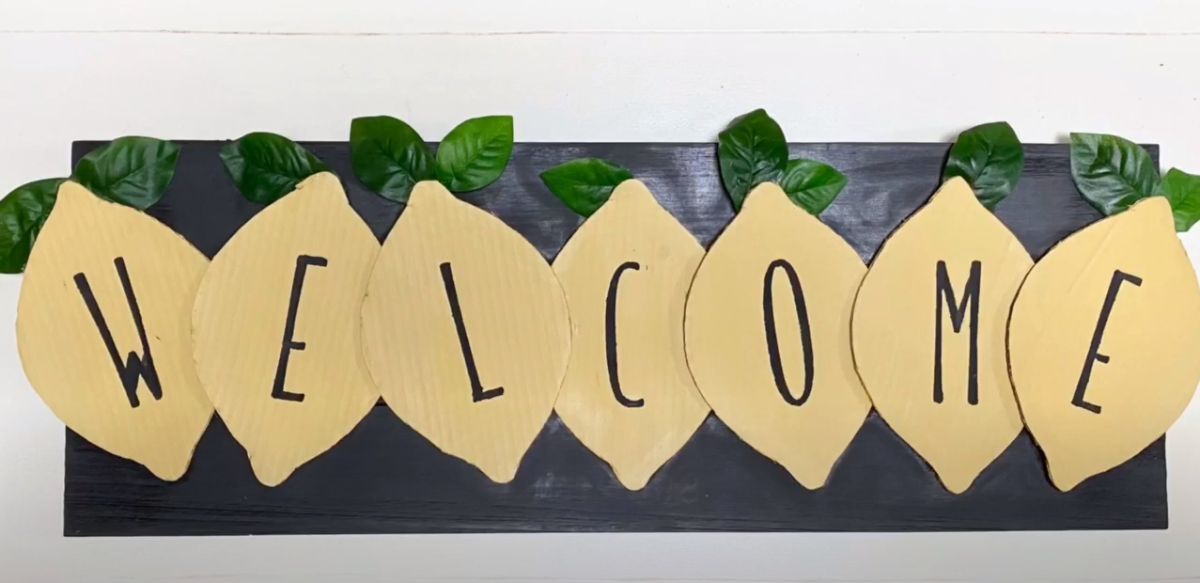 This twee little welcome sign makes me feel like Springtime every time I look at it! It would sit perfectly above your mantelpiece, or on your kitchen wall. Follow Chalk it up Fancy's video to make your own and be prepared to smile!
Glitter sign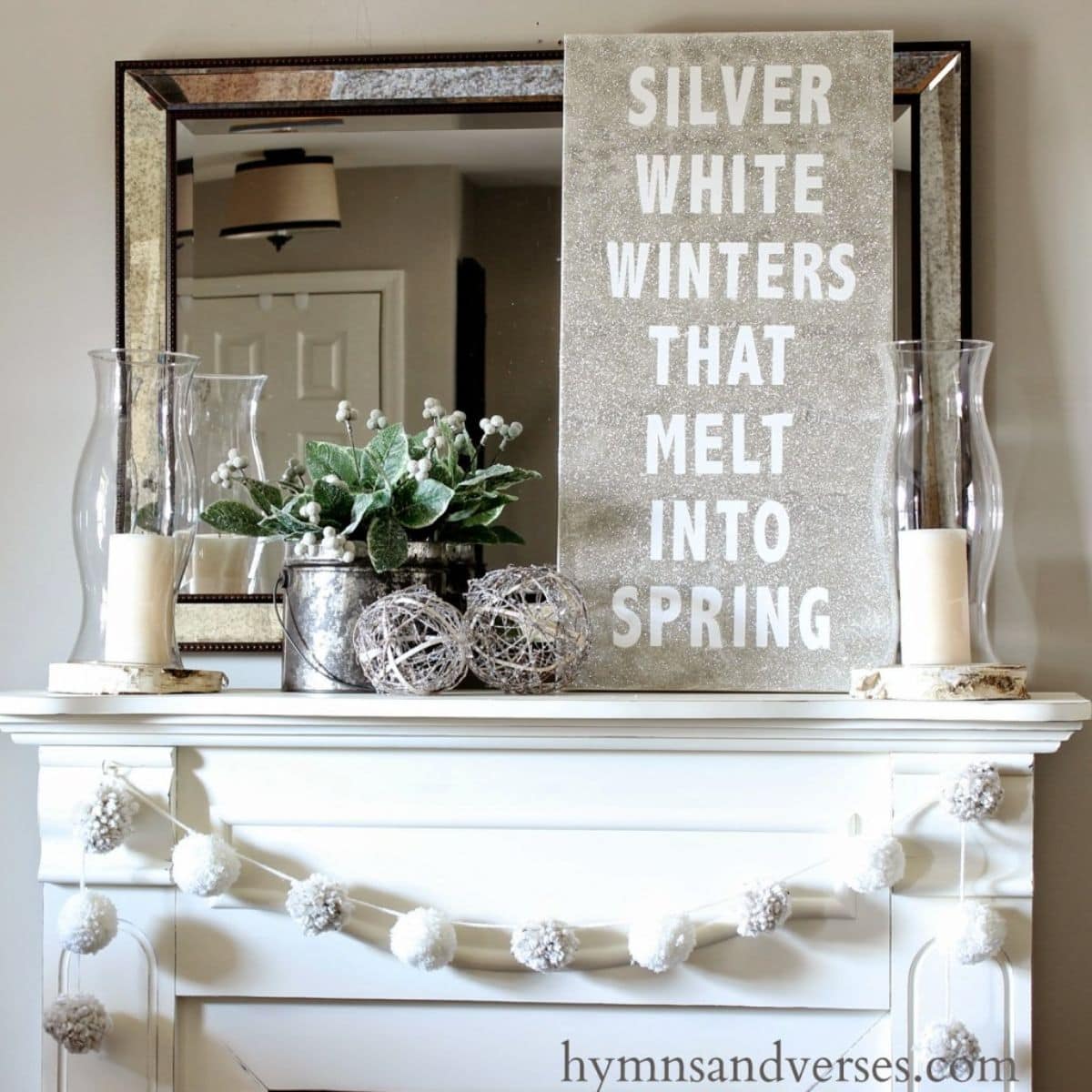 Are you after something slightly less yellow and slightly shinier? Then you should try out Hymns and Verses' tutorial to create this shimmering canvas sign. To make it even easier you can use ready-made stick-on letters, and choose a slogan of your choice to bring in the Spring.
Tiered tray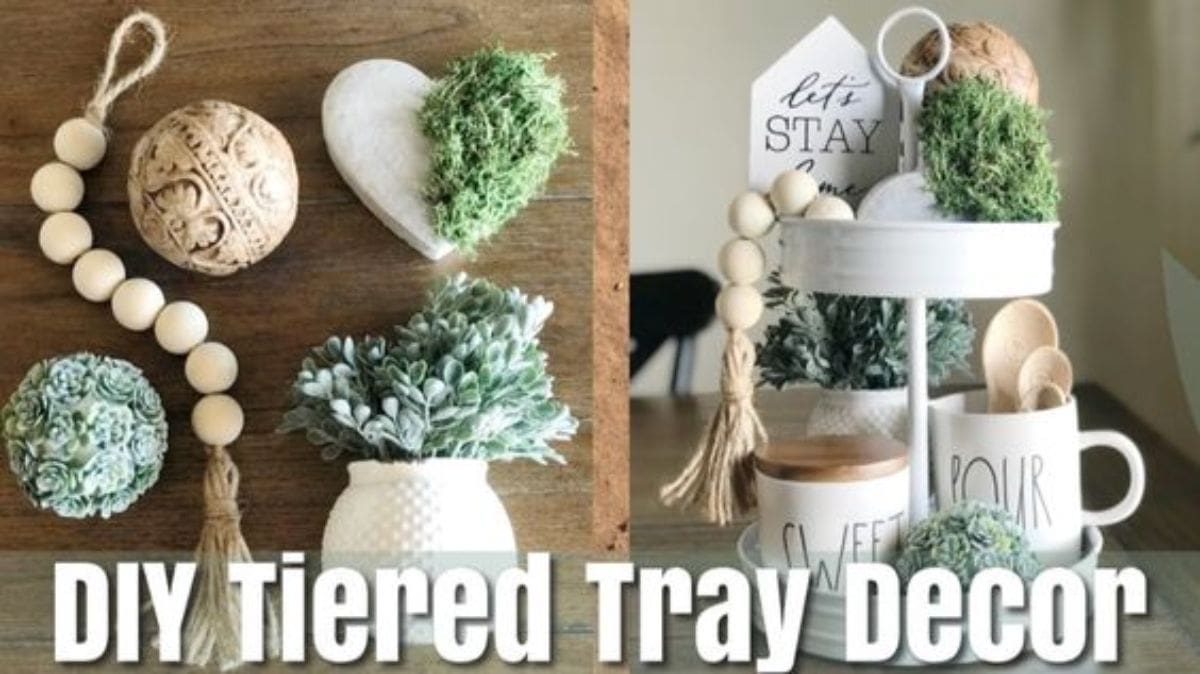 Pinterest is full of tiered tray decor ideas for the Spring, but we especially love this two-tier wonder by Jacquelyn Lopez, with its easy-to-follow video tutorial. We love the wooden accents and the simple color palette, as well as the quirky little slogan signs.
Succulent and candle centerpiece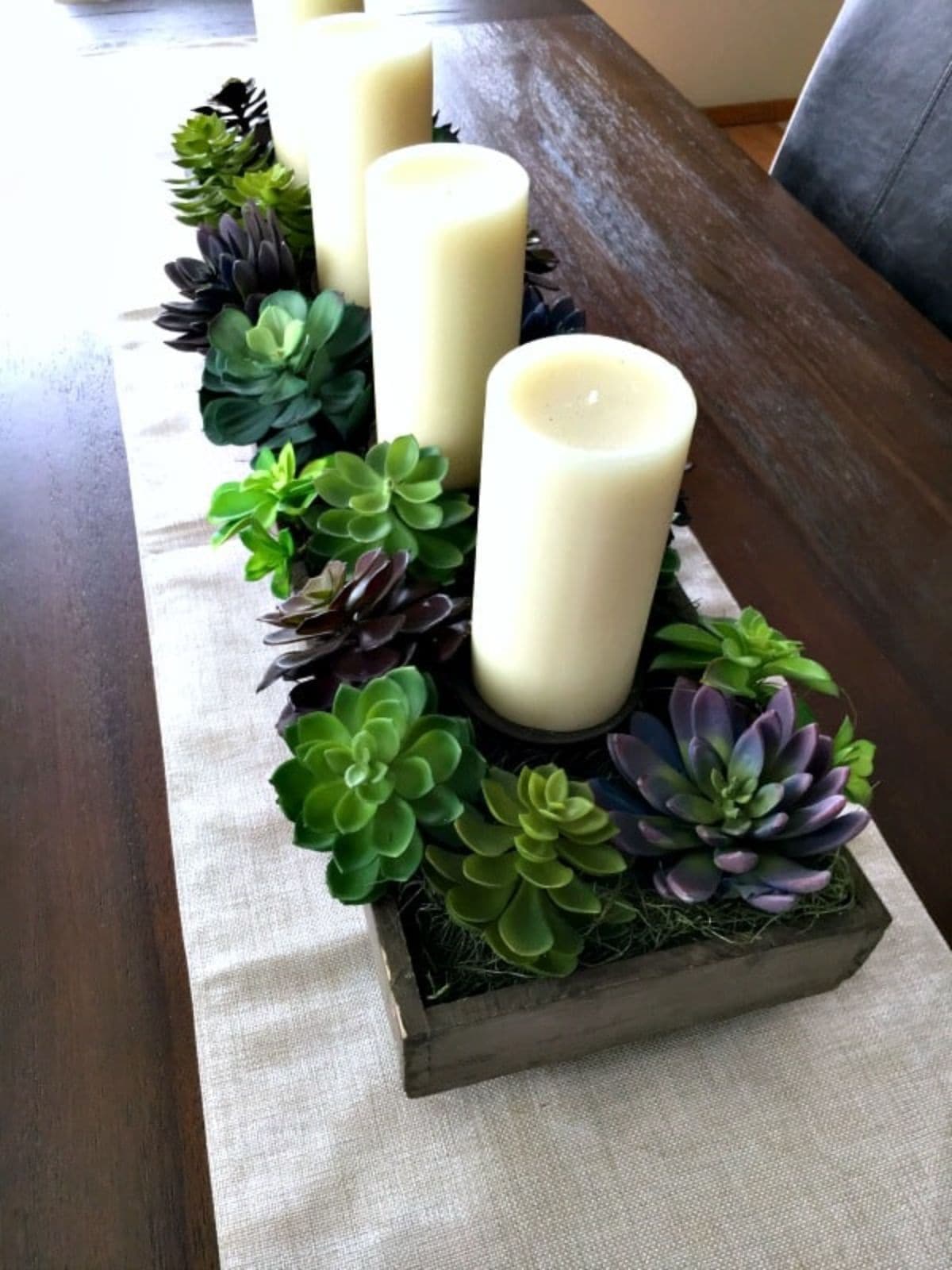 Perhaps you've got a planter laying around from one of your gorgeous, pine cone filled Christmas display. If so, then empty it out, and fill it with gorgeous succulents instead! This table centerpiece from Inspiration for Moms is the perfect way to up the ante of your usual candle display. And it feels oh, so new season!
Simple green wreath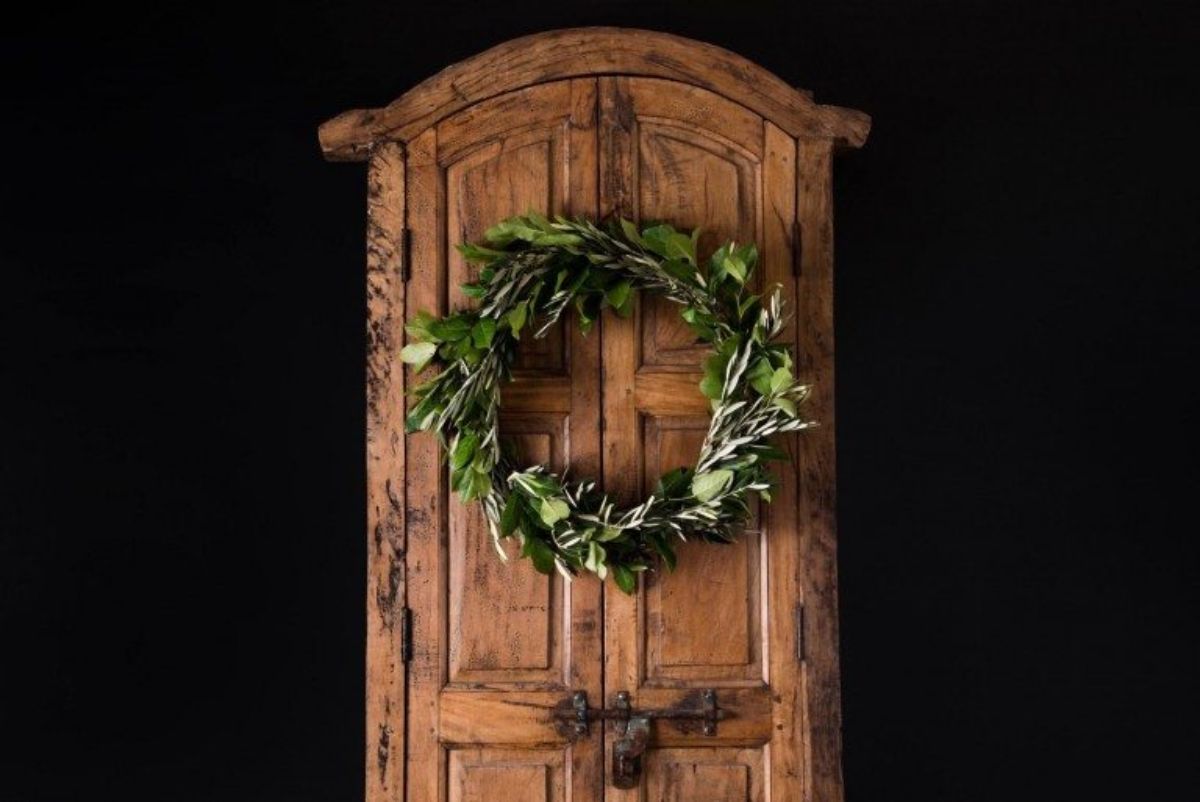 If you like the idea of bringing more Spring-like touches to your house, but would rather keep things simple, then don't worry: Magnolia has you covered with their simple spring greenery wreath tutorial. Chic and easy to make, the perfect combination.
Wooden block letters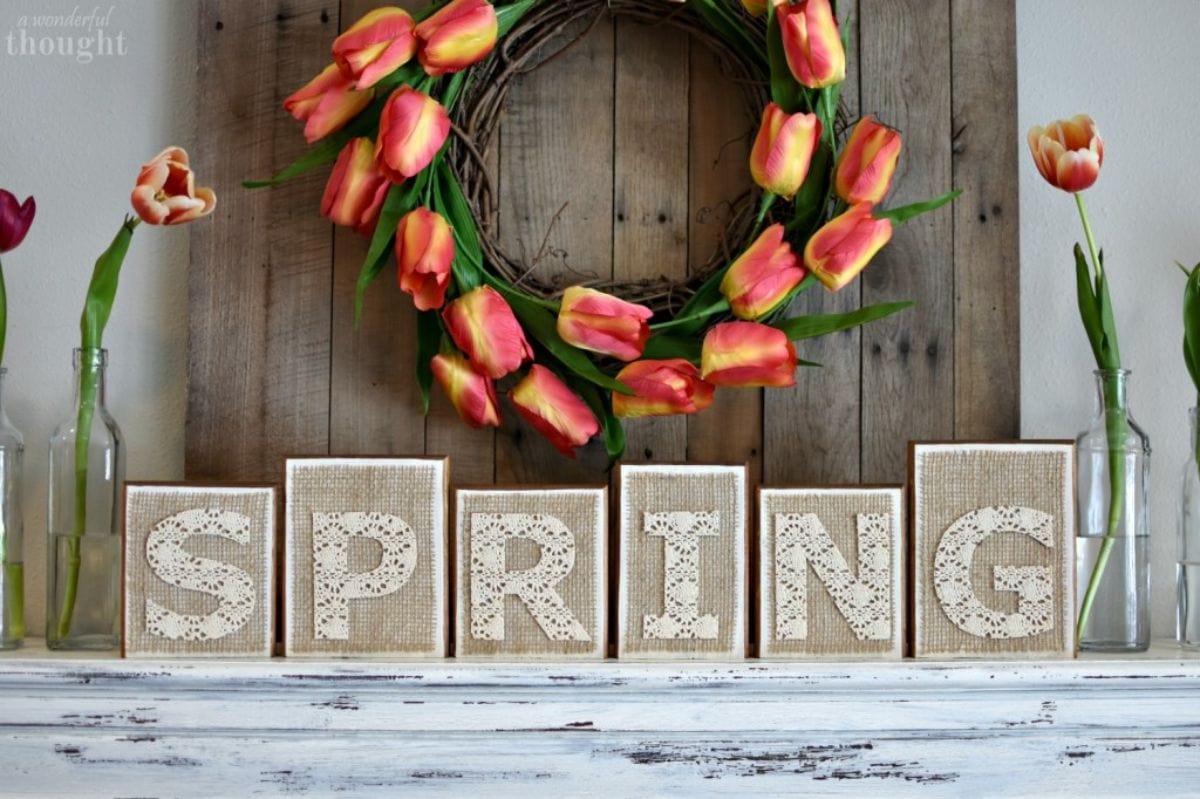 For something that works well with any color scheme, and that you can pop on the mantel as a feature, or build into your table centerpiece, these wooden blocks from A Wonderful Thought are the perfect DIY project. It even reuses a crocheted table runner that you probably already have hiding in your linen closet.
Mason jar string art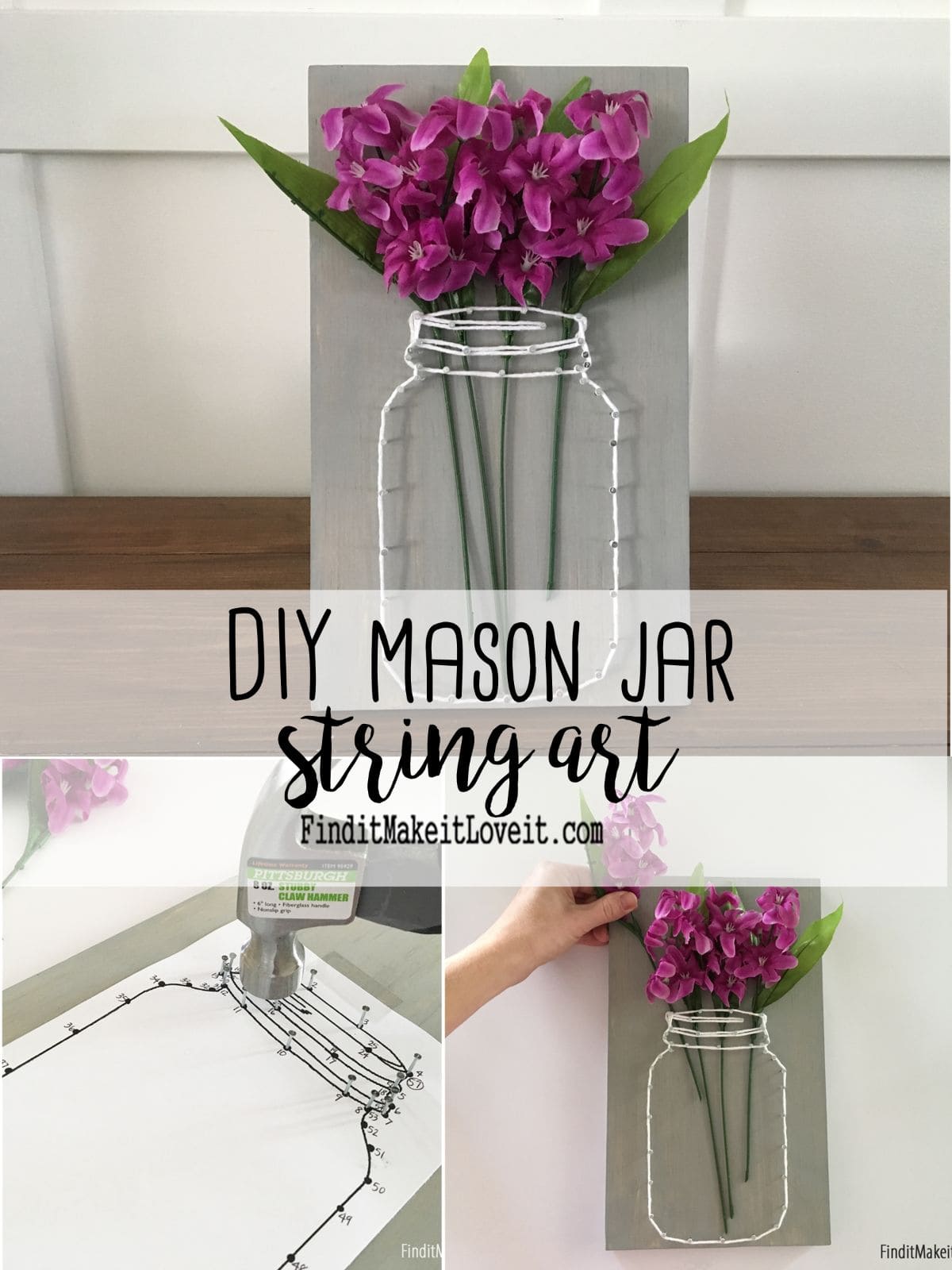 You've probably seen the plethora of string art on Pinterest at the moment. I've gazed in wonder but also been terribly intimidated by how complicated it all looks. Thankfully, Find it Make it Love it has designed a simple take on the trend for you to create with minimal stress. Pick flowers to suit your color scheme and you'll have the perfect accessory for your lamp table.
Book page eggs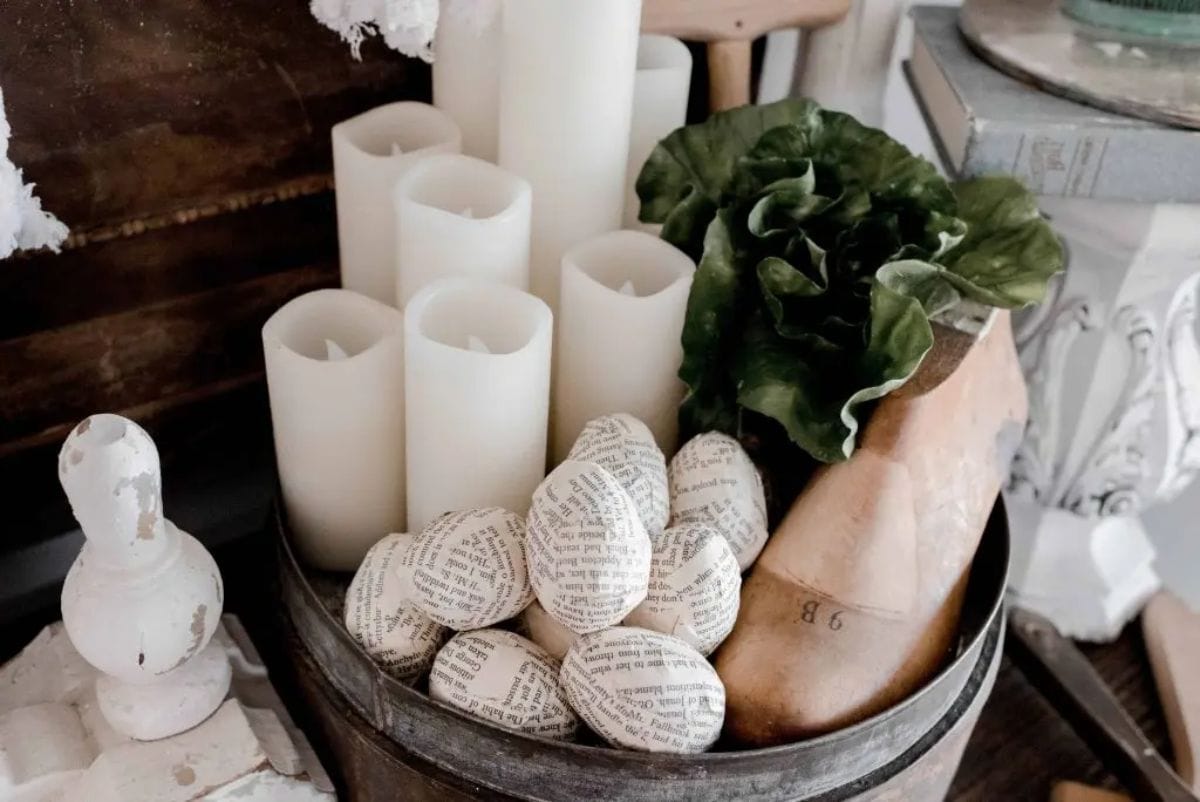 This is another great DIY craft project that you can sit down and do with your older kids. Pull out those old books from the boxes in the garage (or raid the thrift store), and you can make these cute little easter eggs from Hudson Farmhouse. They look great in a basket with some candles and green foliage.
Repurposed farmhouse door tray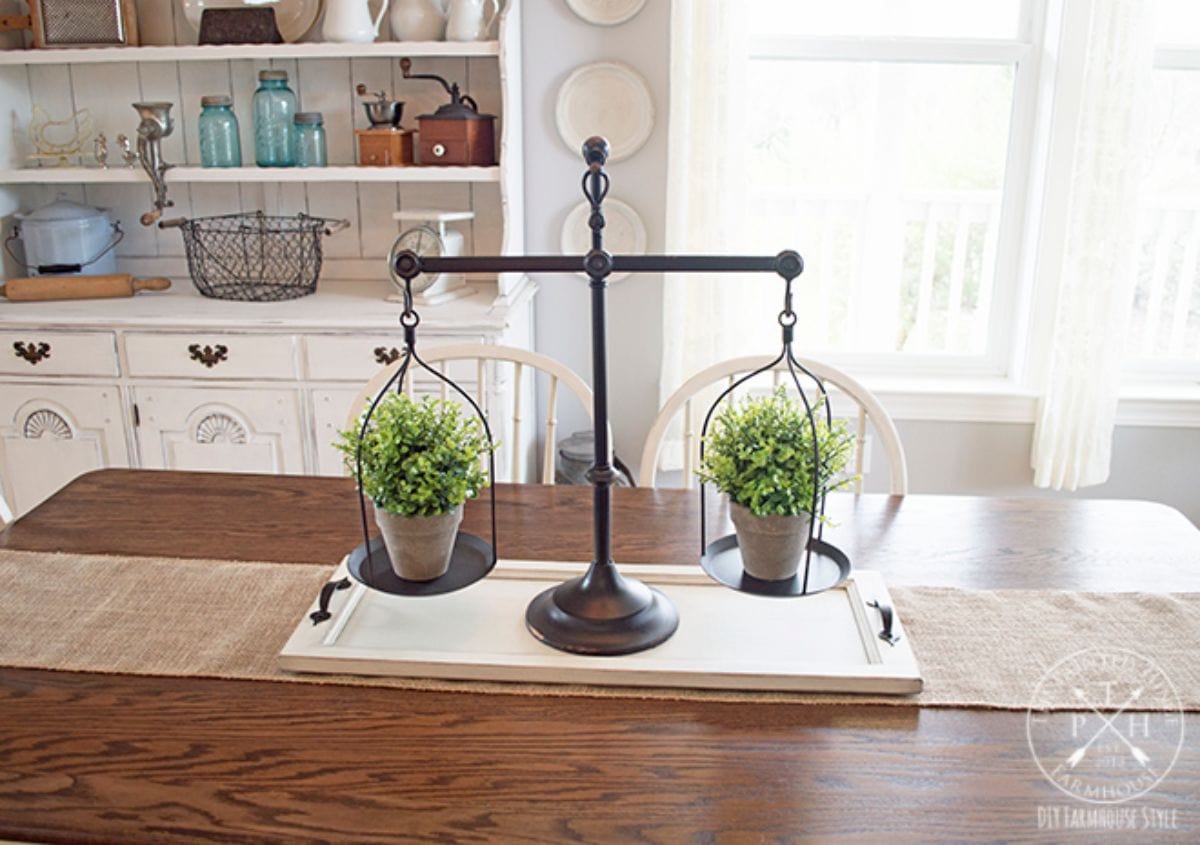 While we're thinking about recycling, this is a great way of repurposing an old cabinet door. The Painted Hinge has turned it into a shabby chic farmhouse tray. I also love the clever way she's used her vintage weighing scales. She has all the instructions over on her site for you to follow.
Ready-made limoncello sign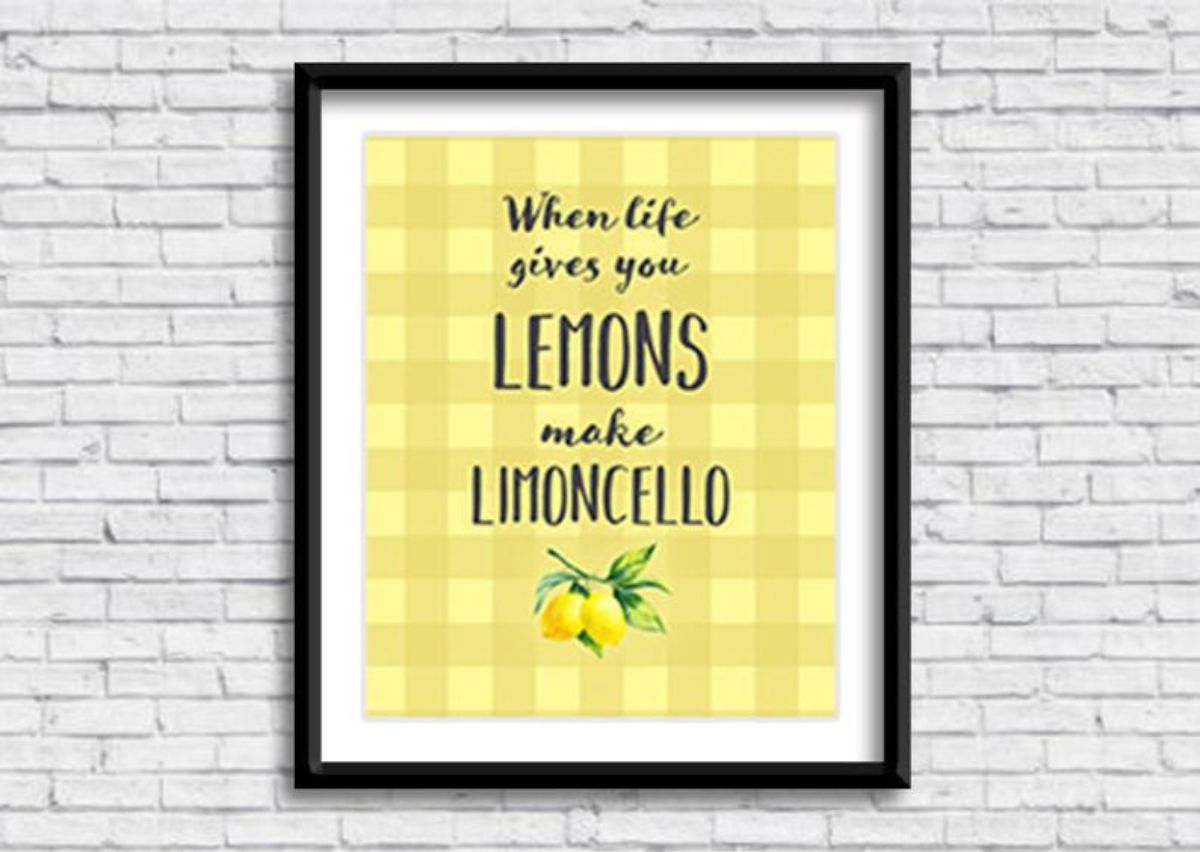 I know that, as much as we'd all love to fill our houses with hundreds of homemade designs, there is a limit to our time (and our crafting skill). Etsy can come to your rescue in the Spring decor department as well. This quirky sign from Donatos Designs is the perfect ready-made Spring accessory to pop up on your wall and feel the sunshine flowing in.