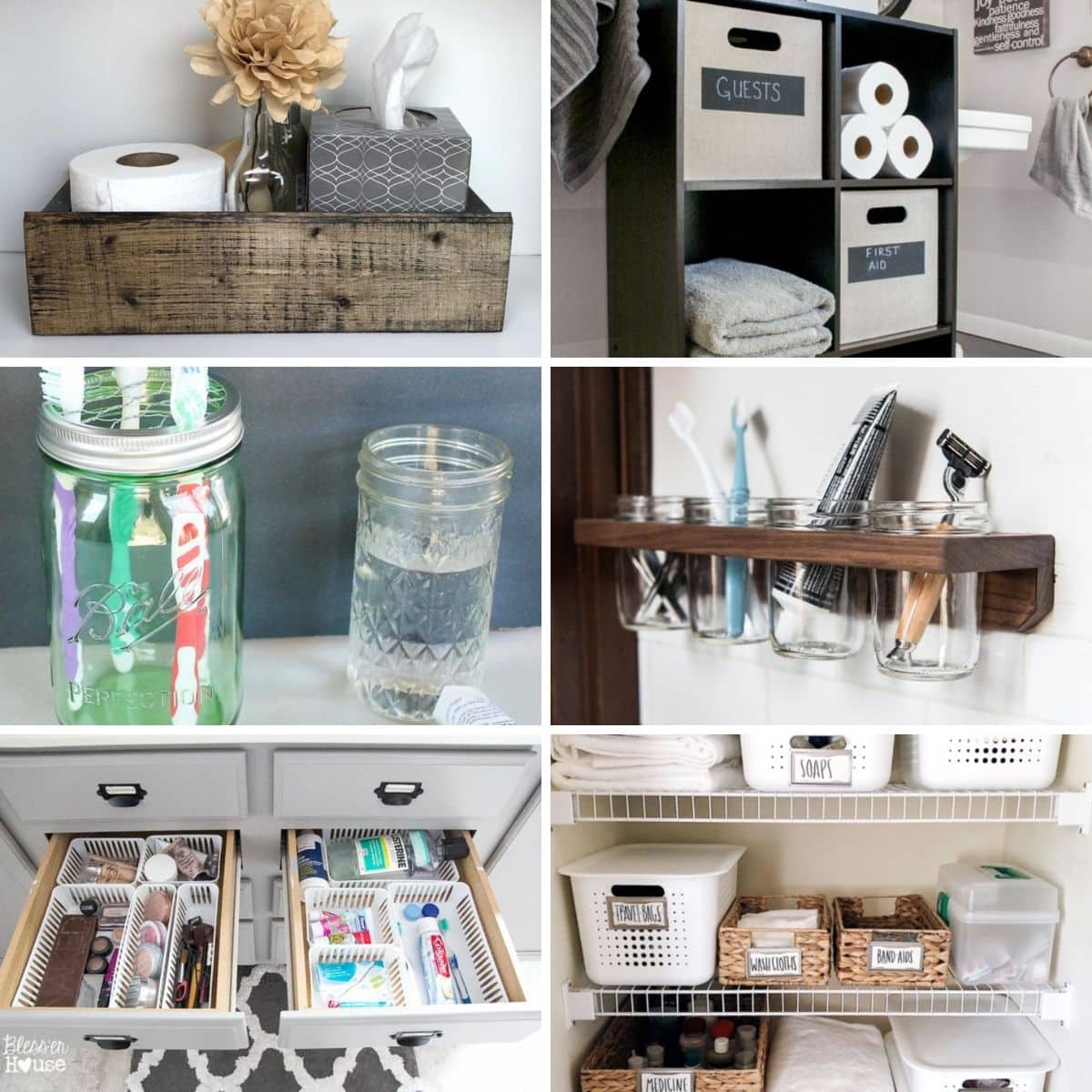 Working out what belongs where in your bathroom is tricky. What do you want within reach of the toilet? How much do you want to be tucked away in your cabinet, and how much out on display?
Your sense of style plays a role here too: are you more minimalist, or are you fond of beautiful accessories everywhere? Things are made even more complicated by the likelihood that your bathroom is one of the smallest rooms in the house, so how are you going to fit in all your creams and lotions?
Never fear! We've scoured the web for the cleverest and most stylish bathroom organization ideas that you can make yourself. We've found hidden cabinets, clever hanging solutions, and loads of ways to use space that you might not have thought of.
We have DIY projects for the most ambitious, and the absolute beginner. Read on to solve all your bathroom problems!
Master bathroom cabinet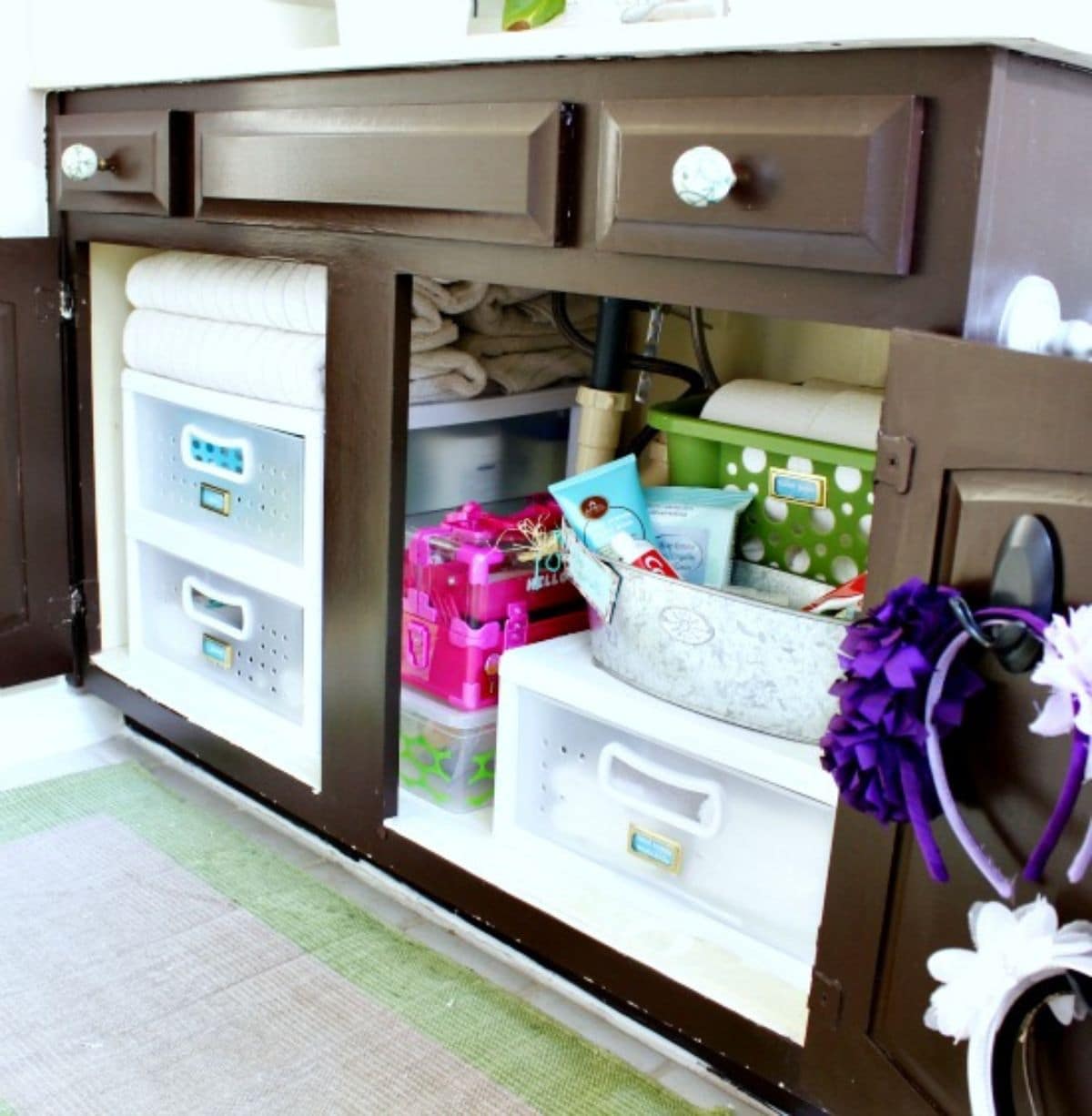 Hi Sugar Plum had had enough of her overstuffed, inefficient bathroom cabinets, so she decided to totally reorganize them using a simple system of command hooks and modular drawers. Now she can find anything she needs in seconds. If you have the same problem then she breaks down how she did it here.
File box storage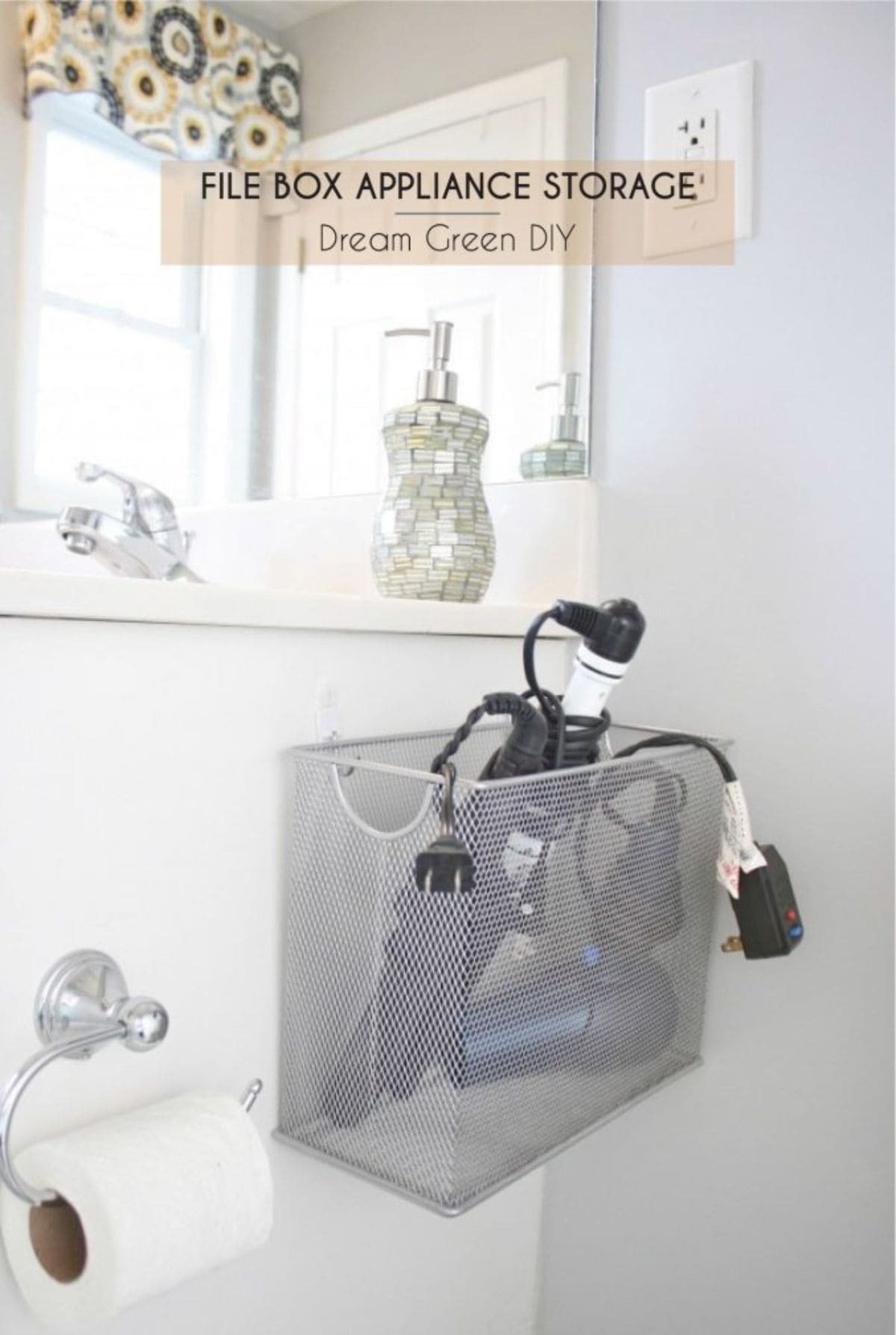 Trailing wires are one of my biggest annoyances in any room, not just the bathroom. But in such a small room it's even more annoying, and more than a little dangerous. When you're dealing with straighteners that might still be hot, it isn't always an option to put them away in the cupboard. Dream Green DIY has a tutorial for you to make sure your hot appliances stay safe and tidied away.
Mason jar tissue containers

Tissues are a key element of your bathroom supplies, but tissue manufacturers rarely design their boxes to fit with your bathroom decor (how rude of them!). Landeedo has come up with a cute way of matching your tissue receptacle to any bathroom suing these cute mason jars, and some paint. Find out how on her site.
Crown molding shelves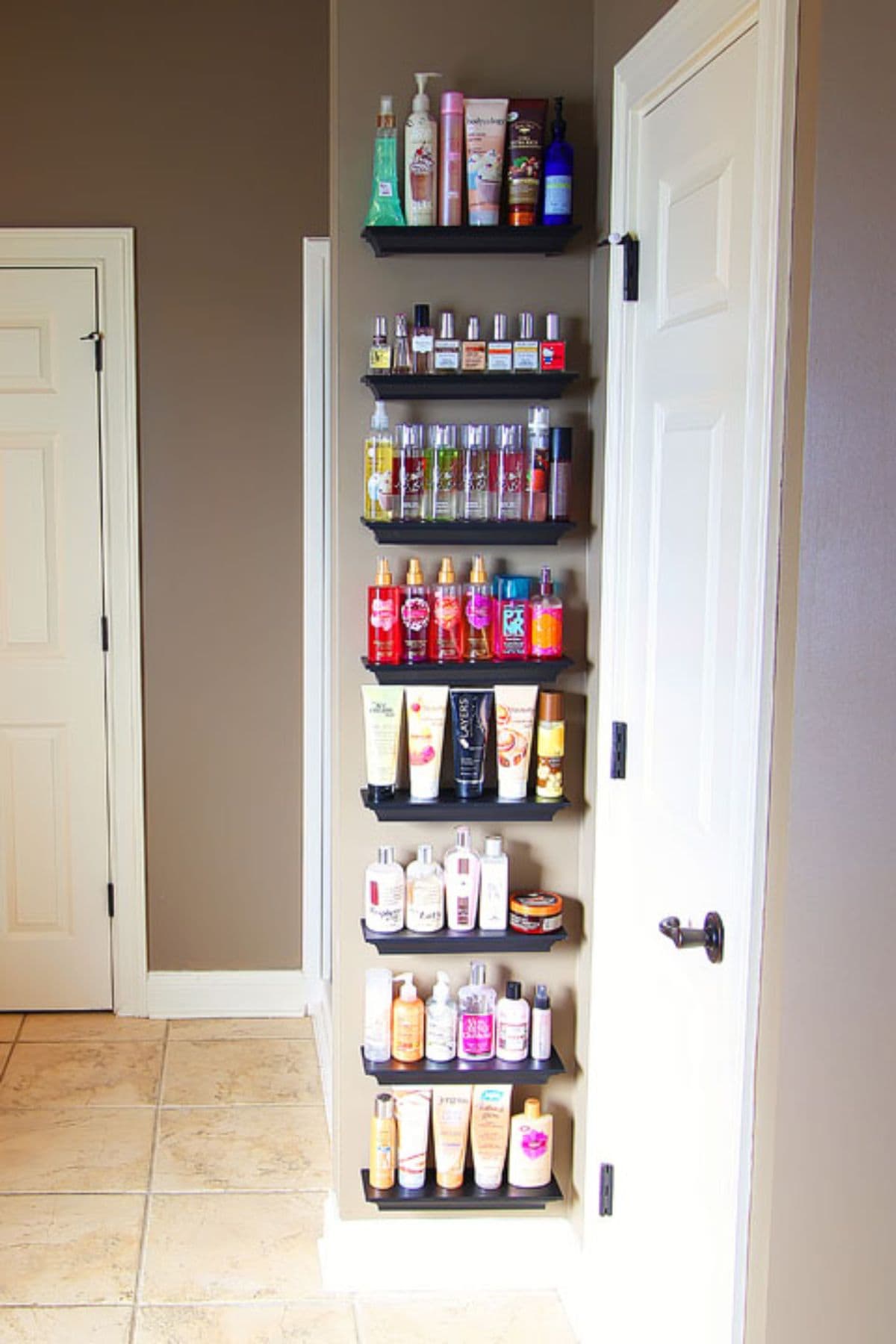 Kevin and Amanda wanted a way of keeping all their bathroom products on display so they always have them at their fingertips. Their tutorial shows you how to make use of small spaces behind your doors, which are perfect for smaller shelves such as these. You'll never spend ages searching for the right bath oil again!
Cardboard boxes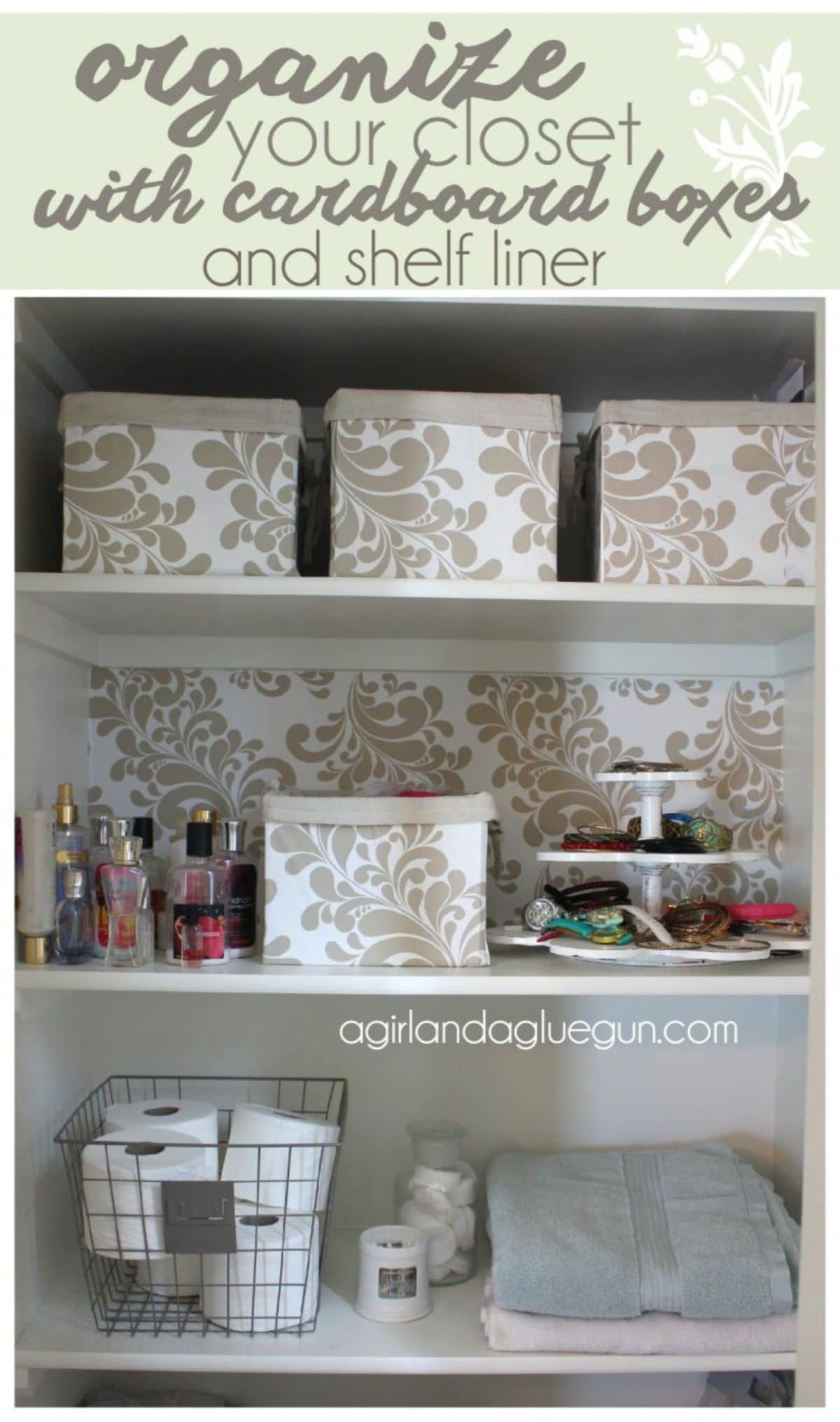 Over at A Girl and A Glue Gun, you don't even need fancy resources to create a beautifully decorated adn organized bathroom closet. She shows you how to make storage out of cardboard boxes, leftover fabric, and wallpaper (and, of course, a glue gun!). You can pick whichever design makes you happy when you walk in to take a shower.
Dollar store drawer organizer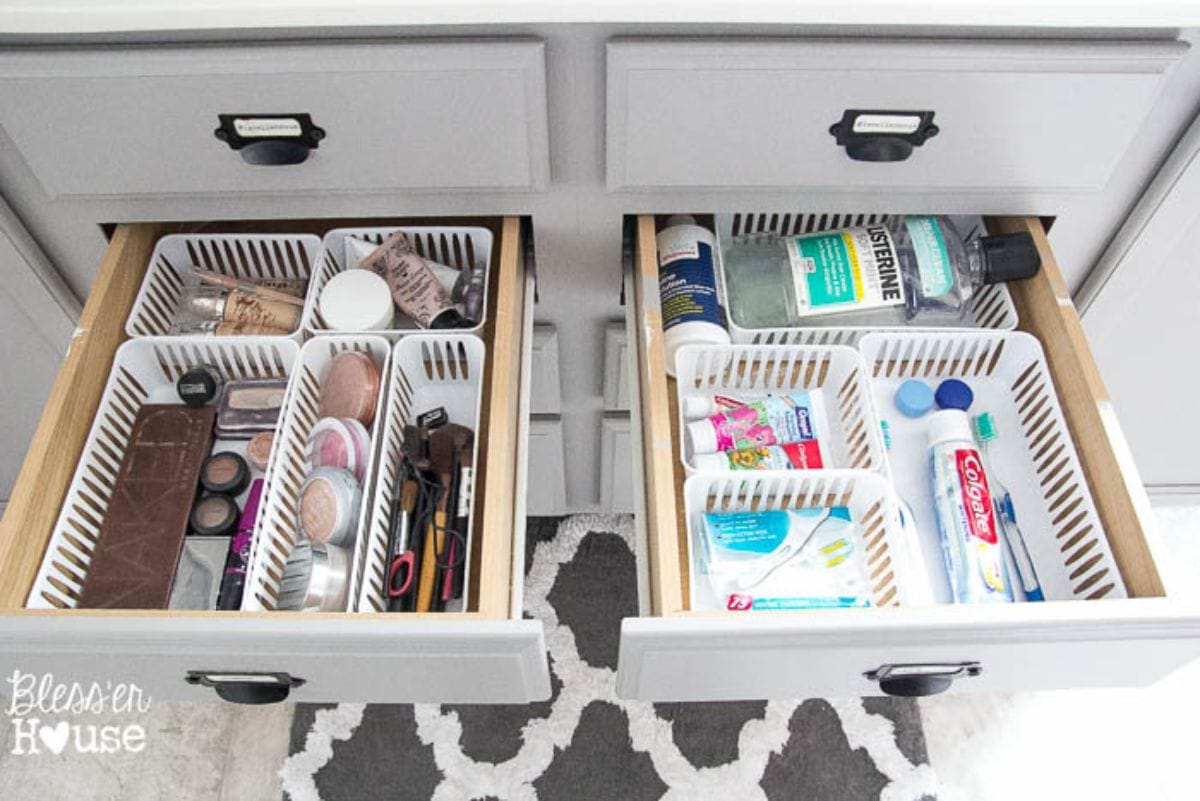 Using just some baskets from the dollar store, The Summery Umbrella has a simple solution to organizing your toiletry drawer without spending loads of money. The major advantage of this is you can change things around without worrying that you're wasting money. You can find out all her tips here.
Mason jar toothbrush holder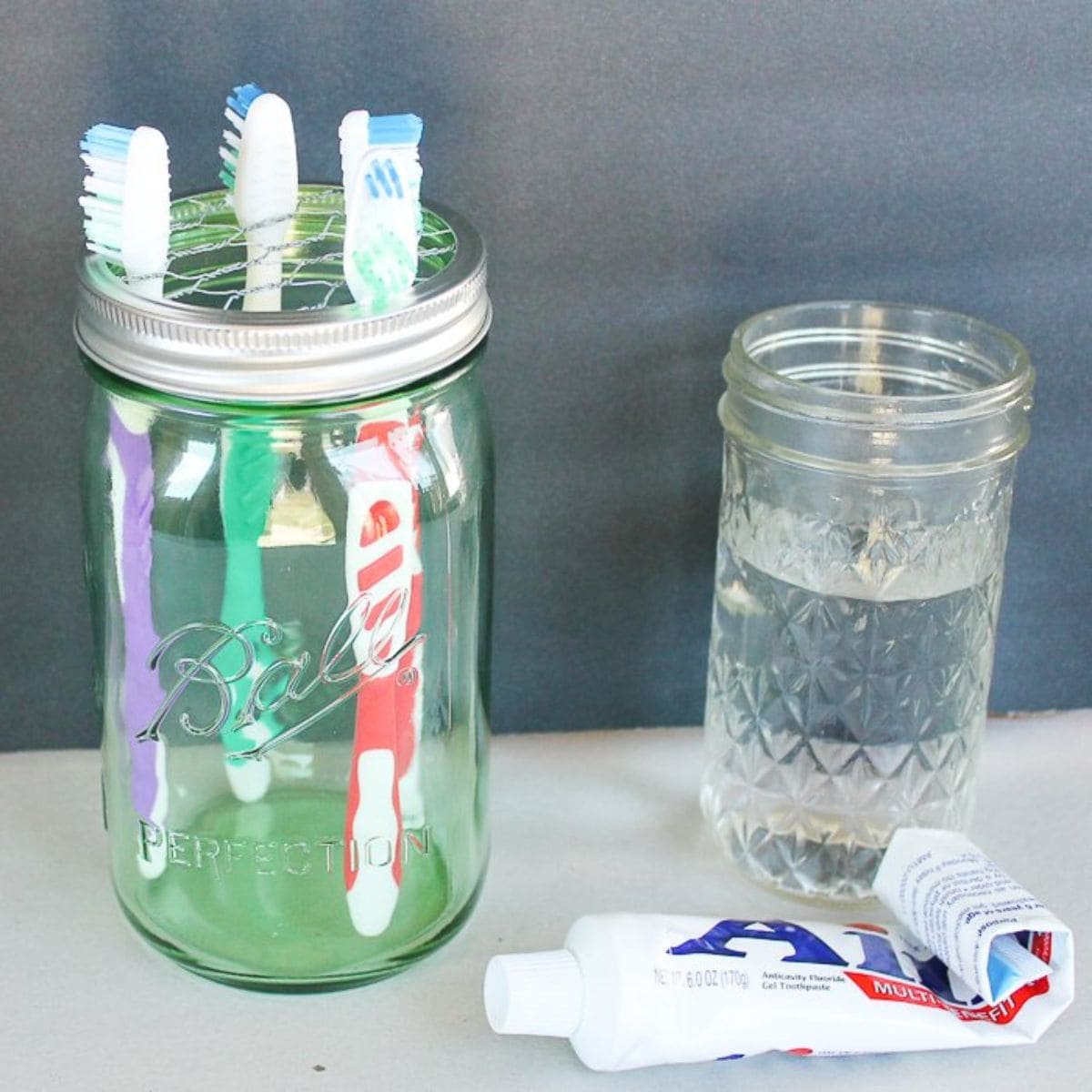 Here we've found another way of using the ever-wonderful mason jar. Toothbrush holders often leave a lot to be desired in the style stakes, but this tutorial from The Country Chic Cottage will give you a receptacle to make your friends jealous!
Magnetic strips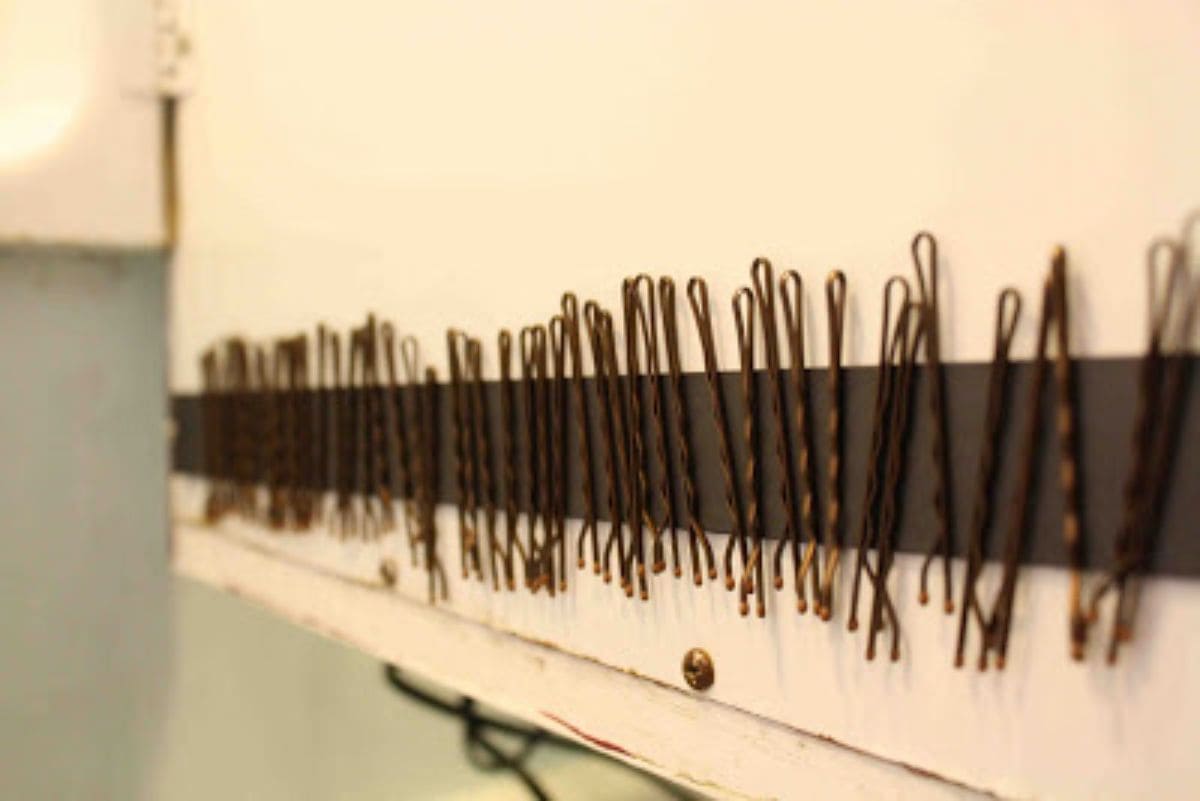 Talk about a lightbulb moment. Superwoman has discovered the perfect way to store all those tiny bits and pieces that you always lose in the bottom of drawers. Head to her site for the details on how to solve all your problems with magnetic strips!
Toy caddies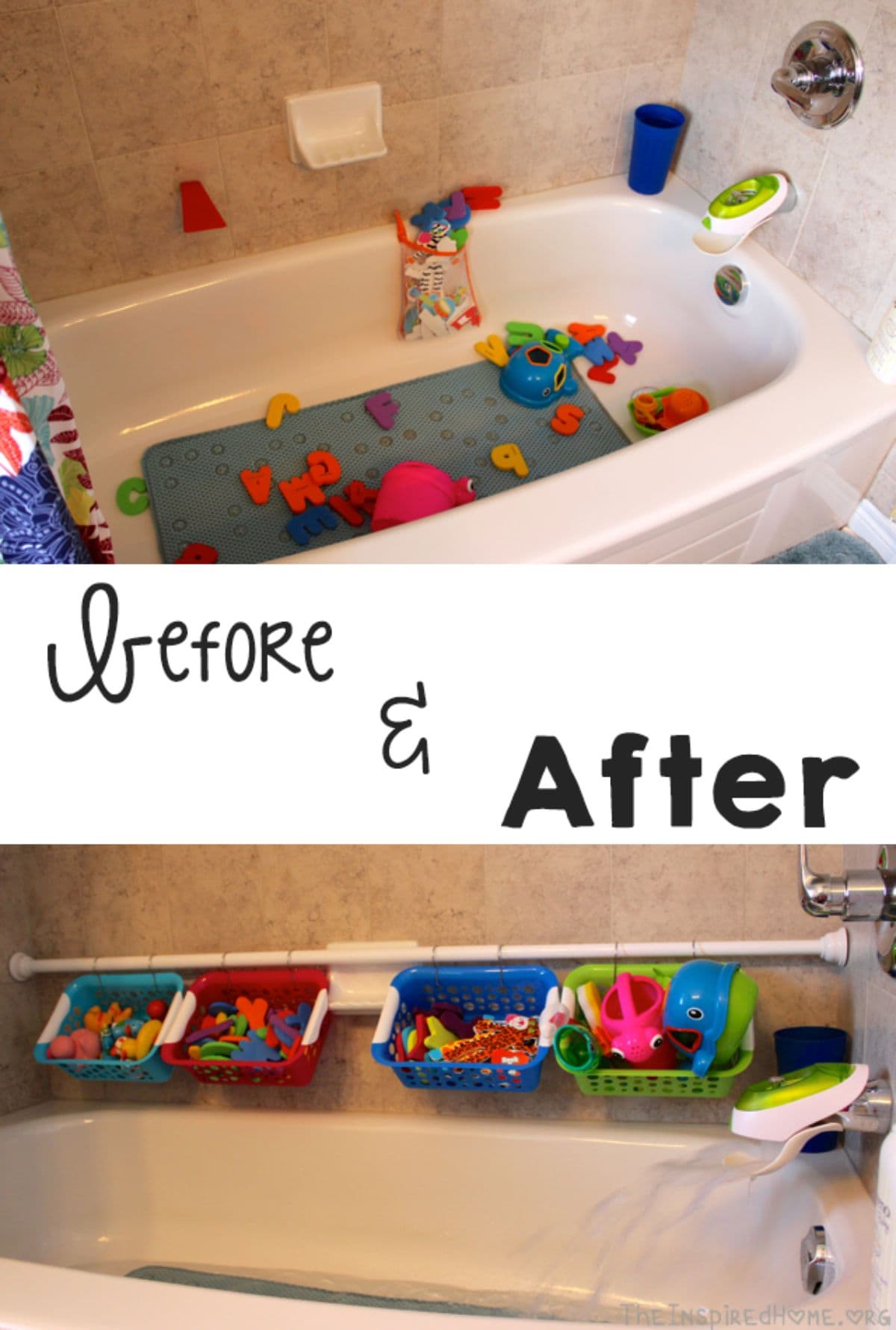 Those of you with small children will know the dread of having to pick up all the wet bathroom toys as they slide back into the bath during your shower. Finding a way to keep them all organized and about of the way is really tricky. The Inspired Home has found a great solution to everyone's problem with tension rods and plastic baskets.
Toilet paper holder shelf

DIY Show Off has come up with the perfect solution to the 21st Century bathroom problem: where do you put your phone while you're peeing?! This tutorial for a super-stylish shelf and toilet roll holder means you're not worried about dropping your phone down the toilet, and you have extra space for air fresheners or tissues. I love it; I may have to go and make it now!
Corner shelves

Here we have another hack for using small spaces that you probably thought were useless. Smaller shelves are perfect for the items we have hanging around in bathrooms, and the corner space by your sink is the perfect place for them. Graceful Order has some great ideas to make this work for you over on her page.
Nail polish shelf

Domestically Speaking has the unenviable problem of having to share a bathroom with 2 teenage girls and all their products! Inspired by her burden, she came up with a nail polish shelf to help with storage. She has the step by step tutorial over on her site, in case you have similar teenage issues in your house.
Hidden storage

For those among us who prefer not to have all of our lotions and potions out on display in the bathroom, this genius multi-purpose cabinet from Shanty 2 Chic is perfect for you. Disguised as a full-length mirror (which is always great to have in the bathroom) this cupboard will give you plenty of space for all your stuff, and then you don't have to look at it!
Bathroom ladder

You can buy some gorgeous (and pretty pricey) ladder storage solutions for your bathroom these days. What started as a rustic DIY piece of furniture has gone mainstream, with the attached price tag. It's still a great idea, though, and Micheala Diane Designs will show you how to make one with a much smaller budget that still looks like the ones you've seen on Instagram.
A perfectly organized closet

Often it's knowing where to start that's the problem when you're trying to sort out a particular area. With bathrooms there are so many things that have to be there, so you have limited room for maneuver. She Gave It A Go will talk you through how to create the perfectly organized bathroom closet, leaving you with an area that makes you feel Zen and not stressed.
Makeup Drawer Organization

Another place where scrabbling for what you need is far too common and a waste of time, the make-up drawer is ripe for re-organizing. My Texas House can show you how to keep calm and find your blusher. Using pull-out drawer organizers and keeping everything white results in a beautiful space.
Basket wall

In particularly small bathrooms, there really is limited space to store things. Using the wall above the toilet is a great way of maximizing what space you do actually have. Simply DIY 2 has a great tutorial on creating a wall of baskets. It's easy-to-follow and doesn't require many materials. You'll be all sorted in no time!
Spice rack toilet roll holder

These IKEA spice racks really do get everywhere. They're the perfect simple piece of furniture to adapt to all your needs. IKEA Hackers will help you turn one of these bad boys into a toilet roll holder with a shelf on top for your phone, or a small vase of flowers, or whatever you fancy. Head to their site for all the details.
Mason jar organizer

By her own admission, The DIY Playbook has an obsession with mason jars! In this case, it's definitely paid off, though, because she's created a tutorial for a gorgeous, rustic organizer that can sit above your vanity or your toilet. It's a great way to store cotton balls or buds; all the things that are small enough to get lost in drawers.
Anthropologie-inspired storage cabinet

If you're looking for something more ornate to fit in with the theme of your bathroom decor, then Home Talk has the perfect tutorial for you. Their Anthropologie-inspired box shelf is based around an old frame, spruced up, and is a brilliant way of creating your own original storage.
Command hook hacks

If it were up to me then I'd use command hooks on every surface of my home, but my husband started complaining! They are beyond useful when you're sorting out your bathroom, though. Home Storage Solutions shows you how to use them to keep your hair tools nice and tidy, and easy to find.
Fabric baskets

If you're a whizz on the old sewing machine then Apple Green Cottage has a snazzy little pattern and tutorial for you to make fabric baskets for your bathroom cabinets. Choose the fabric to match your decor, and use them for reusable cotton pads, hair products, or toilet rolls.
Painted chalkboard labels

Using the ever-versatile IKEA KALLAX unit, DIY Show Off has given it a bit of a lift by adding chalkboard-style labels to the boxes. She has all the steps on her page, and you can have your very own version of this surprisingly spacious cabinet for your bathroom.
Tilt trash can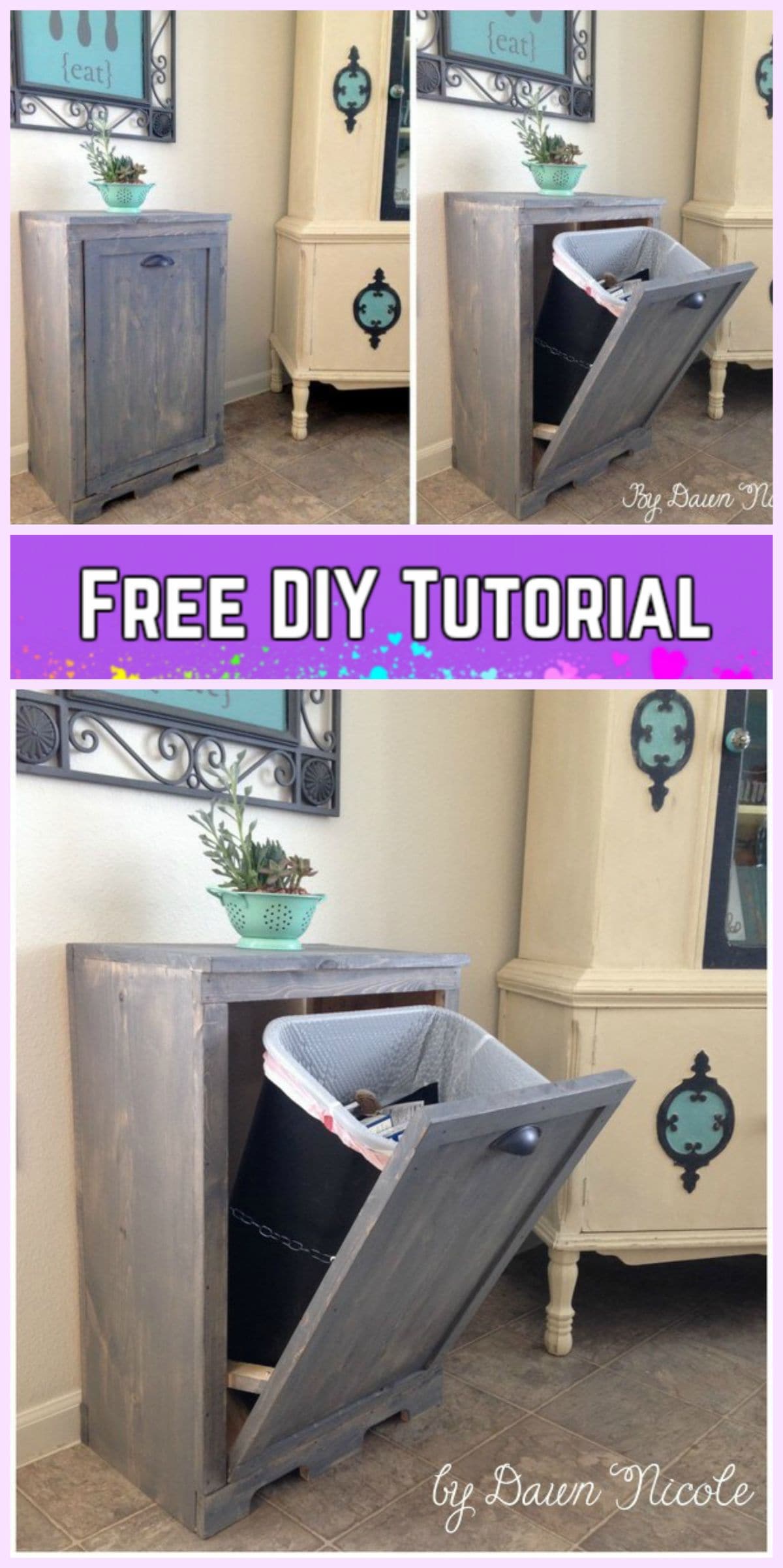 Every bathroom needs a trash can but let's face it, you'd rather not have it staring you in the face whenever you go in. Fab Art DIY has the most brilliant tutorial for dealing with this particular dilemma. You can follow their instructions here, and tidy away your trash can for good.
Floating shelves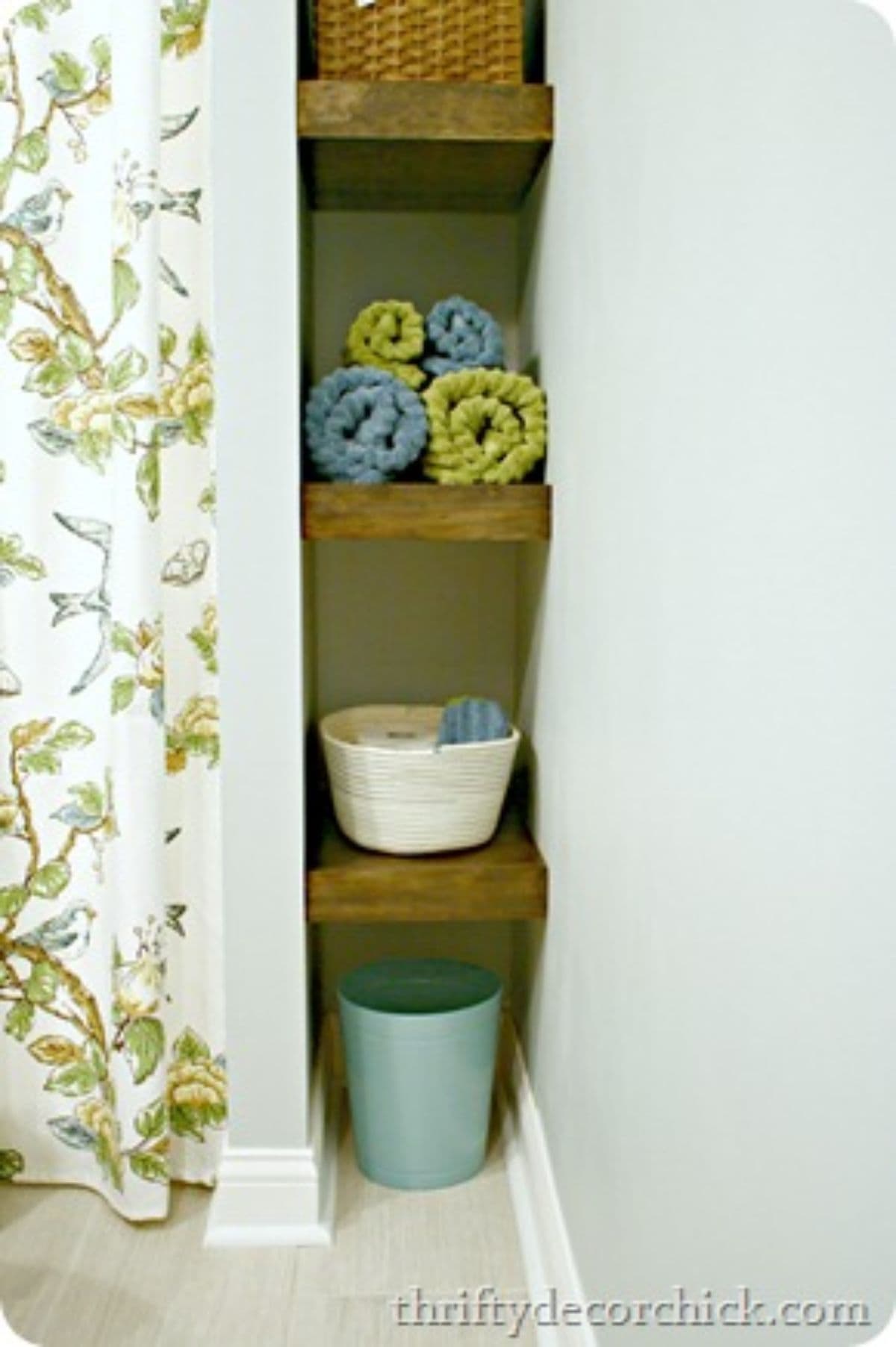 If you have a tiny alcove in your bathroom that you've just been sitting your trash can in (see our previous item!), then you need to head over to Thrifty Decor Chick and check out her tutorial for these floating shelves. They give you tonnes of extra storage with a minimal footprint. Perfect for the tiny bathroom.
A modern bathroom organizer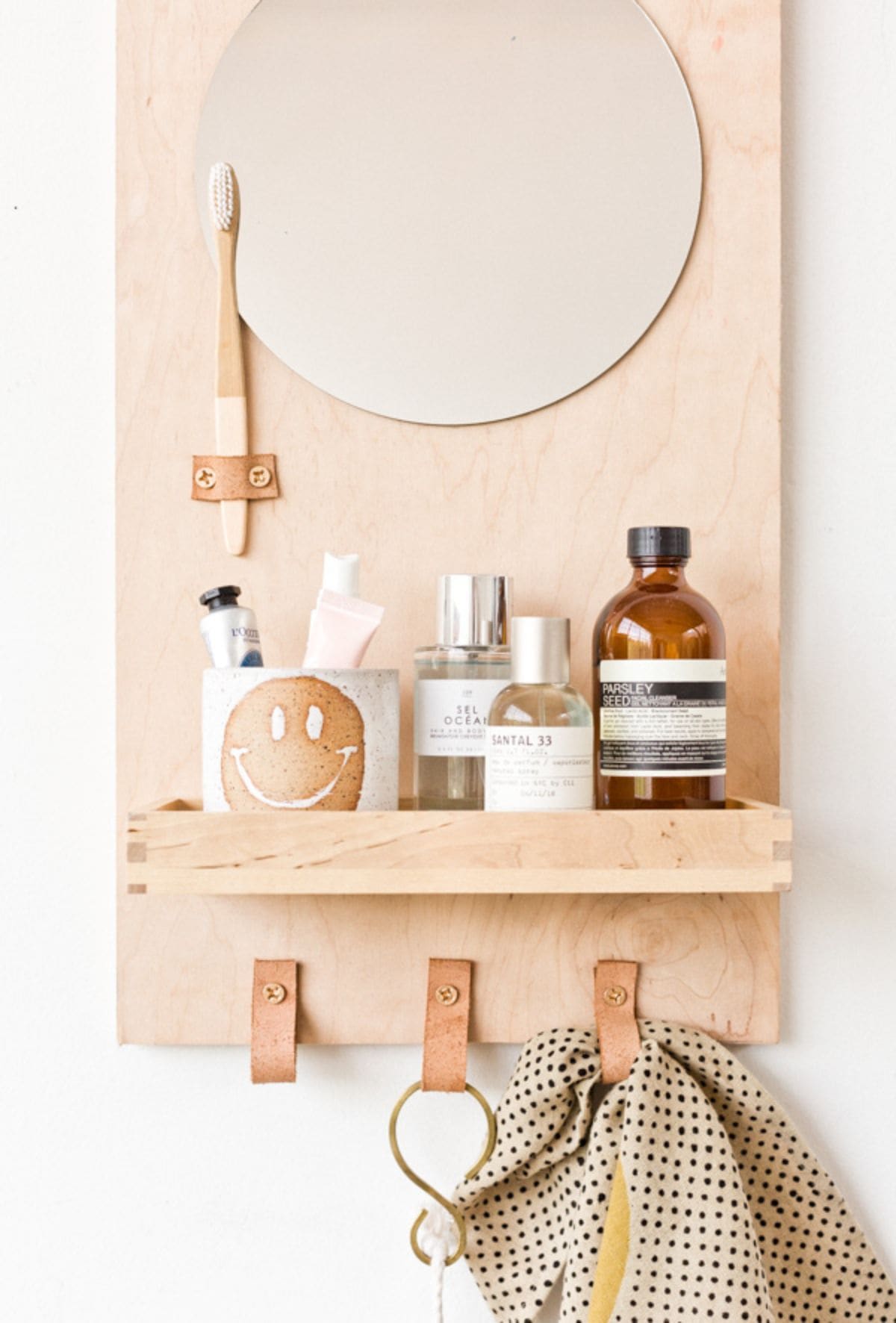 Paper N Stitch is keeping things simple over on their page with this tutorial for a pared-back bathroom mirror and organizer. Plywood and leather strips give it a utilitarian vibe, so if that fits with your decor then you can make you own easily.
Over the door shelving

The one bit of space in your tiny bathroom that you probably haven't used yet, the narrow strip above your door can actually be really useful. DIY Danielle takes you through how to build your very own shelf for extra toilet rolls, or towels that you don't need to get to all the time. Just remember to keep a step in there if you're a bit on the short side!
Etsy: Farmhouse crate

Looking for something rustic and stylish to store your bits and pieces in, but don't want to get out the sander? Then this farmhouse style crate from RedRabbitGoods is your dream find. Stained and distressed wood, with enough room for tissues, toilet roll, and even some flowers.
Etsy: Mason jar wall caddy

For those of us without the time or talent to make our own mason jar storage, PegandAwl has the answer. This 4 jar caddy has room for your razor, toothbrush, and tweezers, or whatever else you need to keep to hand in the bathroom.
Etsy: Toilet top storage box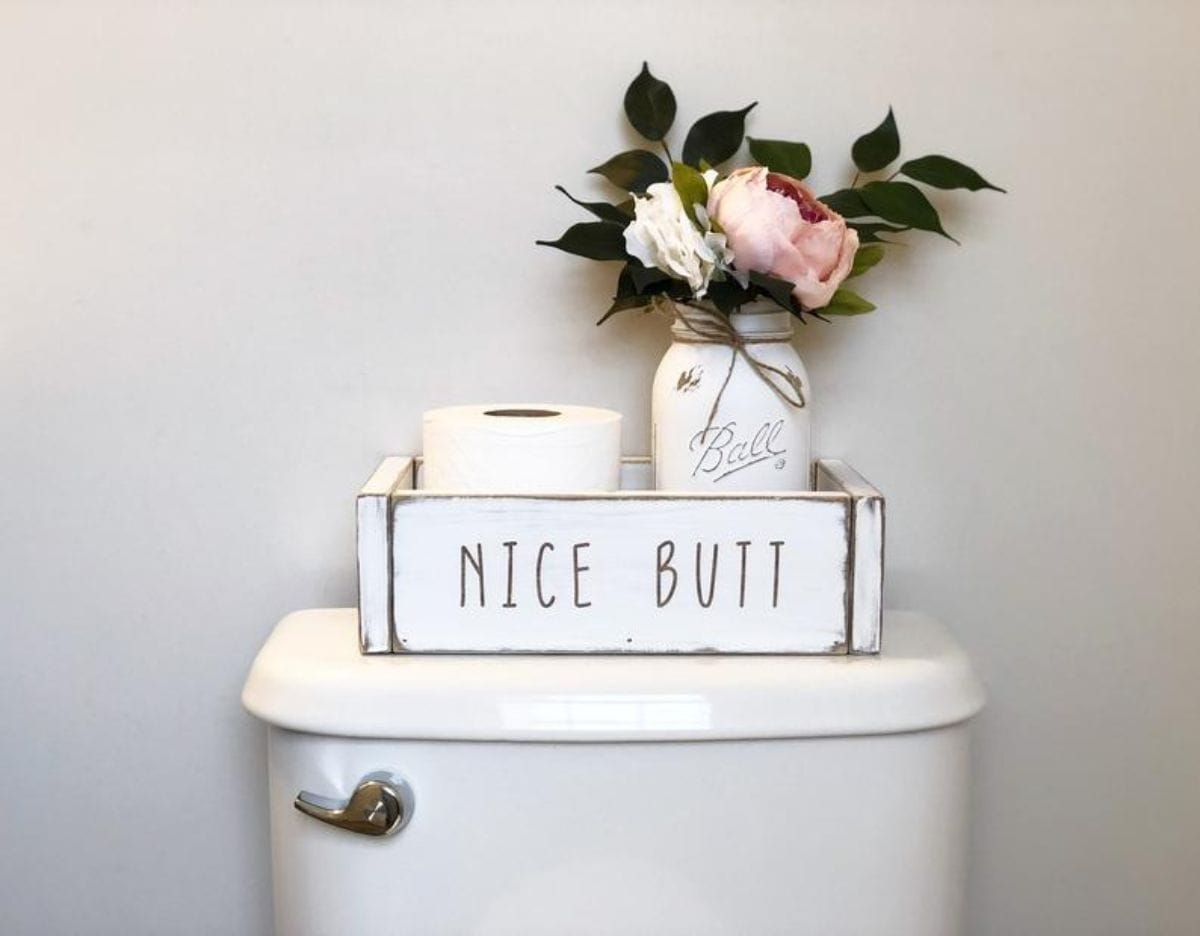 This shabby chic toilet top caddy with its cheeky message is the perfect piece of extra storage in your bathroom. It would also make a great housewarming gift. RileyJaneHomeDecor can provide you with the place to put your extra toilet roll and keep your bathroom looking chic, not thrown together.