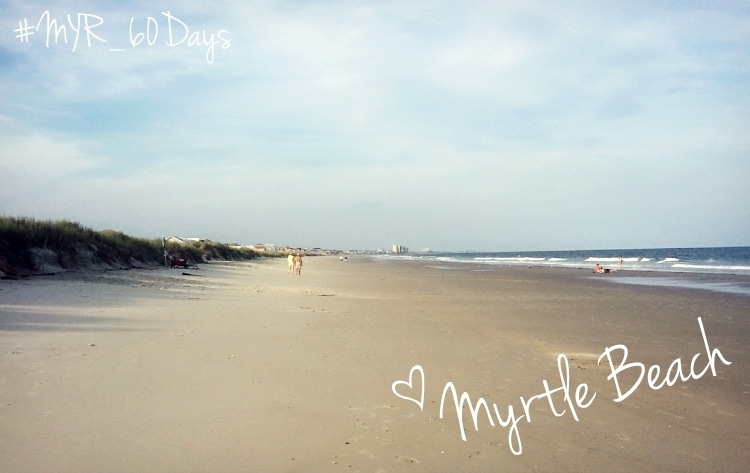 I'm going to let you in on a little secret. The absolute best time to visit Myrtle Beach is after the summer — specifically, the months of September and October. For 60 days there's gorgeous weather, warm ocean water, and attractions that are virtually crowd-free.
I recently visited Myrtle Beach, for the first time, to experience the area's "best-kept secret" and came back with 60 reasons why you should visit Myrtle Beach with your family this fall.
The Grand Strand — 60 miles of Sand, Shells, and Sun!
60 days of Savings — Special fall discounts on accommodations, attractions, dining, golf and more!
Crown Jewel Beach House — beachside vacation rental with 7 bedrooms!
Ice cream at Painter's
Souvenirs at The Gay Dolphin — The East Coast's largest souvenir shop.
Ride the Herschell-Spillman Carousel at the Pavillion — over 100 years old!
Murrells Inlet Marshwalk
Sushi at Wicked Tuna
She Crab Soup from Sea Captain's House
Franklin Burroughs-Simeon Chapin Art Museum — free admission!
Horry County Museum — free admission!
The best golf courses in the south — over 100 championship golf courses!
Surf & Turf from the Gulfstream Cafe in Garden City
Salt Marsh Kayaking with Blackriver Outdoors
Soft Serve on the Boardwalk
Hudson's Surfside Flea Market
See Utan at Alligator Adventure - 20-foot crocodile!
Fried pickles from Wicked Tuna
Alligator feeding shows at Alligator Adventures
Hopsewee Plantation
Christmas Ornaments from Conway Glass
Shelling at Myrtle Beach State Park
Sunsets!
The Bowery — Where the band ALABAMA got their start!
Hush Puppies at Sea Captain's House
See Goat Island on Marshwalk
Brookgreen Gardens - Tickets are valid for seven consecutive days.
Buy a hammock at Pawley's Island Hammock Shops
Hot dog at Sam's Corner in Garden City
Pirate Voyage Dinner Show
Ultimate Gullah — Learn about Gullah heritage & pick up some spices!
Eat Chicken Bog
L.W. Paul Living History Farm
Hog Heaven BBQ Shack on SC BBQ Trail — recommended by Bog-Off champion Brian Hopkins.
$20 Helicopter rides
La Belle Amie Vineyard
Live music at Bubba Love Shak
T.I.G.E.R.S. Preservation Station - Wildlife exhibit & living tiger museum.
Miniature golf capital of the world — over 50 courses!
Broadway at the Beach
Hot Dog at Peach's Corner - a Myrtle Beach landmark for almost a century.
SkyWheel on the Strand
Ripley's Aquarium
Crabbing At Myrtle Beach State Park, Myrtle Beach
The Children's Museum of South Carolina, Myrtle Beach
Hush Puppies at Sea Captain's House
Salt Water Taffy from Wee-R-Sweetz
Hollywood Wax Museum
Monte Crisco & Yam Chips at Rivertown Bistro
Palmetto Moonshine
Shagging at Fat Harold's Beach Club
The Sling Shot on Ocean Boulevard
WonderWorks
Medieval Times Dinner & Tournament
See the Aquarium from "TANKED" at Horry County Museum
New South Brewing
24-hour Fishing on the Pier at Garden City
Barefoot Princess Riverboat Cruise
Master's National Tournament ProMiniGolf Championship
Have you been to Myrtle Beach, South Carolina?
Special thanks to Visit Myrtle Beach for hosting my visit. All opinions are my own.