My BFF Jenn (AKA The Rebel Chick) and I recently jetted off to Dusseldorf, Germany to celebrate Karnival. The yearly event is similar to Mardi Gras, except everyone, and I mean EVERYONE, dresses up in costumes. There's food, floats, music, candy and plenty of alcohol.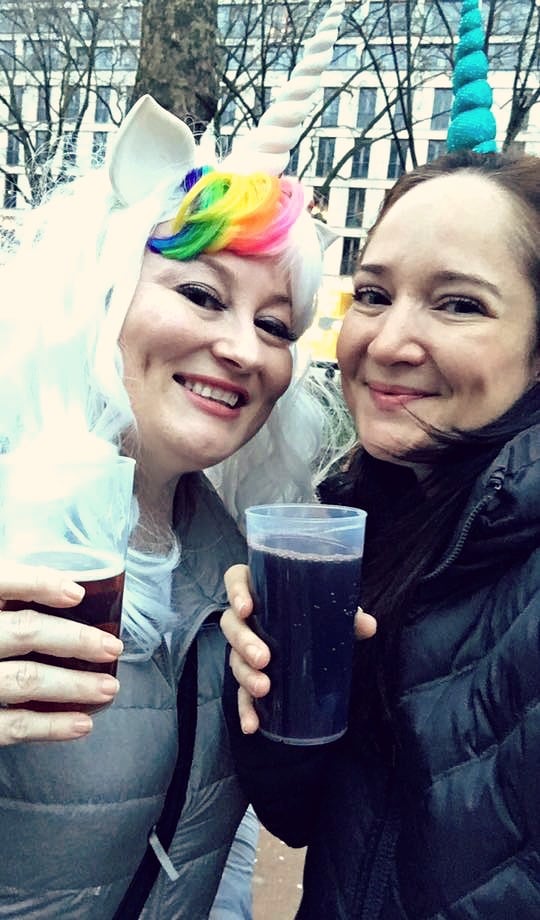 This post is brought to you by B4. This content is for adults 21+. All opinions are my own.
It's not often that I get to go on a girlfriend getaway without my husband or daughter, so I decided that I was going to make the most of my time away. With that being said, I enjoy imbibing on cocktails and other specialty beverages when I'm out of town, but I don't handle alcohol like I did in my twenties.
Back in the day I could drink like a fish and wake up the next morning like nothing happened. Now, three drinks is my limit and half the time I wake up the next morning feeling like a truck ran over me. Not fun at all— plus, being hungover makes me feel super old.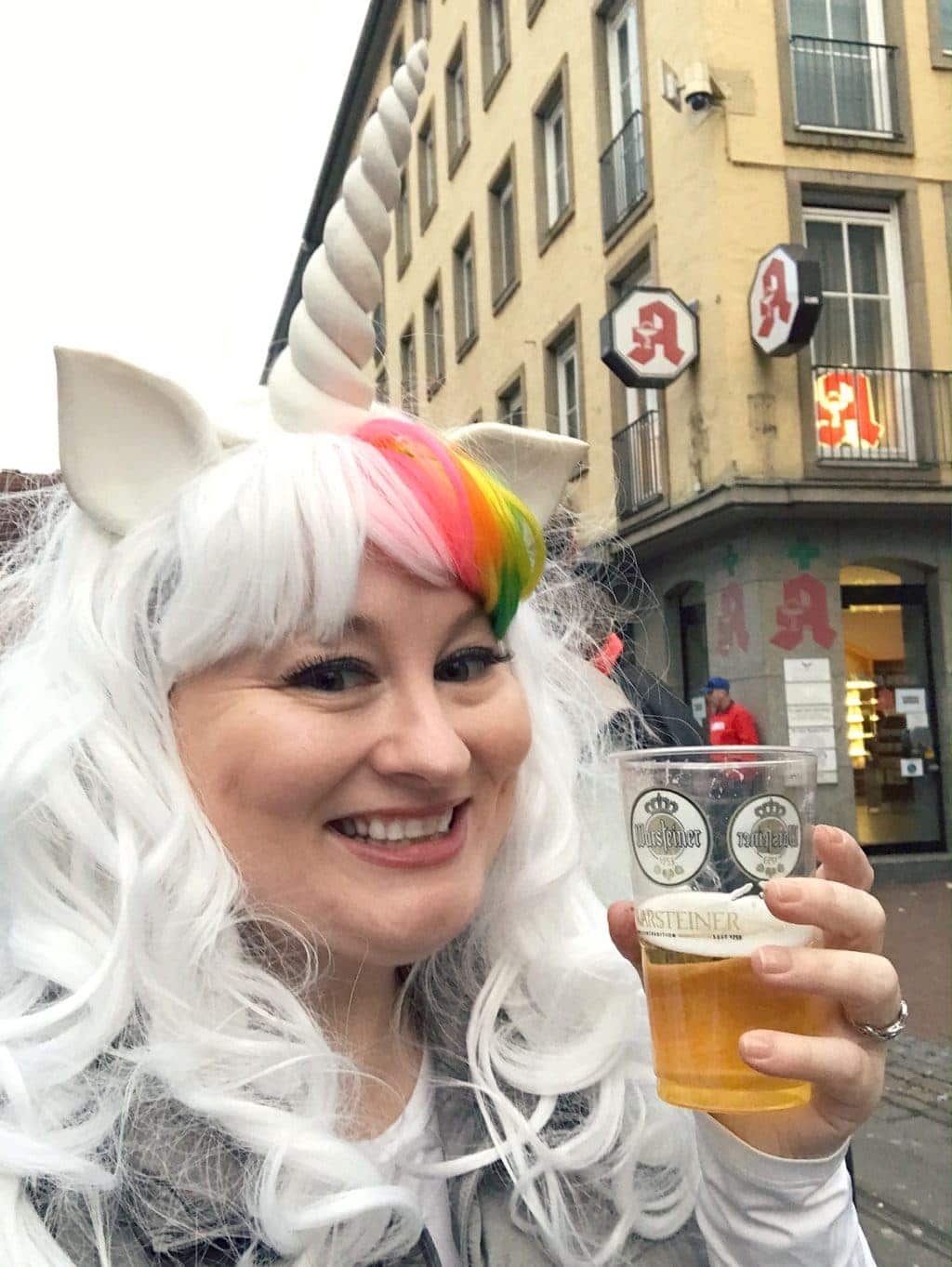 Knowing how my body reacts these days, I thought I'd be proactive during my time in Germany and brought along a few cans of B4 to try out. B4 is a non-caffeinated, lightly carbonated beverage that helps shield your body against the aftereffects caused by having that extra glass of wine, double vodka cran, or Sunday-funday pints. You drink it BEFORE you drink, so you can have a better morning tomorrow.

How B4 Works
B4 was specifically designed to prevent post-drinking symptoms before they happen. By drinking a can of B4 shortly before your night begins, you're fortifying your body with the electrolytes, amino acids, vitamins, plant extracts, antioxidants and minerals to protect against alcohol's crash course through your system. Filled to the brim with an army of B Vitamins, glutathione and milk thistle, you'll also have the metabolic energy to enjoy the night just as much as the morning after.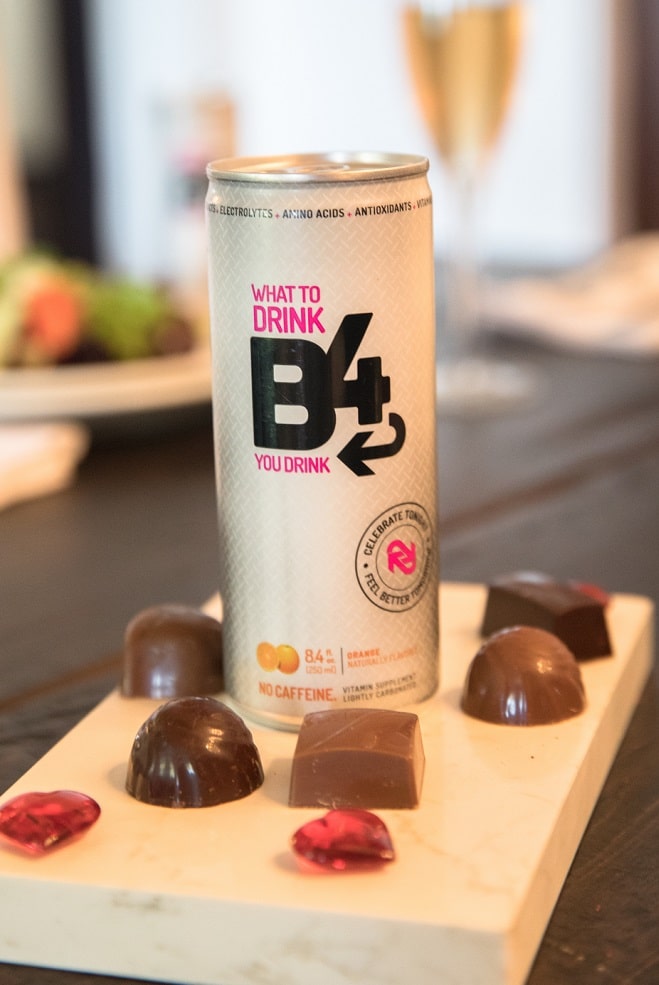 B4 Drink Review
What I like about B4 is that it is not a caffeine or "energy" drink. The beverage was developed by a pharmacist, and a veteran in the wine and spirits industry. The result is a natural boost of vitamins, minerals and nutrients that helps your break down the toxins created from alcohol consumption. I drank B4 about an hour before I started to drink and woke up each morning refreshed, as if I didn't drink at all. I should add that I didn't drink in excess at any point, but I do believe that B4 made me feel better than I normally would after a night out.
If you have a girlfriend getaway, mom's night out or even a date night planned, consider drinking B4 to help you feel better tomorrow. You'll never regret it!
You can find B4 online and at ABC Fine Wine & Spirits — Check out www.drinkb4.com to learn more.
Drink responsibly - Never drink and drive.
Enter to Win B4!
One lucky Mommy Musings reader will win 4 cans of B4 — a $20 value!
To enter, fill out the form below. Giveaway ends 3/18/17 at 11:59pm.