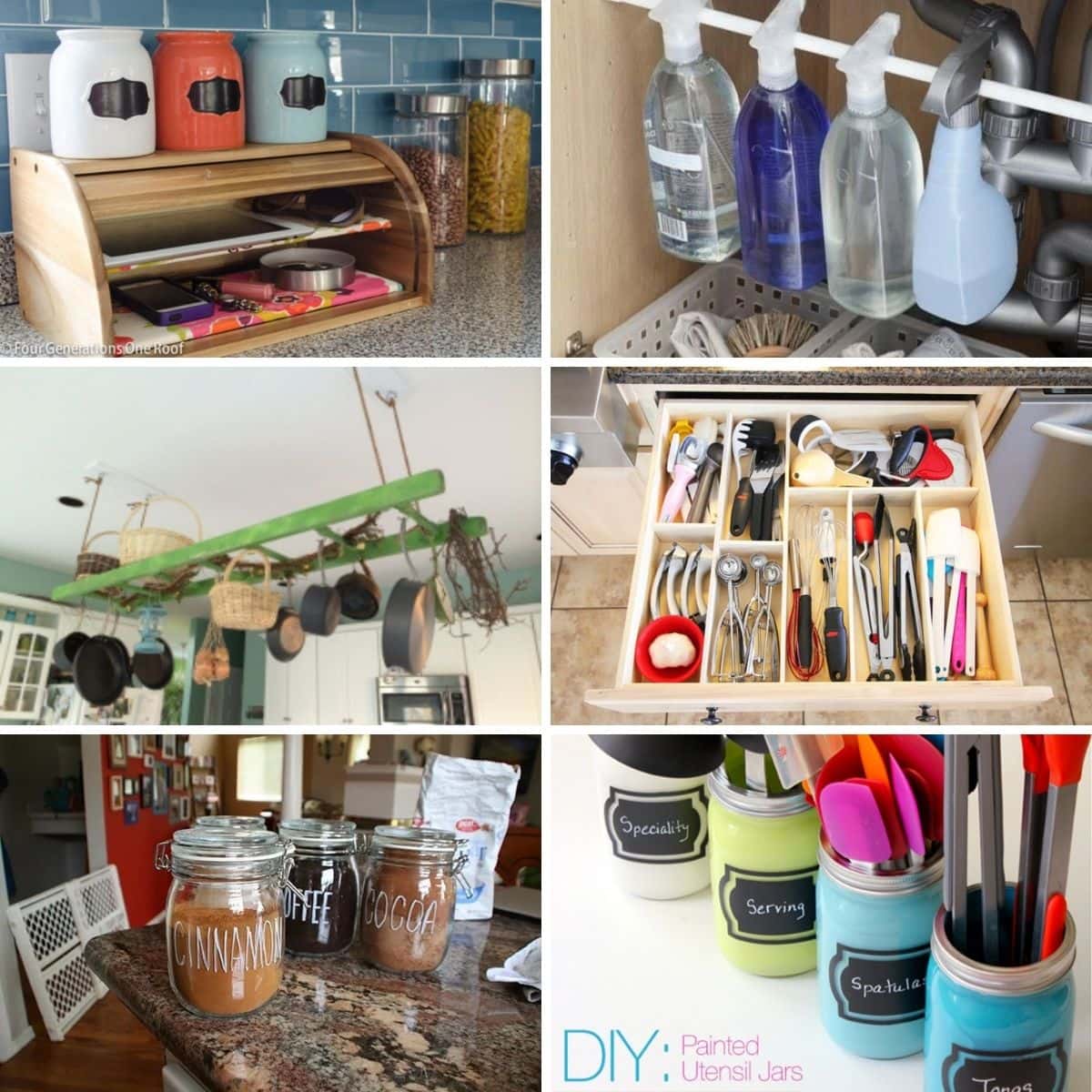 Organizing my kitchen is a constant exercise; like Jenga but with spatulas. I love cooking and spending time in the space, but I am forever trying to decide on the best way to fit my growing collection of baking trays and measuring jugs and different spices into the same size cupboards. Thankfully, I'm not alone: the internet is full of lovely people who have come up with ingenious ways to extend the storage space in your kitchen and to make it easier to find everything.
We've gathered together the best storage solutions, pantry systems, and ideas for finding space you didn't know you had. Read on for 40 ways that you can make your kitchen more user friendly, leaving you more time for baking cookies and polishing up your recipe for salmon en route.
DIY Painted Utensil Jars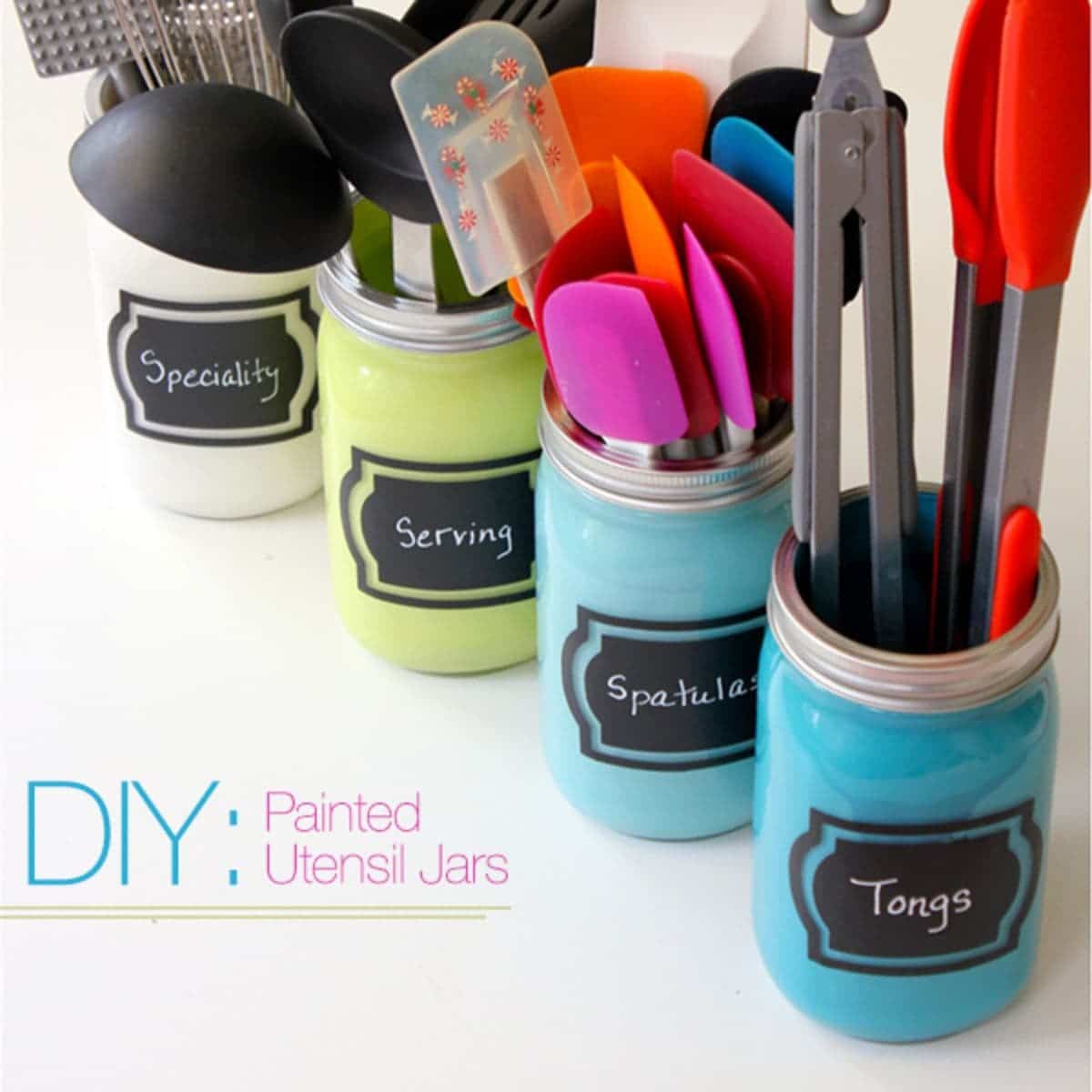 These stylish painted mason jars are a great way of clearing up space in that kitchen drawer you have that's impossible to find anything in. Bring them out onto the countertop and label them to make sure you know exactly where everything goes. For Rent will show you how.
Pantry Makeover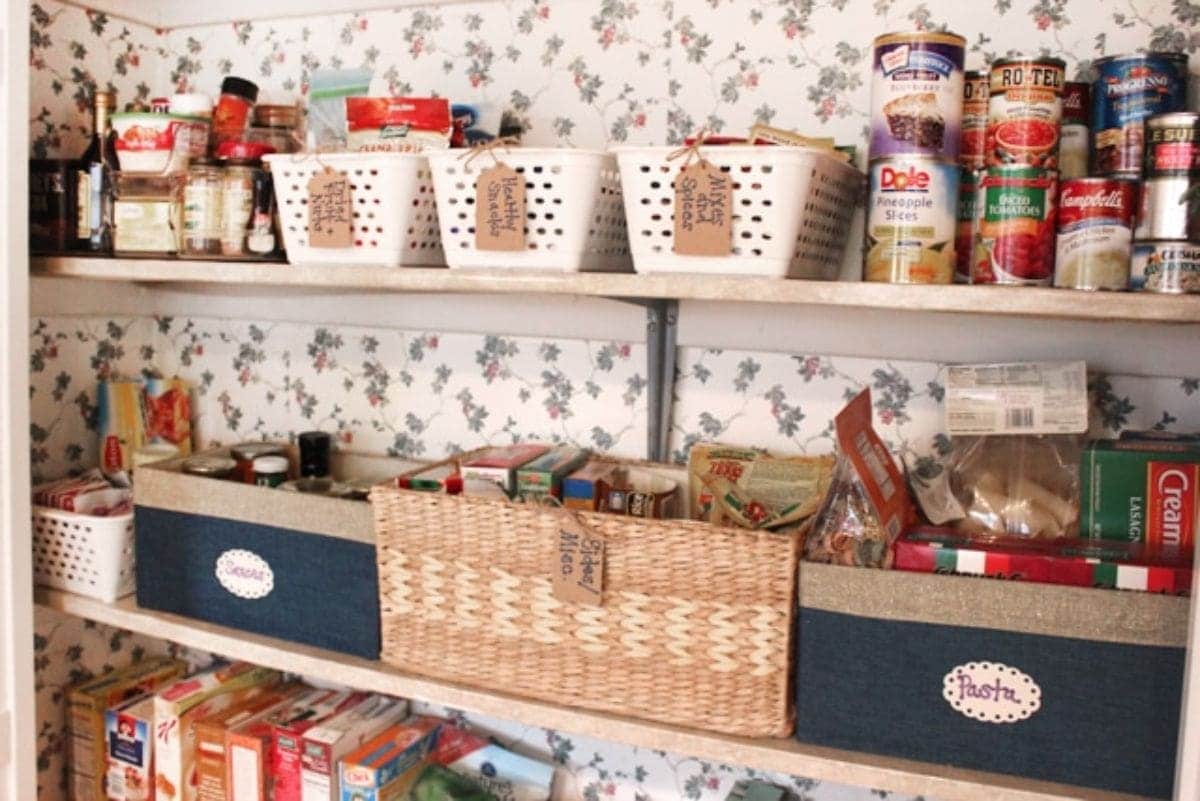 The pantry is one of the hardest places in your kitchen to keep clean and organized. It's full of so many bits and pieces that it can be impossible to see what you actually have. Enter How to Nest for Less with their excellent pantry makeover ideas. Gorgeous baskets and parcel labels aplenty.
Pantry organizer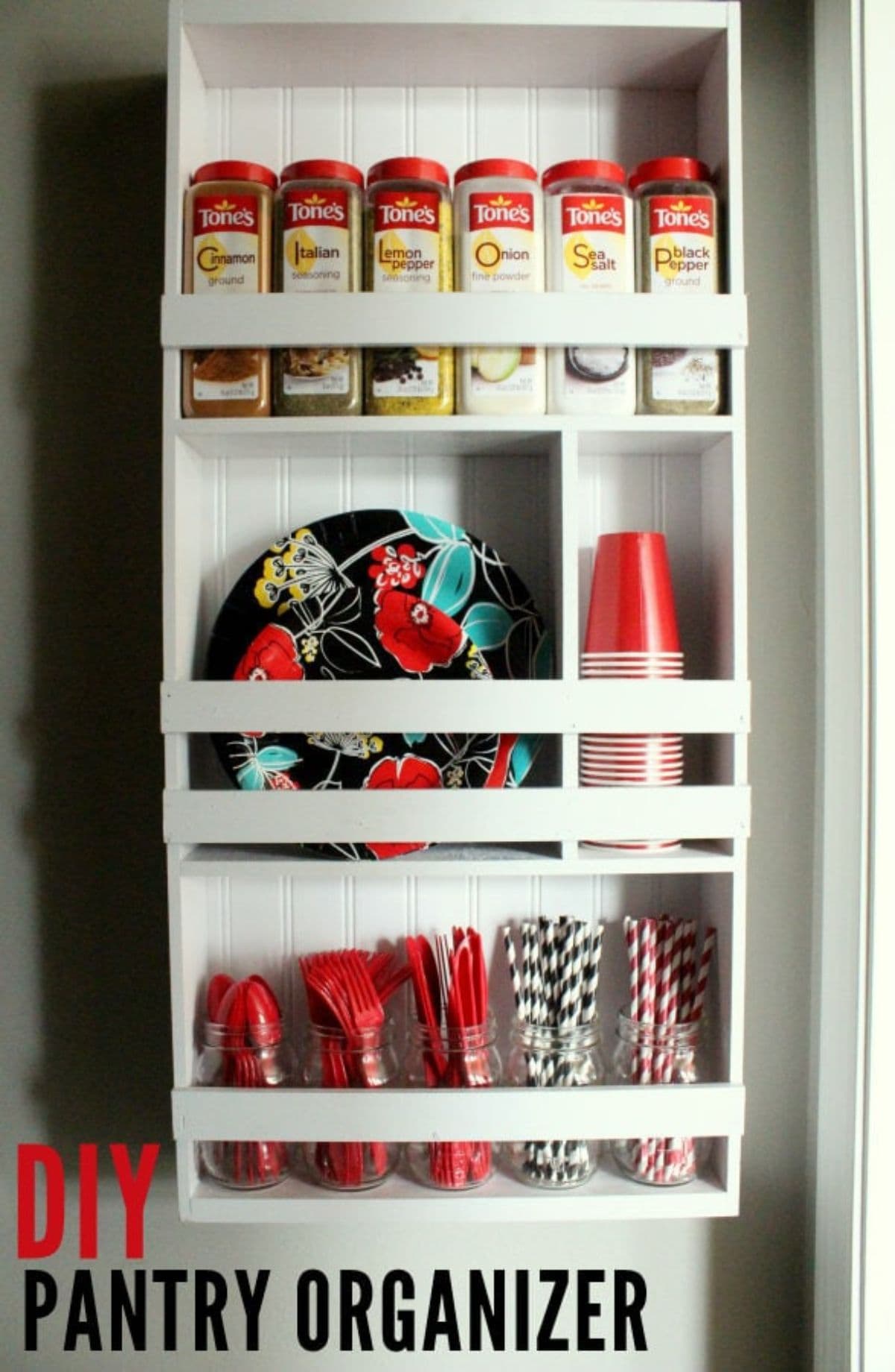 This DIY pantry organizer from Let's DIY It All gives you extra storage where you need it most. You can pop all the smaller bits and pieces in these sections and they'll never get lost again.
Magnetic Dollar Store Spice Rack
When you bulk buy your spices, as I like to do, you get a much better deal, but you still need somewhere to store them. This clever idea from A Cultivated Nest, uses magnetic paint and dollar tree containers, giving you easy-to-grab spices for every meal.
Pantry dry goods jars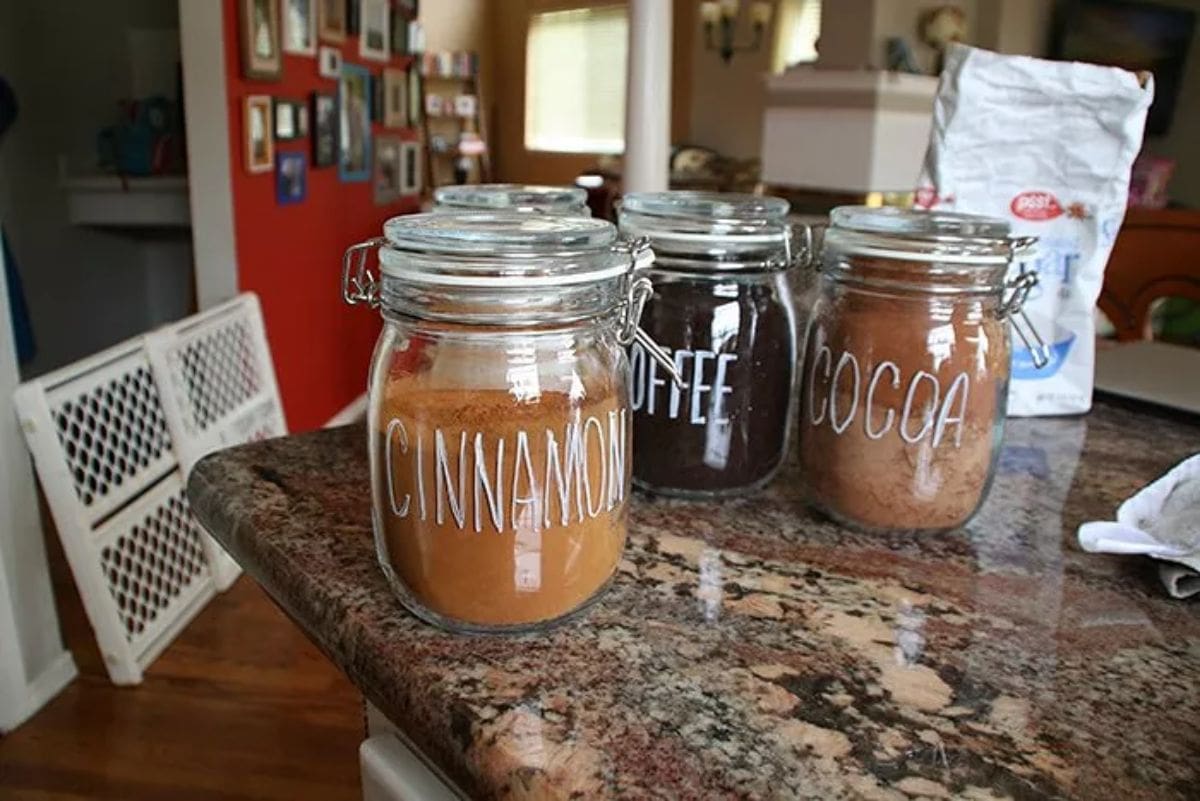 Home Talk got fed up with having all their dry goods in different shaped Tupperware, bags, and boxes. They wanted an organized way of keeping it all together, whilst making sure their kitchen looked cool. This is their solution, and they can show you how to do it too.
Measuring station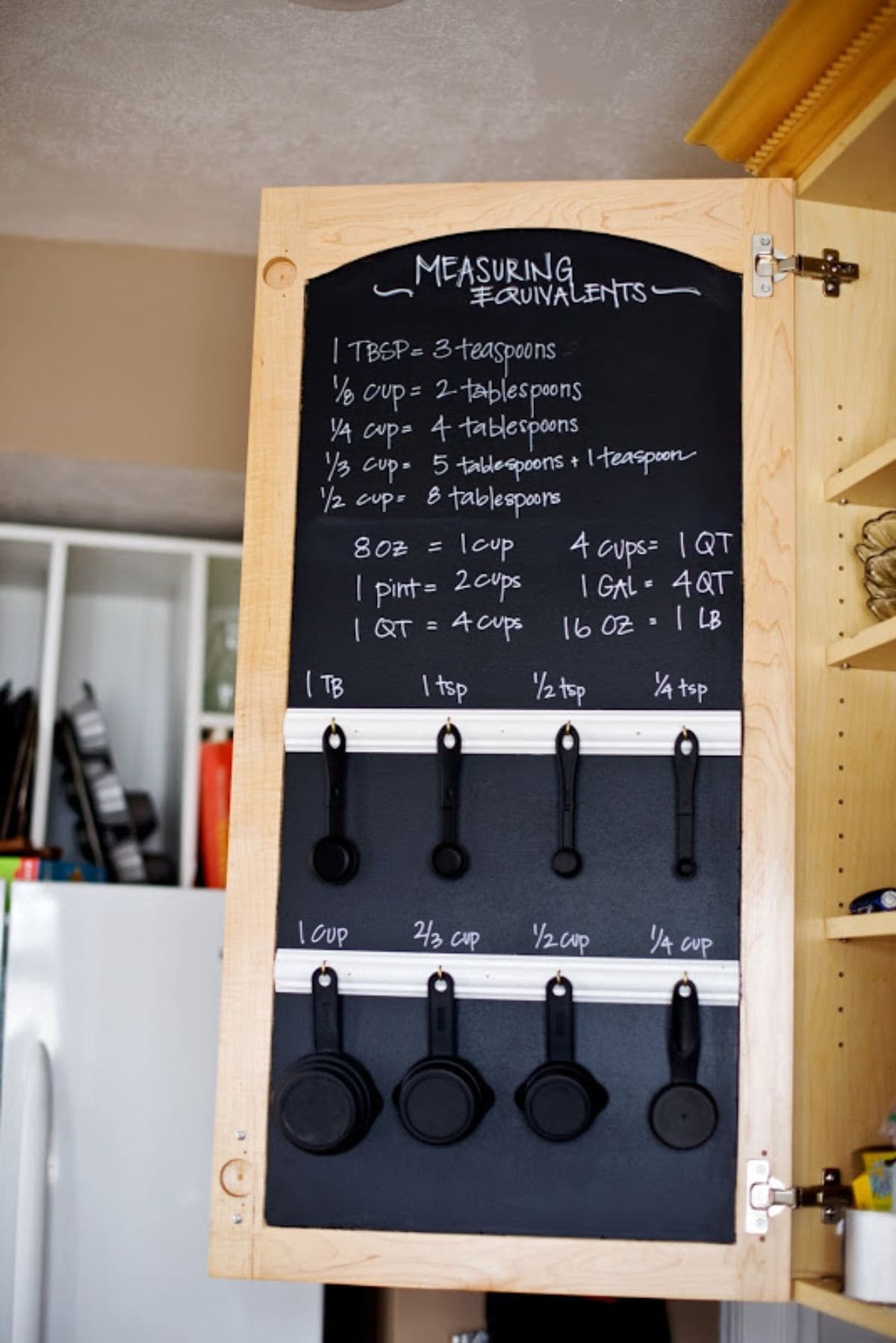 Just so you all know, I'm completely stealing this idea for my pantry door: it's genius. I'm constantly having to look up measuring equivalents when I cook from different recipes. Tidbits from the Tremayne's have found my ideal kitchen hack.
Kitchen Drawer Organizer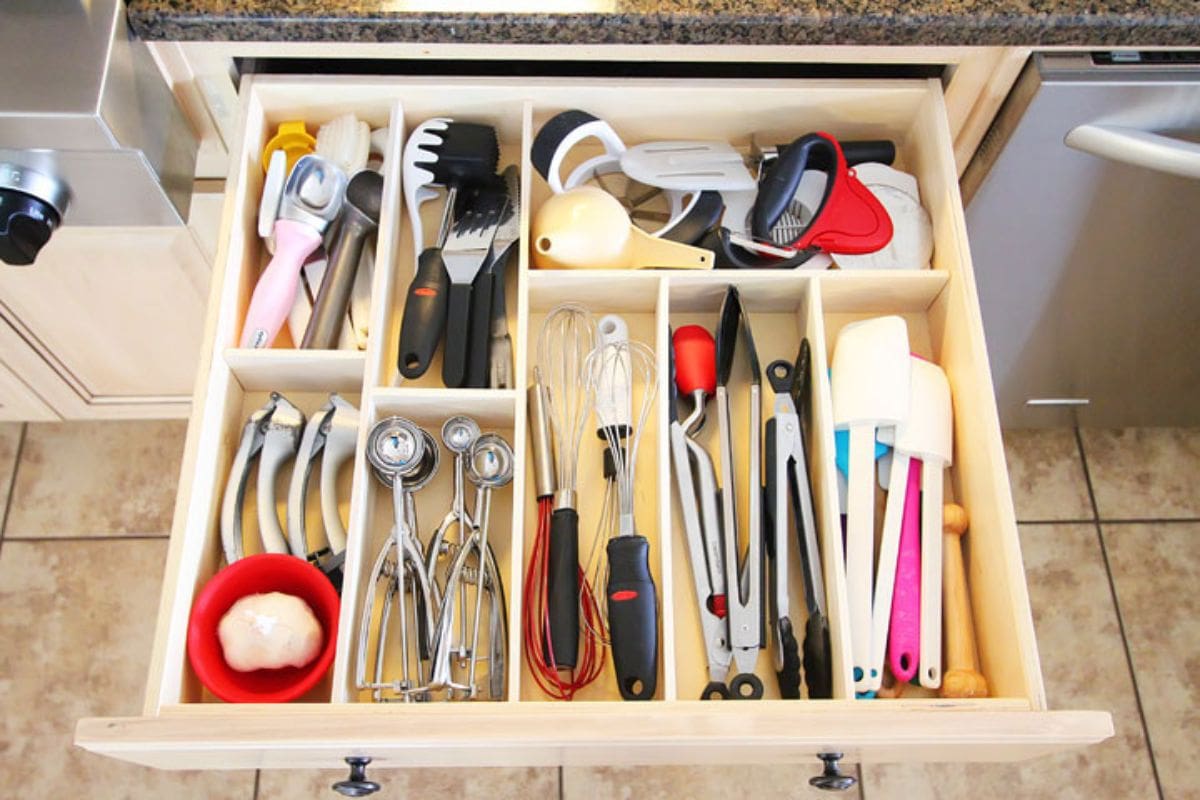 What I love about these drawer organizers from Kevin and Amanda, is that they're easily removable. You can take them out when you need to clean the drawer, or if you want to move things around in your kitchen. Clever and good looking: the perfect combination.
Hanging Ladder Pot Rack
Sometimes, no matter how hard you try, you run out of room in the cupboards. But don't worry, you don't have to send your favorite pots and pans to Goodwill. Fab from Drab has a tutorial to help you turn a boring old ladder into stylish hanging storage for all your cookware, that you can customize to fit your kitchen decor.
IKEA Magazine rack hack

Amongst her list of very useful IKEA hacks, Apartment Apothecary has discovered the best use for those upright box files you can pick up for cents. Screw them to the inside of your cabinet door, and use them to store all those long packets of baking parchment or saran wrap that always fall out of the cupboard.
Drawer charging station

This idea from Houz.com looks super stylish, you can find out how to make one similar on the DIY Creators' youtube channel. No more wires hanging around on every surface for the cat, or children to grab at.
Pet food storage

If you've got several fluffy house residents, then you might have a cupboard full of overflowing food bags. This clever hack from Big Chill is an easy way to make sure each of your fur babies gets the right food, and that you can keep it all neat and tidy.
Utensil drawings

This idea from Houseful of Handmade is genius if you have more than one person putting things away in your kitchen. This was you can make sure that the right utensils always end up in the right space, whether it's your 4-year-old helping or your husband!
Pegboard drawer organizer

We're all over the drawer organization at the moment, because - let's face it - rifling through a messy drawer to find what you need is an annoying waste of time. From House to Home show you how to use a pegboard and dwelling to sort your smaller baking implements. You'll never be more than 5 minutes from making cookies again.
Spice drawer insert

Ana White has your spice storage problems solved with this, easily adaptable, spice drawer insert. You can customize it to fit any drawer, and keep all your little bottles in one place, easy to get to while you're cooking up a storm.
Magazine rack storage

Over at Cookies, Crafts, and Chaos, the solution to how to store your muffin trays and add to the country cottage feel of your home has been found. Using this shabby chic restoration method, this magazine rack has been perfectly repurposed.
Bottle hanging rack

This great idea from Life Hack is so simple. You only need a tension rod and some space under your sink. You can hang all of the cleaning spray bottles, keeping them out of the way and doubling the amount of storage you have in the cabinet.
Command Center

More and more busy families are opting for command centers in their kitchens or hallways to organize classes, extra-curricular activities, and all the paperwork that comes with adulting. These ideas from Better Homes and Gardens will make sure you're never the mom that forgets soccer practice!
Matching pantry canisters

Another great how-to for the perfectly organized pantry of your dreams. Domestic Imperfection shows you the way to these lust-worthy shelves. So, if you're tired of mismatched and messy bags of flour all over your pantry, then this blog post is definitely for you.
Canned Food Organizer

Often the best way of increasing the amount of storage you have in your kitchen is to find space that you didn't even know you had. This tutorial over at Classy Clutter shows you how to turn even the slimmest space into the perfect storage area for your cans.
Tupperware storage

Ah, Tupperware, the bane of every homeowner's life. Looking for somewhere to store some leftovers and never able to find the right lid for the right pot? Yup, me too. Home Talk obviously has the same problem, but thankfully she's come up with a great idea for helping us all out. Wondering what to do with your old plastic drying rack? Wonder no more!
End of cabinet shelves

This is a great idea from My Perfect Nest to gather up all those odds and ends that you find laying around your kitchen surfaces. With this tutorial you can keep them all in cute little wicker baskets, cleaning up the look of your room immediately.
Wall hanger

Ich Designer has come up with a genius repurposing of a slatted IKEA headboard. I don't actually think that these kinds of headboards are comfortable to put behind beds, but they're perfect for this kind of thing. Using the slats to put hooks on you can create the perfect command center or organization station for your kitchen wall.
DIY Kitchen Island

If you have enough floor space in your kitchen, but you're struggling for cupboard space or surfaces to work on, then creating your own kitchen island may be the perfect solution. In another great IKEA hack, Kreating Homes as put together a tutorial for your very own island made from Kallax units. Easy as pie, and then you can bake some pie on it!
DIY Produce stand

The unused space on the end of your cabinets can often be the perfect solution to your extra storage needs. Over the Big Moon can teach you how to make this cute little produce stand from scratch, and you'll always have somewhere to put your bananas.
Hanging fruit basket

With some rope, a drill, and some cute wooden bowls from Target to make another option for fruit storage. Always Rooney will take you through the process step-by-step, and you can even add some cool-looking plants to the top layer to keep it all looking beautiful.
Sliding shelves

If it's not storage, but rather getting to the back of your cupboards that's the problem, then you need this DIY project from The Navage Patch. You can adapt almost any cabinet to give you easy access to all your pots and pans. You'll never lose lids down the back again!
Kitchen platter rack

Have you got a shelf (or even just a pile on your countertop) of platters and plates which, although gorgeous, just won't fit into any of your cupboards? Then How to Nest for Less has the solution. These platter racks are the perfect way to utilize wall space and display your pieces, and they're really easy to make.
Bread bin storage

Bread bins are good for bread, but there are loads of different ways you can repurpose the humble bread bin. For example, this tutorial from Four Generations One Roof will help you create a charging station that fits in with the rest of your kitchen decor, rather than stands out like a sore thumb.
Condiment holder

If you're bored of spending 10 minutes trying to get the last bit of mustard out of your squeezy bottle, then this brilliant hack will help you out. Watch the video tutorial here and never struggle for ketchup again.
"Eat now" box

I don't know about you, but I'll often find myself getting to the end of the week and throwing out bags of salad or withered carrots that I'd forgotten about. If I'd found them earlier then I could have eaten them up, but now it's far too late. I hate food waste, and so something like this tip from In Habitat is right up my street. You can make an "eat me first" box where you put all the bits and pieces that need finishing., before they have to be thrown away.
Lazy Susan storage

As part of their wonderful article on how to organize your fridge perfectly, the lovely ladies at Lady Decluttered introduce us to the idea of the lazy Susan as your favorite fridge companion. I love these little gadgets in corner cupboards, but they work great in a fridge too, making everything much more accessible.
Wine glass rack

These days everyone who loves entertaining has a bar area somewhere in their house, but even without that if you ever have company then you need somewhere to keep your wine glasses. With cupboard space at a premium, this DIY wine rack from Crafted by the Hunts is perfect. Less time to find glasses, more time to enjoy the drinks.
Under sink storage

With a whole bunch of brilliant ideas in their blog article, A Bowl Full of Lemons can help you turn your under the sink cupboard from a cluttered nightmare, to an organized haven of cleanliness. Wire baskets, command hooks, and mini shelves feature heavily and to great effect.
Pantry between the studs

This is another great way of using space that you didn't think you had. Live from Julie's House takes you through uncovering the space between your wall studs to make additional shelf storage in your kitchen. It's easy to follow and the end result looks great.
Cutting Board Storage

That's what Che Said has taken the idea of using our cupboard door as extra storage and discovered it's the perfect way to store your cutting boards. And she's right - it looks really neat and clever. You can find out how here.
Magnetic knife block

Knife blocks can look really clunky and take up loads of space on your countertop. Home Edit has an easy DIY tutorial for your very own magnetic knife strip, that can sit on the wall above the fray. It will clear up much-needed space, and also help you pretend you're a professional chef!
Etsy: Plastic storage boxes

One of the most important components to being organized is knowing where everything is, and that's so much easier when it's all labeled. You can get these labeled storage containers over on Etsy from BeeandMeGifts, and spend time sorting everything into nice neat piles.
Etsy: Lockable personalized containers

If you need labeled receptacles for things that need to be kept safe then these are great. No-one wants their kids getting into the washing liquid pods, and you might not want them getting into the biscuits either. So these tubs from BelleBespokeUK mean you can rest safely knowing that no-one is sneaking one too many cookies.
Etsy: Counter Caddies

This is another excellent way to increase the amount of space on your countertops, these corner shelves are great for coffee cups or spice jars. If you decide to use them as a place to display your cocktail-making ingredients, then LogoBarProducts will even make you a cutting board to fit in front.
Etsy: Kitchen cart

If you're looking for something professional that fits in under your counter but that you can wheel around to wherever it's needed then this is for you. The kitchen trolley from HomeSupplyGB has 3 gorgeous wooden shelves and will fit all of your paraphernalia neatly.