This post is brought to you by Global Influence for Master Lock. All opinions are my own.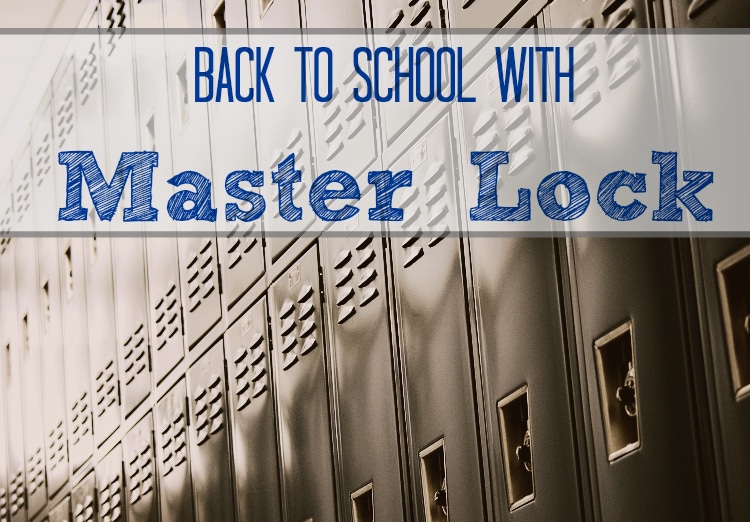 I distinctly remember how excited I was to start high school because it was the first time I was going to get a locker. I grew up watching Saved By the Bell, so that vision of hanging around the lockers in between classes was the coolest thing ever. As you probably know, reality was far from my favorite TV show.
Back then, the only locks available for purchase were the standard dial combination padlocks. If for some reason you forgot your number, your options for opening it were limited to either finding a really skilled lock picker or by getting the school involved. Neither was particularly appealing.
I've been reminded of how limited our security options were back then as I have been taking my own daughter back to school shopping. She's not quite old enough for lockers and locks yet, but I have taken notice of what's available for middle and high schoolers today — and let me tell you, there are some AWESOME padlocks and security products from Master Lock!
Did you know? Nearly half of North American parents admitted that their child has had an item stolen from them at school, with the most valuable being their cell phone.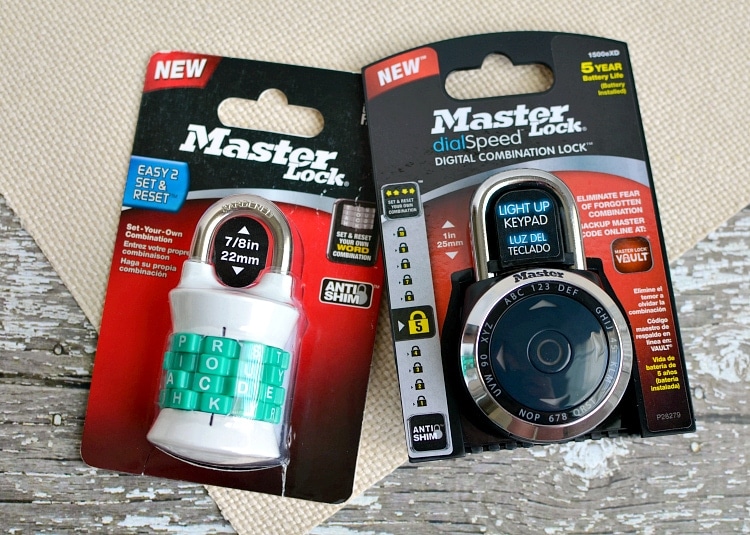 I was able to get my hands on two new products from Master Lock: the Set-Your-Own Combination Lock and the dialSpeed Digital Combination Lock. Both locks are light-years ahead of the standard padlock. For the Set-Your-Own Combination Lock, students can personalize their combo with an easy to remember 4 letter word of their choice. The dialSpeed Combination Lock stores the master combination online, so there's no need to worry about forgetting the code — it also lights up!
Here's a bit more info on these and some of the other stylish, secure and customizable Master Lock products to make students "back-to-school" savvy and ensure they don't forget their combination.
1500eDBX dialSpeed Digital Combination Lock: Eliminate the fear of the forgotten combination with this high-tech gadget for the digital era. This lock offers ultrafast entry and features an electronic light-up keypad with a unique online Backup Master Code that users can retrieve from masterlockvault.com.  It stores multiple resettable guest codes and sports a sleek, ergonomic design for one-handed, no-look operation to keep lockers stylish and secure. Available in black and white and retails for $15.99.
5900D SafeSpace™ Portable Safe: Keep your things safe while socializing. Stash cash, jewelry, credit cards and more in the SafeSpace for security on-the-go. Features an integrated cable that can be securely anchored to a fixed object or used as a handle for convenient carrying. Available in white, grey and pink and retails for $19.99.
1535D and 1535DWD Set-Your-Own Combination Locks: Students can rock this lock with a custom, personalized combo they won't easily forget. Perfect for students who prefer to create memorable combinations in the form of numbers or a word, initials or a favorite acronym. Select styles are available in black or white with brightly colored dials and retail for $7.99. New this year are white locks featuring bright and trendy turquoise or pink dials inspired by the fall 2014 PANTONE® Fashion Color Report.
1500iD Speed Dial™ Set-Your-Own Combination Lock: Your student's locker never looked this good. Up, down, left, right – help them remember their combo without a fight. New this year: a stylish metallic purple design.
5900D SafeSpace™ Laptop Computer Lock: Delivering peace-of-mind for college bound students, the SafeSpace allows you to walk away from your laptop without your laptop "walking away" from you.
Master Lock Vault: Securely store your private data in the cloud  for easy access anytime, anywhere with this digital safe deposit box.
Master Lock Photo Hunt Challenge
Master Lock is dialing up back-to-school fun for students and parents with an interactive online game, "Master Lock Photo Hunt Challenge." The game offers players a chance to view the many products Master Lock offers to keep students' belongs safe at school while getting a chance to win fun Master Lock products and other cool prizes, including daily instant win prizes, weekly prizes and one grand prize: a Samsung Smart Media Center Package that includes a 60" HD 1080p Smart LED HDTV.
You can play online from now through September 7 at www.MasterLockPhotoHunt.com.
Master Lock Twitter Party
Join @ResourcefulMom on August 5 at 8 PM EST for the Master Lock Twitter Party! Simply RSVP at resourcefulmommy.com/14120/master-lock-back-to-school-twitter-party and use the hashtag #MasterBackToSchool during the party to be eligible to win an iPad Mini or one of ten back to school prize packs!
What Master Lock products could your kid(s) use for back to school?