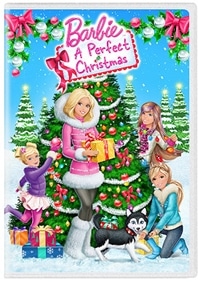 My daughter has been a fan of Barbie since she was three years old. Before she ever really started playing with the dolls, it was the Barbie movies that first got her attention. Or I should say, the music in the Barbie movies. Now that she is a little older, she still loves the songs, but she is also into the characters and storyline.
Her new favorite Barbie film is the recently released Barbie: A Perfect Christmas, which follows Barbie and her sisters Skipper, Stacie and Chelsea on their holiday vacation to New York City. Unfortunately, their plane is diverted (thanks to a snowstorm) and they find themselves stranded at a remote inn in the tiny town of Tannenbaum-- far from NYC.  In true Barbie fashion, they make the best of the situation, make some new friends and learn the true meaning of a perfect Christmas.
My daughter absolutely loves the music in this movie and has been playing it over and over since she got it. Part of the appeal, I think, is because it's seasonal and she loves getting into the holiday spirit. Following Barbie and her family as they prepare for Christmas is very relevant to her right now.
I was actually surprised to learn --my daughter told me this-- that this is the first Barbie movie that includes all of Barbie's sisters. I never noticed this, but any Barbie fan should enjoy seeing everyone together...and it only makes sense because this is a holiday movie 🙂
I watched bits and pieces of the movie and I thought it was very cute. I don't mind her watching the Barbie movies alone because there is nothing inappropriate or even questionable for a child in the storyline or dialogue..it's all very wholesome and fun, the way kids' movies are supposed to be.
I think we both agree that Barbie: A Perfect Christmas would make a great gift for any Barbie-loving girl!
BUY IT!
Barbie: A Perfect Christmas DVD can be purchased at all major retailers (ex. Target, Walmart, Best Buy) and online at Amazon.
WIN IT!
One lucky Mommy Musings reader will win their own copy of Barbie: A Perfect Christmas DVD.
To Enter:
Leave a comment telling me who you would give this movie to if you won (required).
Bonus Entries:
1. Subscribe to my feed (1 entry)
2. "Like" Mommy Musing on Facebook (3 entries)
3. Follow me on twitter @MommyMusings (1 entry)
4. Tweet about the contest (just click on the twitter bird below this post- May be done 1x daily)
5. Post contest on facebook (just click on the facebook symbol below this post, 1 entry)
6. Stumble any other post (1 entry per stumble)
7. Blog about the contest, leave comment with a link to your post. (10 extra entries)
8. Add my button (can be found at right —>) to your blog sidebar or blogroll. Leave a comment with your website. You may also add just a text link if you do not want to add the button. (10 extra entries)
Contest ends Wednesday, December 21, 2011. 1 winner will be chosen at random. US only.
**Valid comments will be rescued from SPAM**
This is a sponsored post on behalf of One2One Network. I was provided with the Barbie "A Perfect Christmas" DVD. All opinions are my own.