A sample was provided for review. All opinions are my own.
As my wife can tell you, I love all things Chicago. The sports teams, the people and especially the food... Oh dear Lord do I love the food!!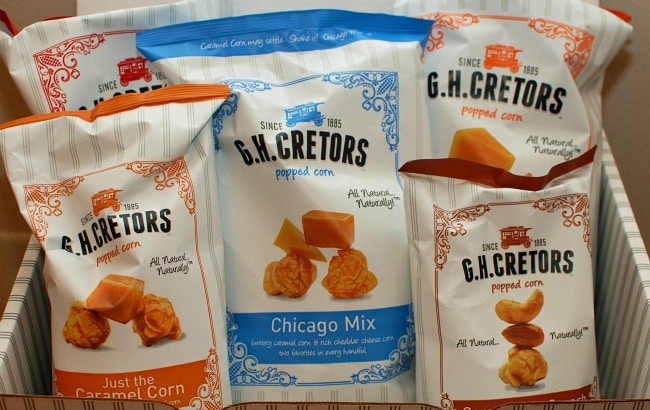 So when I got a chance to try the "Chicago Mix" popcorn from G.H. Cretors, I was all in. Yes, I too was not quite sure what "Chicago Mix" popcorn was, but I'm pretty much game for anything. Have you ever received one of those Christmas tins that has 3 separate compartments of caramel,cheese and butter popcorn. You know how you usually end up grabbing a few kernels of cheese and a few kernels of caramel, trying to create the perfect combination of salty and sweet!? Well the good people at G.H. Cretors have taken care of the problem..."Chicago Mix" is caramel and cheese popcorn combined! Now to be perfectly honest, to mention G.H. Cretors and the "tins" of holiday popcorn in the same breath isn't fair-- G.H. Cretors popcorn is some of the best, freshest tasting popcorn I have ever had! The combo of caramel and cheese is absolutely brilliant!
G.H. Cretors history is pretty cool as well. It is a company owned by Moms. Claire Cretors and her mother Phyllis are running the company that was started by great-great-great Grandpa Cretors in 1885. Guess who Grandpa Cretors was... he's the guy who invented the popcorn machine! Needless to say, these Moms know their popcorn! They also have other flavors such as "Just the Caramel", "Just the Cheese", "Kettle Corn' and "Caramel Nut Crunch".
If you are looking for a great gift for Dad this Father's Day, send him some of the "Chicago Mix" or another one of the great flavors from G.H. Cretors. He'll have a smile on his face long after Father's Day is over and if your lucky he might share some with you...but I wouldn't count on it!
You can purchase some of this great popcorn at www.ghcretors.com, and don't forget to "LIKE"  G.H. Cretors on Facebook.