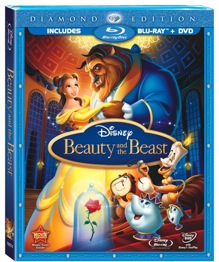 It's here, it's finally here! The day I have been waiting years for! Disney's Beauty and the Beast was re-release today for the first time in 7 years on a DVD/Blu-ray combo pack.
In 2003 (the last time available), I was in college and hadn't yet had my daughter, so buying a copy was not high on my priority list. Beauty and the Beast is possibly my all time favorite animated Disney film. I remember seeing it in the theater when I was 9--in awe of the animation.
I am so happy to experience the film again, this time with my daughter on Blu-ray! We're both excited.
I actually received a copy a few days ago to preview. I am LOVING all the Blu-ray bonus features.
Here a just a few of them:
-All-new Digital Restoration With Enhanced High Definition Picture And Sound
-Three Versions Of The Film
-Original Theatrical Release
-Special Extended Edition
-Original Storyboard Version
-Never-Before-Seen Deleted Scene
-Never-Before-Seen Alternate Opening
-Beyond Beauty: The Untold Stories Behind the Making of the Film
-All-New Music Video "Beauty And The Beast" Performed By Jordin Sparks
-Disney Sing Along Mode
I think the music is what makes Beauty and the Beast so awesome. You can't help but to sing along. My daughter has been dancing and twirling to "Be Our Guest" and "Bonjour" for a week now.. She was already a fan of Belle through our many visits to the Disney Parks, having the movie just brings it all home.
If you child hasn't seen Beauty and the Beast, this is a MUST HAVE PURCHASE. Perfect Christmas present! I suggest buying this movie even if you don't have kids...who know how long until it goes back in the vault!
Beauty and the Beast is available on Blu-ray/DVD combo pack today (Oct.5). On November 23 it will be released on standard DVD.