Kayla Aimee from kaylaaimee.com attended the Decades Of Kissimmee Memories press trip on behalf of Mommy Musings. She is sharing several posts about the attractions she visited as she experienced Kissimmee firsthand. When she's not wrangling gators in Florida, she resides just north in Atlanta, where she writes about faith, family and her tendency to be (only slightly) neurotic.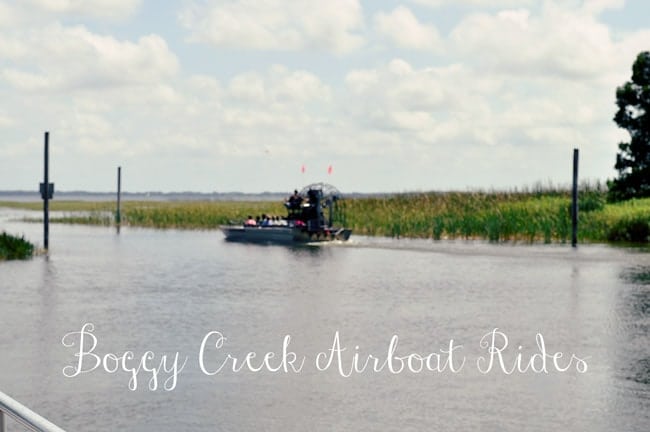 Let's talk about the most important thing here: I held a gator, y'all.
I've wanted to hold an alligator for basically my entire life. Or at least, ever since I started watching Steve Irwin wrangle them on television. He was a good man, Steve Irwin. So basically all of my dreams came true when I found out that part of our trip to Kissimmee, Florida involved going on a Boggy Creek Airboat Ride to see alligators and other native wildlife.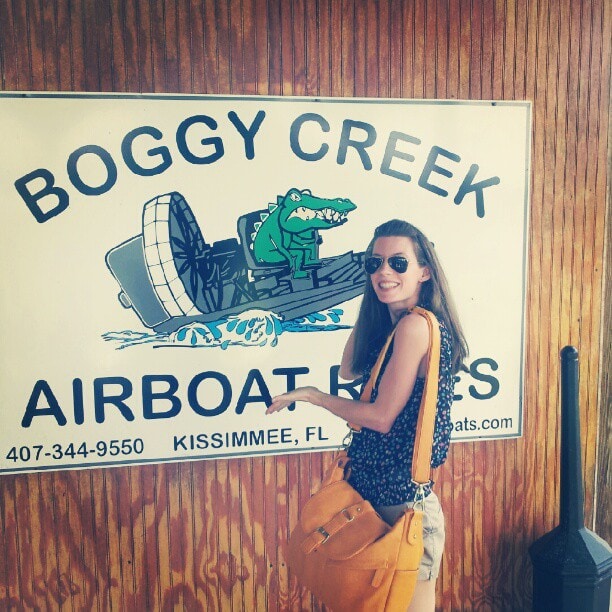 The only slight problem with this plan was that before I could actually hold said alligator, I had to get on a boat. I don't actually like boats (please see: swan boat rides) but how often do you get to see gators? I mean, if you're me and live in the middle of the country. I see a lot of cows and chickens but gators aren't something I come across every day.
So I did it. I got on a boat. A pretty fast, loud boat. They gave me some ear protection gear that looked like a pair of headphones circa 1987. This is what I look like on a boat: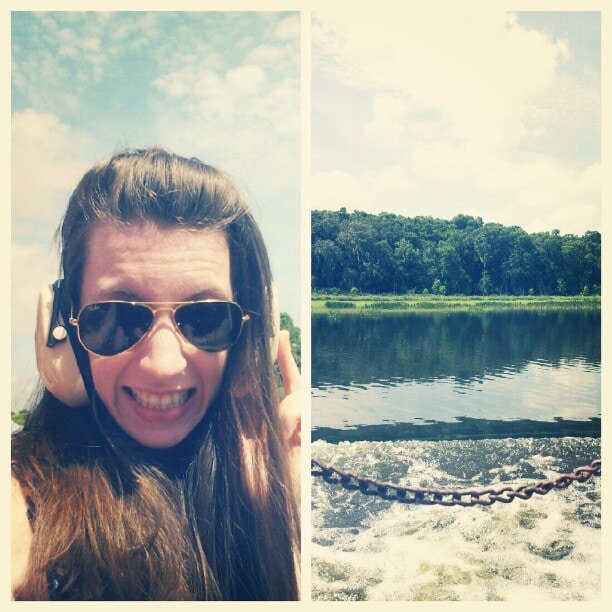 Our boat captain was awesome and he really knew his stuff. He knew just where to find the alligators and maneuvered the boat as close to them as we could get without actually disturbing them.
At first I was all "I don't see any gators so I'll just take pictures of these pretty swamp flowers over by that log"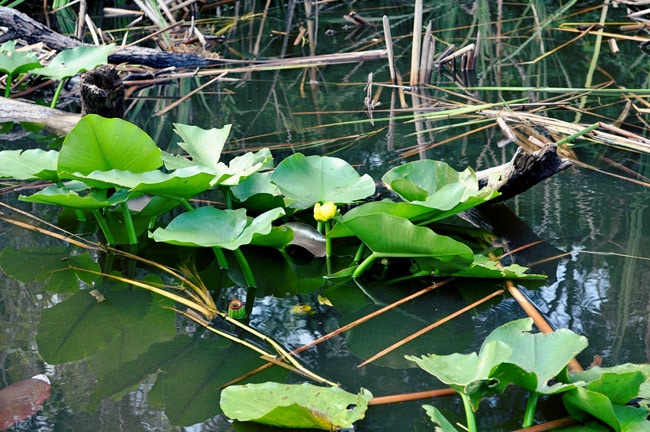 But then they were like "That's not a log! That's a gator!"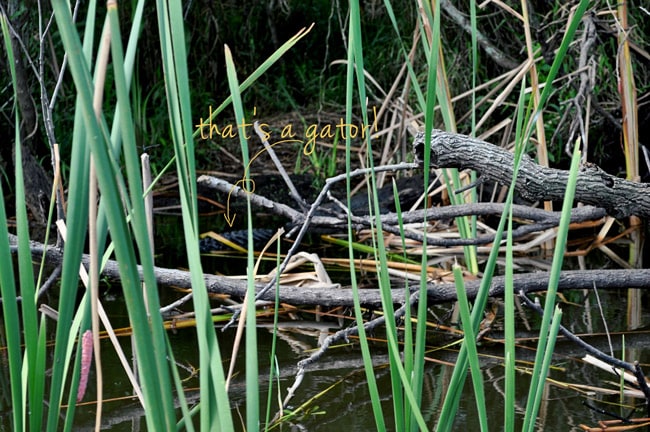 Those things are stealthy, y'all.
Then Mister Boat Captain said "Where there's a mama, there are babies."
And we found these little guys (or girls...I didn't get close enough to find out on account of how mama gator was giving us the eye.)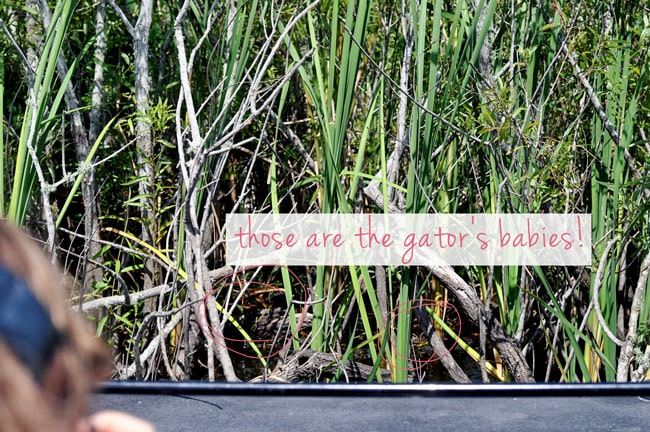 And if you're wondering if it's worth it to spend the money on an airboat ride, well, it is. Because look: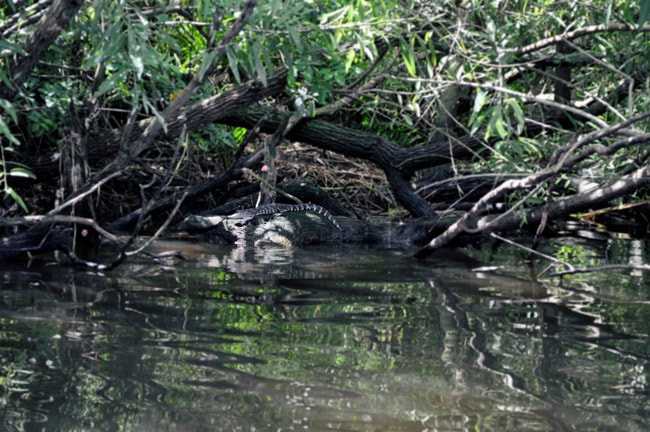 Plus, it's just a really fun ride in addition to seeing all of the cool wildlife.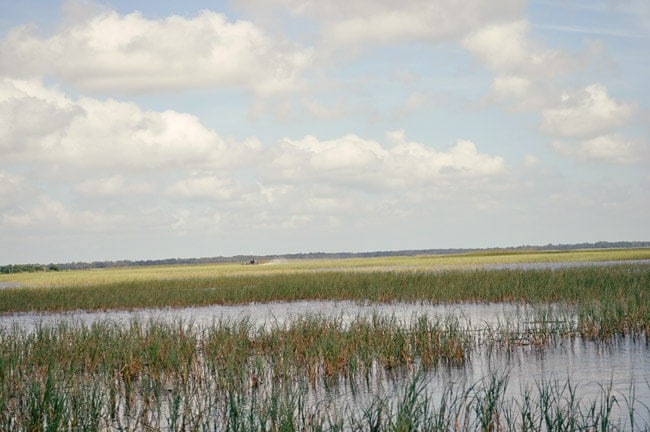 One tip I have is to book your trip early in the day, as in the first boat ride of the morning. Our guide told us that the hotter it gets, the further all the wildlife likes to disappear into the brush to stay cool. We went out at about eleven am and he said they were already starting to retreat so the earlier the better. I was pretty impressed that we were able to see so many alligators even though they weren't out in the open water, he really knew what he was doing.
Funny story: on the way back to the dock we saw this random cow in the middle of the swamp. That made me laugh because, well, that doesn't seem like the smartest place for that cow to be wandering.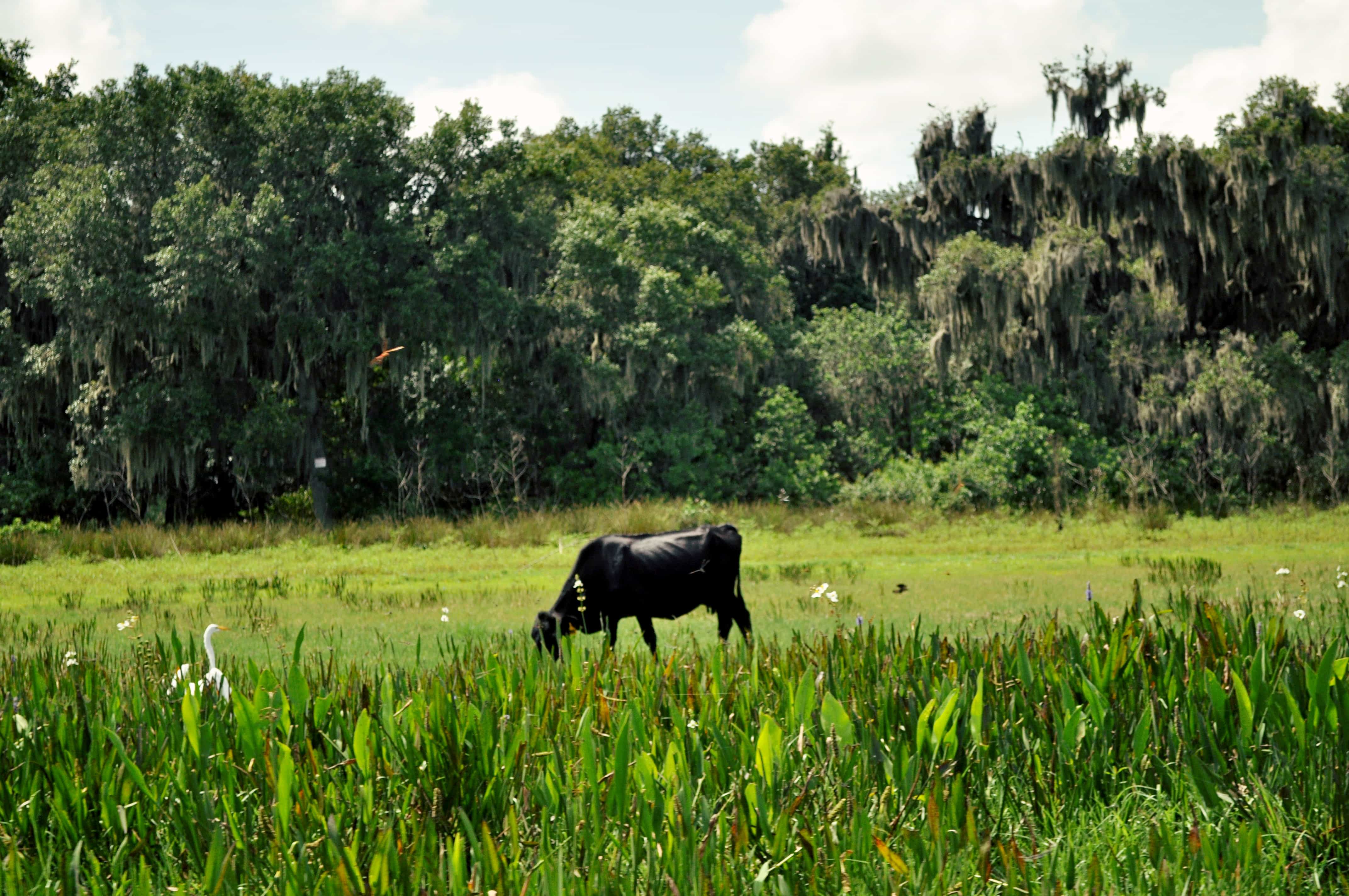 There are picnic tables available to groups who want to bring a lunch and have a demonstration. We enjoyed some barbecue under these trees, which were beautiful and provided some great shade because it was HOT.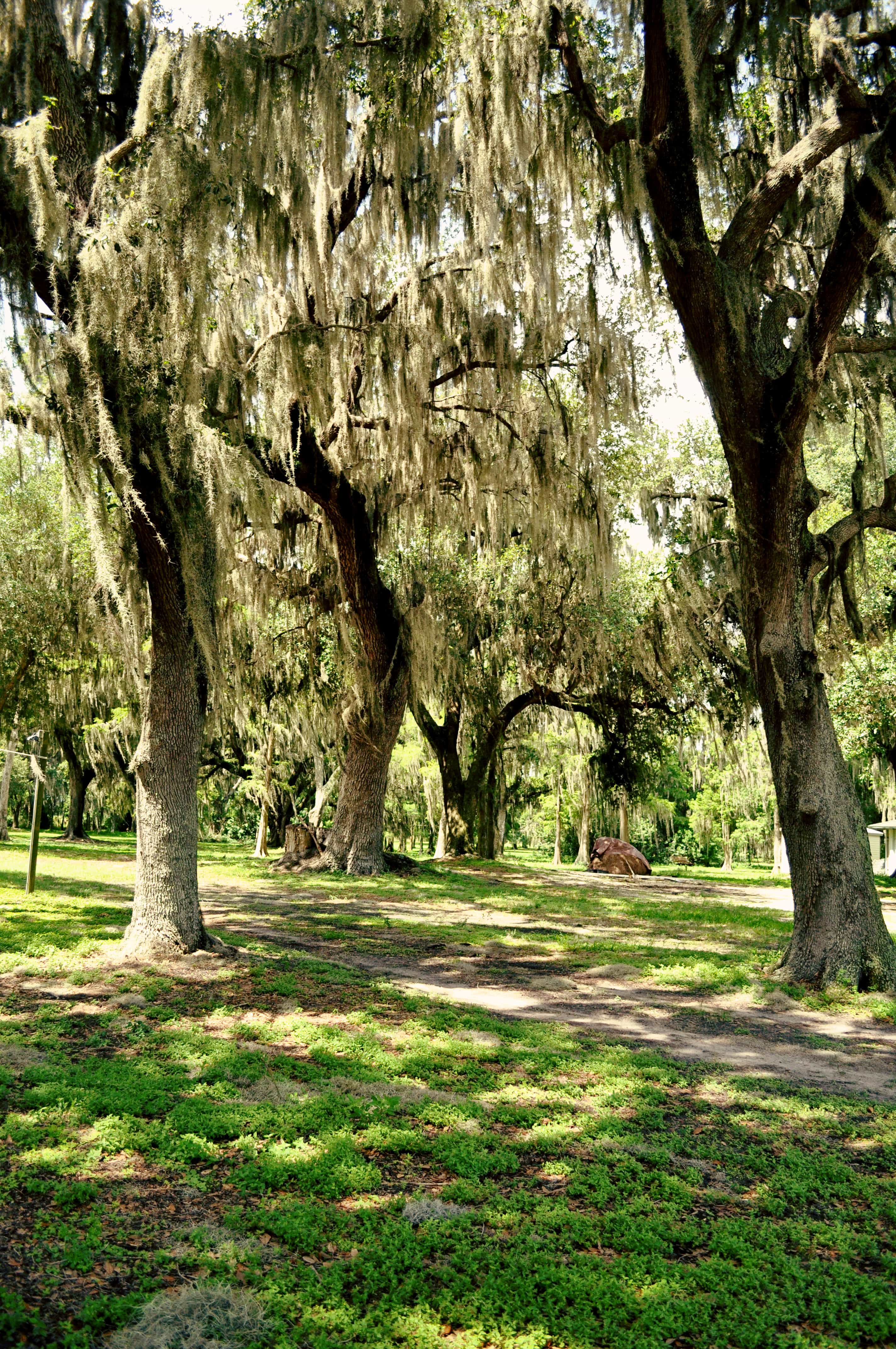 The folks from Boggy Creek Airboats talked a little about what they do and brought out an alligator named Slackjaw for us to hold! Here is when all of my dreams came true and I got to actually hold Slackjaw, the new love of my life: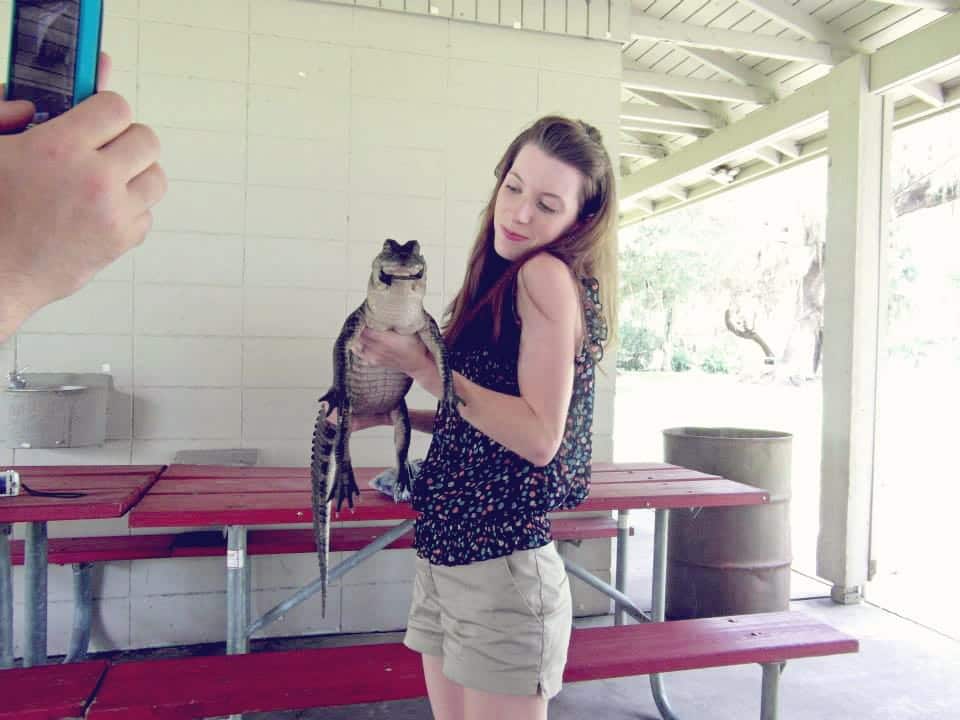 All in all, Boggy Creek Airboats was my favorite part of our entire trip to Kissimmee. The people there are really passionate about wildlife preservation, you could tell that they really loved what they do and were incredibly knowledgeable about it. It was also just a lot of fun and I would love to go back and do it again.
(Disclosure: Travel and accommodations were provided to me, however, all opinions are my own)