This is a sponsored post written by me on behalf of Breyers for IZEA. All opinions are 100% mine.
Breyers Natural Vanilla has always been my favorite ice cream to use in recipes or to put on top of my pies or brownies. It has a rich, wholesome flavor that I love and that pairs well with just about everything. Recently, Curtis Stone and his wife, actress Lindsay Price Stone, partnered with Breyers to make some amazing recipes using Breyers Natural Vanilla, and I'm really excited about it.
Breyers Natural Vanilla is a Great Treat Year Round
Ice cream is a delicious treat, whether it's the middle of a scorching summer or in the dead of winter. You just can't beat it. Did you know that this year marks the 150th anniversary of Breyers bringing us all delicious ice cream and ice cream treats? 150 years, you guys!
Way back in 1866, Breyers was born in Philadelphia when William A. Breyer hand-cranked his first gallon of ice cream featuring fruits and nuts. And for all these years, Breyers has been committed to high quality ingredients. In fact for over 100 years, they've printed their promise to use only high quality ingredients right on their ice cream containers. Maybe that's why Breyers Natural Vanilla is America's #1 ice cream. And it's only made with fresh cream, milk, and sugar.
12 Months of Recipes Featuring Breyers Natural Vanilla
To celebrate 150 years of delicious ice cream, Breyers has partnered with chef Curtis Stone and his wife, actress Lindsay Price Stone, to create 12 amazing recipes featuring America's favorite ice cream, Breyers Natural Vanilla.
Each recipe is inspired by each month of the year, and it shows families that Breyers Natural Vanilla is a great treat any time of year. Which I TOTALLY agree with, by the way.
I tried my hand at the recipe for August— Spice Roasted Figs with Hazelnuts and Vanilla Ice Cream — which was delicious and perfect for the start of a new season.
Spiced Roasted Figs with Hazelnuts and Vanilla Ice Cream Recipe
Breyers Natural Vanilla and Curtis Stone - Celebrating 150 Years of Breyers
Ingredients
2

tbs.

sugar

1/2

tsp.

each ground cinnamon

ground ginger

1/8

tsp.

ground cloves

8

ripe figs

halved lengthwise

1 1/3

cups

Breyers® Natural Vanilla Ice Cream

1/4

cup

blanched hazelnuts

toasted, coarsely chopped
Instructions
Position broiler rack 6 inches from heat source and preheat broiler. Line a large baking sheet with aluminum foil.

In a small bowl, mix sugar and spices. One at a time, dip figs, cut side down, in sugar mixture to coat. Then coat figs a second time with sugar mixture and arrange cut side up on baking sheet. Broil figs, watching closely, for about 4 minutes, or until sugar melts and begins to caramelize and figs soften slightly and begin to ooze their juice.

Divide figs among 4 bowls. Spoon 1/3 cup of Breyers® Natural Vanilla Ice Cream into each bowl and sprinkle with hazelnuts.
And now a few tips for recreating this recipe.
First, if you haven't cooked with figs, this is what they look like— they usually come in a plastic container with 5 or more, depending upon size, in the produce section.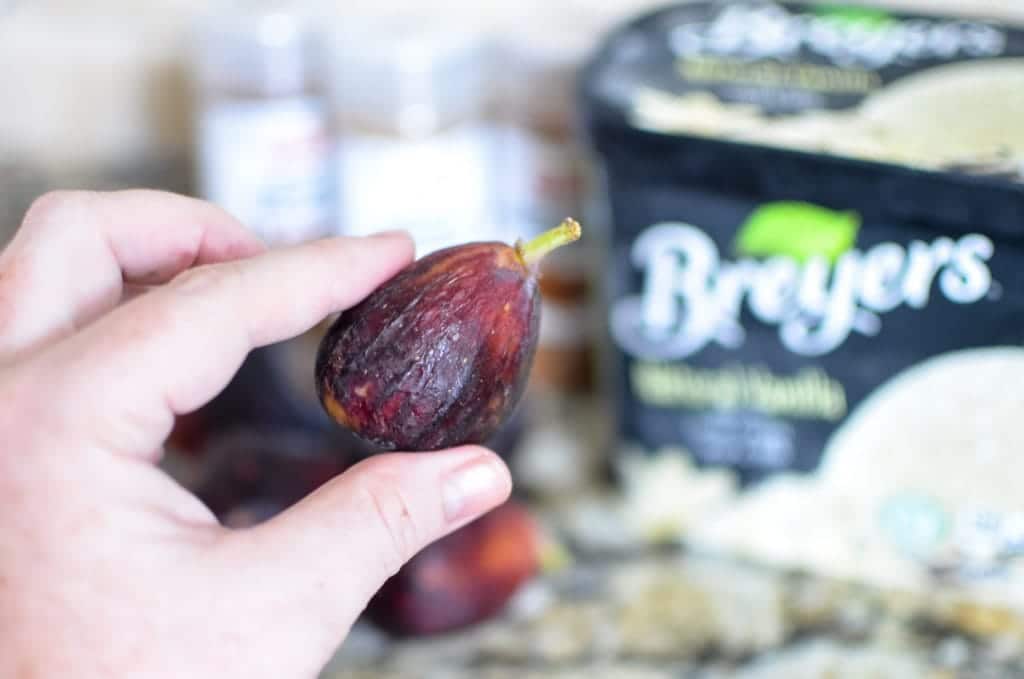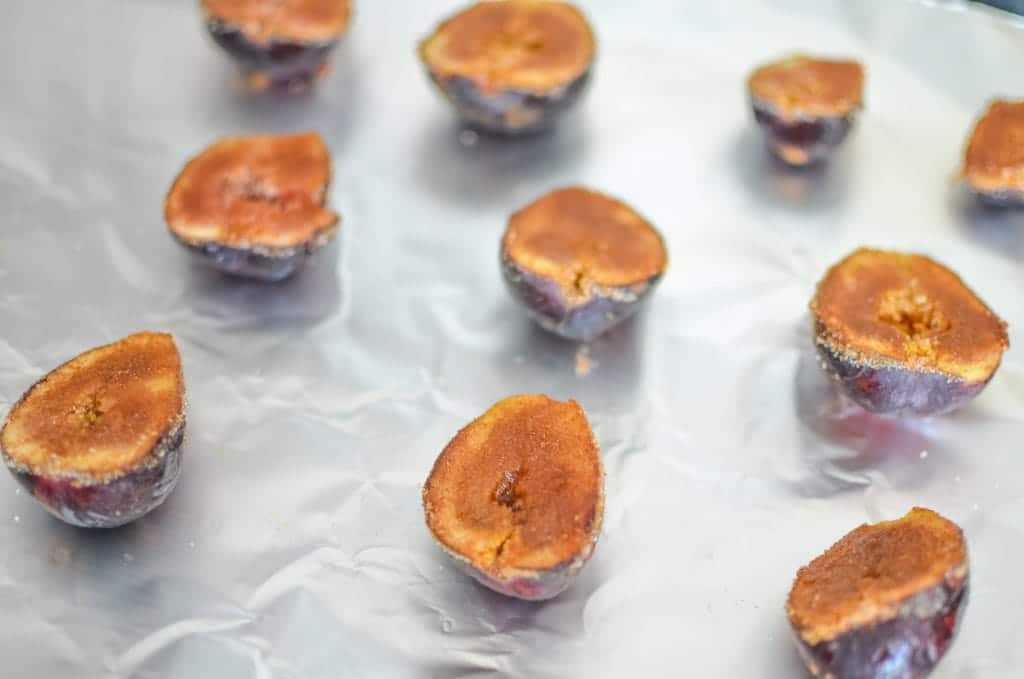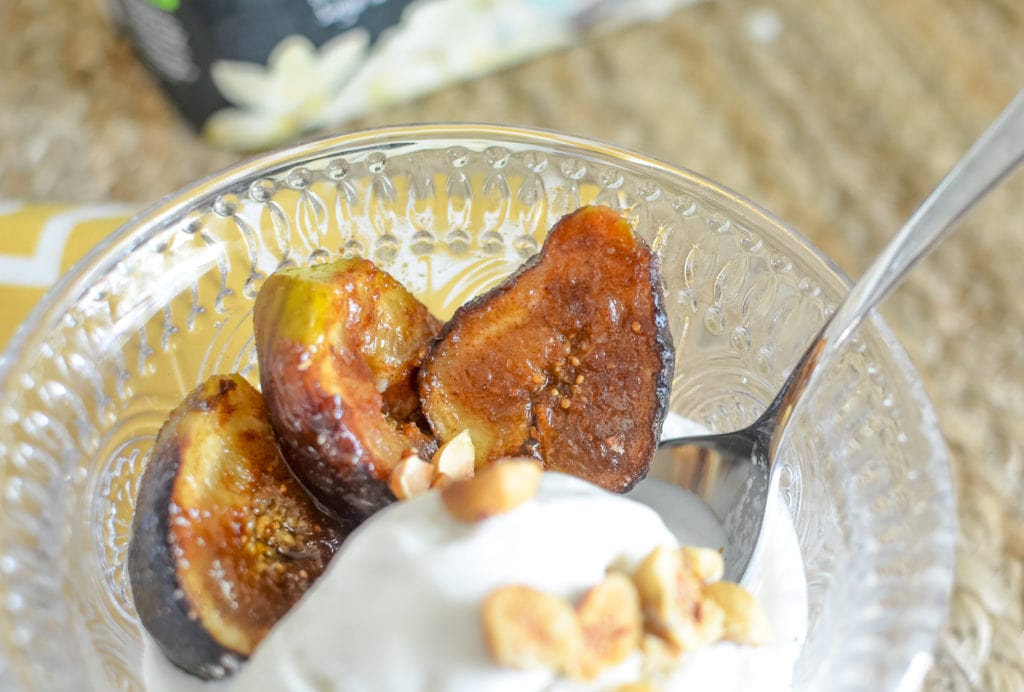 Second, to blanche and toast hazelnuts (also known as filberts) in one go, place a single layer of the nuts on a baking set in a 375 degree oven for 10 minutes. Then put the toasted hazelnuts in a towel for 5 minutes to cool. Finally, rub them together, inside the towel, until the majority of the skin falls off. Chop for the recipe.
In addition to being delicious, Breyers ice cream is a treat I can feel good about giving to my family. All Breyers vanilla is real and sourced from sustainably farmed, Rainforest Alliance Certified™ vanilla beans, and they only source their milk and cream from cows what have NOT been treated with artificial grown hormones.*
Breyers Natural Vanilla – Helping Celebrate 150 Years of Breyers
Breyers has been providing us all with delicious ice cream for 150 years, and there's no better way to celebrate than with these great recipes featuring Breyers Natural Vanilla.
You can find Breyers Natural Vanilla in grocery stores nationwide for a suggested retail price of $3.99 to $5.99.
For more great recipe ideas, follow Breyers on Facebook, Pinterest and Twitter.
*Suppliers of other ingredients such as cookies, candies & sauces may not be able to make this pledge. The FDA states that no significant difference has been shown between dairy derived from rBST-treated and non-rBST treated cows.