This post is brought to you by Eggland's Best. All opinions are my own.
Does your family ever have breakfast for dinner, AKA "Brinner"? We do! And while it's a meal usually reserved for nights when there's nothing in the fridge and no one feels like going out, brinner is always approved by my husband and daughter.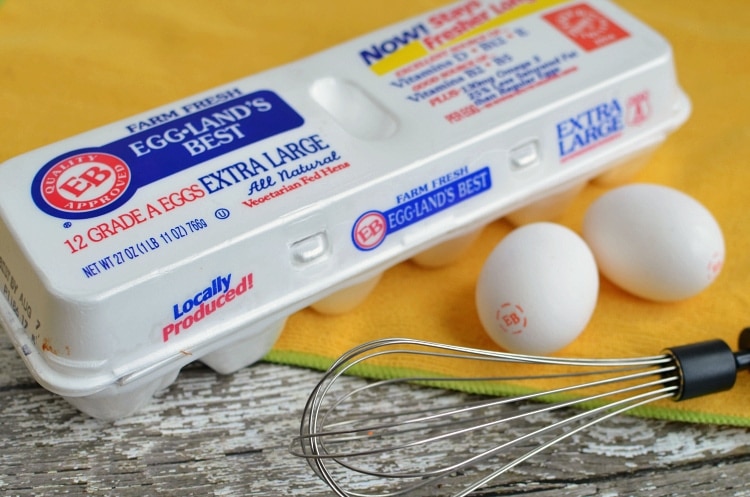 Eggs are #1 ingredient to a good brinner— and since we're talking about eggs, Eggland's Best is the brand I buy because they always taste fresh, are vegetarian fed, and have more vitamins and nutrients. Compared to ordinary eggs, EB eggs have four times more vitamin D, More than double the omega-3s, Ten times more vitamin E, and 25% less saturated fat.
One of my favorite brinner recipes is a basic crust-less quiche made with eggs, meat, veggies, and cheese. My family is bacon obsessed, so that's usually our brinner protein of choice, but ham, turkey, chicken and sausage are also great options. We always use whatever cheese we have on hand, which is usually a blend of cheddar, but again, any cheese will work. The same goes for veggies.
This recipe is sort of a no-brainer (that's why I like it!). You just use one egg for each mini quiche (baked in a standard-sized muffin tin) and whisk as many mix-ins as you like. It's not an exact science. Sprinkle with some salt, pepper and/or herbs, add a splash of milk — 15 minutes later you have a brinner entree that tastes like breakfast, but feels like dinner! Serve with some asparagus, a side salad or even a bowl of soup.
Here's my basic recipe for Brinner Quiche Cups
Ingredients
4 Eggland's Best Eggs
2 slices cooked bacon, crumbled
1/2 cup of shredded cheese
1/2 cup chopped mushrooms
Splash of milk
Salt and pepper to taste
Directions
Preheat oven to 350 degrees. Coat muffin pan with cooking spray.
In a large bowl, whisk together eggs, bacon, cheese, mushrooms.
Add a splash of milk and a pinch each of salt & pepper. Whisk until combined.
Pour egg mixture into muffin tin and bake for 15 minutes.
Serve immediately with side item and toppings of choice (extra cheese, salsa, hot sauce, etc.)