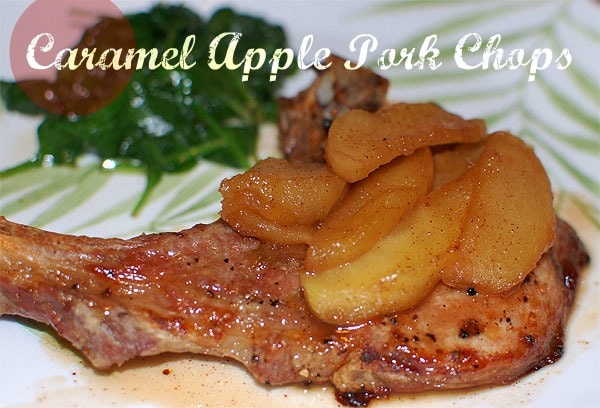 As promised, I'm back with my second dish from the Sam's Club Simply Delicious Meal Challenge. To bring you up to speed, the challenge was to shop at Sam's Club for a common ingredient-- in my case, Honeycrisp apples-- and use it to create a simply delicious dinner and dessert. Earlier this week I made some amazing Mini Apple Dumplings, and today I bringing you a sweet & savory main course of Caramel Apple Pork Chops.
Yes, I said...
Caramel Apple Pork Chops

Ingredients:
4 pork chops
1 teaspoon olive oil
4 tablespoons brown sugar
salt and pepper to taste
1/2 teaspoon pumpkin spice
3 tablespoons butter
2 Honeycrisp apples - peeled, cored and sliced
Directions:
1. Heat a large skillet over medium-high heat. Brush chops lightly with oil, season with salt & pepper and place in hot pan. Cook for 3 to 4 minutes on each side until pork has a nice crust. Transfer to preheated 400 degree oven and let bake 20 minutes, or until done.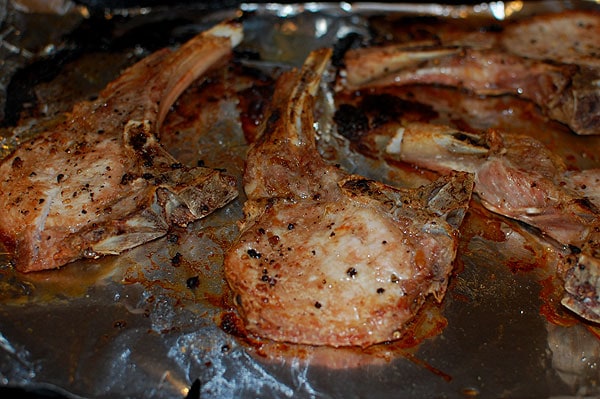 Meanwhile...
2. In a small bowl, combine brown sugar, salt and pepper, and pumpkin spice.

3. Add butter to skillet, and stir in brown sugar mixture and apples.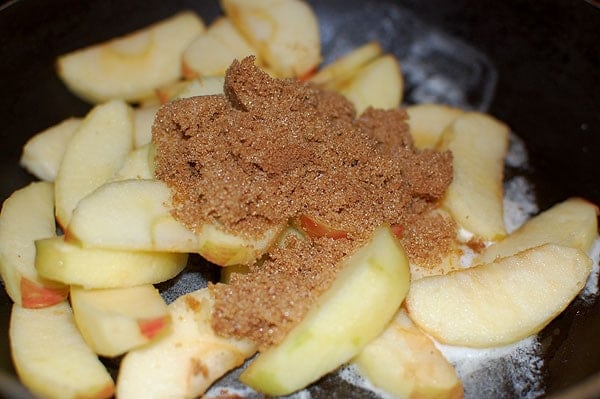 4. Cover and cook until apples are just tender. Remove apples with a slotted spoon and arrange on top of cooked pork chops.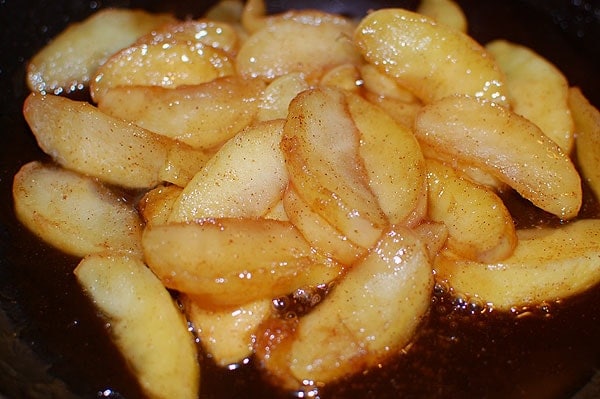 5. Continue cooking sauce uncovered in skillet, until thickened slightly. Spoon sauce over apples and chops.
Oh-Em-Gee-- I thought my miniature apple dumplings were a great use of apples, but these pork chops may have been even better! I rarely make a main meal with fruit, so this dish was a welcome change. I purchased a 4lb bag of Honeycrisp apples at Sam's Club and only used four of them to make two meals. The rest were quickly eaten after school, but I could have easily incorporated the extras into breakfast, or another snack/dessert.
The inspiration for my two dishes was Fall-- it's the perfect season for apple-based meals, and because of their abundance, it's an inexpensive ingredient to work with. Because I used one ingredient in several different ways, I saved money by buying in bulk at Sam's Club and nothing went to waste.
In addition to the apples, I also purchased the pork chops and spinach (used as a side) at Sam's Club. The pork was a value pack which I used 4 pork chops from, and then froze the rest. The fresh, organic spinach came in a huge tub for under $4.
Follow Sam's Club on Twitter and Facebook to keep up-to-date on the Simply Delicious Meal program which will introduce new restaurant chefs every month to inspire simply delicious home cooking!
I was provided with a complimentary Sam's Club membership (used to extend current membership) and a Sam's Club gift card to purchase items for my "Simply Delicious Meals". All opinions are my own.