Can I just tell you how happy I am now that summer is here!? No more early mornings in the car line or evenings spent assisting with homework or school projects — summertime is a joy to me as much it is to my kid! We try to savor every second of the season with fun, family activities.
One thing that's synonymous with summer is ice cream. And, in my opinion, there's no better way to enjoy the cold, frosty treat than as a sundae, with yummy toppings and Hershey's Syrup! Since we spend most of our summer days outdoors, I like to reserve ice cream and other frozen indulgences for evenings, where we can enjoy them at home together (without melting!). The perfect time for sundaes is on SUNDAY — of course! — when we host #SundaeSundays.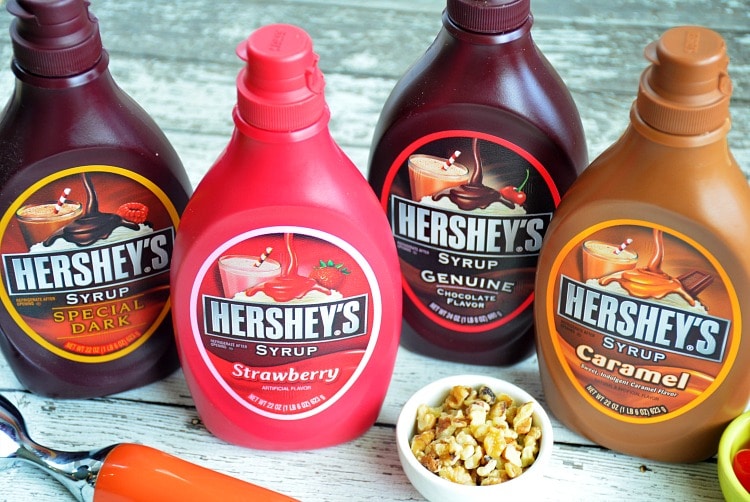 To celebrate the start of summer, I partnered with Hershey's Syrup to share one of my family's all-time favorite #SundaeSundays: Cookie Cup Sundaes! Seriously, why eat ice cream from a bowl when you can eat it from a cup made out of a chocolate chip cookie!?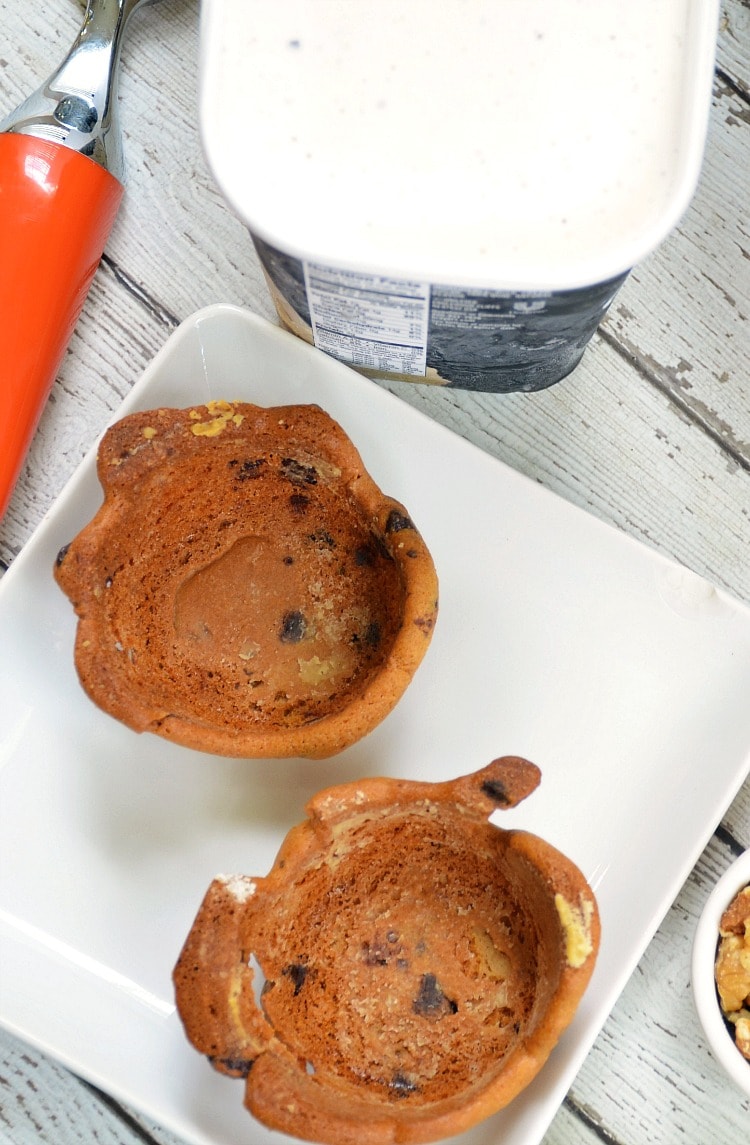 These cookie bowls are extremely easy to make. All you need is a cookie dough and a cupcake pan. I used refrigerated cookie dough (made with Hershey's Mini Kisses!), but you can use just about any variety, even homemade. Simply turn the cupcake pan upside down, grease with cooking spray or butter, and smoosh a hefty tablespoon-sized portion around the bottom and onto the side of each cup. It doesn't have to be perfect! Bake as directed (about 10 minutes) and then wait until the pan is completely cooled before you pop off each cookie cup.
When ready to serve, scoop in your favorite ice cream and toppings, and then drizzle with Hershey's Syrup. Delicious and FUN!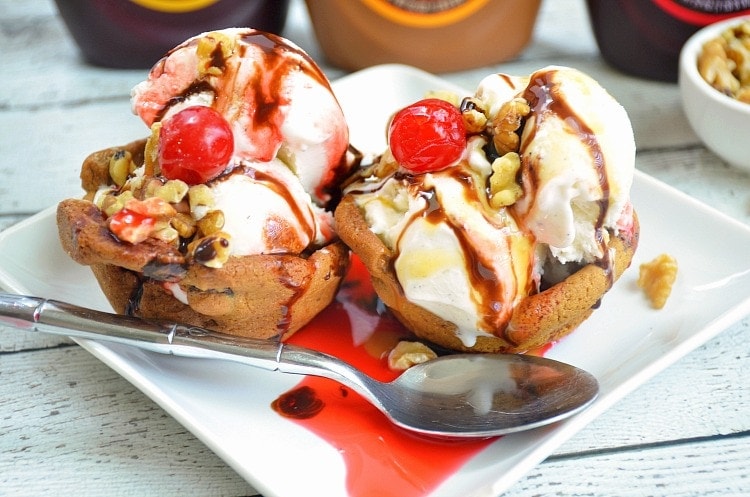 For our ice cream cookie cups I used vanilla ice cream, chopped walnuts, maraschino cherries and Hershey's Syrup in chocolate, strawberry and caramel ... but the sky's the limit when it comes to creating your own cookie cup sundae! We love the portion sizes on these because everyone can make their own— my daughter enjoys just ice cream and Caramel Hershey's Syrup, while I love adding walnuts, banana slices and special dark chocolate Hershey's Syrup to mine.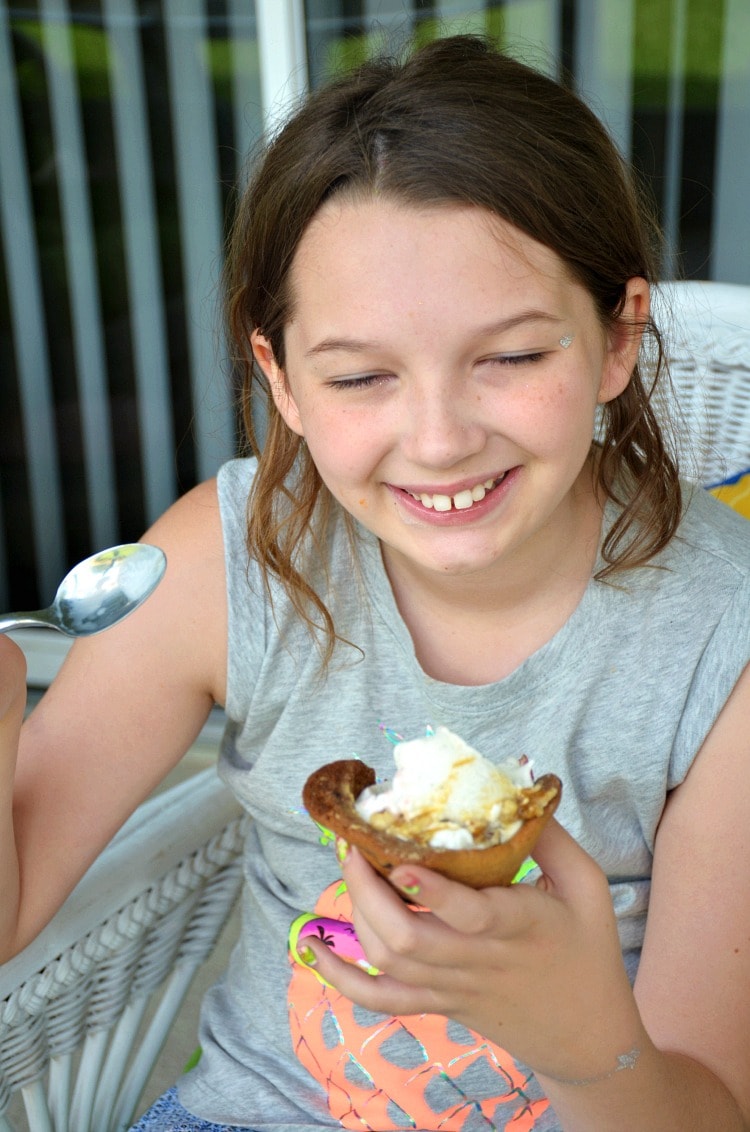 Hershey's Syrup is available in a variety of flavors including chocolate, special dark chocolate, strawberry and caramel.
For more information, including #HersheysSummer crafts and recipes, visit CelebrateWithHersheys.com.
Which Hershey's Syrup would you use for #SundaeSundays?
Disclaimer: Compensation was provided by The Hershey Company via MomTrends. The opinions expressed herein are those of the author and are not indicative of the opinions of The Hershey Company or Momtrends.