We don't eat out very often, but when we do one of my favorite places to go is Olive Garden. Endless salad, breadsticks and delicious pasta (fettuccine alfredo FTW!)— really, how could you not love that!? But if I have to be honest, the one item that keeps me coming back again and again is the breadsticks... they're just soooo good! I've even stopped in Olive Garden a few times just to get an order of breadsticks and sauce to-go. And they're always amazing!
So imagine how excited I was when a friend passed along a COPYCAT Olive Garden Breadsticks Recipe! Now, of course I still pop into the Olive Garden with my family whenever they're running an awesome special (like Endless Pasta!) — but this inspired recipe really tides me over when I need a breadstick fix.
If you're planning a special Italian meal at home, this recipe works perfectly for soft, chewy and garlicky breadsticks. You could even use them to make your own breadstick bun sandwiches!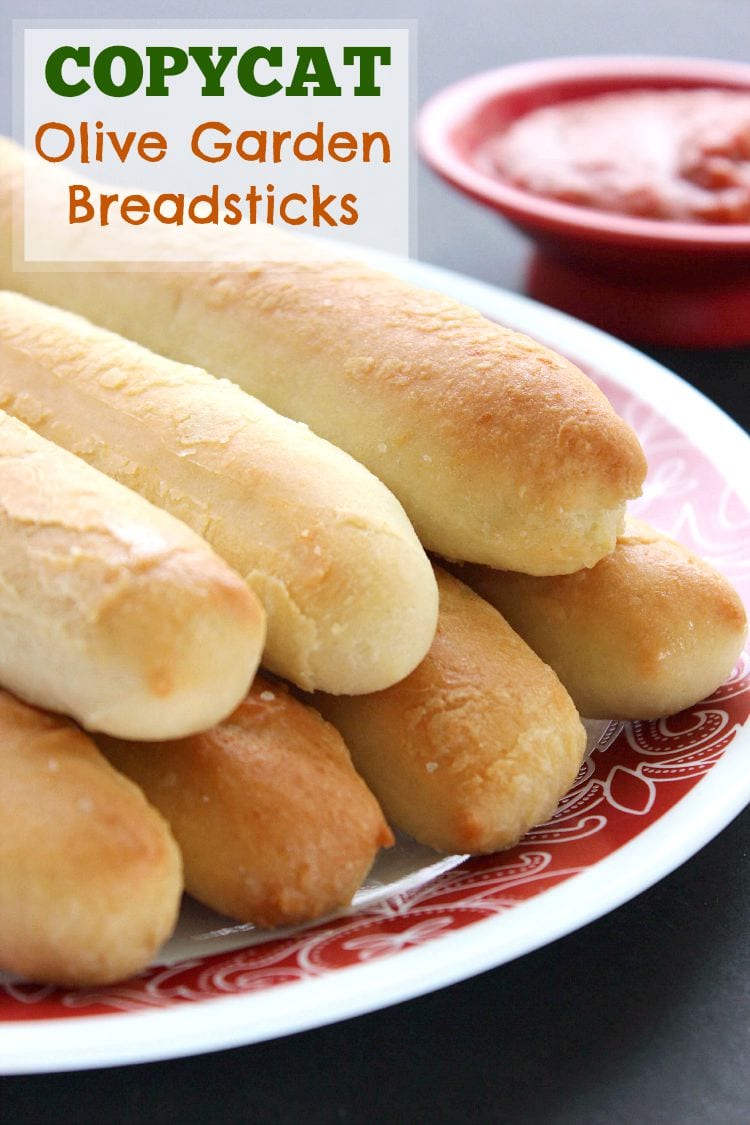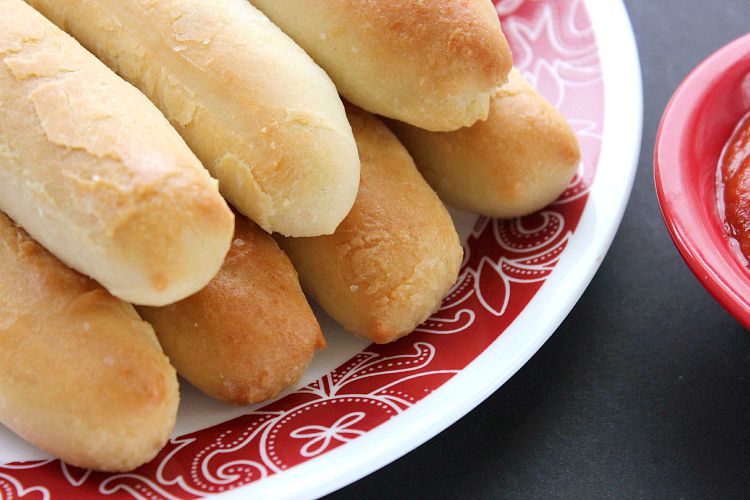 Copycat Olive Garden Beadsticks Recipe
An inspired recipe for delicious, soft & chewy Olive Garden style Breadsticks.
Ingredients
1 ½

cup

water

warm

1

tablespoon

sugar

1

tablespoon

yeast

2

tablespoon

vegetable oil

1-½

teaspoon

salt

4

cups

flour

4

tablespoon

butter

melted

1

teaspoon

garlic powder

2

teaspoon

kosher salt
Instructions
Combine oil, water, sugar, salt and yeast in bowl of mixer.

Leave sitting for 10 minutes to allow yeast to bloom.

Gradually add flour while mixing on low until the dough forms a ball.

Spray a bowl with non stick spray and transfer dough to bowl.

Cover with plastic wrap or a towel and place in a warm place to allow dough to double (about 1 hour).

Grease baking sheets.

Turn out dough on a floured surface.

Roll out dough into a large rectangle.

Cut in half, and then cut into 1" thick strips.

Roll and shape each strip into roughly 1' x 8" sticks.

Place on prepared sheets about 2" apart.

Cover and place in a warm spot for 45 minutes or until doubled in size.

Preheat oven to 350.

Stir garlic powder into melted butter.

Brush breadsticks with butter and sprinkle with kosher salt.

Bake for 12 to 15 minutes or until golden brown.

Brush finished breadsticks with remaining butter before serving.