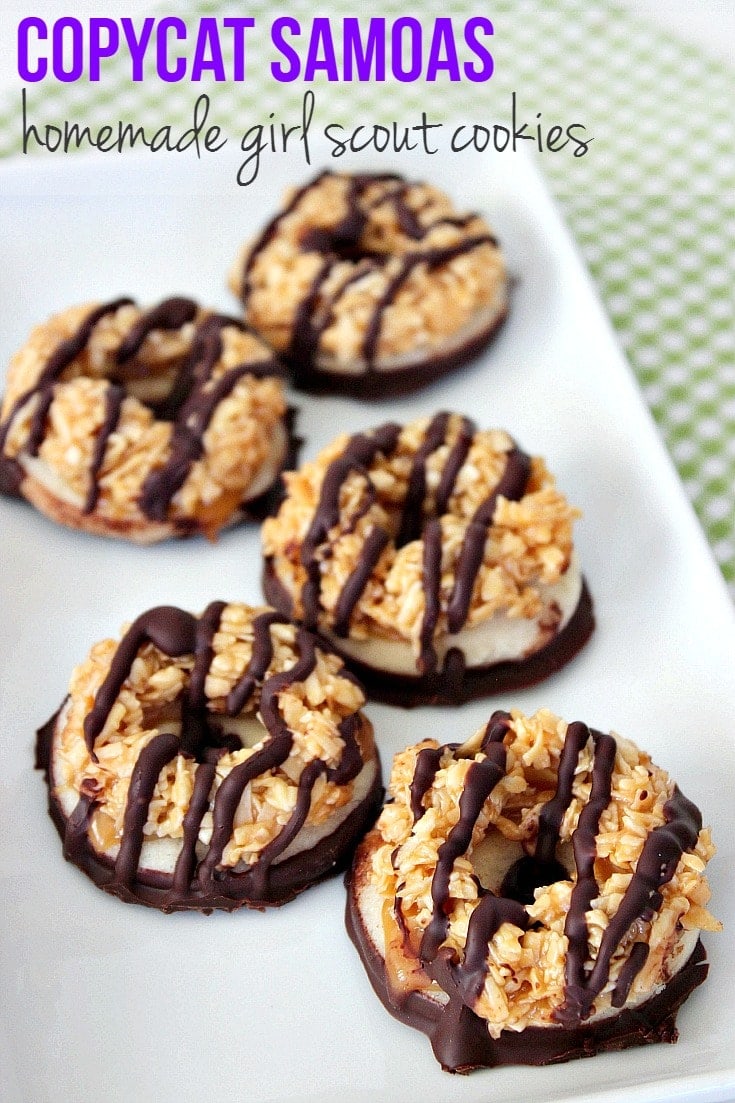 Who can resist Girl Scout Cookies? I know I can't. And Samoas (or are they calling them something different now ... Caramel deLites?) have always been, and will always be, the ultimate Girl Scout Cookie. Every year we buy several boxes from our favorite Girl Scout, and every year they are gone within a matter of days. It's a problem. We realize this (and my husband and daughter indulge in the cookies equally, so it's not just me stuffing my face with Samoa's!).
But what happens after Girl Scout Cookie season is over ... or when you want more than 15 cookies per box? Well, there's a (copycat) recipe for that! And I'm so happy to be able to pass it along!
I will still be purchasing cookies from the Girl Scouts (the money raised helps their troops), but it's nice to have another option when you're craving that delightful mix of chocolate, caramel and coconut!
Copycat Samoa Cookies Recipe
Ingredients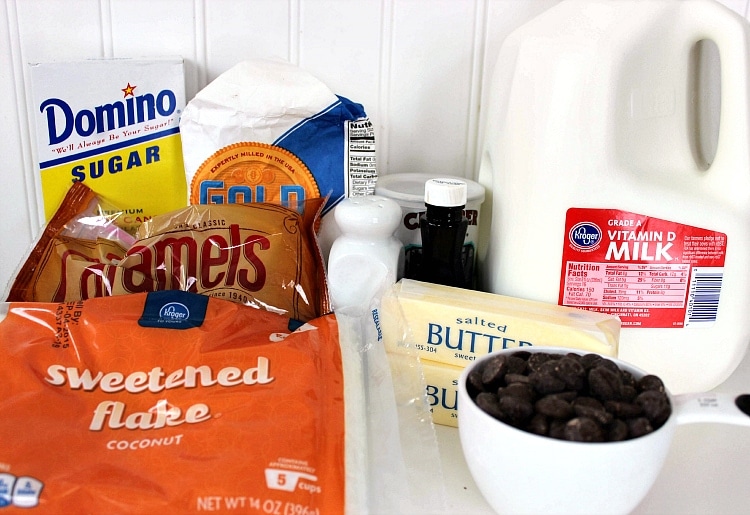 1 cup (2 sticks) butter, softened
½ cup sugar
2 cups flour
¼ teaspoon baking powder
½ teaspoon salt
½ teaspoon vanilla
1 tablespoon milk
3 cups flaked coconut
11 oz caramels
3 tablespoon milk
8 oz semisweet chocolate chips
Directions
Preheat oven to 350. Line cookie sheet with parchment paper.
Cream together butter, vanilla and sugar. Slowly add in flour, baking powder and salt. Add just enough milk until the dough comes together into a ball. Add in a bit of extra flour if your dough is very sticky.
Roll out dough to ¼" thick. Cut out about 2" cookies and place on a prepared sheet.
Cut out about smaller hole in each cookie and return to dough.
Re-roll dough and continue cutting cookies.
Bake cookies for 10 minutes or until bottoms are light brown. Allow to cool on sheet for 5 minutes before transferring to a cooling rack.
Preheat oven to 300. Line baking sheet with parchment paper.
Spread coconut on prepared baking sheet.
Bake 20 minutes, mixing every 5 minutes, until golden. Cool on baking sheet.
Hold back 8 caramels. Unwrap caramels and place in a large bowl with milk.
Microwave 60 seconds then stir, repeating until melted and smooth.
Fold melted caramel into cooled coconut.
Spread topping on cooled cookies. If topping gets too firm in bowl, microwave an additional 30 seconds. If topping is not adhering to cookie, unwrap and melt the remaining caramels with 2 teaspoons of milk.
Drizzle top of each cookie with plain caramel prior to placing topping. Melt chocolate by microwaving 45 seconds then stirring, and repeating until melted and smooth.
Line cookie sheet with parchment paper. Dip the bottom of each cookie into chocolate and place on prepared sheet. Transfer remaining chocolate into the corner of a zippered bag. Clip off corner and drizzle finished cookies with chocolate. Refrigerate 15 minutes to set.

What's your favorite Girl Scout Cookie?