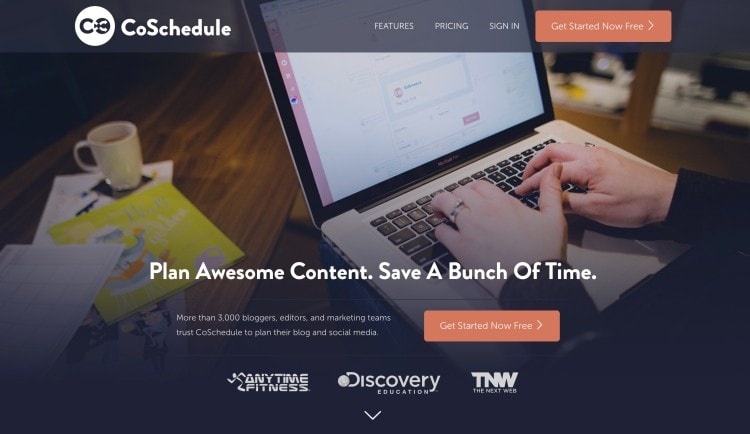 I know at least some of my readers here on Mommy Musings are bloggers (or even aspiring ones!), which is why I want to introduce you to an online application that has simplified my blogging schedule.
It's called CoSchedule and it's a social scheduling and marketing calendar that works right in your self-hosted WordPress dashboard. Once you write a post, you can quickly and easily schedule it to publish on all of your major social media accounts – Twitter, Facebook, LinkedIn, Tumblr, Buffer and Google+.
What makes CoSchedule really unique is that it allows you to schedule not just right away, once the post is published, but in the future on days and times that you select. For instance, once I publish new post I will use CoSchedule to send an update from my Twitter with the link and a photo (which I can select). Then I will schedule it to post on Twitter again the next day, the next week, and then the next month. If I think the post needs even more interaction, I can set it to publish on social as many times as I'd like. I have a system in place the works for me. The same can be done with Facebook and Google+, but I don't send out links nearly as often to those accounts—just at publishing and a month later.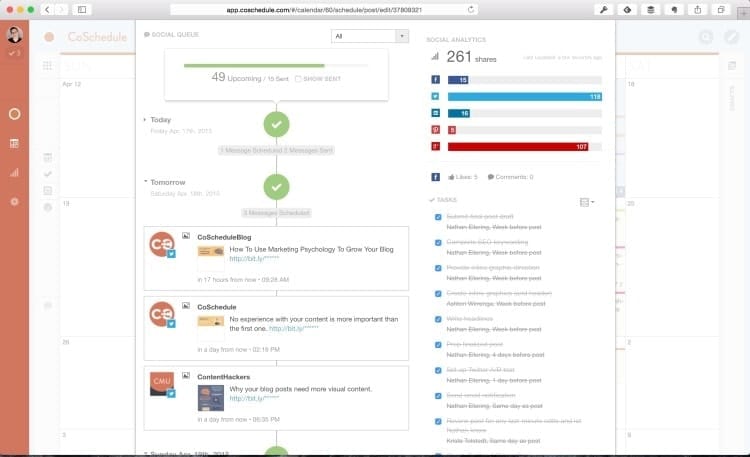 Now, all of these tasks can be scheduled in other programs; this is nothing new. But the beauty of CoSchedule is that you can do it all right in your dashboard. I don't know how many times I've published a post and forgot to schedule it out on social media. As a blogger, you probably know that just publishing once to your Twitter account is never enough. To get real traction you need to push it out multiple times—even months and years later (love that evergreen content!).
There's also a CoSchedule calendar right in your dashboard that shows you when your scheduled shares are supposed to go out. If you see that a particular day is bare, you can DRAG & DROP a share from another day and it instantly updates the date! How cool it that?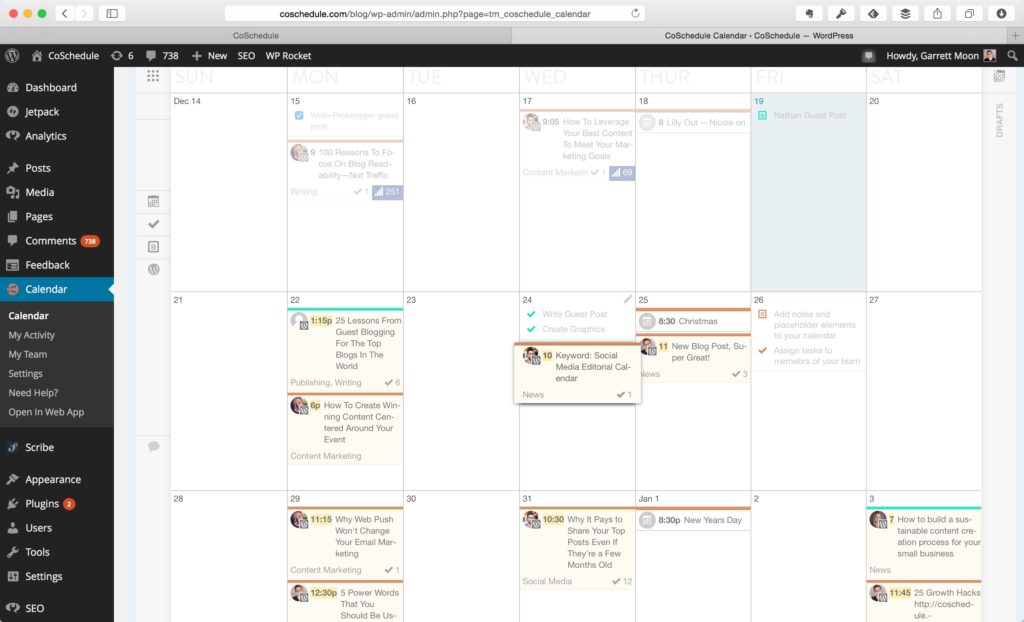 This is all just the tip of the iceberg when it comes to what CoSchedule can do – I'm still learning about new ways to use the application. There are helpful videos on CoSchedule.com to make sure you get the most out the program. I'm signing up for a yearly membership because I can already see how useful CoSchedule has been to my business. If you run a larger website, there are plans for multiple users and social accounts— you can check them out here.
Oh and I almost forgot about one of my favorite non-scheduling features! Within your Wordress dashboard, CoShedule allows you to see your TOP POSTS from the day, week, month, year and ALL TIME! This info is priceless for taking advantage and promoting your best and most liked content! From these lists you can easily go back and re-schedule new social media updates.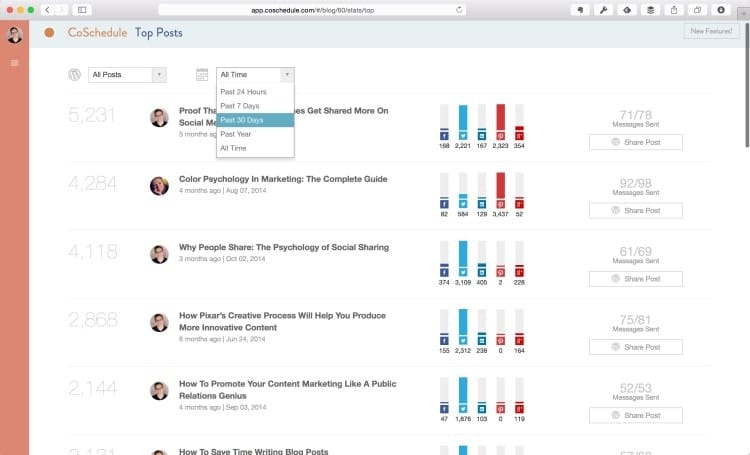 CoSchedule is just something you have to try for yourself to see how useful it is to your blogging business. You can sign up for a FREE 14-day trial (no credit card needed) and then decide if it's right for you. I'm at the end of my trial now and I know I am definitely sticking with CoSchedule.
Feel free to use my CoSchedule referral link and then share your own with your colleagues!
https://www.youtube.com/watch?v=uK3un3Wt_Qo
Have you tried CoSchedule yet?