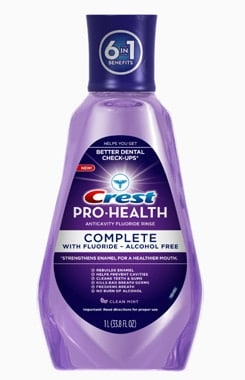 It's been three weeks  since I started using Crest Pro-Health Complete Rinse (I actually started using it before my first post).
I really love this mouthwash and actually look forward to using it, which sounds insane. I LOVE the flavor. Crest Pro-Health Complete rinse is not your typical mouthwash. In face, it's completely different. The  big difference is there is no burn as the rinse does not contain alcohol. I can keep the rinse in my mouth much longer and even though there isn't a burn, you can feel a difference in your mouth.
After three weeks, my teeth feel cleaner. I still have problems with tooth pain as I need to get to the dentist, but I feel like the Crest Pro-Health eases the pain a little and I have been swishing the stuff more often.
I have to mention somewhere that I love the purple color, totally random, but it makes me think to use it more.
Another thing that I found interesting is that Crest Pro-Health Complete Rinse can be used on children 6 and up. I've yet to have my daughter try it out, but I like the whole family can use it.
I think the downside of the rinse is that you need to wait 30 minutes after rinsing to drink something. I have broken this rule a few times, but I'm trying to drink my coffee or tea in the morning first, and then brush and rinse after.
I'm going to continue using  Crest Pro-Health Complete Rinse, mainly because it tastes great and it gives six benefits in one rinse:
* Rebuilds Teeth Enamel
* Helps Prevent Cavities
* Cleans Teeth & Gums
* Kills Bad Breath Germs
* Freshens Breath
* No Burn of Alcohol
In conclusion, Crest Pro-Health Complete Rinse has made my mouth feel cleaner and my breath fresher in just three weeks. Behind the scenes, the rinse is working hard to kill germs and prevent cavities.  I think because the rinse contains no alcohol, it is easier to use and in turn makes me want to use it more often. My experience with Crest Pro-Health Complete Rinse has been positive and I am going to continue to use the product even after the campaign.
"I wrote this review while participating in a test drive campaign by Mom Central on behalf of Crest and received a sample to facilitate my candid review. Mom Central sent me a gift card to thank me for taking the time to participate."