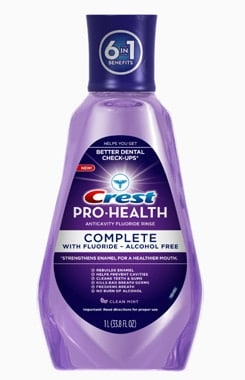 It wasn't until this year that I started to notices changes in my teeth...and not for the better. Over the past 6 months I have been experiencing tooth pain and sensitivity that I never had in the past. I have always been one to brush twice a day, but rarely floss or use mouthwash. I recently purchased regular mouthwash and found it to be unbearable, both because of the "burn" of the alcohol and my tooth sensitivity. I have since realized I need a major overhaul in my daily teeth cleaning regime.
Not only do I need to keep my teeth clean, but I need to protect them from future problems like cavities and loss of enamel.
I am happy to be one of the bloggers in the Crest Pro-Health Complete Rinse Test Drive Campaign through Mom Central.
Crest Pro-Health Complete Rinse gives six benefits in one rinse, for a more complete way to get better dental checkups vs. brushing alone:
* Rebuilds Teeth Enamel
* Helps Prevent Cavities
* Cleans Teeth & Gums
* Kills Bad Breath Germs
* Freshens Breath
* No Burn of Alcohol
Over the next few weeks I will be using Crest Pro-Health Complete Rinse twice a day. I will be sharing my experience at the end of the campaign noting changes in my teeth and my overall thoughts of the product.
In the meantime, have you tried Crest Pro-Health Complete Rinse? What are your thoughts?
"I wrote this review while participating in a test drive campaign by Mom Central on behalf of Crest and received a sample to facilitate my candid review. Mom Central sent me a gift card to thank me for taking the time to participate."