This post is brought to you by Global Influence for Degree. All opinions are my own.
My family has been practically glued to the coverage of the World Cup. We've even gone as far as sneaking into the sports bar on our recent cruise when we should've been eating dinner in the formal dining room! Did you know that 26 million people watched the US vs. Belgium match!? Sadly, our team lost, but it was still the most watched American sporting event of 2014. That really says something about the dedication of U.S. soccer fans! 
Even though our team is no longer in contention, we're still tuning in until the end. Soccer is such an exciting sport— I can't wait to see which country takes home the World Cup ... who do you think will win!?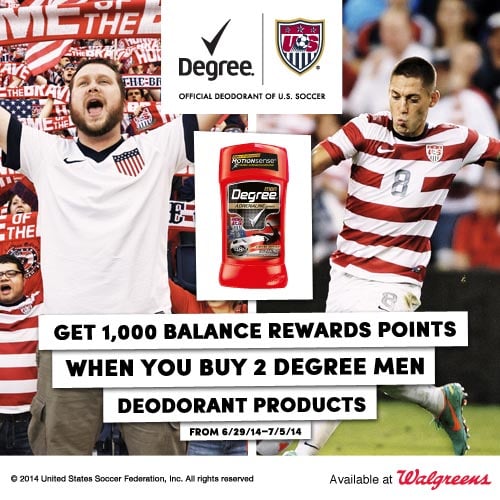 As the Official Deodorant of U.S. Soccer, Degree wants to reward fans who Do:More with a great offer from Walgreens: From June 29 - July 5 you'll receive 1,000 Balance Rewards points when you buy 2 Degree Men deodorant products.
My husband has used Degree deodorant for as long as I can remember. Recently I purchased him the new and improved Degree MOTIONSENSE™ because it's the only antiperspirant that releases extra protection when you move — I figured if it's good enough for the U.S. soccer team, it will stand up to his stinky B.O. ... so far, so good!
I'm heading to Walgreens tonight to stock up on some extra Degree with MOTIONSENSE™ for him, and as an added bonus, I'll get 1,000 Balance Rewards to use something I need later. It's totally a win-win!