This post is part of a social shopper marketing insight campaign with Pollinate Media Group® and Universal Pictures, but all my opinions are my own. #pmedia #BoxtrollsFamilyNite http://my-disclosur.es/OBsstV
Family time is super important to me. Even though my husband and I both work from home, we have to set specific times to unplug and do things together as a family. Right now we have Friday nights dedicated as 'Family Movie Night', where we either rent or buy a new family-friendly movie to watch together. To make the night a little more fun we usually order in pizza, or prepare a quick and easy meal so no one is stuck in the kitchen cooking or doing dishes. We also enjoy a fun snack or dessert together while we're watching the movie.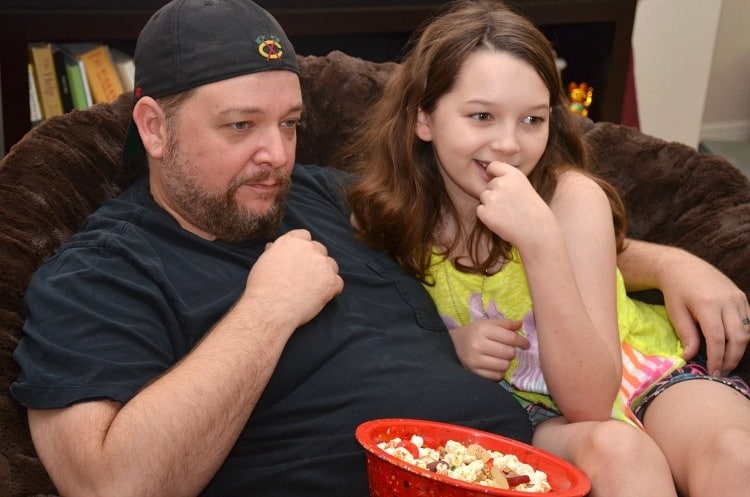 This past week we purchased The Boxtrolls Blu-ray combo along with Pop Secret 10ct Home-Style Popcorn at Walmart for family movie night. My daughter has been begging to see The Boxtrolls since it was released in theaters and was excited to see that it was finally available on DVD and Blu-ray.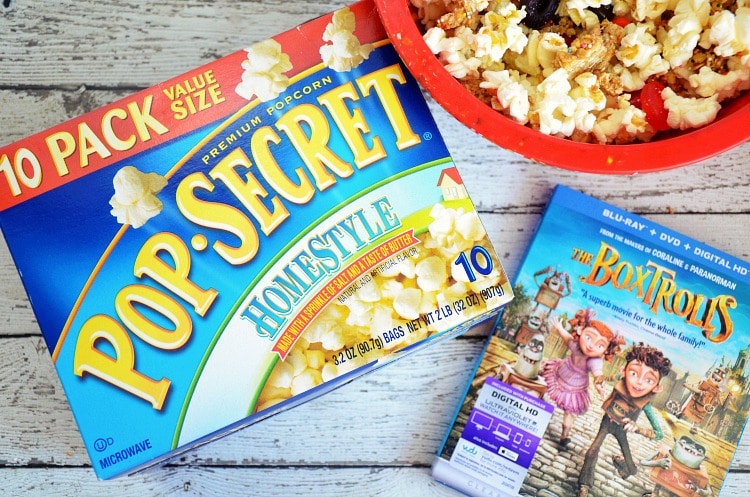 If you're not familiar, The Boxtrolls is a stop-motion film from the creators of "Coraline" and "ParaNorman" that introduces audiences to a new breed of family –
The Boxtrolls, a community of quirky, mischievous creatures who have lovingly raised an orphaned human boy named Eggs in the amazing cavernous home they've built beneath the streets of Cheesebridge. When the town's villain, Archibald Snatcher (Academy Award winner Ben Kingsley), comes up with a plot to get rid of the Boxtrolls, Eggs decides to venture above ground, "into the light," where he meets and teams up with fabulously feisty Winnie (Elle Fanning). Together, they devise a daring plan to save Eggs' family.
I decided to come up with a special themed popcorn mix for our screening of The Boxtrolls. Because The Boxtrolls rummage through trashcans at night, I thought it would be fun to make a Trashcan Popcorn Mix made with Pop Secret Home-Style popcorn and various other mix-ins that I had in my pantry. I basically raided my kitchen for goodies and the results turned into this.... a real treat for family movie night!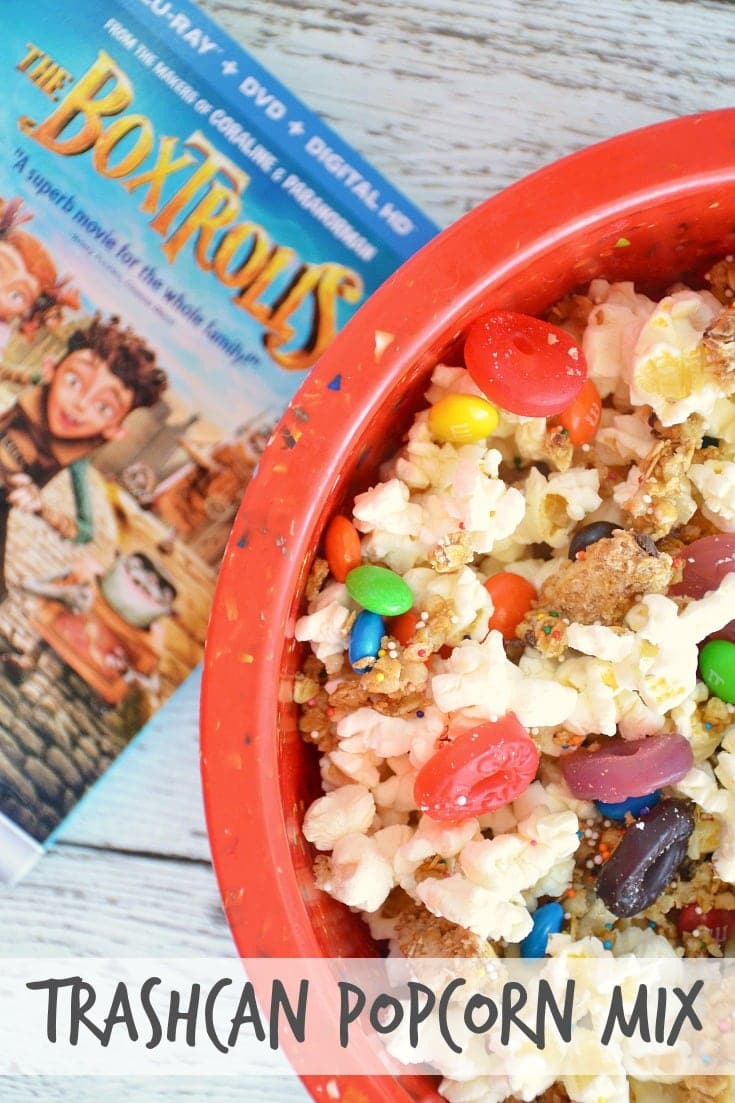 Trashcan Popcorn Mix Recipe
This is the recipe I used for my Trashcan Popcorn Mix, but the idea is to use whatever sweets you have on hand -- hence, a trashcan mix!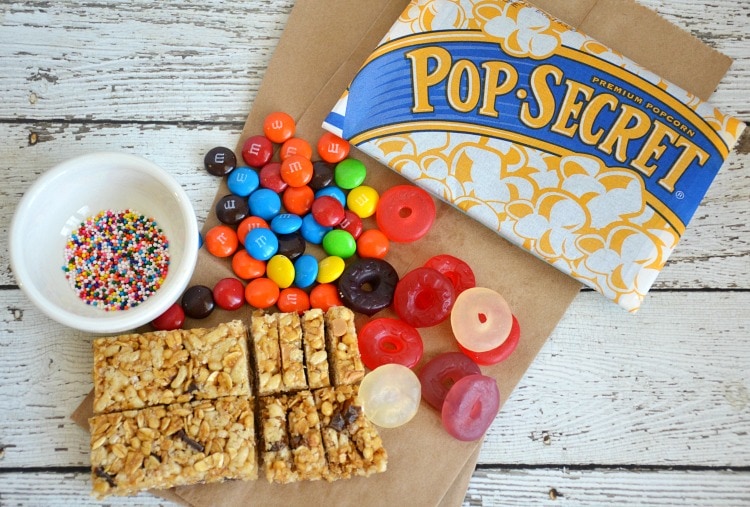 Ingredients
1 package Pop Secret Home-Style popcorn, popped
1 handful chocolate candies
1 chocolate chip granola bar, chopped
1 peanut butter granola bar, chopped
1 handful gummy candy
1 tablespoon rainbow nonpareils
Directions
Pop 1 package Pop Secret Popcorn in microwave. Empty in a large bowl.
Put the rest of the ingredients in a paper bag. Shake to combine.
Add mixture to bowl of popcorn. Enjoy during family movie night!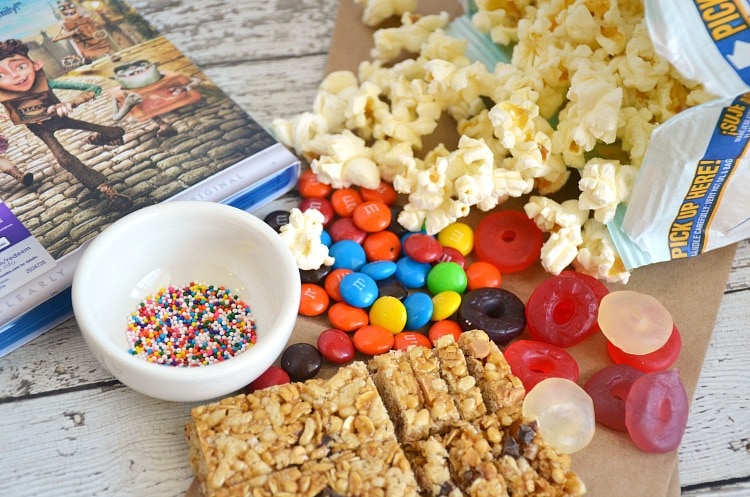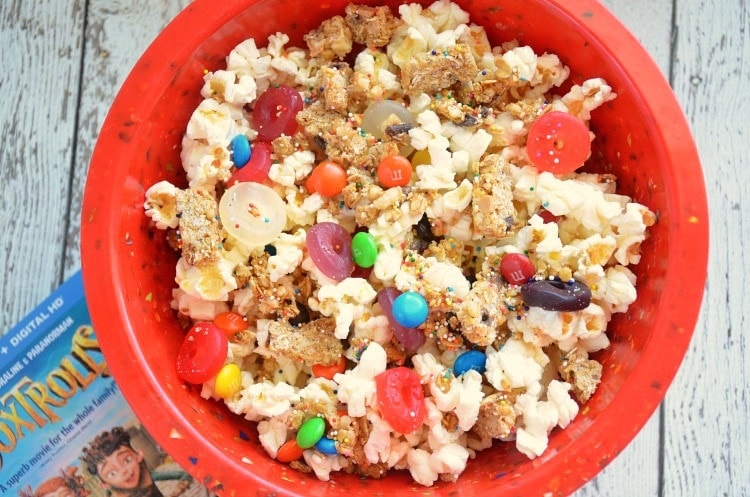 Not only was The Boxtrolls a hit, but my Trashcan Popcorn Mix was too! Everyone gobbled it up and requested I make it again for next week's family movie night! Since I bought the 10ct box of Pop Secret, I have plenty of popcorn leftover!
I've found that by setting aside these two hours every Friday night that my family is getting closer. We're using this time, before and after the movie, to talk about our week and any concerns we may have. It's wonderful to spend time together without any distractions, and it gives us something to look forward to week after week.
If you'd like to plan your own family movie night like ours, you can purchase The Boxtrolls DVD or Blu-ray and Pop Secret 10ct Movie Theatre Butter Popcorn or Pop Secret 10ct Home-Style Popcorn at Walmart while supplies last. Make sure you check out The Boxtrolls on Facebook, too!
How do you spend time with your family?