Over the holidays my family had the opportunity to stay at the fabulous Gaylord Palms hotel in Kissimmee, Florida (near Orlando). It is located right next to Walt Disney World and within a short distance of other area attractions.
The crazy thing about this is that I have passed the Gaylord Palms dozens of times and never thought twice about what was inside, much less actually staying there.
Not because the outside isn't beautiful (and huge) but because I knew it as a "convention" hotel. My perception of convention hotels has been all business, kind of stuffy and all have lacked the family element.
In Orlando especially, family comes first.
Clearly, I had no clue what was in store for me until I actually experienced the grandeur that is the Gaylord Palms.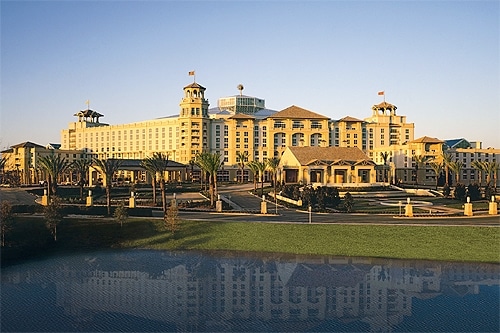 From the moment you step foot into the hotel you are surrounded by the massive atrium and you know this is unlike any hotel you've stayed at before. It is so much more than you can imagine. It truly is a resort hotel.
The Gaylord Palms is a hotel for families, couples, singles- business or pleasure. I dare say it's a one size fits all hotel. I can't imagine anyone not finding something that appeals to them. It is upscale without that stuffy feeling.
The atrium itself is like its own mini adventure park that the kids will love. The hotel is split up into 4 sections that are each beautifully themed for Florida- St. Augustine, Key West and Everglades. The convention center is in a separate section, Emerald Bay.
My family stayed in a standard atrium view room in the St. Augustine section.
An atrium view room is an upgrade from a Florida view room, which has a view of the outside of the hotel.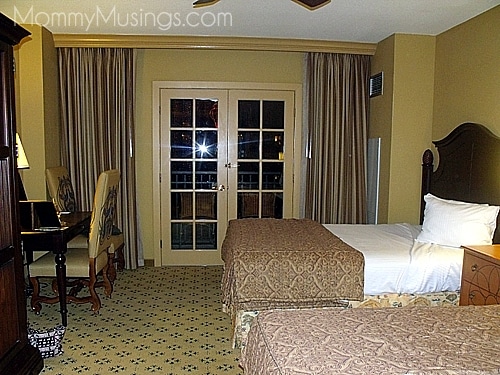 Bathroom has double sinks that are separate from the shower/bathtub. Hairdryer and coffee maker are in room as well.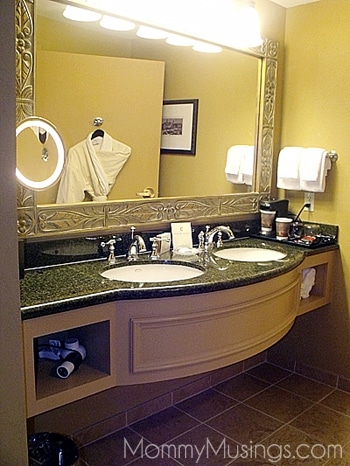 I loved the coffee maker here as it was very sanitary with individual coffee pods and filters that brew directly into individual to go cups. Other hotels take note.
Each room is equipped with a desktop computer that  gives you one-click access to a host of hotel services and complimentary Internet access! Yeah!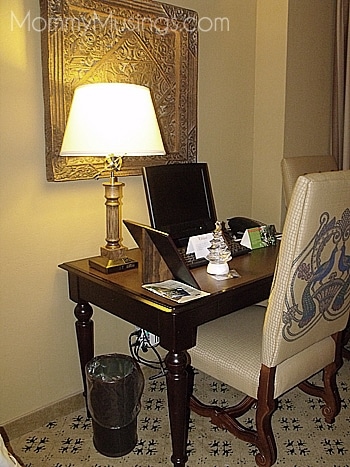 And the View!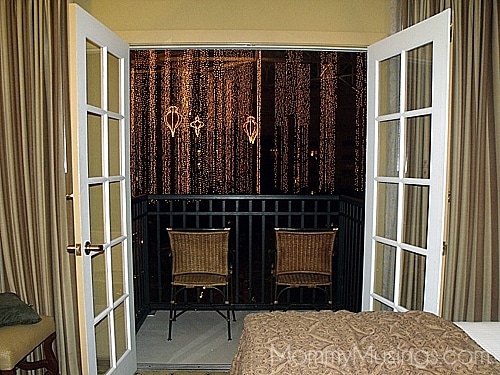 The atrium view rooms are amazing! Talk about being surrounded by all the action. These balcony rooms face the atrium and are great for enjoying the nightly entertainment or just people watching. Since we stayed around the holidays we enjoyed all the festive music and twinkling lights.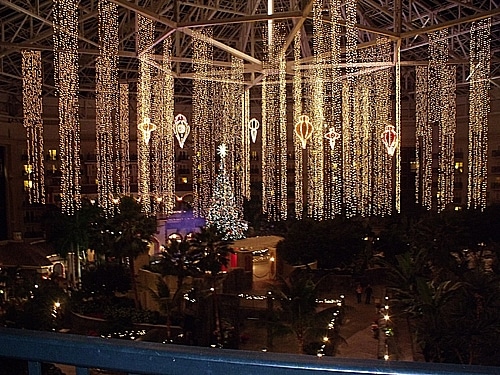 As soon as your ready for bed you simply close the doors,  shut the blinds and it's as quiet as any other hotel room...
Until you open the curtains in the morning to this!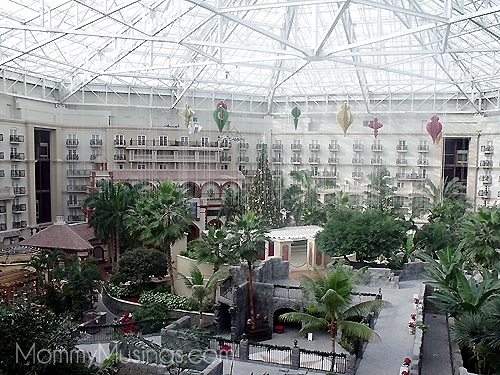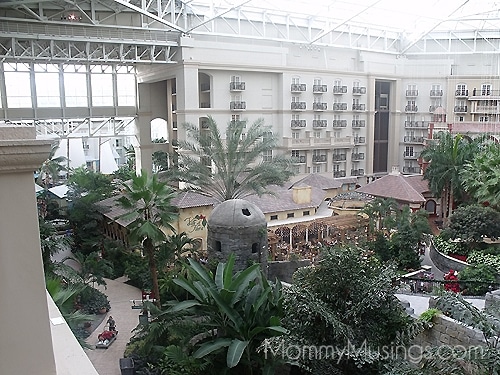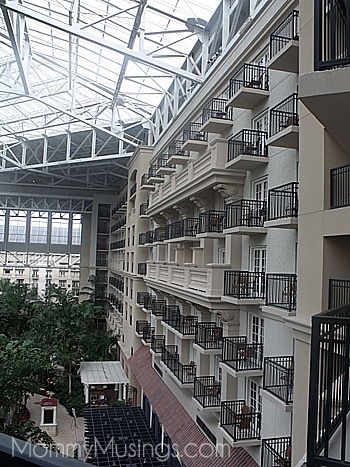 The Gaylord Palms is very large, but manageable. There is a variety of restaurants, bars and shopping as well as an awesome pool area, spa, fitness center, golf course...and so much more!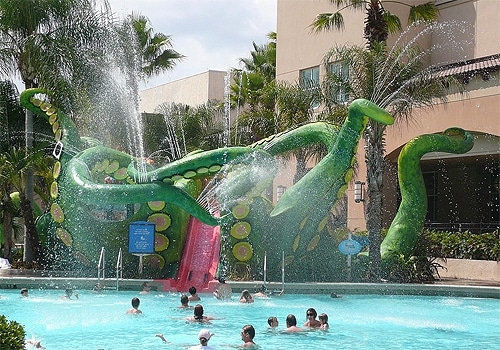 My daughter loved staying here and everyone was super accommodating and kid friendly. During our stay there was a gnome hunting contest for the children (or adults) that turned out to be a ton of fun. We also visited ICE! which again, was amazing.
I was totally wrong in assuming that this was just a convention hotel. The Gaylord Palms is a full on resort hotel that is like nothing else in Orlando. If you are in town for the theme parks, the Gaylord Palms has complimentary shuttles to Disney.  Shuttles to other area attractions are available for a fee. But honestly, you could have a whole vacation without ever leaving the property.
If you are planning a family vacation to Orlando and want to experience something totally different definitely look into the Gaylord Palms. The resort is constantly running specials that are in line with the other area moderate-deluxe resorts.
For more information or to book, visit GaylordPalms.com
I know my family will be back.
My family was provided a complimentary stay at the Gaylord Palms Hotel & Convention Center. In no way did this influence my personal opinion of the property.