This post is brought to you by Pompeian as part of the #PantryInsiders program. All opinions are my own.

Olive oil is a staple in my kitchen. I cook with it, use it in salad dressings, and sometimes serve it as a condiment— it's just so versatile. But one thing I've learned over the years is that not all olive oils are created equal. That's one of the reasons why I've partnered with Pompeian as a Pantry Insider ambassador (it's good olive oil!).
For more than a hundred years, Pompeian has been America's largest national brand of olive oil, with a best-selling line of wine vinegars and cooking wines. In addition, Pompeian is the first brand to carry the USDA Quality Monitored seal on its extra virgin olive oil.
My first mission as a Pompeian Pantry Insider was to create a recipe with one of the new olive oils from the Pompeian Varietals Collection. This premium line of olive oils celebrate the unique taste profiles of single olive varieties
Arbequina (Product of Morocco) – a mild-bodied extra virgin olive oil with a round taste of mature fruitiness and a delicate sweetness of almonds, ideal for fish and vegetables
Koroneiki (Product of Greece) – a full-bodied extra virgin olive oil with robust fruitiness and a sensation of fresh cut grass leading to a peppery finish, perfect for soups and salads
Picholine (Product of France) – a medium-bodied extra virgin olive oil with a green fruitiness, hints of herbs and a pleasing balance of bitterness, great for meats and sauces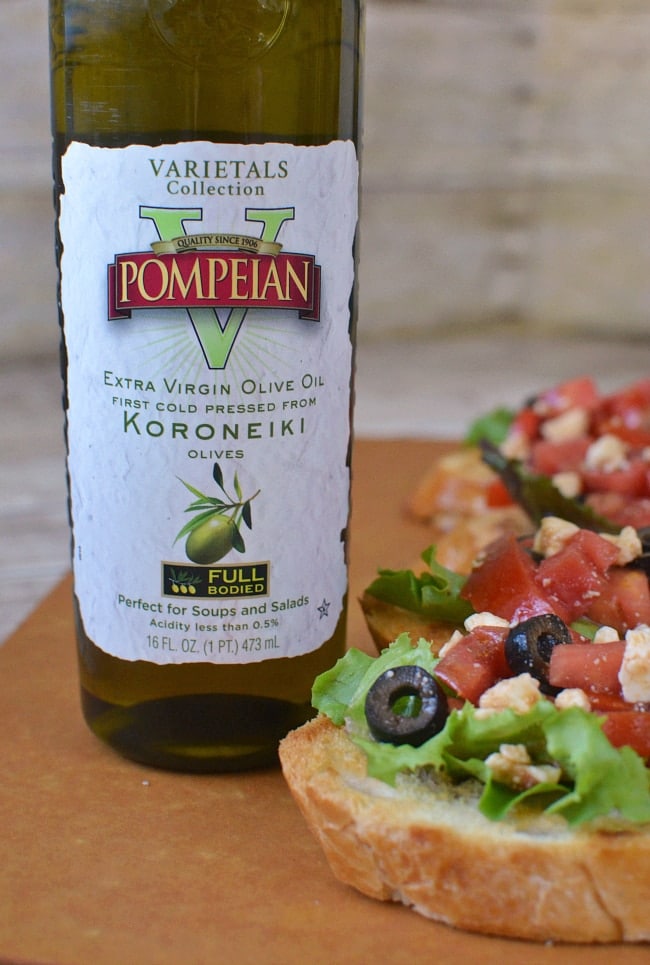 Because I love the flavors of Greek food, I went with the Koroneiki Olive Varietal from Pompeian and made a DELICIOUS Greek Bruschetta on a toasted baguette with fresh greens, diced tomatoes, feta cheese and olives drizzled with olive oil and vinegar. Can you say, yum!? 
Greek Bruschetta Recipe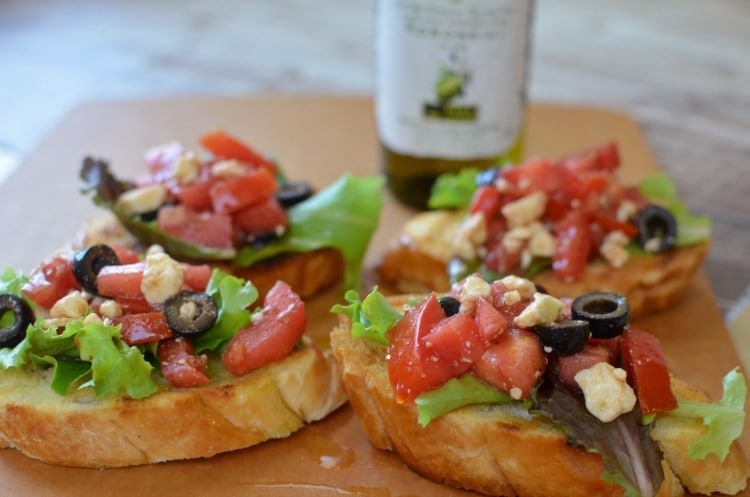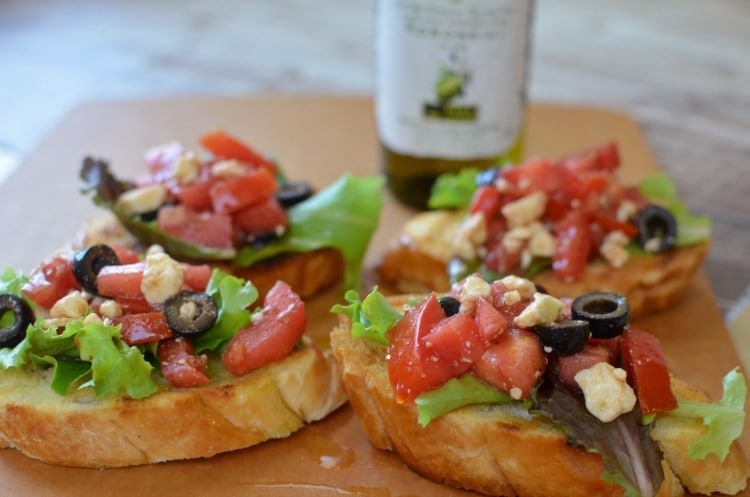 Greek Bruschetta Recipe
Ingredients
1/2

Baguette; cut into 8 1" thick slices

2

Roma tomatoes; diced

1/3

cup

crumbled feta cheese

2

tablespoons

sliced Kalamata or black olives

Handful of spring mix lettuce

1

tablespoon

Pompeian Koroneiki Olive Varietal

1

tablespoon

Pompeian Red Wine Vinegar

pinch

of salt
Instructions
In a medium sized bowl, gently mix diced tomatoes (add a pinch of salt), feta cheese and sliced olives. Add Koroneiki olive oil and vinegar and let sit to marinate.

Lightly brush baguette slices with Koroneiki olive oil and place in large skillet or grill pan at medium heat for 2-3 minutes per side, or until nice and toasty.

Line each baguette slice with a two leaves of spring mix lettuce. Pile desired amount of marinated tomato mixture on top, and lightly drizzle with Koroneiki olive oil. Serve immediately.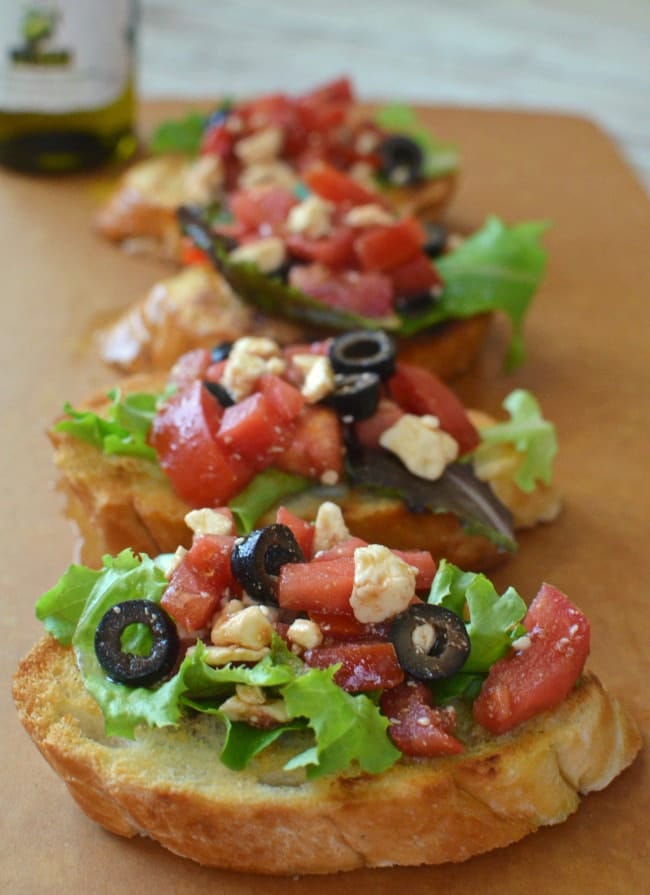 I can't tell you how fast these babies were gobbled up. The Koroneiki Olive Varietal exponentially enhanced the flavor of the bruschetta. Personally, I think this olive oil would taste fantastic on bread alone— there isn't any need to cover up the robust flavor, and I have a feeling I will be using this varietal a lot this summer in salads and other light fare.
Each of the Pompeian Varietals retail for $6.99 (a bargain!) and can be found at local supermarkets nationwide. Visit the store locator at www.pompeian.com to find a retailer near you.
In addition, the Pompeian Varietals Collection provides consumers with the ability to learn about the unique story and journey behind each bottle – starting at the mill, country and harvest date and ending at the kitchen table. By visiting www.TreeToBottle.com, you track the lot number located on the back of the Varietal to uncover their bottle's special history. How cool is that?
Which Pompeian Varietal are you most excited to try?